Jasper Gibson worked in partnership with Visit Idaho to create this travel tip.
Skiing the rugged backcountry of the Selkirk Traverse
Some of my earliest memories are of skiing Schweitzer Mountain just outside of Sandpoint. My dad was part of Schweitzer's ski patrol since before I was born and my mom was an avid skier, so I was practically raised on the mountain. Growing up, I would often sit in the patrol shack on top of Chair Six (Snowghost) and gaze out upon the mountains that extended northward from the ski area. I would quiz the patrollers on the names of the peaks.
Two decades later, those mountains that captured my attention out the lift-shack window are still seared into my mind. Although, today, I am an experienced backcountry skier, I still haven't stepped foot outside of the ski area boundary. Until now.
Drenched and exhausted, Joey Sackett, Zeppelin Zeerip and I take refuge under a cluster of trees on a ridgeline as snow continues its relentless accumulation. We look at each other, faces slacked with fatigue. We are five days into what is supposed to be a 10-day, 65-mile ski traverse from Schweitzer Mountain to the Canadian border. The trip will be a near-complete crossing of the American Selkirk Range in northern Idaho and a realization of a dream a lifetime in the making.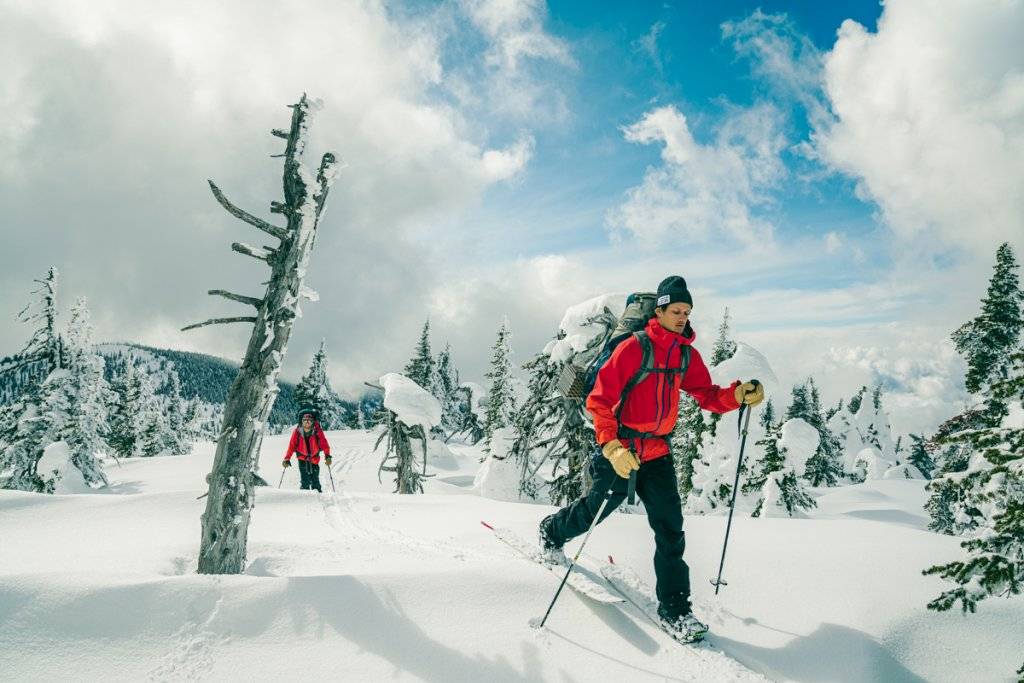 The Trek
After days of preparing and packing, months of planning and a lifetime of dreaming, Joey, Zeppelin and I set out from the base of Schweitzer Mountain to gain the ridge that would take us northward toward the Canadian border and the mountains that I have been looking at for 27 years.
The going is arduous as we encounter massive wind drifts left behind by a prior storm, but we push on and eventually the drifts subside. We pass Big Blue, marking the furthest I've ever traveled into the Selkirk Mountains, then Keokee Mountain and into the bowl to the east of Mt. Casey. We pitch our first camp there in an onslaught of snow. I feel at home as I settle in for the night.

On day four, the gentle ridges of the southern Selkirks have all but faded as we continue north. Knife-edge ridges and cornices the size of school buses rest imposingly above us. Too dangerous to travel on the ridges, we tour along the bowls on the eastside of the crest. Aside from a few hours of clear skies on days two and three, there has been a constant deluge of snow and fog, and day four is no different.
At McCormick Ridge, we transition into ski mode. Our skis and boards glide effortlessly down the slope, slicing and slashing through the evergreen forest. Yips and hoots reverberate between us, the foot of fresh powder dazzling us.
Winding our way through the bowl under Mt. Roothaan, we are floored by the beauty and tranquility of the little hollow. Protected from the elements and guarded by pines, firs and cedars heavily laden with Old Man's Beard, we can't bring ourselves to leave. By a defiance of physics, a stream still flows through the basin with 12-foot snow banks on either side, creating a canyon around it. We make camp in what we call "Old Man's Hollow" and decide to have a layover day to explore the area.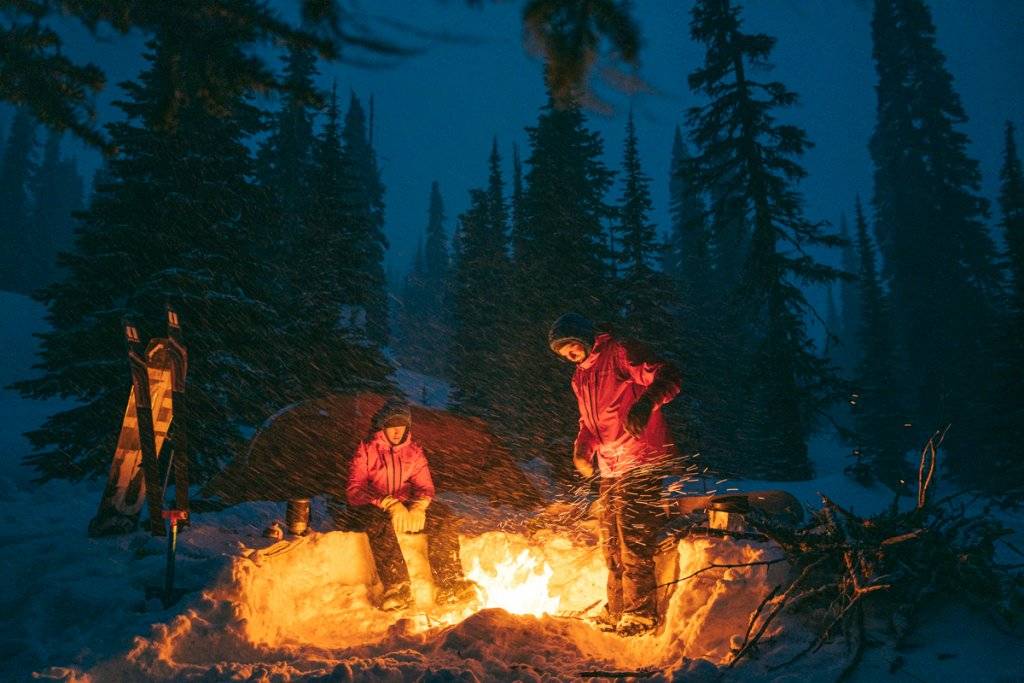 On day six, the trek is made treacherous by all the new snow. This terrain is the most difficult we have encountered and we are close to exhaustion when we take shelter in a cluster of trees on the ridgeline. A moment of rest is needed to keep spirits high before pushing on. With a stroke of luck there is a break in the storm and the temperature drops, allowing our gear to dry as we push toward that night's camp.
We start down through open fields and banded thickets of trees until we reach the wide, frozen surface of Beehive Lake. Zeppelin is flustered when we convene, and for good reason. On the descent, he snapped his board behind his heel while in ski mode, rendering it useless. There was nothing to do besides make camp for the night and contact our friends via satellite device for extraction the next day.
Out and Back
Good weather and a small crew make for quick travel out of the mountain. The views of the Selkirk Crest, the Priest Lake Valley and the Purcell Trench are captivating. Although I grew up in the area, I have never experienced it in this way. Everything is so close, so connected, so intertwined.
Our friends pick us up on a logging road only a few miles shy of the Canadian border. The mountains we just crossed whizz by as we head back south. A deep sense of connection and appreciation for the Selkirks and my home wash over me. The nooks and crannies, peaks and valleys and secret spots in the range will be tucked away in my memories until I can't remember anymore. I will never be able to look at the mountains out the lift-shack window the same way again.
Please note: All participants on this trip are experienced backcountry skiers with many years of expertise and training in the field. Jasper, Joey and Zeppelin are all Avalanche Level 1 certified, have medical training and were equipped with a full medical kit and a GPS location device in the event of an emergency. Winter backcountry travel is inherently dangerous and should be taken seriously.
Feature image credited to Jasper Gibson.
Jasper Gibson is a born and raised Idahoan, growing up in Sandpoint, Idaho. He has worked with major US companies such as The North Face, Mountain Hardwear, Marmot and Smartwool and has been published in Outdoor Magazine, National Geographic Extreme Photo of the Week and on Redbull.com. Aside from his commercial style work, he has been the photographer on multiple expeditions around the world. Jasper is highly skilled at capturing unique, authentic images that put the viewer into the world being captured.

Published on December 29, 2020