Steve Stuebner worked in partnership with Visit Idaho to create this Travel Tip.
It's a gorgeous day in Swan Valley, Idaho—perfect for floating and fishing the South Fork of the Snake River. Temps are in the 80s, the skies cobalt blue and I see a bald eagle flying overhead as we turn the corner on the South Fork and tuck into a willow-lined side channel, an oxbow of the big river.
In the secluded side channel, mayflies are dancing on the water's surface, but I'm fishing with a Dave's Hopper since it's warm and sunny. Throw the Yellowstone fine-spotted cutthroats a big hunk of meat! What the heck!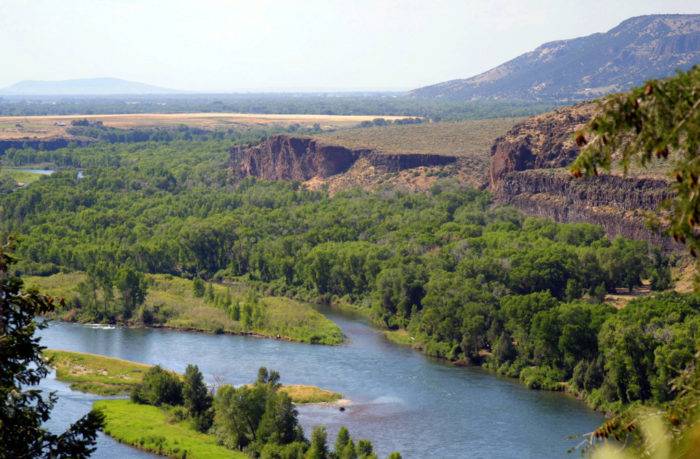 I cast about 30 feet downriver to a subtle eddy line with my fly rod. The brilliant sunlight sparkles on the water and lights up the yellow and red body of the hopper. And then I see a big cut rise up high and gobble that fly. I set the hook, yelling "fish on!" to my partner. I enjoy a fun fight in the side channel. I bring him toward my net, and then I hear one of our dogs growl. I look up, and it's a bull moose with huge antlers on shore. "Ah yes," I say to my fishing partner, "gotta love the South Fork! Gotta love Idaho!"
The South Fork is one of the top blue-ribbon trout streams in the state of Idaho, if not the nation. The same can be said of the nearby Henrys Fork, world-renowned for its challenging dry fly wade fishing for big rainbow trout. Located in the heart of the Northern Rockies, Idaho is chock full of high-quality trout streams, hundreds of miles of them.
But where do you start? Where to begin? In this story on Idaho trout waters, we'll recommend five sure-fire places to catch trout—on a do-it-yourself level or in the lap of luxury on a guided trip.
South Fork Snake River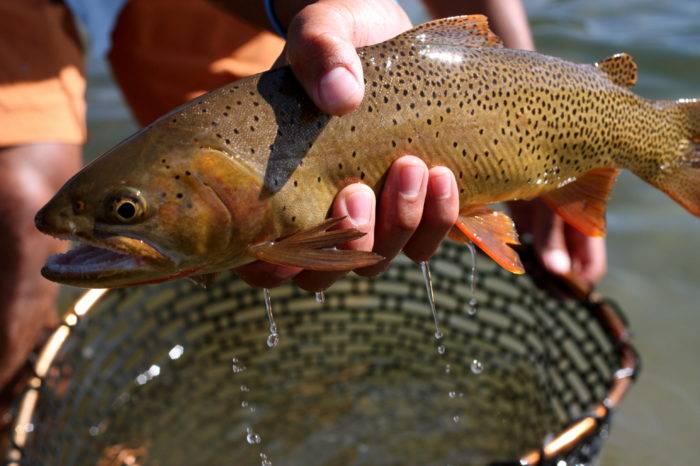 Cuts and brown trout are the main fish to catch. Plus, it's a premium 25-mile canyon, bordered by mature cottonwood forests, with many channels and islands to explore. Multiple pairs of bald eagles nest there and hunt the river year-round. It's a spectacular wilderness experience just 30 minutes from Idaho Falls.
The South Fork Lodge in Swan Valley provides lodging, guide services and shuttle services, and they've got a great fly shop. Be sure to inquire about what flies are working. There are all kinds of custom foam bugs that work well, but the preferred flies are changing all the time. Do your own trip or hire a guide and sleep in a cabin on the banks of the South Fork. Other outfitters include Heise Outfitters, Three Rivers Ranch and Teton Valley Lodge.
Henrys Fork of the Snake River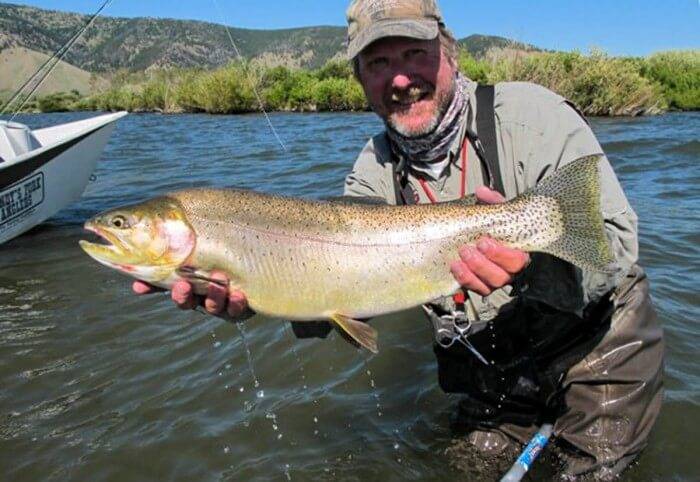 Anglers come from all over the world to challenge the super wily big rainbows on the Henrys Fork. Fishing the ranch section in Harriman State Park is considered to be the ultimate challenge. "We had a good winter, plenty of snow, so we've got great water conditions," says Todd Lanning of Henrys Fork Anglers. "The fish counts are up, and the salmon flies are hitting right now. I'm excited for a great season."
You can fish many other sections of the Henrys Fork with guides or on your own. Try to time your trip with the salmon fly hatch or green drake hatch. Island Park is the home base with fly shops, hotels and restaurants. I recommend eating breakfast or dinner at the Trout Hunter in Island Park.
North Fork Coeur d'Alene River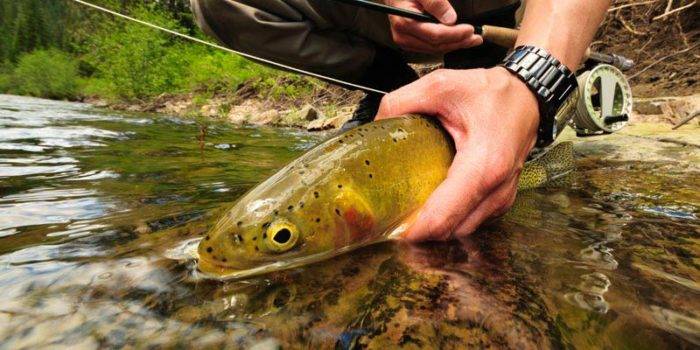 Located about 45 minutes east of Coeur d'Alene or just about an hour from Spokane, the North Fork of the Coeur d'Alene River is a choice spot for fly-fishing for native westslope cutthroat trout. Here you can drift along in a boat and work the shorelines or riffles for trout. When it's warm, dry flies work great! Cuts reaching more than 20 inches can be caught here.
Similar to the South Snake, you might see moose, black bear, elk or deer on the banks of the North Fork. Guided trips are available from Silver Bow Outfitters and ROW Adventures. After you're done fishing, there are lots of great eateries and brew pubs to explore in Coeur d'Alene.
Hagerman Trout Ponds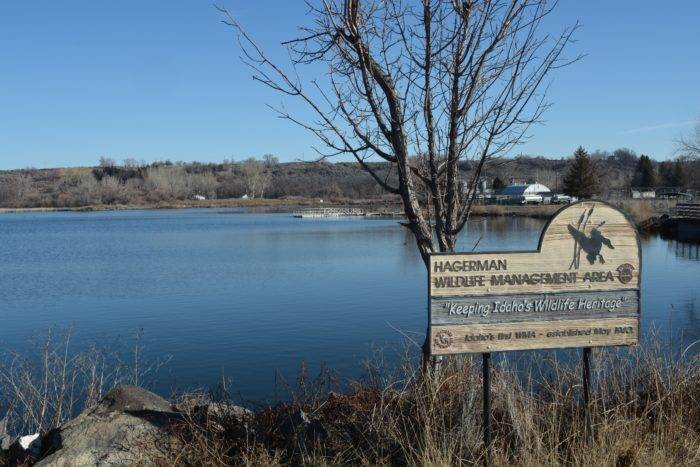 Here's the perfect spot for kids and seniors. Multiple ponds at Hagerman Wildlife Management Area in the Thousand Springs region offer opportunities to catch large numbers of rainbows in a stream or pond environment. Special access docks provide an excellent platform for casting for seniors or kids. The Riley Pond and Oster Lakes have trout in them, and they get stocked on a regular basis from the nearby Idaho Fish and Game hatchery. Other ponds have crappie, bass and bluegill.
"This is going to be a great year to catch big fish," says Joe Chapman, hatchery manager at Hagerman. "If you want to catch fish, this is the place to come."
It's all fishing on your own at Hagerman. You can fly-fish or use a spin cast setup. When you get hungry, head for the Snake River Grill in Hagerman for a delightful meal.
Boise River – Urban Section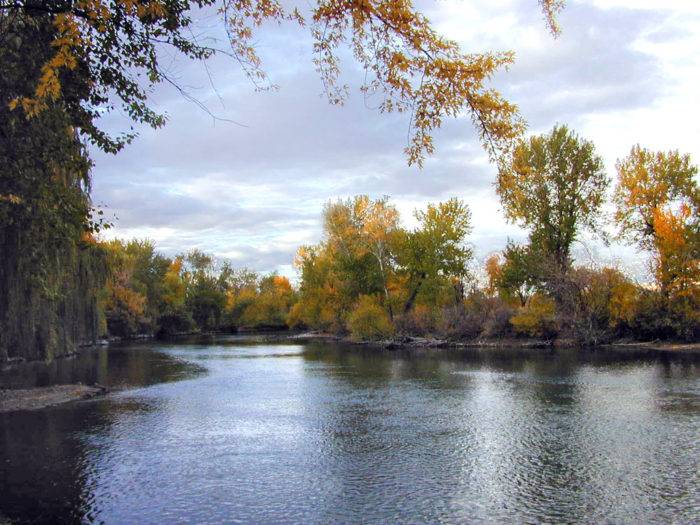 Fishing is open year-round on the Boise River. It's a tailwater fishery with cold water coming off the bottom of Lucky Peak Reservoir. Water quality is clean, and there are plenty of nice rainbow trout to be caught in the urban section of the river. Idaho Angler provides guided fly-fishing trips to help anglers cue into the right fly for the conditions and where to fish. Below Barber Park is a popular spot with pools and riffles, but there are a number of nice fish-holding pools right in the middle of the city.
Brown trout can be caught farther downriver, west of Boise toward Eagle and Star. Next time you're doing in business in Boise, bring your fly rod and waders and give it a go! Subsurface fishing is usually best with nymphs and streamers.
Trout also can be caught in the Boise River with a spin-cast setup using typical trout lures such as Mepps spinners, Panther Martins and Thomas lures.
While you're in Boise, treat yourself to a nice dinner in Idaho's capital city, or visit one of many nightclubs in the downtown area.
Enjoy your trout fishing experience no matter where you go!
Steve Stuebner is a widely published outdoor writer based in Boise. Read more on his blog, Stueby's Outdoor Journal​​​​​​​.
Updated on November 09, 2022
Published on June 7, 2016