Majestic, breathtaking, inspiring, and just plain awesome. Those may be just a few of the phrases used to describe what it feels like to watch a bald eagle silently soar overhead or dip into the water to grab a meal. Observing these amazing birds in the wild is an unreal, but frequent occurrence in Idaho during the winter since the Gem State is a traditional winter nesting ground for eagles.
1. Northern Idaho
Northern Idaho is a bald eagle spotting mecca. In the area around Bonners Ferry, Eagle watchers are sure to have excellent viewing opportunities. Favorite locations to see nesting pairs include the Kootenai National Wildlife Refuge, Perkins Lake, and McArthur Lake Wildlife Management Area.
Wintering eagles are most abundant along Lake Coeur d'Alene, Lake Pend Oreille, and sections of the Priest River in North Idaho. Sightings at Wolf Lodge Bay and Beauty Bay are particularly rich viewing areas on Lake Coeur d'Alene. You may also take a winter eagle-watching cruise with Coeur d'Alene Lake Cruises. Lake Pend Oreille Cruises offers eagle watching trips in the warmer months.
Both bald and golden eagles can be seen during the winter at Silver Creek Preserve in the Wood River Valley south of Hailey in central Idaho.
2. South Central Idaho
In South Central Idaho, Thousand Springs State Park's Box Canyon in the Hagerman Valley is a good place to eagle watch. Head south of Hagerman to the top of Vader Grade to watch eagles soar as the sun sets.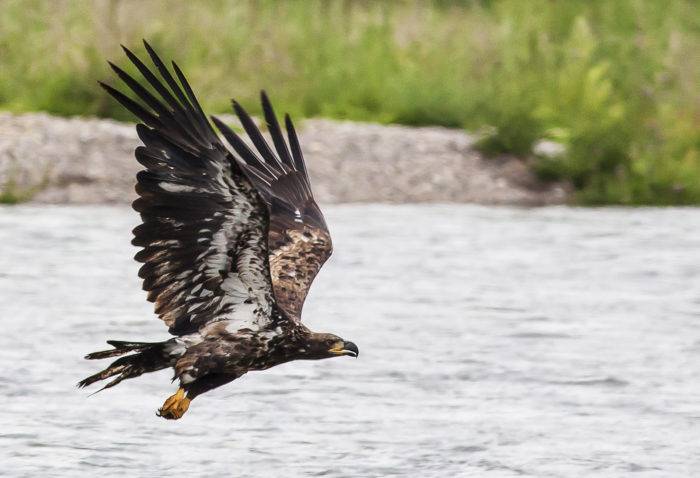 Southwest of Nampa, Deer Flat National Wildlife Refuge, and Lake Lowell provide the right combination of fish and nesting locations for bald eagles.
Barber Dam in southeast Boise is a more urban area to spot eagles, but it is not unusual to see them closer to downtown when you're on the greenbelt.
3. Eastern Idaho
In eastern Idaho, the South Fork of the Snake River, stretching some 60 miles from Palisades Dam to its confluence with the Henrys Fork, hosts the largest breeding population of bald eagles in Idaho.
There are many more locations where you may catch sight of these magnificent birds. The Idaho Birding Trail is an outstanding resource for locating the hundreds of bird species that inhabit Idaho. The Idaho Department of Fish & Game has put together an exhaustive list of an enormous variety of birds and where you can find them. The guide lists over 50 locations where bald eagles might be seen.
Contact a local chapter of the Audubon Society for more information on bird watching in Idaho or visit the links throughout this post and don't forget to share your eagle sightings with @VisitIdaho.
Feature photo credit: Jerry Rega
Visit Idaho

Published on February 9, 2017