Tara Morgan worked in partnership with Visit Idaho to create this Travel Tip.
Sometimes starchy muffins and sugary pastries just won't cut it. That's when you need a coffee shop that does double duty as a breakfast joint, complete with perfectly poached eggs and warm, buttery toast. So whether you're looking for a quiet nook to set up camp with your laptop or an airy space to share a bite and catch up with a pal, these Boise cafés sling caffeine to keep you rolling through the day and hearty snacks to keep hangry at bay.
ā café Boise
Housed in the new Kount Building at 10th and Main, ā café Boise caters to downtown denizens with a menu that stretches from savory toasts and scrambles to fresh salads, soups and sandwiches. Start your morning off with The Fregg—a breakfast sandwich with melty white cheddar and a drippy cage-free fried egg on a shiny Acme brioche bun—and ease into the afternoon with The Buttermilk Scenario, a romaine salad tossed with cucumber, bell pepper, edamame, sunflower seeds, and housemade "buttermilk yumminess." In addition to a full beverage menu with espresso drinks, wine and cider, ā café also offers rotating daily specials.
Certified Kitchen + Bakery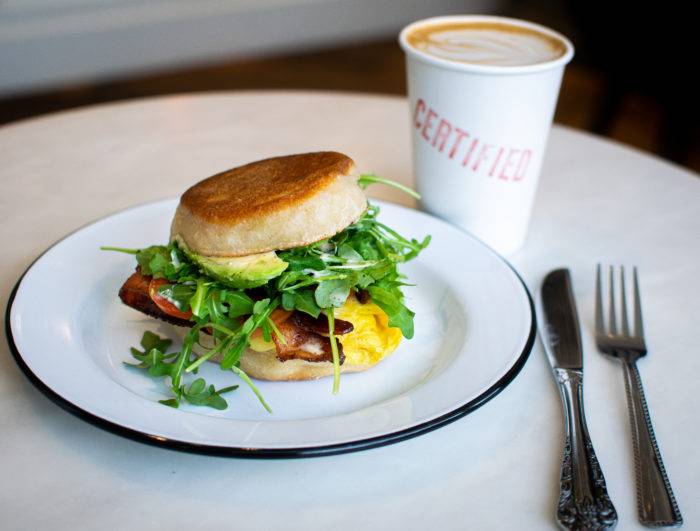 If you're a fan of The Wylder's thin-crust sourdough pies, then hoof it to Hyde Park to check out Lizzy and David Rex's sister restaurant, Certified Kitchen + Bakery. The 52-year-old sourdough starter that gives The Wylder's pizza it's tangy kick, also shows up at Certified in the form of housemade English muffins. Though the café keeps it casual on service—expect to grab your food when your name is bellowed from the back kitchen and buss your own table—Certified makes up for it with their decadent English muffin breakfast sandwiches, loaded with scrambled eggs, arugula, white cheddar and Fresno creme fraiche with the option to pile on bacon, avocado and tomato for an extra $2. Can't get enough of those housemade muffins? You can order them to-go by the half dozen.
Push and Pour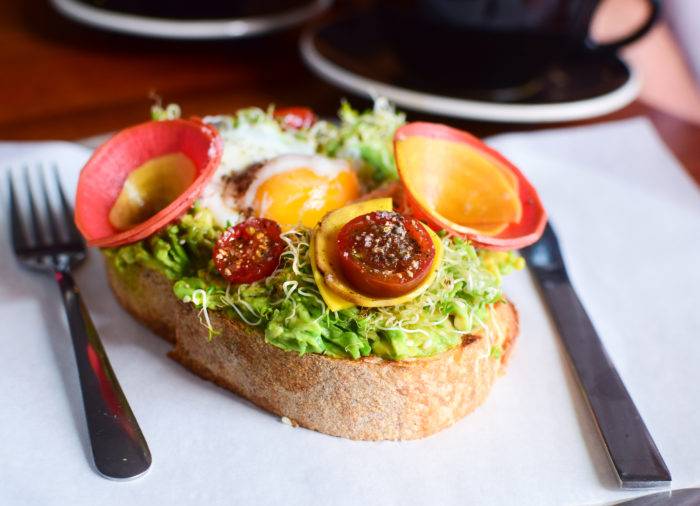 Need a pick-me-up after a long ride down the Boise Greenbelt? Then wheel over to Push and Pour, Garden City's skateboard-themed coffee shop. Whether you sip a cold brew and skim the paper at the long counter, or snag a perch on the shady front patio, don't skip out on the spot's epic Avocado Toast. A thick slice of Acme bread is topped with smashed avocado, earthy alfalfa sprouts, broccoli shoots and dainty pickled beet and radish roses crowned with cherry tomato slices and a cage-free poached egg. If you linger into the late afternoon, you can wind down with an array of craft beers and local wines.
The District
Though The District has been slinging pour-overs and pastries for years on the corner of Bannock and 10th streets, the naturally-lit café only recently started serving a full food menu. From simple breakfast bites like a scrambled egg on buttered toast with microgreens to heartier lunch fare like the Bannock Bowl—with quinoa, arugula, roasted beets, carrots, pepitas, goat cheese, and lemon tahini sauce—The District has a number of food options to keep you sated throughout the day. The coffee shop also has a social mission, partnering with nonprofits and offering a "Pending Coffee" board where customers can donate a cup of coffee to a neighbor in need.
Caffeina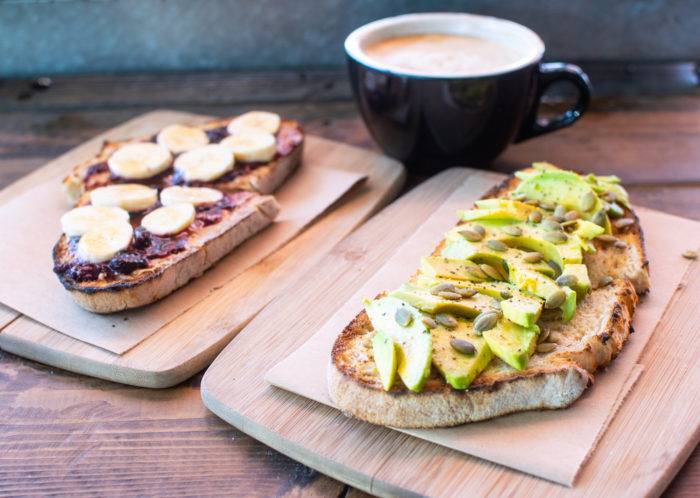 With locations on State Street and Overland Road, and another in the works downtown on Idaho Street, Caffeina Coffee Roasting Company is steadily expanding its empire. The small-batch roaster's original spot is a bustling neighborhood hangout, with comfy couches, a horseshoe bar and an expansive side patio. Whether you prefer to while away the afternoon with a minty Espresso Spritzer or a high-octane Brew on Brew—Sins of Our Fathers Imperial Stout topped with a shot of espresso—don't forget to load up on some snacks. Options range from café classics like Avotoast and PB 'n' Honey Toast on housemade sourdough to Black Bean Quesadillas topped with avocado and raspberry chipotle sauce.
Form and Function
Though this minimalist café is known for its thoughtfully roasted coffee—like the honeyed Ethiopia Yirgacheffe, sourced from a collective of 400 farmers who cultivate coffee on small plots—Form and Function also offers an assortment of carby bites to complement their cappuccinos and cortados. While sweet-tooths will gravitate towards the Cherry Compote Porridge—bulked up with steel-cut oats, oat milk and almond butter—savory fans will swoon for the Caprese Brunch Toast, topped with tangy lemon-whipped ricotta, pesto, radishes, tomatoes and a soft-poached egg.
Feature image credited to Tara Morgan.
Tara Morgan is a freelance food + booze writer and co-owner of the company Wild Plum Events. She loves an epic dinner party, good design, bad puns and pretty much every French rosé ever made.

Published on February 20, 2020