Guest ranches carry a sense of nostalgia. The moment your foot finds its place in the stirrup, you're transported to a simpler time of exploring Idaho mountains and valleys on horseback, telling stories around a blazing campfire and making memories with your friends, family and trusty steed.
Kick up some dust this summer with these five charming Idaho guest ranches.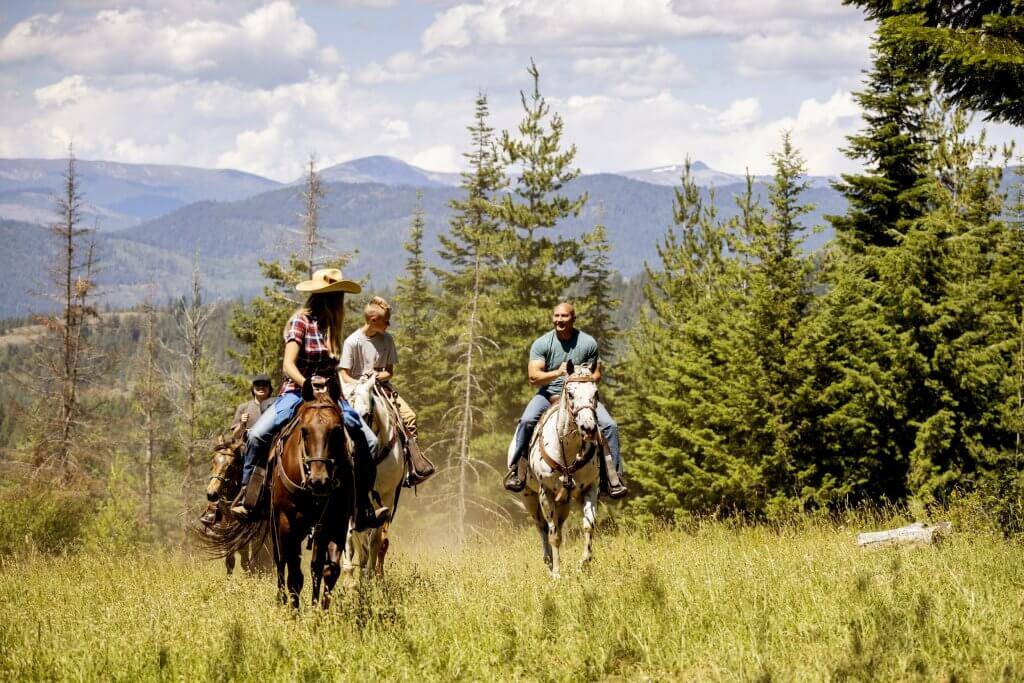 Western Pleasure Guest Ranch
Located in northern Idaho, Western Pleasure Guest Ranch is just 16 miles from Sandpoint. For five generations, the guest ranch has been a place for adventure and memories for the Schoonover Family.
A stay at Western Pleasure offers more than an escape from the day-to-day. It provides an authentic western experience that might just make you want to quit your day job.
The ranch offers multiple packages for guests. Twice a day, all-inclusive guests can saddle up and explore northern Idaho's mountains, valleys, ridges and meadows. Trips include a day-ride to Grouse Creek Falls for an afternoon dip or a ridge ride with views of the Selkirk and Cabinet mountain ranges. While riding, keep those peepers peeled, partner. You might spot deer or red-tailed hawks soaring above.
The ranch also offers evening entertainment, like western movie nights on the lawn or fireside cookouts. Want to see how you'd hold up in the Wild West? Try your hand at archery, clay pigeon shooting or cattle sorting. Or, trade in the horseshoes for tires and explore the ranch's 1,300+ acres via mountain bike.
Choose from a cozy room at the Grand Lodge or stay in your own log cabin, both with access to the outdoor, covered hot tub, perfect for unwinding after an action-packed day.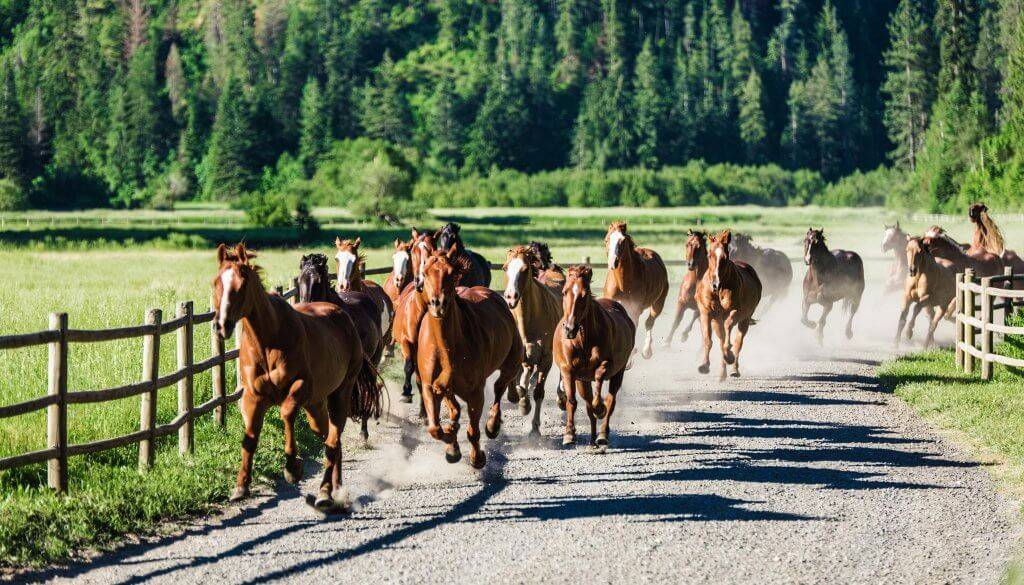 Red Horse Mountain Ranch
Red Horse Mountain Ranch is about an hour from Coeur d'Alene along the Coeur d'Alene Lake Scenic Byway. RHMR prides itself on creating an environment full of adventure that allows guests to reconnect to the important things in life.
Twice a day, guests can embark on a western-style horseback riding adventure. But, with 560 acres of deeded ranch and 300,000 acres of outfitter area, Red Horse Mountain Ranch focuses on more than just horseback riding.
Activities at the ranch include a challenge course complete with a 30 mile-per-hour zip line that takes you along a 1500-foot line and finishes with a splash in the spring-fed pond, the perfect cooldown for a warm summer's day.
When you're not on horseback, explore the surrounding area with a kayak tour, a guided fishing trip, hiking or mountain biking along the 72-mile Trail of the Coeur d'Alenes.
When choosing one of RHMR's all-inclusive dude ranch vacations, guests have the opportunity to select a week that best fits their needs. Choose from singles/solo weeks, seasonal adult weeks, women-only weeks or family vacation weeks.
One of RHMR's standout features is its kid's program which is available during the summer all-inclusive family vacation weeks. Designed for ages three to 10, little buckaroos will learn to kayak, shoot a bow and arrow, ride a horse, go for bike rides and even try their hand at plinking on the shooting range. Parents have the option of joining their kids during the activities or taking some time to relax on their own.
Guests of the ranch can stay in log cabins or lodge suites, or stay at the Hilltop Summer Vacation Home with breathtaking views of the entire valley.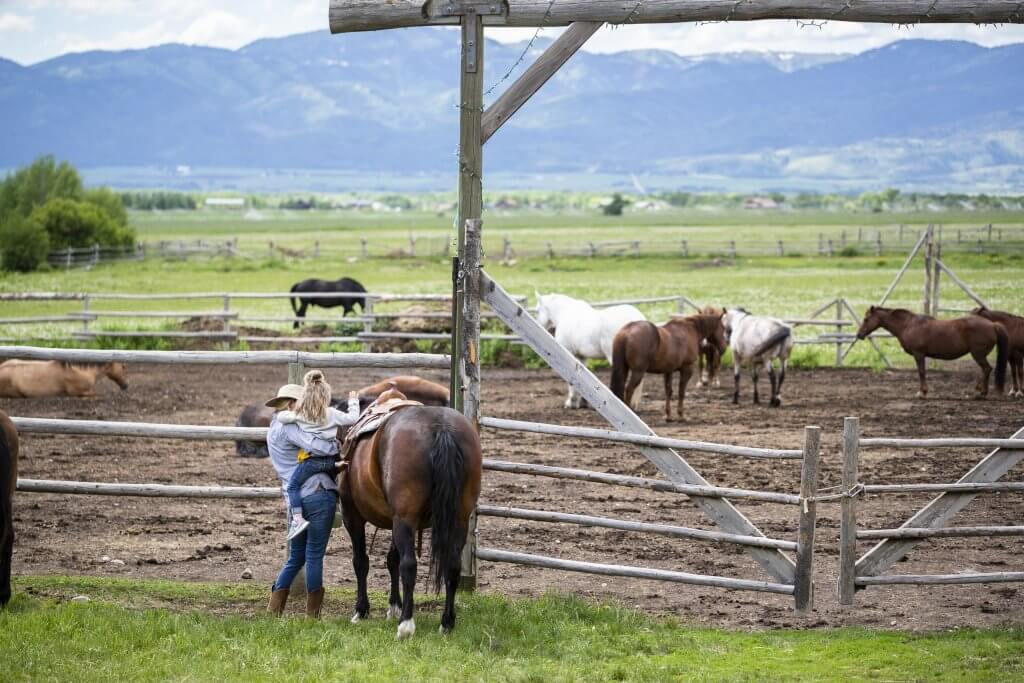 Linn Canyon Ranch
Located in eastern Idaho, Linn Canyon Ranch sits at the base of the Teton Mountain Range. In 1905, the Linn Family homesteaded in Jackson Hole, Wyoming, and continued ranching at that location for four generations. While the original ranch is still intact, Gene Linn and his wife, Lily, expanded to Victor, Idaho, the current location of Linn Canyon Ranch.
Whether you want to spend the night or just saddle up for the day, LCR offers trail rides to explore the Teton foothills behind the ranch, wilderness trail rides that traverse canyons and ridges, or the hour-long sunset dinner ride that meanders through wildflowers and aspen groves with views of the Teton Valley. Keep an eye out for elk, deer, hawks and other wildlife along the ride.
For those wanting to spend a night or two on the ranch, LCR offers rustic elegance in their timber frame cabin, or a glamping experience in their luxury tents, both with views of the Teton Valley.
Diamond D Ranch
Surrounded by the Salmon River Mountains, Diamond D Ranch is located in the Frank Church Wilderness in central Idaho. Since 1960, Diamond D Ranch has been a place to disconnect from the routines of everyday life. Operating completely off the grid, Diamond D is a backcountry gem that is rich with history, wilderness and adventure.
Two guided trail rides are offered most days at Diamond D Ranch, except on Fridays, when cowboys and cowgirls set out on an all-day lunch ride. At the beginning of the week, each guest is matched with a trusty steed with their riding experience in mind.
When guests aren't kicking up dust on the trails, they can go for a dip in Diamond D's solar-heated pool or take an evening soak in the hot tub while star gazing. If those stars put a sparkle in your eye, try your hand at gold panning in the nearby creek.
Other activities at Diamond D Ranch include hiking, archery, target shooting, stand-up paddleboarding on the ranch's private lake and evening activities like volleyball, roping lessons and bonfires.
If you want to trade your saddle for a fishing rod, rainbow, cutthroat and other native trout can be found in the nearby streams or in the ranch's private lake. With Loon Creek running right through the property, fly-fishing is popular among guests.
Diamond D Ranch has a variety of cabins, suites and bed & breakfast style rooms, some of which include the soothing soundtrack of a nearby creek.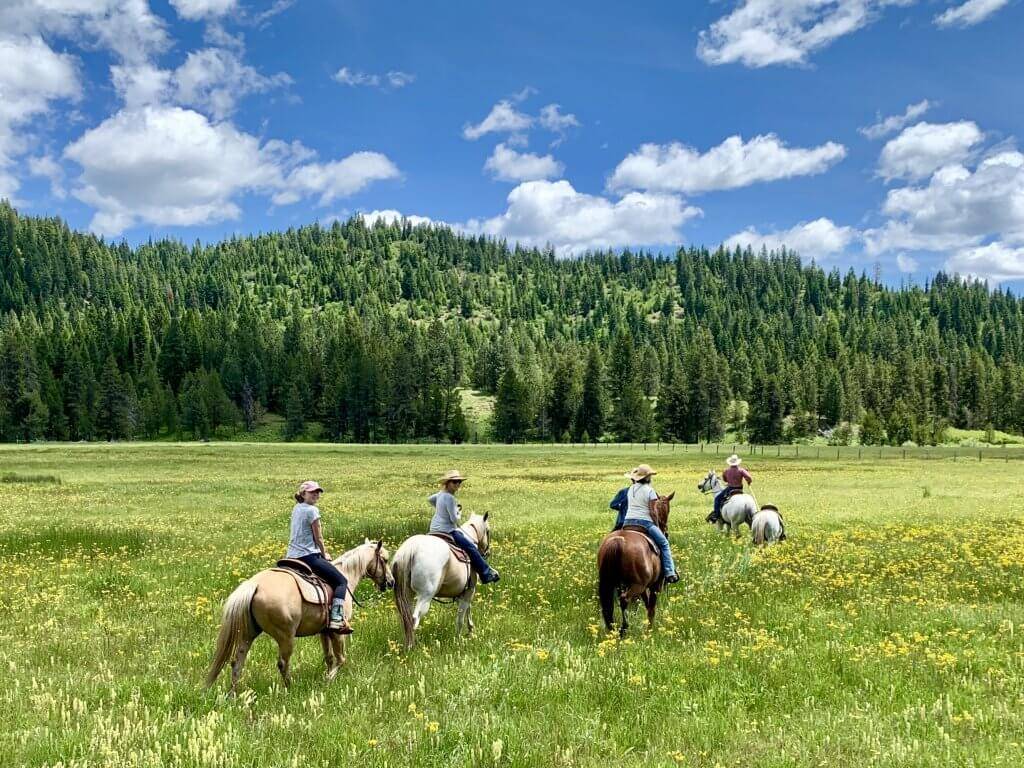 Longhorn Guest Ranch
Located just outside of Smiths Ferry in southwestern Idaho, Longhorn Guest Ranch is just an hour and a half from the Boise Airport.
LGR is a 214-acre working ranch with horses, cattle, chickens and even a garden. In addition to horseback riding, guests can participate in roping practice, archery, fishing, canoeing, hiking, mountain biking and more leisurely activities, like playing horseshoes.
If relaxation is more your speed after a day of riding, kick off your boots and cozy up next to the campfire with a warm, gooey s'more in hand.
With lodging for 35 guests, Longhorn Guest Ranch has nine pioneer-style cabins are scattered around the lodge and vary from single-room to family cabins.
Whether you decide to break away for a week, weekend or just a day, Idaho's guest ranches will allow you to get away to a world filled with cowboys, cattle and cookouts. So, dust off those boots and say giddy up! Adventure is waiting.

Published on March 9, 2021