This author is a paid content writer for Idaho Tourism.
Idaho is ranked #1 in the U.S., and often in the entire world, for whitewater adventures by outdoor magazines. River sports can be taken to the extreme here in the Gem State and if you think you've experienced all that whitewater has to offer in the lower 48, think again, and pack your bags for Idaho.
Whether you're bringing the whole family for a day trip on the river or if you're traveling with your buddies looking to conquer some seriously big water, you'll find it here. Day trips may feature soaring canyon walls, abundant wildlife, and astonishing scenery while multi-day trips offer riders the journey of a lifetime through breathtaking backcountry.
If you're looking for an experience that will stick with you for a lifetime, take a guided rafting trip this summer and experience Idaho in one of the best ways possible. Here are three of the most epic runs for every skill level and recommended outfitters for every excursion.
Beginner: North Fork Payette River – Cabarton Run
Outfitter: Cascade Raft and Kayak offers this full-day trip out of the Cascade Raft River Center. Each trip departs at 9:15 AM – if you are coming from the McCall or Cascade area, you can make arrangements with the reservations staff to meet the trip at Cougar Mountain Lodge in Smith's Ferry.
This stretch of the Payette River is one of the most scenic runs in the state and is a very popular for rafting enthusiasts because it's a dam-release run. Adventurers flock here in droves due to the accessibility and versatility – this particular stretch of the North Fork of the Payette is excellent training grounds for novices and experts alike and is rated as a Class III difficulty. If it were me, I would reserve a spot with an outfitter and hit this run during late July or August – the reservoir releases warm water that makes this run most appealing at the tail-end of summer.
The Cabarton run has a remote feel to it although it is located just outside of McCall. This 11-mile stretch curves through lush green wilderness and gives rafters a chance to warm up before jumping into the thick of it. The first couple miles are light, which allows you to unwind, take in the scenery, and get a feel for the water.
Once you get to Trestle Rapid, the pace begins to pick up. Trestle Rapid is one of the longer rapids along this stretch, winding next to the railroad cut on the right river bank. Most who raft this section of the Payette River will agree, this part of the run will be your most challenging (-and most thrilling-) obstacle.
The remainder of the run after Trestle Rapids is lively and fun. You'll finish your run with Howard's Plunge at Smith's Ferry. Your guide will almost certainly hit this section head-on and shoot right down the middle. Spoiler alert: you may get wet!
Intermediate: Salmon River – Redfish Lake to Torrey's Bar
Outfitter: Rocky Mountain River Tours offers this trip through Idaho's scenic and untouched backcountry. The put-in is at mileage marker 199 on State Highway 75 downstream from Stanley. When the river is at medium flows, Sunbeam dam is runnable. The take-out is located at Torrey's boat ramp which is 11 miles downstream from mileage marker 199.
This stretch of the Salmon River is for all you rafters out there who have done it before but don't feel comfortable braving the super serious stuff just yet. This 11-mile stretch of water boasts massive vistas, beautiful sandy beaches, and enough white-knuckle rapids to satisfy any adrenaline junkie.
The portion of the Salmon River you'll be riding on this trip is not far from its headwaters in the majestic Sawtooth Mountains. If you journey here to raft in June, the waters will likely be big and fast, but the later in the summer you go, the water levels die down slightly, making this an incredible run for families.
By far, the most challenging rapid you will encounter on this journey will be Shotgun, which sneaks up on you one-half mile down from the put-in. You can quickly scout ahead and put together a game plan for Shotgun because you can observe it from the road before you even drop into the river.​​​​​​​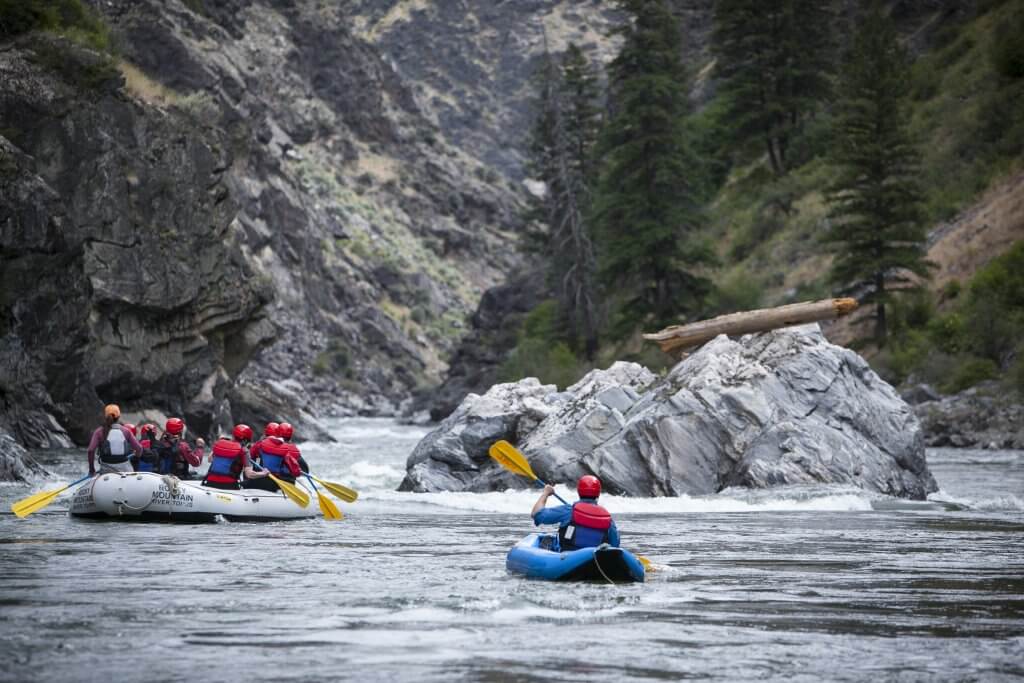 About 3 ½ miles farther down the Salmon is the Piece of Cake Rapid, formerly known for being the site of the Stanley Whitewater Rodeo. There are also several spots along the side of the river to pull over and enjoy the views, cast a line, or take a dip in a riverside hot spring.
Expert: Snake River – Hells Canyon
Outfitter: Mountain River Outfitters is an excellent choice for this excursion, just make sure to arrive in Riggins by 8:00 pm the evening before your multi-day trip. The outfitter will hold an orientation meeting at the Mountain River Outdoor Center where you will meet your tour leader. This orientation session will cover any last-minute questions and will inform you on where to pick up your waterproof camp bag, sleeping bag, and pillow, along with your day bag.
Hells Canyon is world-famous and for good reason. It's made up of some of the wildest and rugged lands in the lower 48. He Devil Mountain towers above the river gorge as a part of the Seven Devils Mountain Range and has a 7,993-foot drop from top to bottom – which, in case you didn't know, makes this mammoth canyon North America's deepest river gorge.
The Snake River that runs through Hells Canyon in known for having massive rapids and thunderous whitewater. Some of the most iconic rapids are Wild Sheep, Waterspout, Rush Creek, and Granite – all of which will give adventure enthusiasts a run for their money.
Hells Canyon may put your rafting skills to the test, but there are plenty of spots to rest and enjoy the views. Between the raging whitewater, you'll have time to kick back and enjoy the grandeur of the towering canyon walls, take a swim and relax, and catch a glimpse of Idaho wildlife.
There are several outfitters, including Hells Canyon Adventures that offer day trips where you raft down and then jet boat back to where you started. If you are looking for a longer trip, this whitewater strip is perfect for a multi-day excursion as well.
Trip Tips:
There are a lot of outfitters ready to guide you and your family down Idaho's miles of whitewater. If the outfitters listed above are booked to capacity, check out the Idaho Outfitters & Guides Association to find your next river adventure.

Published on August 18, 2016