With the second highest concentration of breweries in the state, northern Idaho has a variety of options and flavor profiles to tap into while adventuring in the Idaho panhandle. Consider these stops on your craft beer quest.
Moscow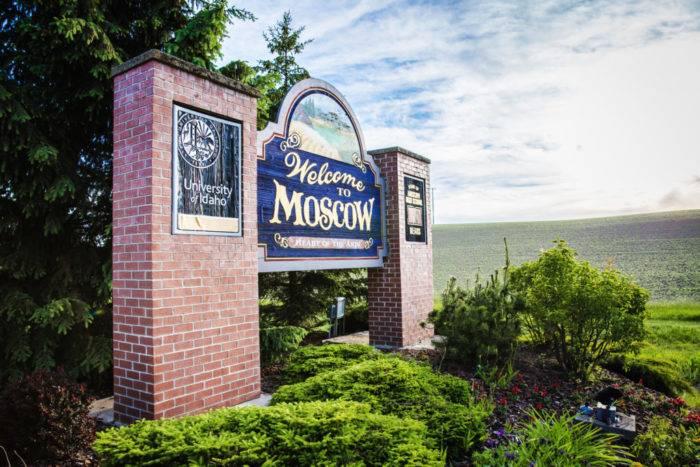 When visiting this college town, do as the locals do and hop between Moscow's breweries and brewpubs. Start off at Moscow Brewing Company for small batch brews, and ease into the day with this deliciously smooth pale ale.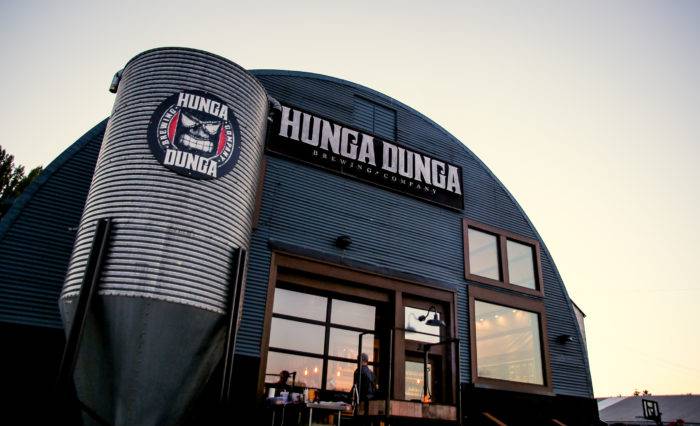 Take a short walk a few blocks south to Hunga Dunga Brewing. With a name like that, you know you're in for something special. Housed in a repurposed Quonset hut (see the picture above), Hunga Dunga is committed to quality hand-crafted beers that pair well with its fresh, farm-driven menu.
Wrap up the day with a stop by gastropub TAPPED – Taphouse & Kitchen. The menu is filled with seasonal offerings and 25 regional craft beers.
Coeur d'Alene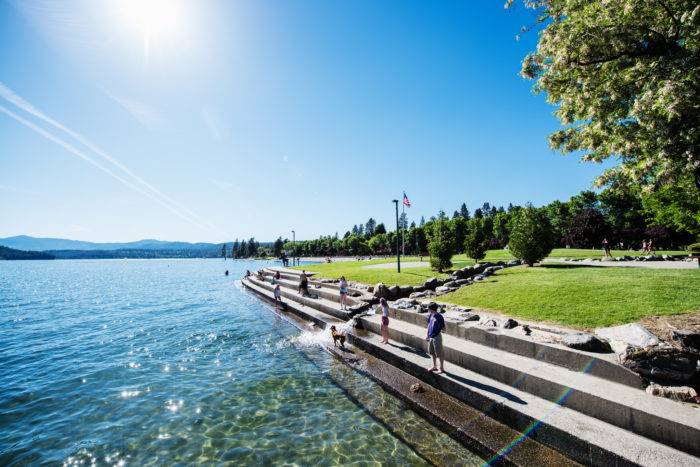 On to Coeur d'Alene, where visitors can find plenty of craft beer options between playing in the quilted landscape of forest and water.
Start off your Coeur d'Alene beer tour with Tricksters Brewing Co. The must-try Juicebox IPA, a Northwest-style IPA, is a golden copper pour balanced with citrus and tropical fruit and a dry, hoppy finish. Visit on a Friday and you might be lucky enough to try one of their special cask-conditioned beers.
When lunchtime rolls around, don't miss the local favorite Café Carambola, serving up mid-day plates full of bright, authentic Latin American flavors. Named after the star fruit, you'll find fresh tropical fruit and comforting takes on Central American cuisine, all infused with sweet and tangy sauces like chimichurri, curry-cilantro-lime and pineapple salsa.
In the afternoon, stroll to midtown Coeur d'Alene to check out Daft Badger Brewing for classic Northwest-style beer in a cozy environment. Grab a seat on the heated outdoor patio to sample a few brews. Try the Badger's Bounty IPA for a dry, citrusy cold one smoothed out with a piney finish or Josiah's Revenge Imperial Stout for an approachable yet complex beer rich with cocoa, dried cherries and figs – also available in a bourbon barrel-aged variety if you want to kick it up a notch.
Outside of the breweries themselves, Crafted Tap House + Kitchen is the place to savor a pint of craft beer in Coeur d'Alene with a collection of 50 beers and ciders on tap. The food menu is full of delicious selections – for starters, the house-made pretzel is worth ordering for the red pepper syrup alone.
Post Falls
A quick 10-mile drive west of Coeur d'Alene brings you to Post Falls.
Selkirk Abbey Brewing Company is up first, specializing in Belgian-themed beers and its own unique niche in the Idaho beer scene. From saisons to sours to malts, this is a must stop brewery for Belgian beer fans. The Infidel Imperial IPA is the go-to pint here.
Before indulging in the next brewery, make a stop at The White House Grill for a taste of some Mediterranean fare. Keep the theme of international flare going with gyros, sea bass, and fresh baked baklava.
Wrap up the day next to the historical Post Falls water tower at Post Falls Brewing Company. Posted above the Spokane River, this brewery has a penchant for the hoppy and malty. Check out the rotating tap handles with plenty of seasonal and limited releases to highlight your visit.
Wallace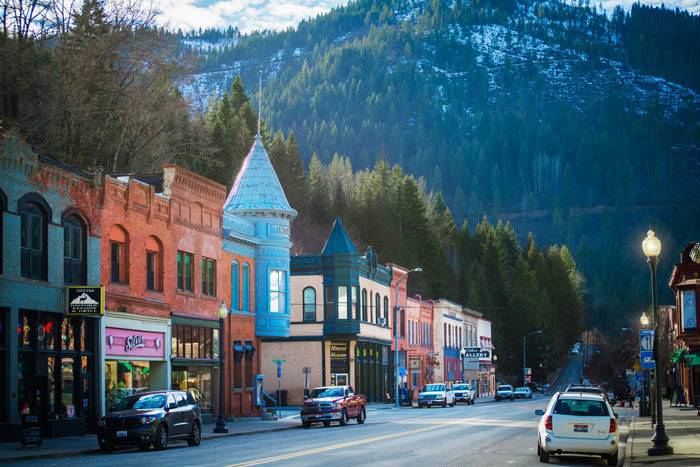 No trip to northern Idaho is complete without at least a day trip to Wallace, Idaho, a.k.a. the "Center of the Universe."
Wallace Brewing Company and its namesake town have charm and charisma to spare. In a town steeped in so much history – from its roots as a mining town to being the set of major motion pictures – the beer is no exception. Ask your bartender to tell you more about the stories behind each beer's historic name. You can even quiz your travel buddies on the historical Idaho images engraved on the bar top. Wallace Brewing's tap list is small but solid, including the 1910 Black Lager, a universal crowd-pleaser that's smooth and clean.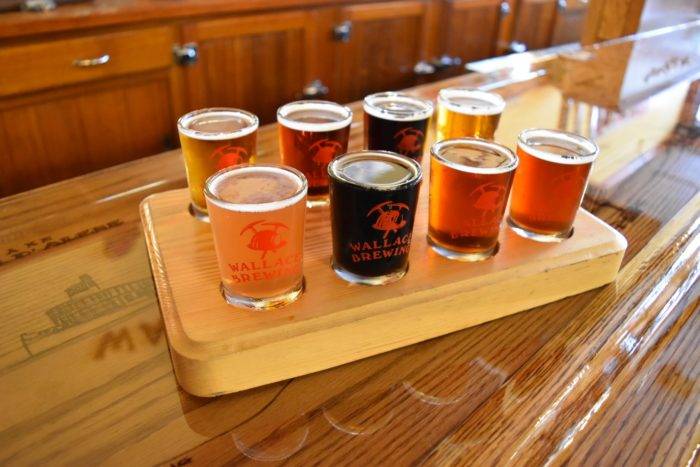 On the other side of town, which given the size of Wallace means just a few blocks north, grab lunch at City Limits Pub & Grill. City Limits is known for its scotch eggs. Grab an order or two for the table and wash them down with a pint from in-house brewery North Idaho Mountain Brew.
Sandpoint & Ponderay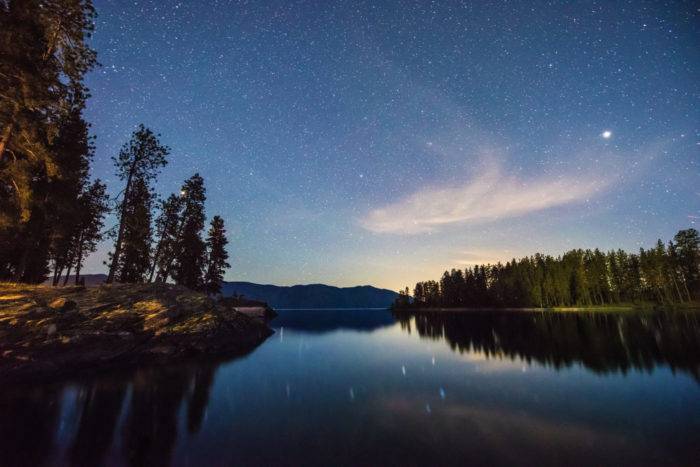 For the northernmost stop on this north Idaho beer exploration, drive up U.S. 95 from Coeur d'Alene to sip and play along Lake Pend Oreille in the scenic towns of Sandpoint and Ponderay.
Tucked near the lake, MickDuff's Brewing Company has two locations, the original brewpub and the Beer Hall and Tasting Room, making for convenient pit stops as you explore downtown Sandpoint. Catch a game at the brewpub or get competitive over a match of billiards or foosball at the Beer Hall. All that competition will surely make you thirsty. The Lake Paddler Pale, a refreshing Northwest-style pale ale dry hopped with cascade hops, or the Knot Tree Porter, rich and creamy with chocolate and black malt, are solid starters. In addition to the beer, MickDuff's takes its food menu seriously, offering quality dishes including an American Kobe beef burger.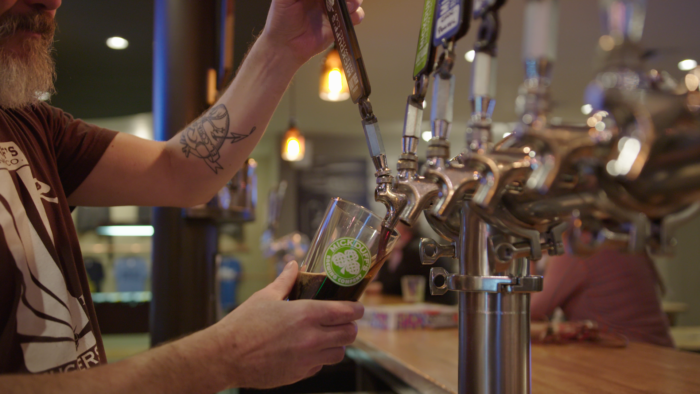 When you're ready to grab another bite to eat, head a few miles upstream to Ponderay. Sweet Lou's has your full party covered with classic dishes and regional twists. Try the bison ribs for a unique protein option to refuel on this final stretch.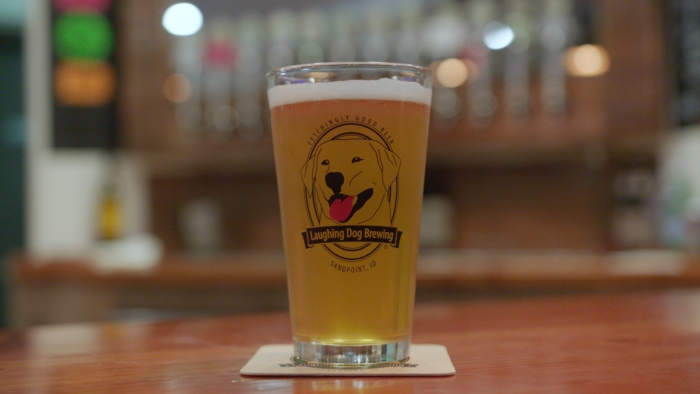 Finally, you'll need to stop by award-winning Laughing Dog Brewery. Laughing Dog is loyal to the four golden ingredients of brewing and has found the sweet spot with this simple, focused approach. In addition to the owner's adorable yellow lab mascot, Ben, the brewery is known for its Huckleberry Cream Ale – a sweet, refreshing beer brewed with Idaho's official state fruit. With Ben's bark of approval on all of the brewery's releases, you can't go wrong when it comes time to make your selection.
Cheers to good beer, good views and good people!
Interested in trying more out-of-this-world Idaho craft brews? Take your taste buds on an adventure during Idaho Craft Beer Month this April.
Please drink responsibly.

Published on April 12, 2018