Spring is quickly approaching and it's a lovely time of year to simply enjoy what Mother Nature is dishing up – fresh air, blue skies and sunshine.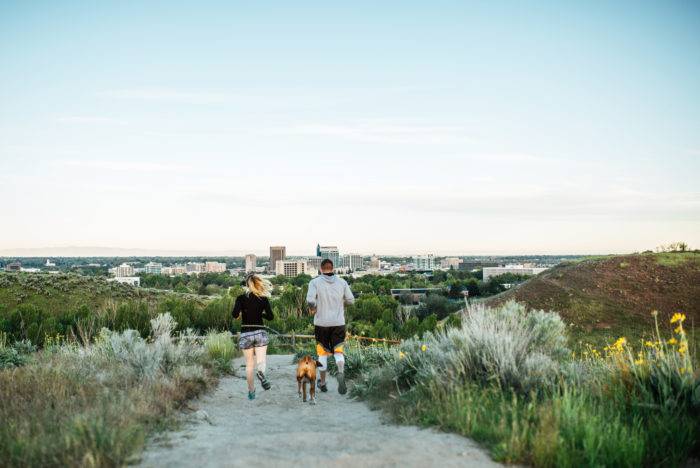 Idaho is full of opportunities for outdoor recreation. Here are just a few experiences around Boise to get you started.
Boise Greenbelt
With 25-miles of paved trail access, this tree-lined pathway is an easy option for outdoor exploration. Hop on a bike and ride the entire trail, or stroll along a section to check out local parks and the Boise Whitewater Park.
Ridge to Rivers Trail System
Winding its way through the foothills around the Treasure Valley, this system with more than 190 miles of outdoor access is an easy way to get out on your own. Spring conditions could mean some trails may be closed for mud management in order to preserve the trails from erosion, but trail updates are posted regularly. Bring along your four-legged friends for a little fresh air, as leashed companions are allowed. Check out the map to find off-leash locations as well. Wildflowers will begin to make an appearance this season, so head to these trails for prime wildflower viewing.
MK Nature Center
This 4.6-acre site has a variety of pathways to explore along the Boise River Greenbelt. Learn about Idaho's many landscapes and abundant wildlife, and see native fish species up close through underwater viewing windows. Please leave your furry friends at home for this outdoor experience in order to protect the wildlife that lives in the area.
Celebration Park
This park located along the Snake River near Melba is Idaho's only archeological park. Explore the park to find petroglyphs 100 to 10,000 years old, then check out the historic Guffey Railroad Bridge and learn about Southwest Idaho's early mining and railroad history.
Idaho Birding Trail
Idaho's diverse landscapes create the perfect locations for birds of all varieties to venture into Idaho. The Idaho Birding Trail is a network of 175 sites and about 2,000 miles of trails ideal for bird watching and spotting other wildlife. Check out the interactive map to find sites around the state.
City and State Parks
Idaho has a wealth of city and state parks with a variety of outdoor adventures available. Learn more about Boise, Meridian, Nampa, and Caldwell's parks to expand your exploration options. Idaho has more than two dozen state parks as well, with options like star gazing, hiking, mountain biking, and even a little sandboarding, you'll find an outdoor option for any adventurer.
Curious about more wildflower adventures in the Gem State this spring? Add 6 Must-See Places to View Idaho's Spring Wildflowers to your reading list.

Published on March 16, 2020