Jade Broadus worked in partnership with Visit Idaho to create this Travel Tip.
Snow is magical. Think about the first time you went on a snow adventure. When you looked out and saw a white blanket covering the world in possibilities you'd only ever heard about and read in books – snowballs, snow angels, skiing, spinning down the hill in an inner tube, and sinking up to your chest in powder. A first winter vacation shouldn't be one thing – it should be all of these things.
Of course, every trip is planned for a specific activity. For us, it was our toddler's first time skiing. Like drawing a treasure map, we put a big 'X' on Ski Day and then began charting out the dotted line that would lead us from our suburban lifestyle to zooming down the slopes. We choose activities that would let our daughter fulfill her Frozen fantasies and help her get acclimated to winter sports.
City and Snow
Coeur d'Alene, with its mix of Main Street charm and natural landscape, was a great starting point. Spending our first few days here, we were able to relax – a sensation often absent from the first day at a mountain resort when we typically rush to gather our lift tickets and gear.
Staying at the Coeur d'Alene Resort put us steps away from both the downtown dining and Tubbs Hill, with 180-degree views of the lake at all times. With this central location, we were able to take our daughter out hunting-for-snow along the lake and quickly retreat back to our hotel-room-fireplace when we got cold. We also took advantage of Coeur d'Alene's walkability, discovering some great spots for warm, hearty winter food. Meltz Extreme (Grilled Cheese doesn't even begin to describe their sandwiches) and Crafted Tap House were two of our favorite finds.
During the Christmas Season, the Coeur d'Alene Resort comes alive with lights, songs, and holiday experiences just for children. Of all the attractions, every kid should get a chance to sail out to the North Pole where Santa reads out his good list for the year – which includes every child onboard (my daughter literally held her breath awaiting her name to be read). The resort story time, in-room elf cookie delivery, and seasonal versions of the Gooey are also favorites that turn the stay into a magical retreat.
Mountain Resort Experience
Silver Mountain is a toddler-approved winter vacation destination, just a short drive from Coeur d'Alene, and was our number one pick for a mountain resort because it's more than just a ski hotel.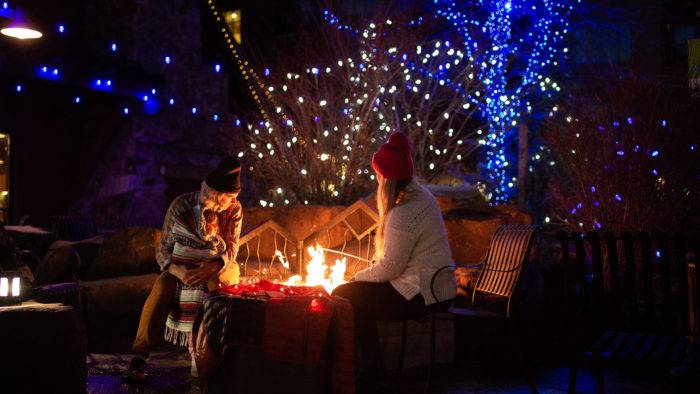 As this was one of Augustine's first snow trips, we wanted to make taking her to the snow as easy as possible while offering her chances for a break should she need it. With its attached gondola, Silver Mountain Resort made getting up on the mountain super simple, and its attached indoor waterpark gave Augustine a completely different vacation experience once we came back down. Booking our room here, we were never going to have to pack-up and drive to the lifts or struggle with ways to quietly entertain a toddler in a hotel room.
Snowshoes
Augustine was super excited to build her own Olaf, and we had already decided that open snow-play was the best way for our daughter to discover snow at her own speed. So, we headed up to the top of Silver Mountain to build snowmen, throw snowballs, and hike a bit. (Also, a day of playing in the snow would let us all figure out how to make our daughter comfortable in her bibs, jacket, gloves, hat, and unicorn boots.)
It's impossible not to compare the gondola ride up from the Silver Mountain Resort to Small Foot. The twenty-ish minute trip lifted us up through the cloud layer where the world was transformed into a literal winter wonderland. We hopped out, rented snowshoes for the adults and hiked down to the nature trail loop.
Of all the mountain sports offered, snowshoeing is definitely the least traveled by resort guests. With piles of unpacked snow, we were able to pat down areas of the trail and let Augustine dig into the powder like it was our own private forest.
Snow Tubing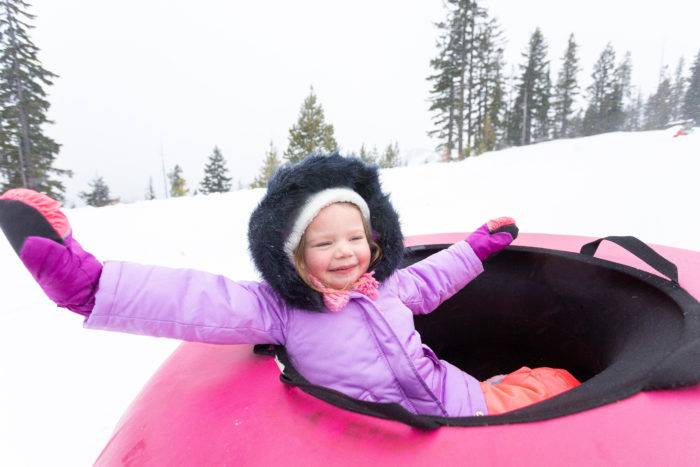 As we neared our big 'X', the first ski lesson, Augustine had come to really love the snow and to be comfortable in winter gear. Still, there's a big difference between playing Frozen in the pines and taking off on a set of skis.
To ease her into racing down the slopes – we went snow tubing. This way we could help get her more comfortable with speed if she turned out to be scared. Silver Mountain has a couple of options for families tubing together – kids can sit in their parent's laps or can ride alone in pint-sized tubes led by their parents via rope.
I was shocked by how much Augustine loved tubing. Letting her take the first ride down in her own tube, I was prepared for tears, but was greeted with an open mouth smile and pleas to do it again. As we cycled up and down the mountain, her tube's tether allowed us to give her more and more freedom until she was stretched out several feet away from us, essentially flying down by herself.
Toddler Skiing
Beginning skiing early in life leads to more confident skiing as an adult and also has the advantage of getting comfortable on the slopes when the child's more willing to take risks. However, it was most important to us that our daughter has a ski day that leaves her feeling positive and upbeat about the experience. We figured, if she left happy, she'd be more willing to try skiing the next time we took a winter vacation.
To alleviate the parent-stress of teaching our daughter ourselves, we signed Augustine up for ski lessons. The instructor greeted us at the top of the learners-hill full of ideas and solutions to help Augustine get comfortable on her skis and also learn how to control herself on her runs. It was clear from the first run, Augustine favored speed over skill.
We wrapped the day with a mix of hand-holding and coaching – making it down the hill a half dozen times. While Augustine took a bit to get acclimated, she was able to work up to skiing by herself for ten to twenty feet.
As we left the mountain, Augustine clearly missed the snow – which was our goal from the beginning. We set out to give our daughter a sample platter of winter experiences, and next time we'll be able to build on what she loved to make an even better vacation.
Jade Broadus is a travel photographer and blogger, sharing photos and trip guides everywhere from National Geographic to The Points Guy, and has made it her life mission to seek out adventures every day. From an around the world trip with her husband to now traveling around the U.S. and abroad with her toddler, you can find her sharing daily videos and photos on her family travel blog, vagabond3.com.
Feature image credited to Jade Broadus.

Published on February 26, 2019