This story originally appeared in the 2021 Official Idaho Travel Guide
Did you know Idaho has more navigable miles of whitewater than any other state in the Lower 48? With 3,100 miles of rapids, eddies, sand bars and more, you can always find a way to add a day (or six) of splish-splashing adventure to your Idaho vacation. Idaho serves up mile after mile of pristine river conditions for all levels of whitewater enthusiasts, from rafting rookies to paddling pros. Stack on the gorgeous mountain and canyon landscapes, diverse wildlife viewing and riverside hot springs, and you get an ideal setting for an easy day of sightseeing and nonstop guided paddling fun or the multiday river adventure of a lifetime.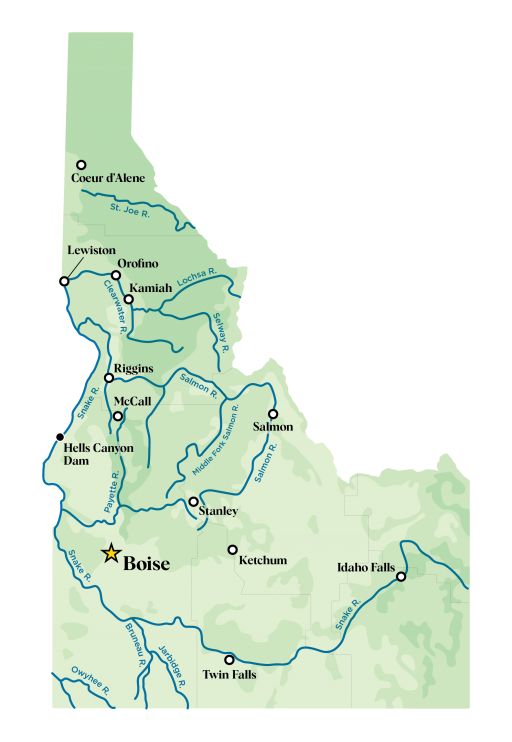 Northern and North-Central Idaho
Northern Idaho is known for its abundance of water—everything from the dazzling Pend Oreille, Coeur d'Alene, Priest, Moyie and Kootenai Rivers to the legendary Lochsa, Selway and Clearwater Rivers.
With continuous Class III to IV rapids, the Lochsa River is perfect for adrenaline seekers looking for a full day of adventure on one wild river. The Lochsa is fueled by spring runoff and is navigable during high water, making May through July the prime time for this trip.
The Selway River is regarded as one of the most remote rivers in the US, taking adventurers into the heart of the Selway-Bitterroot Wilderness during a multiday trip. Featuring 47 miles of Class III to IV rapids, a skilled guide will help you navigate the rowdy and technical whitewater. You'll also be able to enjoy ample hiking opportunities, impeccable fishing habitats and scenic campsites along the way. This wilderness expedition is best experienced May through August, but you'll want to plan well in advance, as it is maintained in a highly primitive condition with only one launch allowed per day.
Formed by the confluence of the Lochsa and Selway Rivers, north-central Idaho's Middle Fork of the Clearwater River is ideal for those seeking a tamer, single-day rafting trip. One of the first rivers to be designated Wild and Scenic by Congress in 1968, the picturesque Middle Fork of the Clearwater offers several Class I and II rapids that are great for beginners looking for a relaxing day on the water, or for those eager to tap into the phenomenal fishing available while being surrounded by 1.3 million acres of wilderness. This stretch of river is best traveled July through September, making it the perfect adventure to cool off on a hot summer day.
The Lower Salmon River presents an easy-going yet exciting three- to four-day rafting experience. This multiday trip starts near the town of White Bird and runs down to the confluence of the Snake River. The relatively warm water (best in July and August) and white sandy beaches attract families and first-time rafters. The rollercoaster-style Class III rapids keep things exciting as you float through the river's steep and majestic canyon walls, but you will also find plenty of mellow pools for swimming and lounging.
If your schedule doesn't allow for multiple days on the water, then consider a half-or full-day trip on the Riggins Section of the Salmon, which runs through the town of Riggins. The Riggins Section offers roughly 13 miles of Class III to IV rapids and is best from June through September.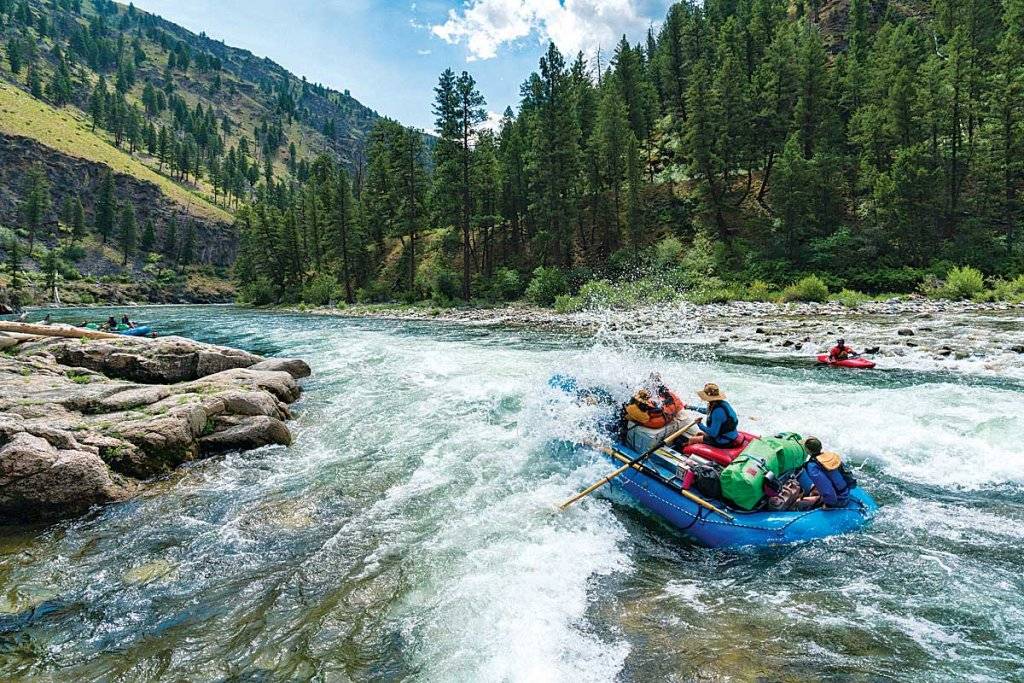 Central Idaho
Central Idaho has rugged mountain peaks, untouched wilderness, sparkling night skies and some of the best whitewater in the world. Mountain towns like Stanley, Hailey, Ketchum, Sun Valley and Salmon make great base camps for half-day, full-day or multiday whitewater runs in this part of the state.
Known among aficionados as one of the best and most-coveted rafting trips in the country, the Middle Fork of the Salmon River is the crème de la crème of whitewater experiences. The Middle Fork runs through the heart of the largest wilderness area in the contiguous U.S., the Frank Church-River of No Return Wilderness, meaning you'll spend six days paddling through continuous Class III and IV rapids while spending your nights soaking in riverside hot springs and camping along the banks. Pick a trip in June for a rowdier whitewater experience, or during the prime season (July/August) for great rapids, sunny days and world-class fly-fishing. Snagging a seat on this popular trip can be a bit competitive, as the U.S. Forest Service limits the number of private and commercial launches each day during the season (May–September).
The legendary Main Salmon ("River of No Return") is the longest free-flowing river in the Lower 48 and offers a remote wilderness rafting and fishing experience. The four- to six-day trips on the Main Salmon take paddlers from the eastern border of Idaho at North Fork all the way west to Riggins. With big Class III and IV rapids, refreshing river pools for swimming and expansive beach areas, all ages and activity levels will enjoy this trip.
Consider a half-or full-day trip on the Upper Main Salmon, which can be accessed from Stanley or Salmon. The Upper Main offers a memorable whitewater rafting introduction for beginners while keeping it fun for repeat adventurers. You'll experience the rowdiest water in June, so try a trip in July or August for a less bumpy (but no less exciting) journey.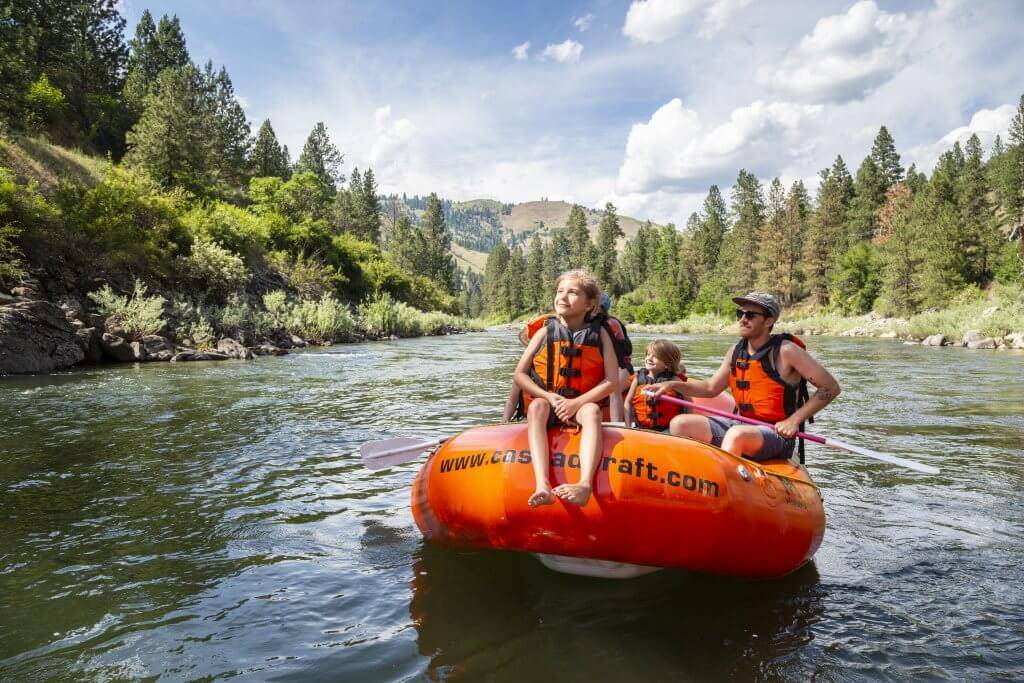 Southwest Idaho
With a mix of deep canyons, high mountains and sprawling deserts, southwest Idaho has diverse terrain and similarly varied and stunning rivers to experience. Boise, Idaho's capital, is less than an hour from several rafting opportunities.
The Main Payette River, just north of Boise, is an easy half-day trip (about three hours on the water) and perfect for first-timers and seasoned paddlers. All levels will enjoy the approachable Class I and II rapids along this fun, leisurely run between May and September.
Considered one of the most challenging and revered rafting trips around, the South Fork of the Payette is better suited for adventurers who feel comfortable with heavy paddling through Class III and IV rapids. This advanced stretch of river requires helmets, and there is no shortage of expert guides to happily maneuver you through the whitewater (plan on being wet by the end of the day). Depending on which portion you're most interested in, you'll find guided half-day, full-day and two- and three-day trips running from May into September.
For a full-day trip packed with stunning views and rolling waves interspersed with Class I–III rapids and potential wildlife sightings, don't miss the Upper North Fork of the Payette (commonly known as the Cabarton). While you can plan on getting soaked along the way, this trip will likely have everyone laughing with excitement by the time you reach the final leg. An optimal blend of whitewater rafting and relaxed floating trips on the Cabarton run May through September.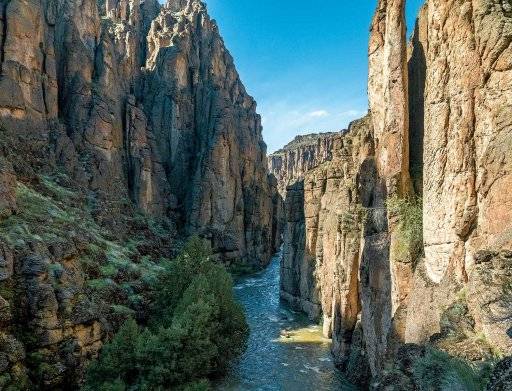 The Jarbidge and Bruneau Rivers trip is one of the most adventurous guided whitewater excursions in the US, known for its big, technical and steep whitewater rapids and stunning desert scenery. You won't find crowds here, but rather steep rock walls, slot canyons and narrow gorges decorated with juniper forests, desert wildflowers and breathtaking side hikes. For the few who decide to embark on this challenging journey, the rafting season can run anywhere between April and June but take note, it's a fickle season and pinning down the perfect window to run the river is part of the fun. The trip takes roughly four to six days to conquer. For a shorter version, check out the four-day, 40-mile standalone trip on the Bruneau, with incredible canyon scenery and a 5-mile rapid finale.
The Upper Section of the Owyhee in southwest Idaho offers some of the most remote rafting and canyon scenery in the country. Access is challenging and the whitewater is on the milder end, but those who do venture into this remote canyon are rewarded with the ultimate wilderness experience.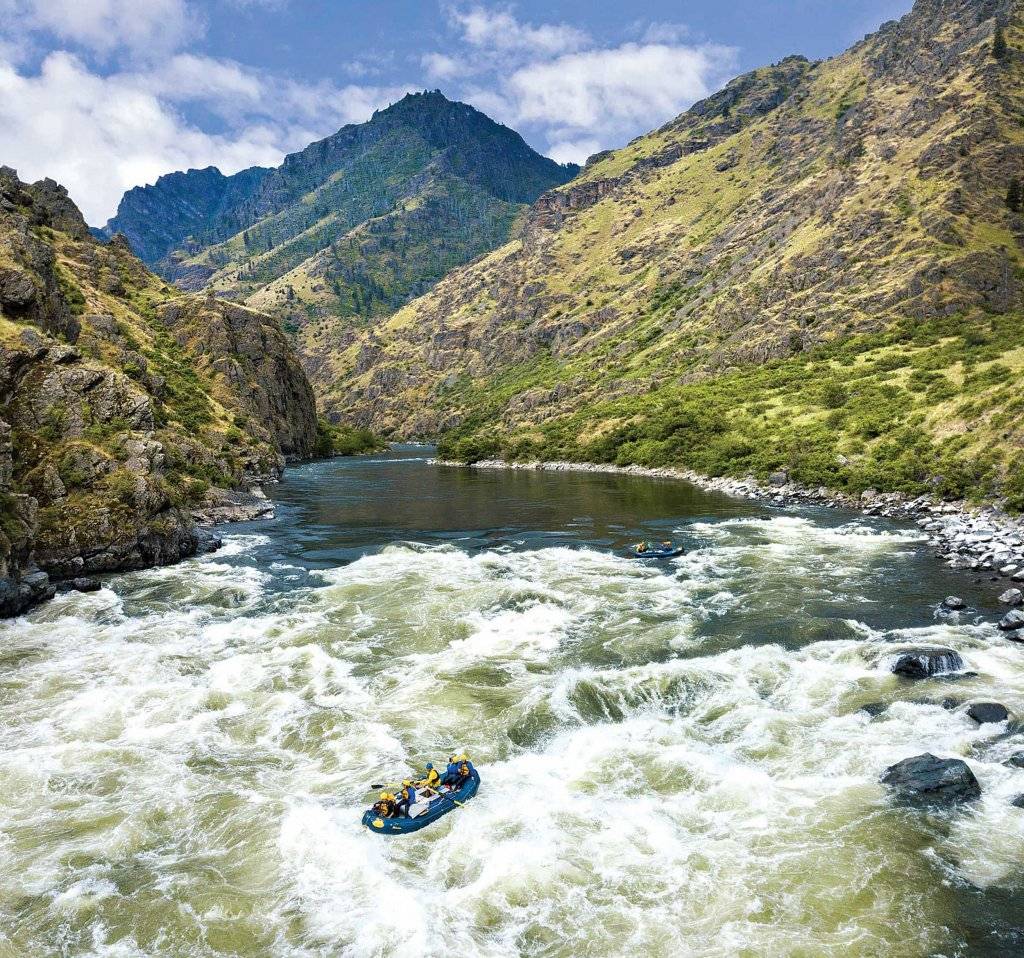 Similar to the Payette River, the winding Snake River offers a variety of access points and experiences for those seeking adventure on the water. Hells Canyon, North America's deepest river gorge, is one of Idaho's most iconic locations and serves up big splashes for fans of whitewater. A variety of rafting outfitters offer single- and multiday experiences that will accommodate any vacation schedule. The Class III and IV rapids keep things interesting, while mellow stretches of the Snake allow you to revel in the grandeur of Hells Canyon or spot a bear taking a drink along the river's edge. Trips run May through October.
The Murtaugh Section of the Snake River is an under-the-radar river run. Best suited for the very adventurous, there is a high possibility you'll end up in the water at some point during your paddle through these big Class IV rapids. This full-day, adrenaline-pumping experience is available during spring runoff, typically May and June.
The Hagerman Section of the Snake provides Class III whitewater in the bottom of Hagerman Canyon surrounded by wildlife and geologic formations. This spectacular one-day river trip in southern Idaho is best experienced between May and September. If you are in or visiting Salt Lake City, Utah, and looking to get on the river, this is one of the closest and best whitewater rafting options.​​​​​​​​​​​​​​​​​​​​​​​​​​​​
Feature image: Main Salmon River. Photo credit: Idaho Tourism.
---
Rapid Classification
CLASS I: Fast-moving water with occasional light surface movement. Few obstructions.
CLASS II: Rapids with small waves; mostly clear and open passages but some maneuvering may be required.
CLASS III: Numerous and irregular waves; maneuvering required through clear but sometimes narrow passages.
CLASS IV: Turbulent water. Strong, long rapids and high waves. Skilled and persistent maneuvering required.
CLASS V: Long stretches of powerful and tumultuous rapids, obstructions requiring skilled maneuvering; steep gradients, big drops and violent currents.
CLASS VI: Can be extremely dangerous; require great skill and stamina; navigable only when conditions allow.

Published on April 29, 2021