Tara Morgan worked in partnership with Visit Idaho to create this Travel Tip.
It's officially patio season. And downtown Boise bars are celebrating by shaking up fresh, spring-y cocktails. From spritzy, low-octane sippers to herbaceous libations that pack a punch, these warm-weather whistle-wetters provide the perfect excuse to kick up your feet and soak up the spring sunshine.
The Modern Hotel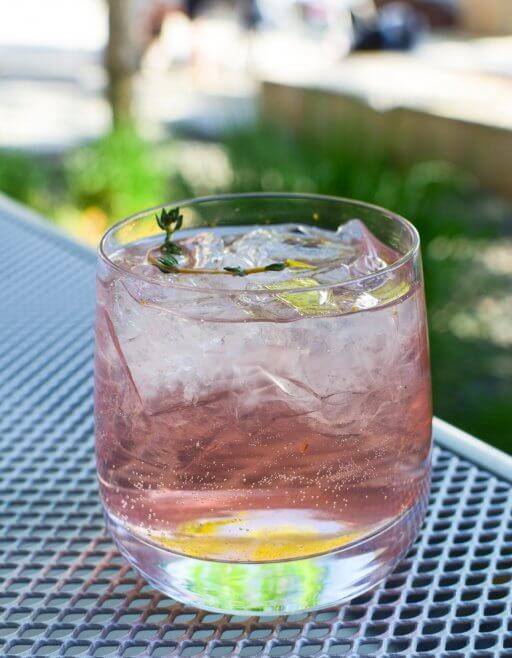 Every spring, tufts of white cottonwood fluff blanket the Boise Greenbelt like a warm weather snowstorm. This year, the Modern Hotel figured out a way to distill the essence of those cottonwood trees in a wonderfully refreshing cocktail. Dubbed The Bonneville, the drink features Plymouth gin, soda water and a shrub made with wild harvested cottonwood buds. Tart with a light pink blush color, the cocktail is garnished with a sprig of fresh thyme and has enough subtle sweetness to balance out the pucker. Need a simple spring snack to pair with your cocktail? Try The Modern's spin on the classic French dish—radishes and seasonal herb butter on bread.
The Wylder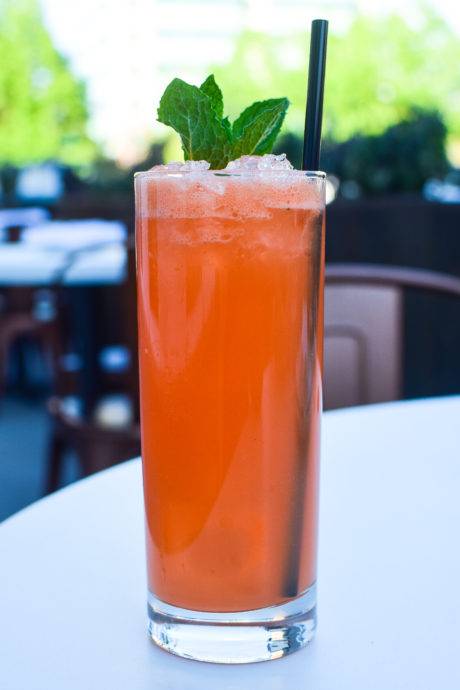 Renowned for its excellent thin-crust sourdough pies, The Wylder also boasts an impressive bar program with an arsenal of inventive cocktails. If you're in the market for a tequila-based tipple, try The Seven Devils, made with El Charro tequila, Chareau (made from aloe vera), strawberry syrup and lime. Or for a Bugs Bunny-approved drink, don't miss the bright orange What's Up Doc, featuring Tito's Vodka, carrot juice, ginger beer, fresh mint, and lime. Paired with the bougie Summer Estate— a white sauce pie topped with wisps of prosciutto and peas—it's a great way to sneak a few veggies into pizza night.
Red Feather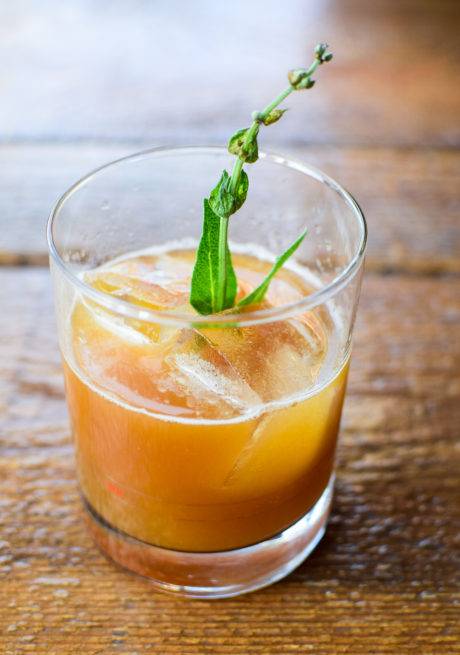 Bourbon might not be the first spirit that comes to mind when you picture a thirst-quenching patio-sipper, but Red Feather has managed to concoct a cocktail that has ample heat but is still surprisingly light on its feet. Called Pepper the Squirrel, this balanced beverage features Bull Moose bourbon, rosemary peach shrub, honey and black pepper. It goes down a little too easy, though, so make sure you order a side of fried brussels sprouts tossed with gochujang and crispy leeks so you don't get too squirrely.
Àlavita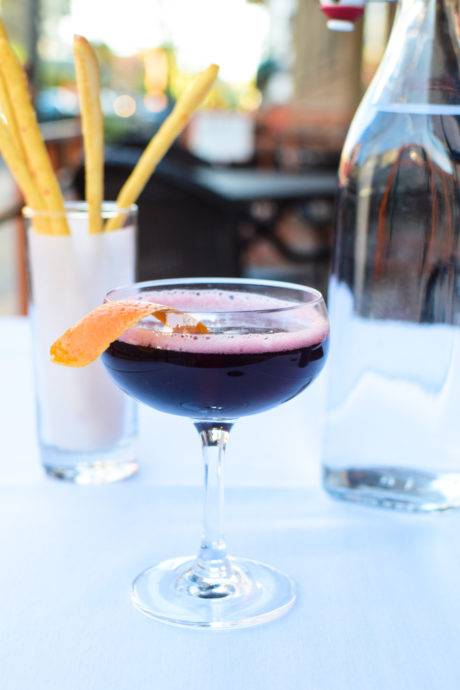 Looking for a laid-back alfresco retreat? Ditch the hustle and bustle of Eighth Street for a quieter street-side table at Alavita. The Italian joint's small front patio boasts a handful of cafe tables draped with crisp white linens that provide a perfect perch for early evening people watching. For a sessionable sipper, order the One O'Clock Spritz, a fizzy cocktail made with Campari, strawberry puree, Lambrusco and a splash of soda, served up in a coupe glass with an orange garnish.
St. Lawrence Gridiron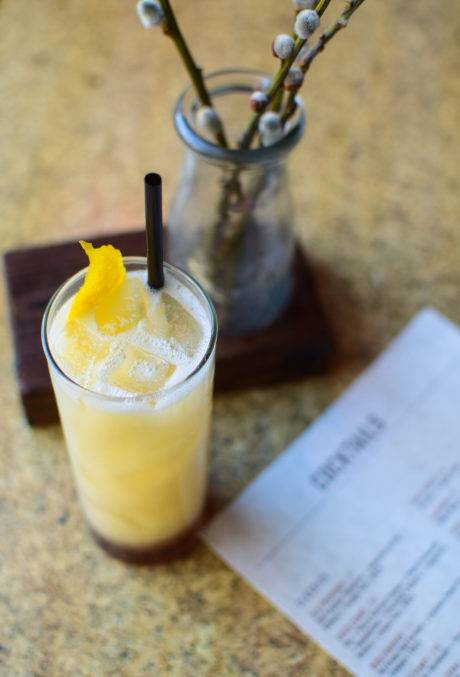 Not one to shy away from indulgence, Saint Lawrence Gridiron infused its spring cocktails with the same devil-may-care decadence you'll find on its meat-heavy Southern-influenced menu. Case in point? The LITAF, a twist on the Long Island Iced Tea featuring four ounces of liquor. Made with Pierre Ferrand cognac, 100 proof Old Forester Signature, white rum, vodka, lemon simple syrup and egg whites, this frothy drink is a deceptively boozy beast that might just knock you off your barstool.
The Mode Lounge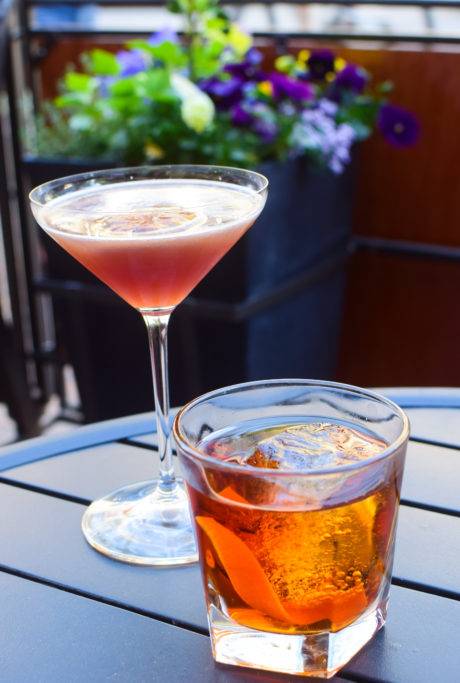 The Mode Lounge has happy hour on lockdown. With $5 classics like martinis and Manhattans, it can be easy to overlook the more whimsical cocktail menu. But options like the Blown—with Belvedere vodka, Hum liqueur (infused with hibiscus and kaffir lime), dry syrup, house sour and black lemon bitters—give you a reason to stray into more adventurous territory. Feeling particularly bold? Try the Professionally Irresponsible, a bitter blend of Bozal mezcal, Carpano Antica formula, Aperol, Cynar, Benedictine and orange peel.
Juniper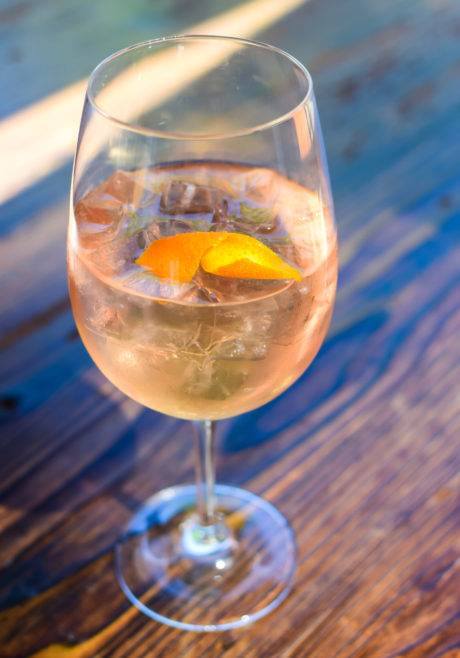 Want to revel in the boisterousness of Boise's restaurant row? Belly up to one of Juniper's high-top tables for a primo patio seat right in the middle of the action. The restaurant's refreshing new Glinda cocktail—which features rosé simple syrup infused with herbs de Provence and pink peppercorns, brut champagne, soda water, orange bitters and an orange twist—is a way to sip through the afternoon as the sun scatters its last rays of light down Eighth Street.
Feature image credited to Tara Morgan.
Tara Morgan is a freelance food + booze writer and co-owner of Wild Plum Events. She loves an epic dinner party, good design, bad puns and pretty much every French rosé ever made. Follow her on Instagram at @boisefeed.
Updated on January 30, 2023
Published on June 12, 2018