Steve Graepel worked in partnership with Visit Idaho to create this Travel Tip.
Ready to get your dark on? Take a trip into Central Idaho's recently designated Dark Sky Reserve.
Google "light pollution" and you'll pull up heaps of maps that wash just about everything east of the Mississippi in greens, reds (and sometimes white). The colors indicate levels of artificial light at night. The 'warmer' the color, the more light interrupts the nightscape. Think about it; nocturnal cities are tracked with cars and street lights. Office buildings stand guard over city nights in a fluorescent glow. We're burning the candle at both ends, illuminating everything in the process.
Now, I'm no natural light purist. I have no (immediate) intentions to move off the grid to reset my circadian rhythm to the rise and fall of the sun. I enjoy an evening downtown. I've got boxes of headlamps dedicated for dawn-patrol junkets. But every once in a while I need to calibrate the eyes with inky-black skies. So late this summer–just before the momentum of school would surely sweep us swiftly into the darkness of winter–my daughter and I filled up our backpacks with supplies for two nights and trekked deep into the Central Idaho mountains … America's first Dark Sky Reserve.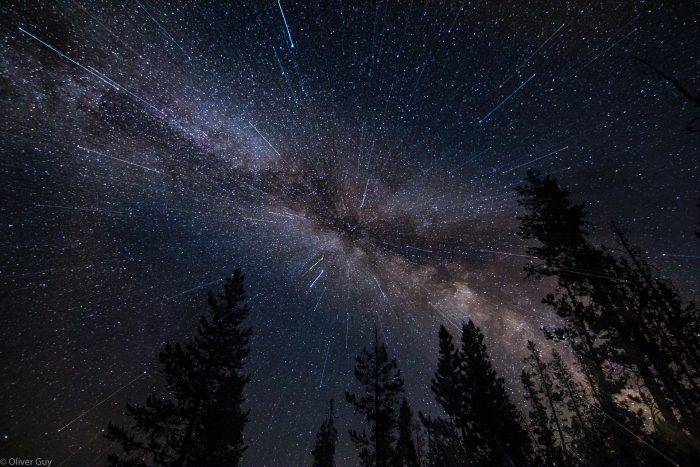 With our sparse population and wide open spaces, Idaho is a virtual black spot on the light pollution map. But Dark Sky Reserve designation is something special. Of course, it has to have that Van Gogh-quality starry night, but Reserve status is a gold-tier level designation, awarded only to dark sky regions that make the extra effort of reducing and monitoring artificial light to ensure nature runs the night light show.
There are only 13 designated Dark Sky Reserves in the world. The most recent one? It's right here in Central Idaho between Ketchum and Stanley, in Idaho's Sawtooth and White Cloud mountains.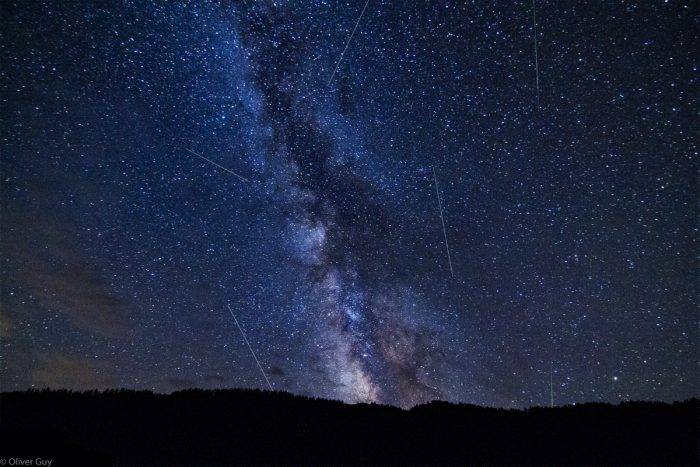 Unlike Idaho's prominent Sawtooth range–which rips across the Stanley skyline–the White Clouds are tucked away deep, behind a thick veil of foothills. They require a little extra "umph" to get there. But as they say, the juice is worth the squeeze.
My daughter and I found ourselves once again in the truck, belching over 10-miles of backcountry road before we eventually rolled into the Fourth of July trailhead. We inflated our mattress and stuffed it between the wheel wells of the truck bed, wiggled into our bags, tucked our jackets under our heads for pillows and gazed up through a tunnel of sky, burrowing through the overhead trees.
"Wow…it's amazing!" A white ribbon of light shot across the sky. I timed our weekend in the Dark Sky Reserve during a new moon, and also during the peak of the Perseid meteor shower. My daughter was gobsmacked by the early reveal.
"Just wait until tomorrow night!" I shared and we drifted off to sleep.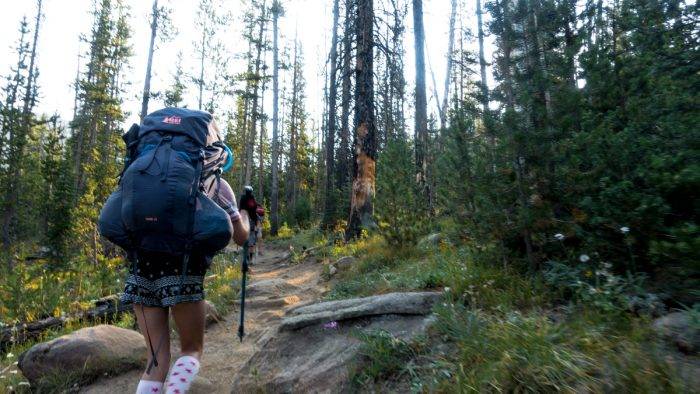 We left the truck early Saturday morning and followed the well-worn trail into Fourth of July Lake, a popular first-timer's backpacking destination. I rigged the fly rod and let my daughter hone her cast on the small mountain tarn as I leaned back against a rock caught up on inspecting the back of my eyelids.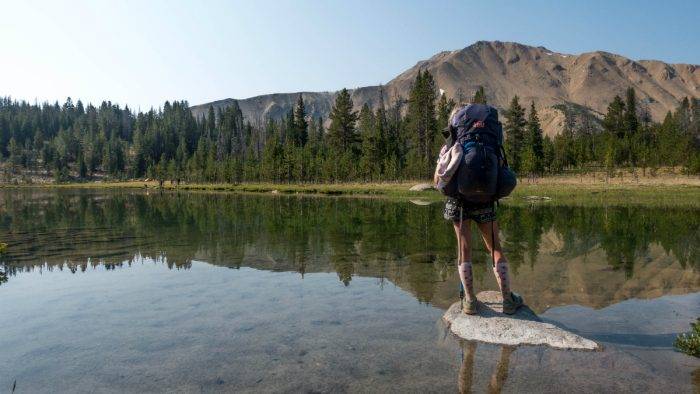 While only a handful of trailheads yield access into the White Clouds, they quickly scatter, dispersing the crowds across the high country. We parted ways with Fourth of July Lake and followed the signs to Born Lakes, another 1.5 miles away.
Climbing out of Fourth of July Canyon in August, we were smacked with an eye-full of alpine color, with Ants Basin carpeted in lush green meadows, accented by bright alpine flowers. But commanding the view was David O. Lee Peak, an impressive white pyramid of Limestone that punched above the northeast skyline at 11,300'.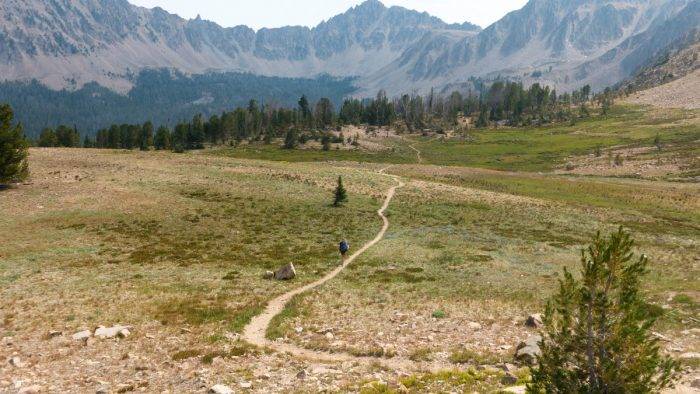 The trail ping-ponged down the scree slope into Ants Basin and rolled across the valley, ducking into the trees where the chain of lakes nestled in between the toes of towering peaks. Just a stone's throw from the popular Fourth of July lake, Born is still a fairly popular destination (we ran into friends from my daughter's school). But there were plenty of campsites to still feel like you had the lake all to your own. We slipped between the pair of lower Born lakes and huffed it another quarter mile to the upper (and slightly larger) Born Lake and set up camp on a knoll that overlooked the Warm Springs Valley.
We spent a lazy afternoon skipping rocks, climbing boulders, had an impromptu snowball fight, and then scampered back to camp to fill our bellies on reconstituted Idaho potatoes. With plans for a big night, we cut the evening short, and watched the sun slip behind the Sawtooths to the west from inside our tent.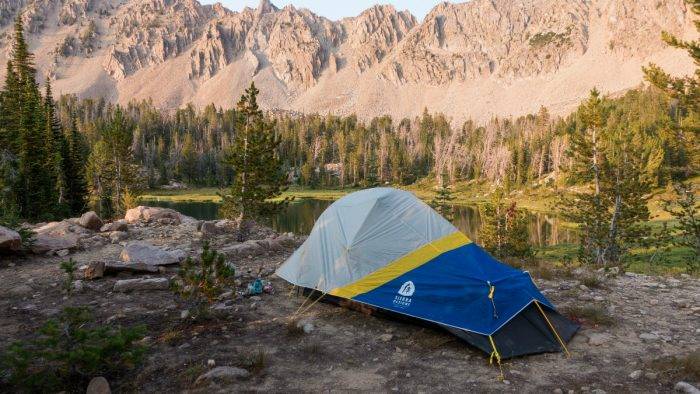 Four hours later, I woke up and peered through the mesh canopy of our convertible tent. Above, a dazzling cloud of stars arched overhead. But down in the tent, it was so dark I could barely find my zipper.
I fumbled for the headlamp, and whispered to my daughter. "It's time to get up…you gotta see this!" Stirring an 11-year old out of a deep sleep can be like flirting with dragons. It's best catered with a good measure of diplomacy, kindness, and Jelly Bellies. The allure of the Milky Way, streaked with meteors doesn't hurt either.
With a sleeping bag and pad in one hand and the camera tripod in the other, we scurried to our photo perch, up out of the trees and under the Milky Way.
An amateur photographer at best, I burned through my main camera's battery then mounted the second camera to the tripod, giddy with each picture displayed on the LED screen. I tweaked my aperture, adjusted my shutter speed and shot around the skyline until I felt I snapped all that I could. My daughter sat patiently, dozing in and out of sleep as a burst of light whizzed across the heavens. Then it was back to camp and more sleep.
The following morning we reconstructed the night, sharing what we liked best and what would be our next trip. But like our short summer, our time in the mountains had come to an end.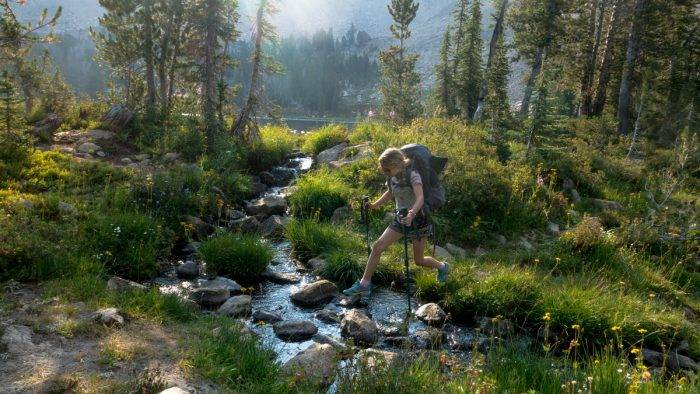 Packing up camp, I moved most of the food and water out of my daughter's pack and into mine. Like the crescent new moon, she cracked a smile, picked up her gait and practiced her footwork, dancing over rocks on the way back down to the truck. And with that, another summer had come and gone.
Do it now
Time your trip. Want to catch the best of the Central Idaho Dark Sky Reserve? Start by looking at the lunar calendar and pick a block of time during the new moon (when the moon is blocked by the earth's shadow, reducing the amount of night light).
Bring a tent with a removable fly and a no-see-um mesh wall. The White Clouds are notorious for bugs. 2-3 season tents often have a mesh wall that will keep the bugs at bay but allow you to see the entire sky.
Bring flashlights. No artificial light and a new moon will leave you in the dark…which is a good thing…until you need to get up at night. A light will also help you work with your camera at night.
Bring a good camera. An iPhone or point and shoot won't cut it for astrophotography. Bring a camera with a fast, wide angle lens, high ISO, and adjustable shutter speed. And bring a tripod. There's a lot of math out there that can help you dial in the right settings but start with ISO 3200 and a timer set to 20-second exposure.
Keep an eye on the smoke (and weather). Summer often means fire season in Idaho and with it, smoke. While our days were smokey, a high-pressure system rolled in at night and pushed the smoke out.
Feature Image credit to Oliver Guy/ Central Idaho Dark Sky Reserve.
Artist, writer, adventurer, father of two, Steve Graepel is in constant pursuit of the balanced life. Living in Idaho, he can pursue it with gusto. Steve's work has appeared in National Geographic Adventure, Patagonia's The Cleanest Line and Gearjunkie.com.
Steve and his wife Kelly live in Boise, Idaho with their two children, Chloe and Ethan.

Published on September 4, 2018