Spot Sandhill Cranes in Idaho This Fall
Kristen Pope worked in partnership with Visit Idaho to create this Travel Tip.
Standing four feet tall with a six-foot-wide wingspan, just one sandhill crane is an impressive sight. However, every fall and spring, Idaho offers opportunities to see hundreds or even thousands of these magnificent birds as they rest along their migratory route.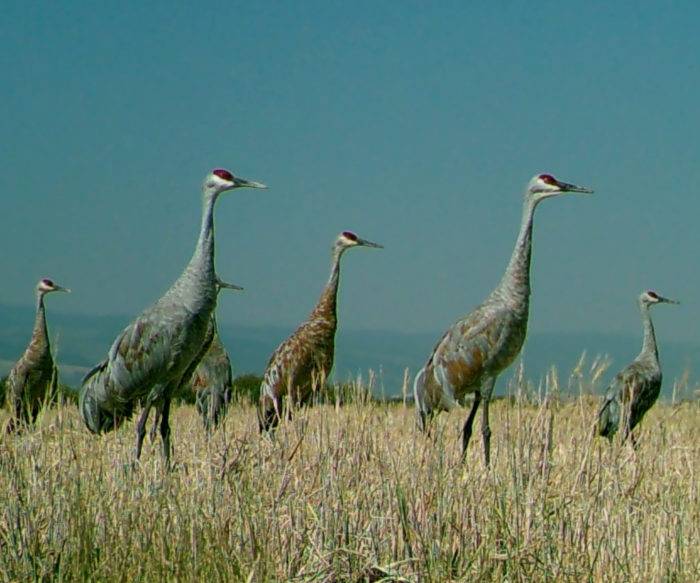 Idaho offers dozens of places to see these wide-winged wonders, from the Pierce-Weippe-Grangemont Subloop up north to numerous sites throughout the eastern, southeastern, and southwestern regions of the state. Check out the Idaho Birding Trails website to find dozens of great viewing spots. Below are a couple of favorites.
Grays Lake National Wildlife Refuge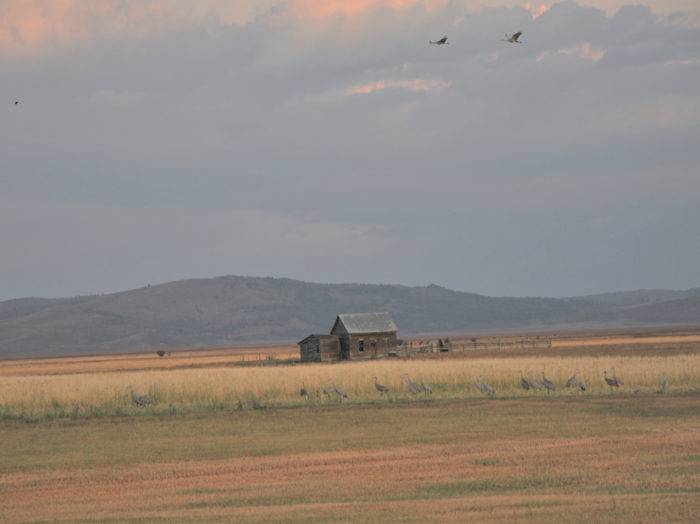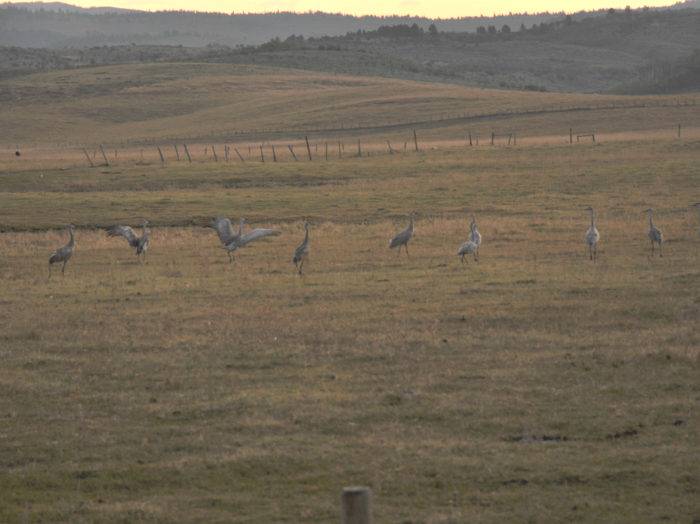 Located 30 miles from Soda Springs, Grays Lake Wildlife Refuge is one of the state's best places to observe the spectacle of sandhill cranes. The refuge features a hard-stem bulrush marsh home to the "largest nesting population of sandhill cranes in the world," according to the U.S. Fish and Wildlife Service, which manages the refuge. Over 200 breeding pairs have been counted here some years.
In fall, the birds gather at the refuge before they continue on to their wintering areas further south. Peak migration time is typically the first half of September, and in September and early October, up to 3,000 cranes can be seen at one time according to the U.S. Fish and Wildlife Service. Spring is also a good time for viewing, as they start arriving in early April, taking a rest on their journey north.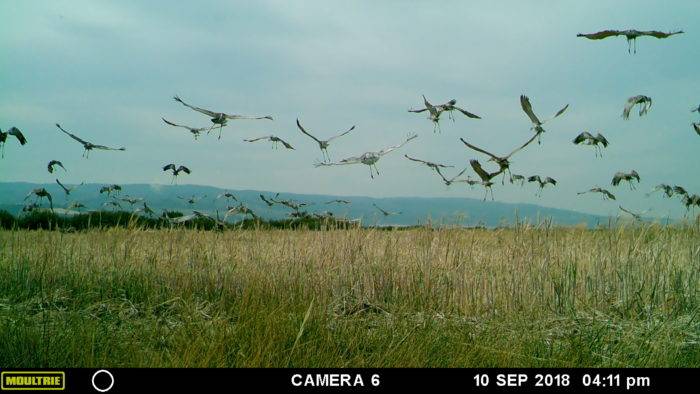 For the best viewing opportunities, be sure to bring your binoculars and look for cranes in the grain fields. Check out the overlook above refuge headquarters as well as the grain field on Grays Lake Road (0.8 miles from the intersection with Highway 34). Keep in mind foot access to the refuge is limited, and hikers aren't allowed during certain times of the year. The best way to see the birds is from a vehicle along the road which allows a fairly close view without disturbing them.
While watching the cranes, keep an eye out for any of the other 250 species of birds that have been observed at the refuge, including Franklin's gulls, white-faced ibis, raptors, and more.
Teton Valley
In the Teton Valley, sandhill cranes congregate along the Teton River each fall. Watch for them along the Teton Valley Subloop Idaho Birding Trail and by the river.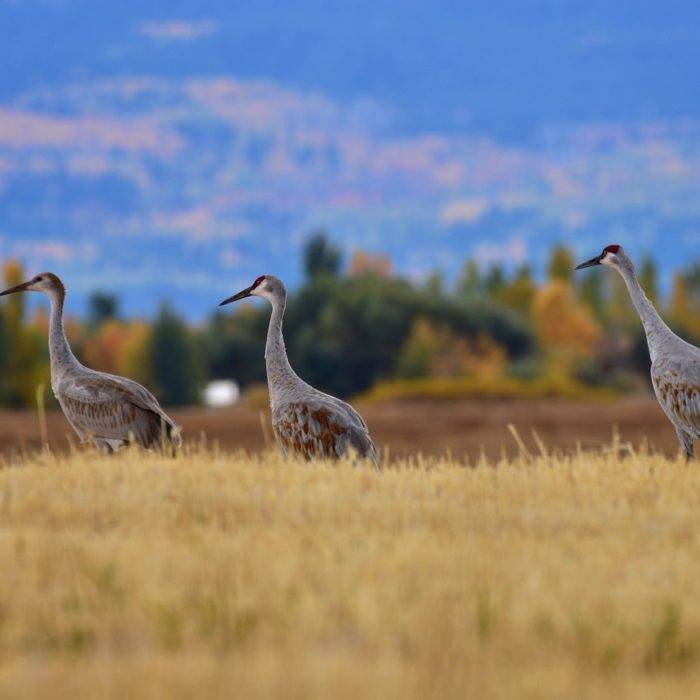 This year, the community is celebrating with its second annual Greater Yellowstone Crane Festival in Driggs which features a week-long series of crane-focused events, including tours, presentations, and face painting. The festival includes opportunities to attend workshops on topics ranging from photography to poetry, youth dance, drawing, and Plein Air painting.
One of the festival's main attractions is a series of early morning tours with naturalists to observe cranes and learn about the birds ecology, behavior, and how to help conserve them. This year, these tours will take place September 18-21.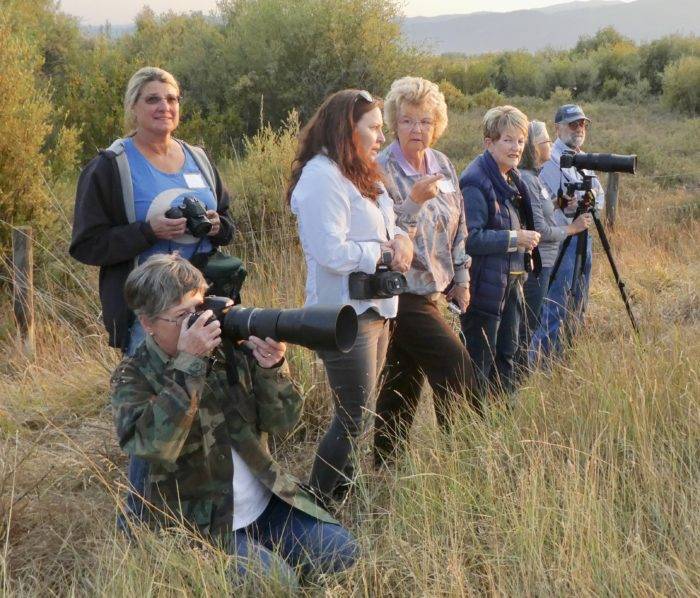 On Saturday, September 21, the Driggs City Center Plaza will become the epicenter of sandhill crane celebrations with arts, crafts, dances, poetry, educational exhibits, and more. Enjoy food and drink vendors, get your face painted, create bird masks and crane origami, and shop the many local artisan booths featuring everything from crane-themed art to photographs and jewelry.
September is also prime time for enjoying a variety of other activities in the Teton Valley, from hiking and biking to floating the river, horseback riding, fly-fishing, and sampling the valley's four breweries, numerous restaurants, and other attractions.
Kristen Pope is a freelance writer and editor who writes about outdoor adventure, science, conservation, and travel for NationalGeographic.com, Backpacker, Audubon.com, Western Confluence, and Discover, just to name a few. Visit her at www.kepope.com.