Kristen Pope worked in partnership with Visit Idaho to create this Travel Tip.
The water was gently lapping against the dock as we rolled our gear on a cart to the awaiting boat at Blue Diamond Marina on Priest Lake. Against a backdrop of the Selkirk Mountains, my husband and I loaded up our gear, ready to set out on a unique adventure. We had rented a simple fishing boat to travel across a few miles of water and camp on Bartoo Island.
Firing up the motor, we started moving through the water, taking in the smoky skies. We originally planned to spend time in a fire tower in the central part of the state, but it was closed due to fires in the area. Instead, we were fortunate to be able to reserve a last-minute spot at the Bartoo Island Boat-in Campground. The 219-acre island is home to two dozen shoreside single campsites as well as a group site that can accommodate 10 to 30 people.
Located in the northern stretches of Idaho's Panhandle, Priest Lake is a 25,000-acre water lovers' paradise, perfect for boating, water sports, birding, photography, and camping. Wildlife like bears, moose, and deer inhabit the area, and several boat launches offer a variety of access opportunities. The lake is over 300 feet deep in some spots, and a popular location for fishing for species like Mackinaw trout, Dolly Varden, and Cutthroat.
Several islands are in the lake, which is located in the Idaho Panhandle National Forests. Two of these islands, Bartoo and Kalispell, feature boat-in campgrounds. Both are accessible only by boat and require visitors to bring all the water they will need and "pack in, pack out" everything they bring along with them. This includes human waste, and portable toilets are required.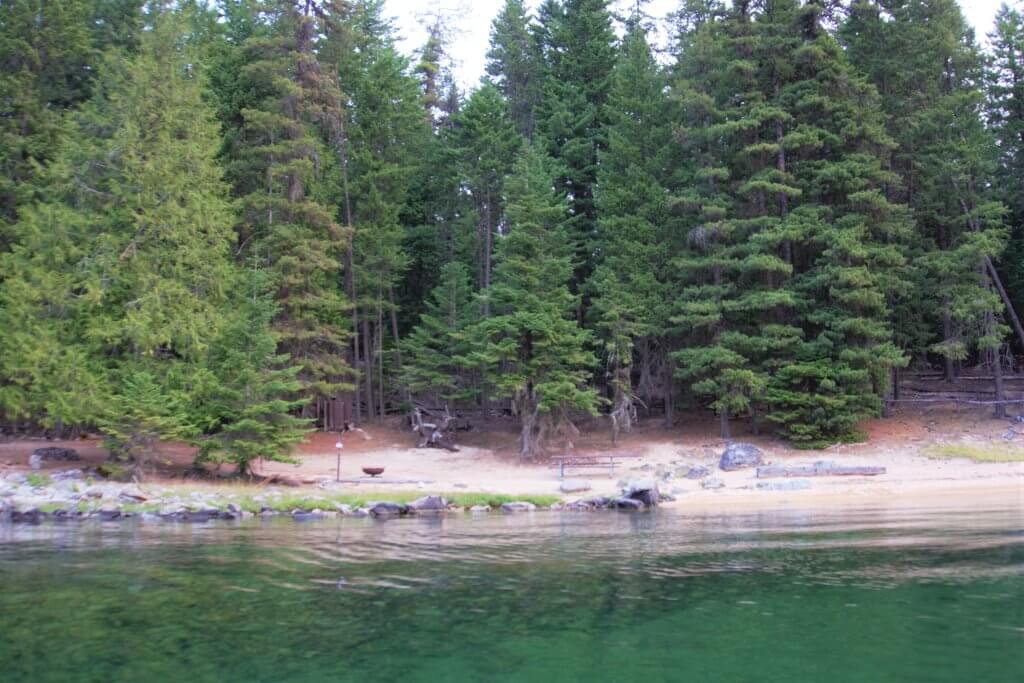 Our lakeside campsite had a picnic table, a nice spot for a tent near the water's edge, and a fire ring. We unloaded our camping gear and set up the tent.
The late afternoon sun was shining, albeit with an orange tint from the smoke, and it was the perfect time to take a quick dip. The cold, crisp water was invigorating as we swam near shore, watching the sun gleam, reflecting and dancing off tiny ripples in the water. After a refreshing swim, we lounged in the warm sun for a bit to dry off.
Before long, it was time to get ready for the night, and we triple-checked our boat lines were secure so we wouldn't wake up to a boat drifting across the lake. Climbing into my sleeping bag, I drifted off to sleep listening to the soft waves patter against the shore.
We rose at dawn, watching the blues and grays of nighttime transform into the brilliant colors of day. After relaxing on the beach, we loaded up the boat, pushing it off the sandy shore and launching it into the water. We had a bit of time before we had to return it to the marina, so we circumnavigated the island to check out the lay of the land. When we arrived back at the dock, we vowed that next time we would stay longer.
Tips for Camping on Bartoo Island
Make a reservation early: While some campsites are first-come, first-served, reservations are recommended. Each island has single sites as well as a group site for 10-30 people. More information about Bartoo and Kalispell Islands is available on the Forest Service website.
Be prepared: Make sure you bring everything you need, including camping gear, water, trash bags, PFDs, and a portable toilet. Follow all boating regulations, be sure to have the ability and equipment needed to safely operate a boat and navigate, and never drink while boating.
Follow the Rules: Be sure to comply with all campground rules, including no -fireworks or glass bottles. Portable toilets are required. Pets must be on leashes.
Feature image credited to Idaho Tourism.
Kristen Pope is a freelance writer and editor who writes about outdoor adventure, science, conservation, and travel for NationalGeographic.com, Backpacker, Audubon.com, Western Confluence, and Discover, just to name a few. Visit her at www.kepope.com.

Published on May 3, 2022