Traveling Newlyweds worked in partnership with Visit Idaho to create this Travel Tip.
Alright, raise your hand if you've ever heard of Schweitzer Mountain. Anyone?
Technically we can't see you right now, but we're guessing not a lot of you have. We had never heard of it before, until now. Located about 20 minutes outside of Sandpoint, Idaho, Schweitzer has it all: world-class skiing and snowboarding, zip-lining, horseback riding, scenic hikes, quaint restaurants, mountain biking, and SO much more. We'd even go as far as saying that it's one of Idaho's best-kept secrets … and we think you'll agree.​​​​​​​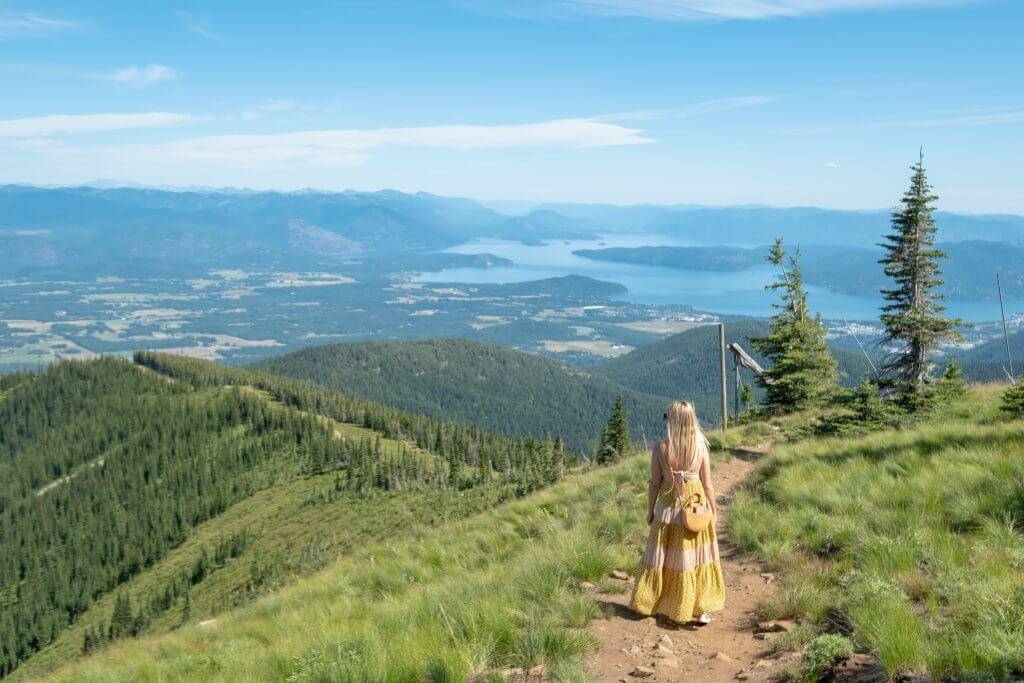 Where to Stay
When we think of venturing out on a mountain escape, our minds immediately picture a lodge. A cozy, quintessential lodge with a big roaring fireplace in the lobby and warm, snug beds in the rooms. Selkirk Lodge is exactly that! We love the welcoming staff and the relaxed atmosphere, and you will sink right into the memory foam beds. We slept like babies! Across from Selkirk Lodge is the White Pine Lodge, which has one-, two-, and three-bedroom units with all the amenities (fireplaces, full kitchens), making it a perfect option for families. And the best part? Both lodges have ski-in/ski-out access during the winter, and in the summer, they're steps away from limitless activities. Speaking of which …​​​​​​​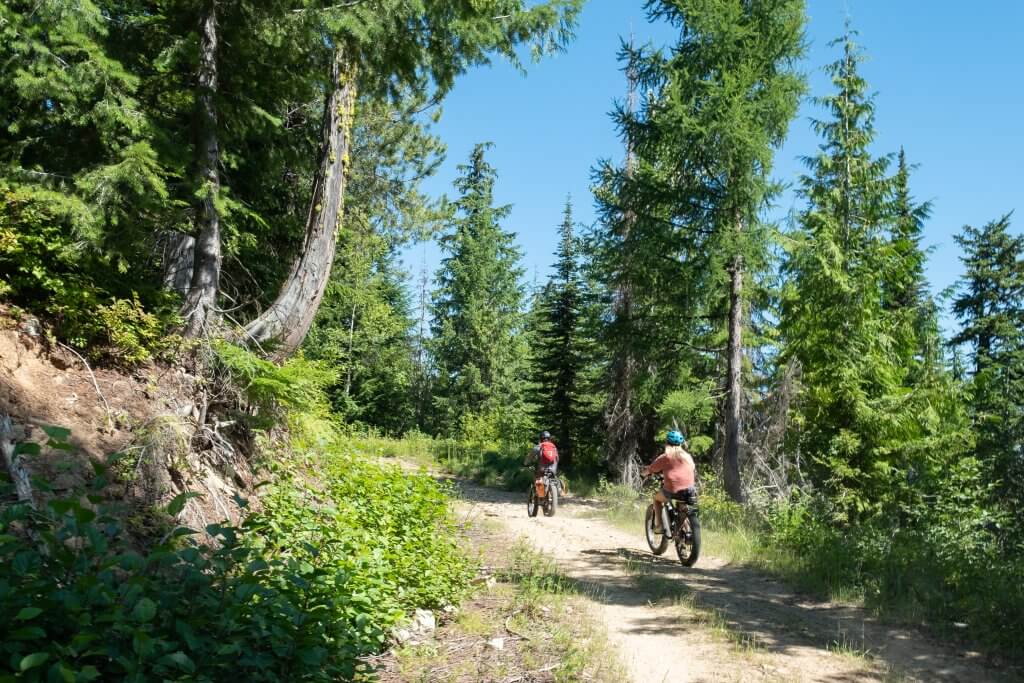 The Activities
Summertime at Schweitzer is euphoric. We wish we could transport all of you there, just so your senses can experience what we mean. It's like a scene from The Sound of Music—the hills are literally alive. There are wildflowers blooming everywhere, sweet and juicy huckleberries growing along the hillside, crisp mountain air … it's nature at its finest!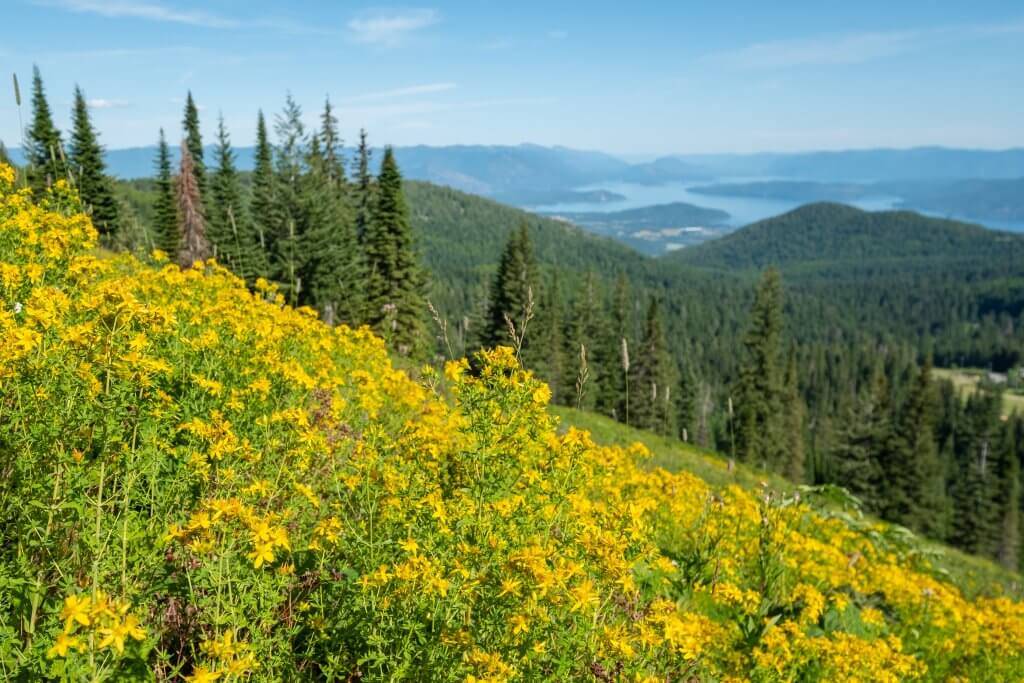 ​​​​​​​​​​​​​​Beyond the gorgeous hiking and striking scenery, Schweitzer also has plenty of activities that will keep all ages busy—and smiling from ear to ear. You can zipline, pan for gold, take a ride on the scenic chairlift, horseback ride, mountain bike, and even go on an e-bike tour! We tried the e-bikes one morning and it was a BLAST. We even stopped for some huckleberry picking during our ride.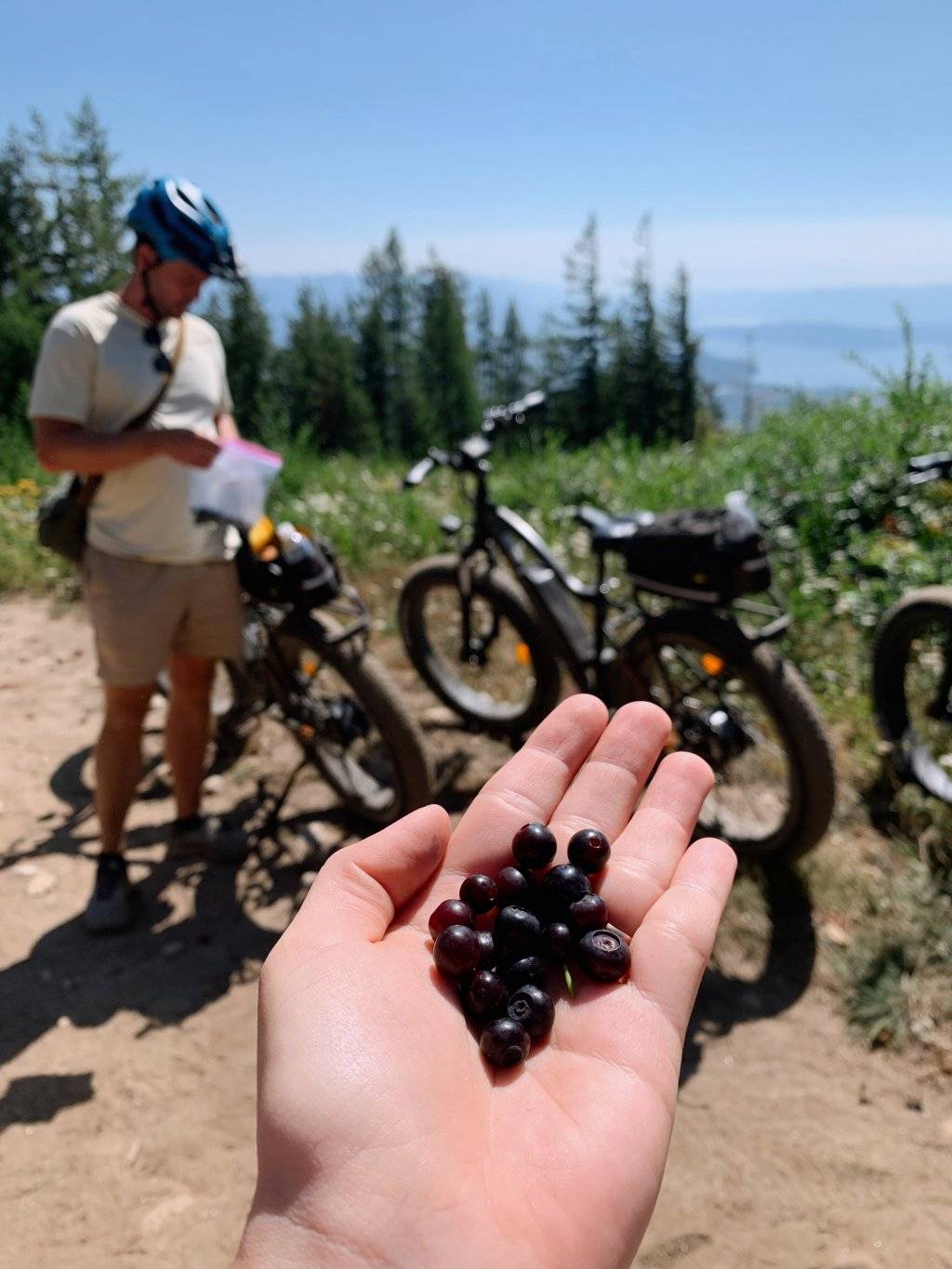 We have yet to experience Schweitzer in the winter, but from what we've heard, it's phenomenal. Because it's not as well known as other ski areas like Sun Valley Resort or Brundage Mountain in McCall, it's not nearly as crowded. There's rarely a line to take the ski lift, and it's actually the biggest ski resort in Idaho! We're ready to go back.
What to Eat
As is the case with all good mountain resorts, Schweitzer has plenty of options to keep you well-fed, hydrated, and energized. There's Chimney Rock Grill, a restaurant serving lunch and dinner that's casual yet refined. We'd go back to Schweitzer just to have the Korean Coconut Fried Shrimp again. Another favorite of ours was Gourmandie, a specialty foods market that's celebrated for its selection of internationally crafted beer and wine. And located at the top of Schweitzer's summit is the Sky House which has a mesmerizing vantage point and 360-degree views of Idaho, Montana, Canada and Washington. The food is as tasty as the views are jaw-dropping, and we highly recommend trying the famous huckleberry lemonade.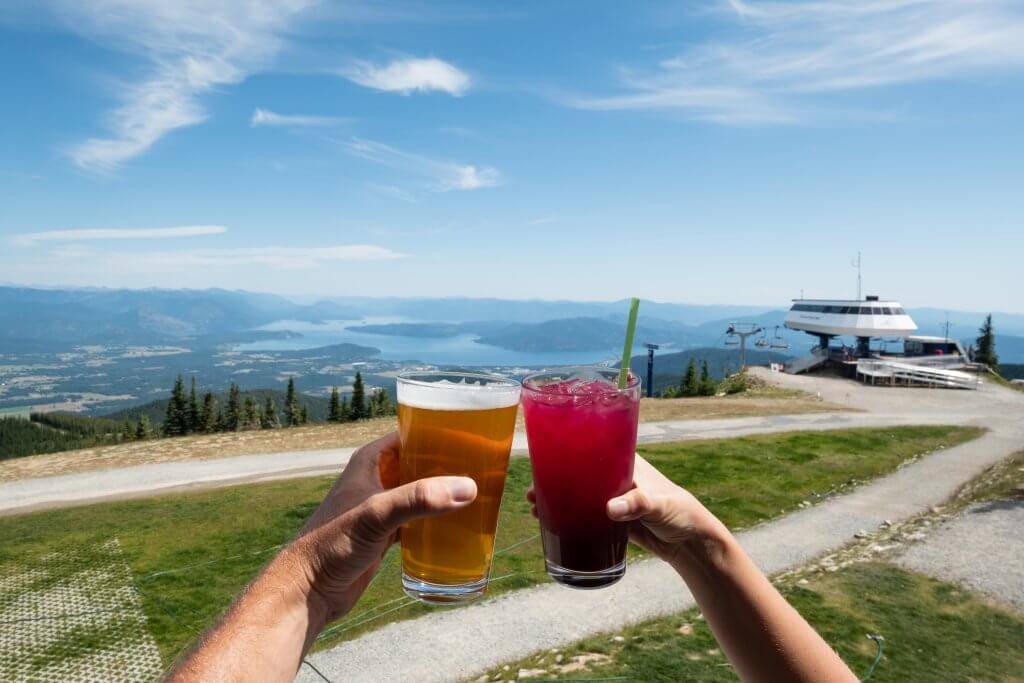 The People
Something that really stood out to us during our stay at Schweitzer is the people. From the outgoing crew that works at the activities center to the smiling faces greeting us at the Selkirk Lodge to our knowledgeable and warm e-biking tour guide, everyone was so friendly. It's one big, welcoming family at Schweitzer, and that made it even harder for us to leave.
Sometimes we find it hard to convince people to go to a destination through a single article, but we feel extremely confident with this one. If you love the outdoors, good food, friendly locals, and a plethora of unique experiences, you'll LOVE Schweitzer Mountain. No matter the time of year, we guarantee you'll be swept away by its stunning scenery and endless amount of activities and places to explore. Schweitzer is truly one of Idaho's best-kept secrets … so don't tell too many people.
Feature image credited to Traveling Newlyweds.
Alli and Bobby Talley, AKA The Traveling Newlyweds, are travel and lifestyle writers living in Southern California with their son, Jude and bernedoodle, Sally. Their aim is to inspire families to safely explore the beautiful world that we live in, even if that means starting in your own backyard! From road tripping around North America to exploring exotic locations around the globe, they strive to share how traveling is healthy for your family and attainable for anyone. Follow along on their adventures via @Traveling_Newlyweds or on their website.

Published on July 6, 2021