Jessica Hirsch worked in partnership with Visit Idaho to create this Travel Tip.
While I could spend a year in Boise and never get bored, sometimes life only gives you a limited time in an amazing destination and you have to pack in everything you can into a short trip. Lucky for you, I am here to give you my 48-hour guide!
First things first, a place to stay.
We loved the Inn at 500 Capitol. This boutique hotel is walking distance to many great parts of downtown but also provides cruiser bikes which are perfect when exploring the parks and other shops around the area. The service is friendly and the hotel offers beer or wine when you check-in and always has complimentary snacks.
Day 1
Breakfast
I love starting every day early but with only 48 hours to explore, it's important to pack it all in and the best place to start your day is at Big City Coffee & Cafe. I advise getting there before 9 a.m. to avoid a wait but don't be surprised if you find a line almost any time of day. In general, the portions are quite large so depending on how many people you're dining with you may want to share a few things. Menu musts for me are the cinnamon roll, biscuits and gravy, cheddar bacon scone, and loaded potatoes.
After your delicious meal at Big City Coffee, you might be tempted to take a nap, but I highly suggest taking in some of Boise's beautiful scenery. The Boise River Greenbelt is one of the best ways to do this. It's 25 miles of scenic views and connects you to various parks if you want to continue your afternoon explorations.
Lunch
Boise Fry Company is a must in Boise! If you like fries (and who doesn't?) this place is going to satisfy all your fry cravings. Of course, you can get your traditional fries here but what makes this place unique is that they offer all types of potatoes such as sweet potato, red, russet, and purple. You can also choose the cut of the potato – curly fries, shoestrings fries, home-style, and more. As if that were not enough options, they also have a sauce and seasoning bar! The sauce flavors run from traditional to funky flavors like blueberry ketchup (don't knock it till you try it)! Boise Fry Company utilizes local ingredients which, hey, when in Idaho, you're getting the best potatoes!
Dinner
The Wylder is a wonderful place for dinner and the space is inviting as the service. What I loved about this spot is each element of dinner was as delicious as the next. We started with the mushroom toast and market salad. The flavors were fresh and bright. If you're looking for a beverage, we also enjoyed the craft cocktails and local beers. For side dishes, we went with the Brussels sprouts and crispy potatoes-I could snack on these for days and never get tired-I highly recommend them. The pizza was satisfying and light at the same time.
Nightcap
Barbarian Brewing is independently and locally owned by a husband and wife team, James Long and BreAnne Hovley. These young entrepreneurs created a craft brewery and taproom that locals flock to for good reason. I highly recommend going with a sampler so you can taste a little bit of everything they have to offer. This brewery believes in thinking a little outside the barrel so you'll always find unique, drinkable combinations on tap.
Day 2
Breakfast
Start your day with room service. One of the fun and unique parts about staying at the Inn at 500 Capitol is the butler pantry. After you order room service, it's delivered in the butler pantry, which means staff delivers it through an outside door, and you can access it, robe and all, from an inside door, so you never have to see another person while you're enjoying a lazy morning.
Lunch
Westside Drive-In was my favorite restaurant in Boise. It's more than a meal, it's an experience. It takes you back to the 50s with its diner drive-in exterior and interior decor. It was featured on the show Diner's, Drive-in's and Dives and the menu items are unique to Boise with finger steaks, fry sauce and a signature dish created by Chef Lou called the Idaho Ice Cream Potato. Spoiler alert, there's no actual potato in the dessert, but rather vanilla ice cream and cocoa replicate the look of a potato. We also ordered the Daddy O, which is a ham and bacon topped burger which was also fantastic. This place was casual and fun and the service made you feel like you are at home. An absolute Boise must!
Maybe you need a break from all the food? Hit up downtown Boise for some shopping. Here you can find some really great gifts to give a taste of Boise to your friends at home. We especially loved The Chocolate Bar and City Peanut Shop.
Dinner
Bittercreek Alehouse in the heart of downtown Boise prides itself on using local ingredients from surrounding farmers. Bittercreek also houses its own worm farm and energy-saving system to eliminate waste in any way possible, and even the menus are made out of special materials which the worms can digest and turn into compost that is utilized by the community. Now that you can feel good about eating here, let's talk about food! I loved the poutine, buffalo cheese curds, mac & cheese, and lamb burger. It is an alehouse so don't forget to order one of the many draft microbrews. The beer menu has a mile marker so you know how far your beer traveled to get to you!
Dessert
End your trip on a sweet note at The STIL (which is short for the sweetest things in life). This unique shop offers custom-crafted ice cream flavors you likely won't find anywhere else along with booze-infused creations. Treat yourself to an ice cream and beer pairing or an ice cream and wine pairing to truly dazzle your tastebuds. The menu changes often to reflect seasonal offerings and you'll also find delicious vegan flavors as well.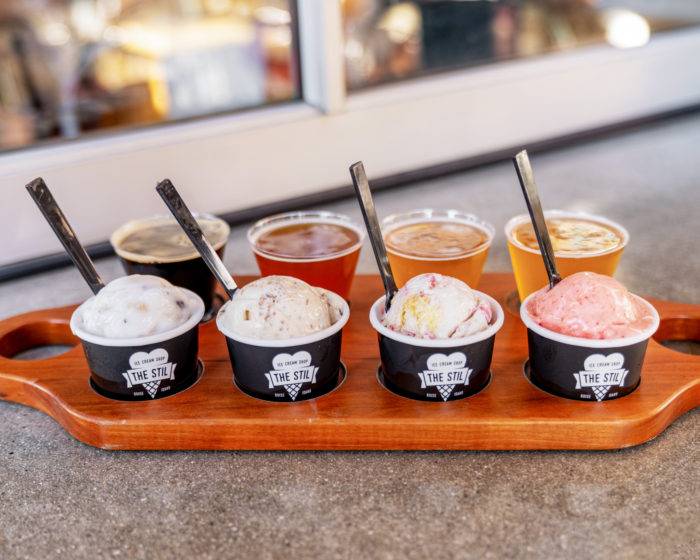 Only 48 hours to explore a city like Boise never feels like enough time but I hope this food-inspired itinerary helps you to plan your own trip to Boise….I know I'm ready to return ASAP!
Feature image credited to Jessica Hirsch/Cheat Day Eats.
Jessica Hirsch is the founder and CEO of CheatDayEats which is a lifestyle brand and production company focused on food, travel, and fitness. Jessica started CheatDayEats and YourRoomService as a hobby while working as a full-time math teacher. She has worked with brands such as Sony, Samsung, Pepsi, Converse, Godiva, BEBE Sport, Mastercard, IHOP, Dunkin' Donuts, and many more.

Published on August 27, 2020