This is a sponsored post.
A bounty of incredible hikes await visitors to Redfish Lake. The surrounding Sawtooth Mountains are filled with remote alpine lakes, jagged peaks, wildflowers, and wildlife. Whether you're an experienced hiker or a family searching for adventure, look no further than these three hikes.
Fish Hook Creek: Experience Stunning Mountain Views in a Secluded Meadow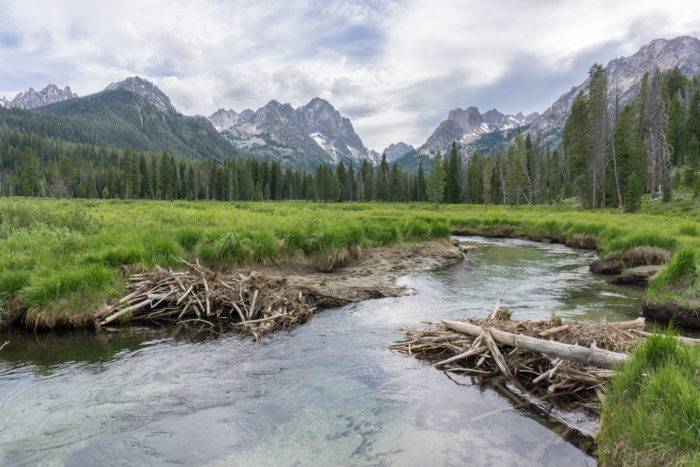 Length: 4.4 miles roundtrip
Elevation Gain: 300 feet
Difficulty: Easy, Family-Friendly
Time Required: 1-2 Hours
Expansive views of the Sawtooth Mountains reward the hiker who ventures along Fish Hook Creek Trail. The destination, Fish Hook Meadow, feels worlds away from Redfish Lodge. It's an easy two-mile hike on a gently rolling, well-maintained trail.
Start your adventure at the Redfish Trailhead. Turn onto Redfish Lake Road from Highway 75 and drive three miles to the large dirt parking lot. The trail begins along beautiful Fish Hook Creek, then climbs gently before leveling out for the rest of the hike.
At two well-marked trail junctions, follow the Fish Hook Creek Trail.
The trail rambles through evergreen and aspen forests and past small, wildflower-filled meadows. Glimpses of the tall peaks tease hikers of the views yet to come.
Two miles into the hike the trail enters the Sawtooth Wilderness and opens to an expansive view of Mount Heyburn and surrounding peaks. Cross the small stream and walk along the edge of Fish Hook Creek. When you're done admiring the grandeur, retrace your route back to the trailhead.
Ants Basin Divide: Peek into Newly Created Wilderness from 10,000 Feet
Length: 5.8 miles roundtrip
Elevation Gain: 1200 feet
Difficulty: Intermediate
Time Required: 3-4 Hours
This hike has it all: steady and rewarding climbs, forests regenerating after a wildfire, an alpine lake, and an otherworldly view into a remote valley framed by alabaster peaks.
From the intersection of Redfish Lake Road and Highway 75, drive 10.5 miles south on Highway 75. Turn left onto 4th of July Creek Road (graded dirt road) and continue 10.2 miles to the 4th of July Creek trailhead.
The drive along 4th of July Creek Road is an experience in itself. Burned in the Valley Road Fire in 2005, the road meanders through a regenerating forest. Keep an eye out for wildflowers and deer.
Park at the trailhead and begin your hike. Turn left at the trail junction toward Born Lakes. You'll pass a small alpine lake on your right as you climb toward Ants Basin Divide. This is a great spot to stop for a snack and photos. Walk to the far side of the lake for even better views.
Crest the ridge on Ants Basin Divide at 2.9 miles and enjoy a heady view into the newly designated White Clouds Wilderness. Patterson Peak lies along the ridge to the south, while David O. Lee Peak (11,342 feet) dominates the skyline with its alabaster summit.
Retrace your route back to the trailhead. To extend the adventure, enjoy a short detour to 4th of July Lake by taking a left at the trail junction on your return hike.
Alice Lake: Take a Dip in an Alpine Lake Surrounded by Towering Peaks
Length: 13 miles roundtrip
Elevation Gain: 1800 feet
Difficulty: Intermediate/Difficult
Time Required: 7-8 Hours
Alice Lake is a crown jewel of Sawtooth Mountain day hikes. Weave across scree fields, through forests, and along creeks, while enjoying the mountainous views.
From the intersection of Redfish Lake Road and Highway 75, drive 13.7 miles south on Highway 75. Turn right onto Forest Service Road 208, following the signs for Pettit Lake. Park at the Tin Cup Trailhead and follow the trail west along the edge of Pettit Lake.
The hike to Alice Lake is a steady climb and often exposed to the elements. Be sure to pack plenty of water, food, and a hat.
Before reaching the lake the towering form of El Capitan comes into view. The trail winds past a small pond before opening up to exquisite Alice Lake.
Stop to eat lunch and, if your legs allow it, walk around the edge of the lake for unique views. On a hot summer day, the chilly water is perfect for a swim.
Retrace your route back to Tin Cup Trailhead
All photos, including the feature image, are credited to Sara Sheehy.
Sara Sheehy seeks adventure in the mountains of Idaho and beyond. Follow her on Instagram at @sarasheehy.

Published on August 23, 2016