Chris Hunt worked in partnership with Visit Idaho to create this Travel Tip.
Here in Idaho, the calendar might say it's spring, but Mother Nature usually has other ideas—for a lot of anglers, the wait for trout fishing is still weeks, even months, away.
But spring fishing for Idaho's trout can often be really good, particularly if you can time your outing with some warming weather before runoff gets going in earnest. It's almost a given that anglers fishing moving water will have to deal with higher water. The questions often become, "How high?" and "How soon?"​​​​​​​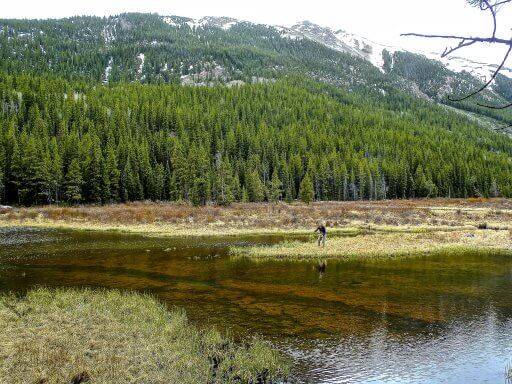 A lot of anglers let high water push them from Idaho's trout rivers. But, armed with the right equipment, the right flies and an adventuresome spirit, fishing in the spring, when the crowds are light can offer some of the best angling of the year.
Gear? For the most part, a 5- or 6-weight rod with floating line is the ticket, but for heavier water, you might consider a sink-tip line. Chances are, it won't be super warm outside, so dress accordingly. Wear fleece under your waders and layer up elsewhere—you might get some sunshine, but you could just as easily get some snow.
But what about flies? Spring fly-fishing is often about depth and visibility. Flies should do a few things—they should be visible in often-murky water; they should get down to the feeding zone, and they should represent a reasonable impression of what's naturally in the water.
Here are my five go-to flies for spring fly fishing in Idaho:
1. The Woolly Bugger
This venerable streamer is easy to tie, easy to fish and it moves water well. Cast against banks and fished on the swing, this dependable pattern works all year long for trout in big water. But it can be particularly effective in the spring, especially if you can find weighted versions, or tie your own. On a drift, an olive, brown or black Woolly Bugger is a reasonable imitation of a big stonefly nymph, like the critters found in the Henry's Fork and South Fork of the Snake, as well as the South Fork of the Boise and the Payette rivers. On the strip and on the swing, the Bugger is an excellent representation of a leech or a sculpin, and tied in lighter colors (beige and white), it's a solid baitfish pattern. During high water, I fish darker flies pushed up against the bank and then stripped upstream—when rivers start to rise, high water sometimes erodes banks and fish will look for food in the calmer water next to shore. Putting a Bugger next to the bank from a drift boat and stripping it back to the boat is a great way to induce a strike.
2. The San Juan Worm
Worms are a natural part of a trout's diet, and in the spring, when river banks are scoured by high water, worms often end up in the water. Trout will go out of their way to gobble a nice bit of protein like an earthworm or a night crawler, so don't fish high water without a few SJWs in the fly box. I like to fish them deep under an indicator, but they can be effectively high-sticked through fishy runs, too. And, they don't just work in the spring. Worms are a year-round source of food in most trout rivers.
3. The Prince Nymph
Tied with non-lead wire and a bead for a head, this snazzy nymph is a spring classic. In bigger sizes (say, sizes 8-12), it's a reasonable imitation of a stonefly nymph, and the peacock herl used to make its body is and always has been a trout attractor. I like to fish the Prince Euro-style, meaning I cast it up stream and keep a tight line on the retrieve, ensuring it's at least going the speed of the current, and sometimes just a hair faster.
4. The Blue-Winged Olive Soft-Hackle
No, spring isn't all about fishing deep with nymphs and streamers. On cloudy, blustery days in the spring, baetis mayflies (Blue-winged Olives) hatch in significant numbers, and trout will almost always let you know when they're on the water. Trouble is, they tend to key in on a very specific size and profile that can be tough to match—and, with so many naturals on the water, you BWO dry fly may not get a look. That's why I often fish a baetis hatch with a sized-up soft-hackled version of the mayfly pattern. I will cast this small fly (usually a size 14-18) slightly down and across and then I'll let it swing in the current, preferably in water where you've seen rising fish. Beware. Trout will sip a dry fly. They will absolutely crush a soft hackle.
5. The Griffith's Gnat
This is a true midge "cluster" pattern meant to imitate small midges on the surface that are often brought together in "clusters" thanks to the current. A single midge, which can be the size of a pepper flake, is tougher for trout to see and often not worth the energy to move very far to grab. But a cluster of a dozen bugs drifting by? That's tough to ignore. It's a true dry fly, too — aside from maybe a warm-day caddis hatch or a BWO hatch, midges are the most dependable spring bugs that bring trout to the surface. I tie my Griffith's Gnats in size 16-20, with size 18 being about average. The fly should be dressed with some floatant and fished upstream. It'll be tough to see, so if you notice a rise anywhere near where you think your fly is, lift your rod and set the hook.
Spring fishing needn't be intimidating in Idaho—the state boasts plenty of rivers with lots of access and lots of elbow room. If you have a nice day to kill, don't discount the notion that the fish might be biting. Consider, too, that many of the state's tailwater rivers aren't as susceptible to heavy runoff (think the Boise through the city, or the Box Canyon stretch of the Henry's Fork below Island Park Reservoir).
And, by the time spring gets here, a sunny day with temperatures in the 40s is generally all it takes to get moving and thinking about fishing.
The fish are there. You should be, too.
For more information on Idaho fishing licenses, click here.
Chris Hunt is the digital editorial director for Trout Unlimited. He lives and works in Idaho Falls.
Feature image credited to Chris Hunt.

Published on April 7, 2020