Here's a piece of Idaho history worth tucking away for your next trivia night. Idaho is home to the longest running dog sled race in the lower 48, the American Dog Derby.
The town of Ashton hosts the race that started in 1917. Back then, the race was born out of necessity and entertainment. In the early 1900s, Union Pacific Railroad was developing land in eastern Idaho and West Yellowstone. During the precarious winter months, mushers and dog sled teams would help deliver supplies, mail, and even people to this remote area. Eventually, the business of dog sledding turned into a race spectacle and festival that drew thousands to Ashton each year.
Now, the American Dog Derby is a two-day event that takes over Ashton's Main Street. Teams from Idaho, Wyoming, Montana and Utah travel to compete here. You'll find third generation mushers, former Iditarod racers, and even junior mushers in the making at this event. It's all serious business, served up with a smile and a side of friendly competition.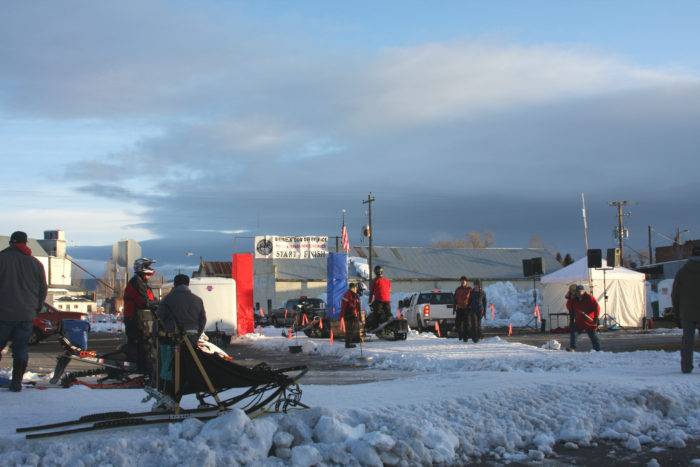 On the first morning of racing action, I was delighted to find that the start/finish line was located in the center of town, built right on Main Street. This setup offered visitors a front row seat to the action and amazing access to the mushers and their dogs. You could talk to the mushers as they prepped their dog team, ask questions about the equipment, and interact with the dogs all before the race got started. It was a joy to watch even the youngest spectators come nose-to-nose with these pooches during this time.
I quickly learned to not be fooled by the fluffy features of these competitors. These dogs are serious athletes who are seriously in love with racing. Lined up at the starting line, it took one person to help manage the eager energy and raw strength of every two dogs on a musher's team. That's an interesting combination when you're dealing with a six or 10-dog team. Out on the open course these marathon running canines shift into high gear and can hit speeds close to 20 miles per hour as a team.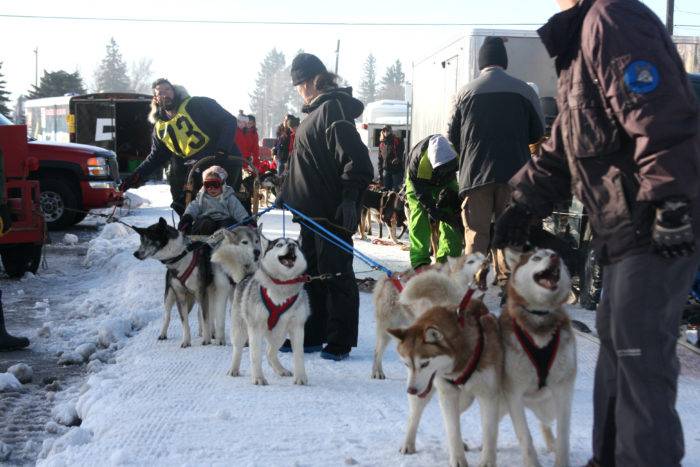 The American Dog Derby is as much about crowd participation as it is about the actual dog sled race. The crowd helped count down each racer and cheered them on to the 24 and 45 mile course ahead. I couldn't help but get caught up in the energetic buzz as racers sped off every two minutes.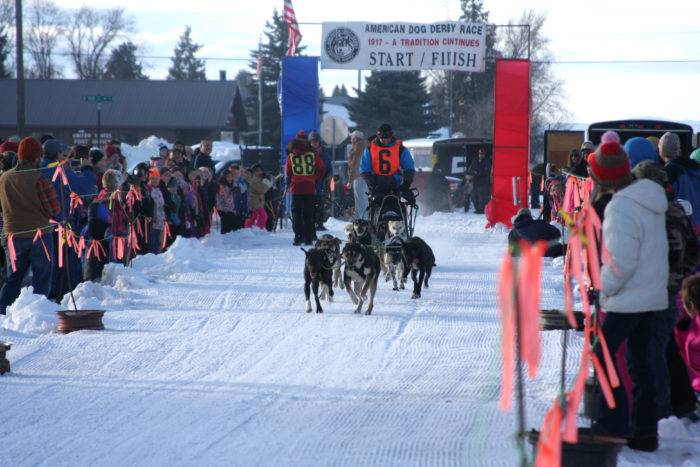 Beyond the start line, the dog sled teams made their way across acres of Ashton farmland and wilderness. Mushers and their teams navigated hills, dips, and a few road crossings while keeping an eye out for oncoming and passing teams. While a large chunk of this course is out of public view, you can walk or drive to a few spots in town where the course crosses the road and watch these puppies fly on by.
I was excited to find there was plenty to do and see in town as I waited for teams to reach the finish line. Kids of all ages strapped on snowshoes and challenged each other in snowshoe races on another course built on Main Street. If you could put on the snowshoes, you could race, it was that simple and there was no shortage of contestants. The mutt races were also a big hit. For this competition, visitors could slip a sled harness on their own dog to have it pull a sled with a child on board. This was an extremely popular event among the kids and a great way to experience what the mushers were going through out on the course at the same time.
The weight pull was a big draw for those in town. Dogs were grouped into different classes depending on size and then each dog attempted to pull a weighted sled. The weight of the sled increased as the number of competitors decreased in each round, eventually leading to a winner in each class. This year's big dog winner, Sitka, pulled a whopping 480 pounds!
With everything going on it didn't seem long before the announcer notified the crowd that teams were racing towards the finish line. Everyone again lined the course and whistles and applause erupted as each team rounded the corner on the home stretch. The excitement was contagious. When mushers crossed the finish line, it was handshakes and high-fives all around and snack time for the dogs.
Once all the six and 10-dog teams were in, the junior mushers and skijoring teams took off. I'd never seen anyone ski behind a dog, so let's just say the skijor competition was a whole new level of winter sports extremes. The junior mushers, who were still elementary school age, hit the trail with as much enthusiasm as the adult racers which was fantastic to witness. The junior mushers and the skijorers ran a shorter course, so this part of the race day was pretty fast-paced.
For me, this was an Idaho bucket list experience. I met some of the nicest people, explored Ashton, and learned so much about Idaho's amazing dog sled culture. I'm still in awe that this exists here and hope to return to Ashton next year to see how this proud town celebrates the American Dog Derby's 100th Anniversary. Maybe I'll see you there.
Trip Tips
Slurp up some soup at the Soup Challenge. The Soup Challenge is a fundraiser for the American Dog Derby held the first night of the races. Pay a small entrance fee to sample a bunch of delicious soups made by the locals. It's awesome!
Fill your belly with good eats. 511 Main has dynamite pizza and serves up old-fashioned fountain treats. El Rincon will satisfy your spicy cravings with delicious Mexican food. I also recommend checking out Big Jud's and Frostop Drive-In for some mouthwatering burgers.
Get familiar with lodging in the area. Since Ashton is a short drive from Yellowstone National Park and Jackson Hole, this town is an affordable and central stop for lots of winter (or summer) activities.
Explore Ashton. This town has lots to offer and the wildlife viewing opportunities in the area are outstanding.

Published on March 3, 2016