In the city of Mackay, it's clear you're in the ATV capital of Idaho. The small central Idaho town allows an uncommon convenience: all-terrain vehicles (ATV), side-by-side vehicles (SSV), utility task vehicles (UTV) and recreational off-highway vehicles (ROV) are welcome on any city street.
From the heart of this scenic community, you can travel in nearly any direction and access hundreds of miles of trails—each with its own unique offerings and challenges. One such place is the Mackay Mine Hill Tour—a self-guided ATV ride through the extraordinary Lost River Range. The rich mining history of Mackay Hill, which operated from 1884 into the 1980s and produced nearly a million tons of gold, silver and copper ore, will delight visitors who are ready for a day of off-roading adventures.
Map of the Mackay Mine Hill Tour
Explore up to 19 interpretive sites and a handful of additional points of interest featuring exceptional views or unique structures. Pick up a trail map at Mackay City Hall to examine the routes and then choose your preferred path. ​​​​​​​​​​​​​​
​​​​​​​Mackay Mine Hill Tour Must-Stop Spots
The self-guided Mackay Mine Hill ATV Tour can last a few hours or a full day depending on how many sites you would like to check out and how long you spend walking around. Bring plenty of water and food, as the historical stops are scattered through the mountains above Mackay, and amenities are not available along the trail.
Aerial Tramway & Headhouse
Try to wrap your head around the physics of the gravity-powered Aerial Tramway that once delivered buckets of ore along a six-plus-mile cable loop. Built in 1917, almost all 36 of the tramway towers have now fallen, leaving mostly remnants of a once powerful hauling operation. Visitors can also view the Aerial Tramway Headhouse, which once served as the loading station for ore transported from the mines to the smelter via tramway.
The Horseshoe Mine Site
The Horseshoe Mine Site began production in 1916 and featured two major tunnels measuring 875 and 1,225 feet long. By the time operations shut down in 1978, an impressive 3,896,442 pounds of lead and 1,113,821 pounds of zinc—plus additional, smaller amounts of copper, silver and gold—had been mined and exported out. A small community cropped up around this lucrative site, with the Taylor Sawmill opening to provide lumber for the local mines in 1912. Today the sawmill is no longer visible, but a forge, bunkhouse, office building and cook shack still stand—all built with wood from the sawmill next door.
White Knob Townsite
When the Oregon Shortline Railroad expanded its tracks from Blackfoot to Mackay in 1901, it marked the beginning of the White Knob Townsite. Most of the mine's workers lived in the town, some with their families. By 1917, White Knob featured many buildings, including a movie house, barbershop, pool hall and telephone service. At its most populous, the town may have held as many as 1,000 residents. The hustle and bustle ended in the mid-1930s when the location was abandoned.
Shay Railroad Trestle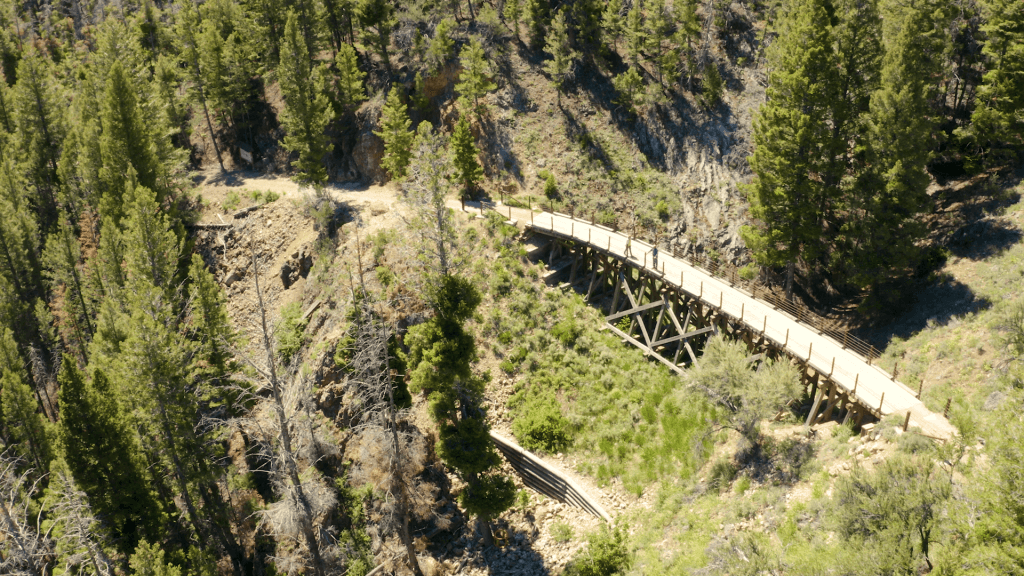 Farther down the railroad line, the White Knob Mining Company arranged the construction of the Shay Railroad Trestle as a part of the electric railroad system that carried ore and supplies from the mines to the smelter. This system was in place until 1918, when the aerial tramway took charge of the delivery needs. After its retirement, the trestle became a popular tourist attraction. The original trestle was condemned in 1998, but in 2002 it was fully rebuilt to its former glory. The path to access this stop is restricted to off-road vehicles less than 50 inches wide. On the trail, it's easy to grasp why: a single-lane route with two-way traffic and no turnouts begs caution.
ATV Tips: Before Hitting the Mackay Mine Hill Trail
Don't hit the gas on your adventure until you've checked out these tried-and-true tips for those planning to ride the Mackay Mine Hill trails and off-roading enthusiasts everywhere throughout the state. Being aware of your plan, fully preparing in advance and consciously respecting the area that you are recreating in ensures a great OHV experience.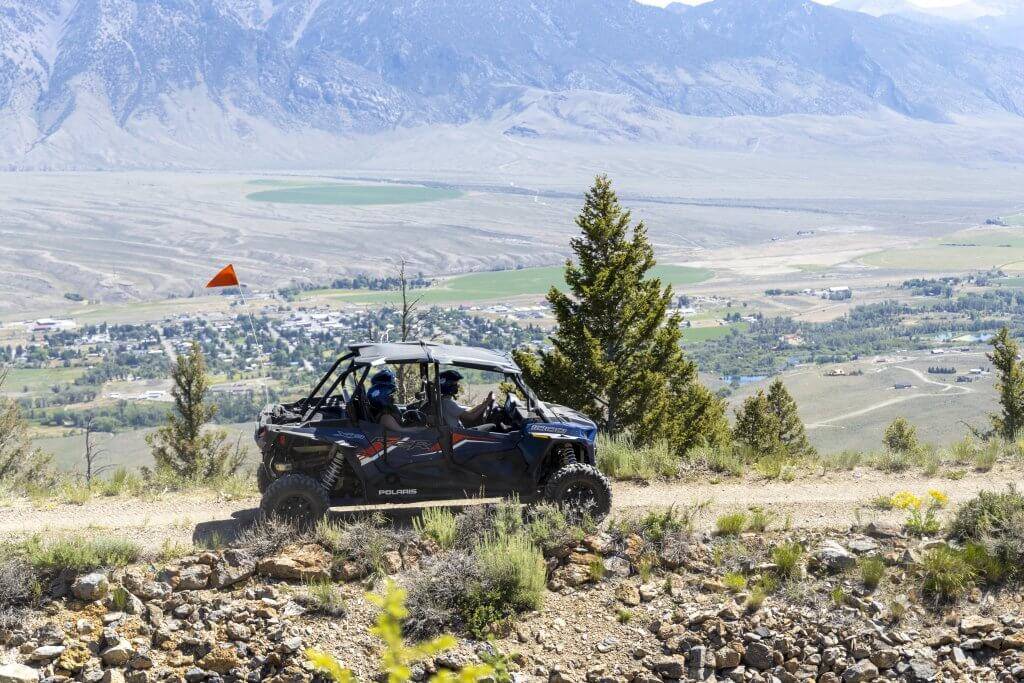 ​​​​​​​

1. Check for Important Alerts
When planning any ATV or OHV excursion, it's helpful to check with the local U.S. Forest Service office (in Mackay's case, the Lost River Ranger District office) to be aware of any important alerts in the area. You can view recent alerts by visiting USDA.gov website.
2. Be a Good Steward
"All riders should simply be good stewards and leave a positive impression of off-highway vehicles for even those that don't care for them," shares Rich Gummersall, OHV Education Coordinator for Idaho State Parks and Recreation. This may sound daunting, but engaging respectfully with the area where you are recreating should be straightforward and rewarding.
Note: Active mining sites still exist in the area, and there is no guarantee that all sites will be open to the public during your visit.
3. Check to See If You Need a Non-Resident Sticker
The state of Idaho requires non-residents to purchase a non-resident OHV sticker. The stickers are available online. Fees collected from residents and non-residents for OHV registration are used to fund trail maintenance, education and other positive investments in the future of equitable off-roading in Idaho.
4. Wear the Right Headwear
All OHV riders should wear an approved helmet at all times when riding their vehicle, regardless of their age or experience level. In Idaho, a helmet is mandatory for all riders (operators and passengers) under the age of 18. Helmets must have at least a "DOT-certified" safety rating for motorized use.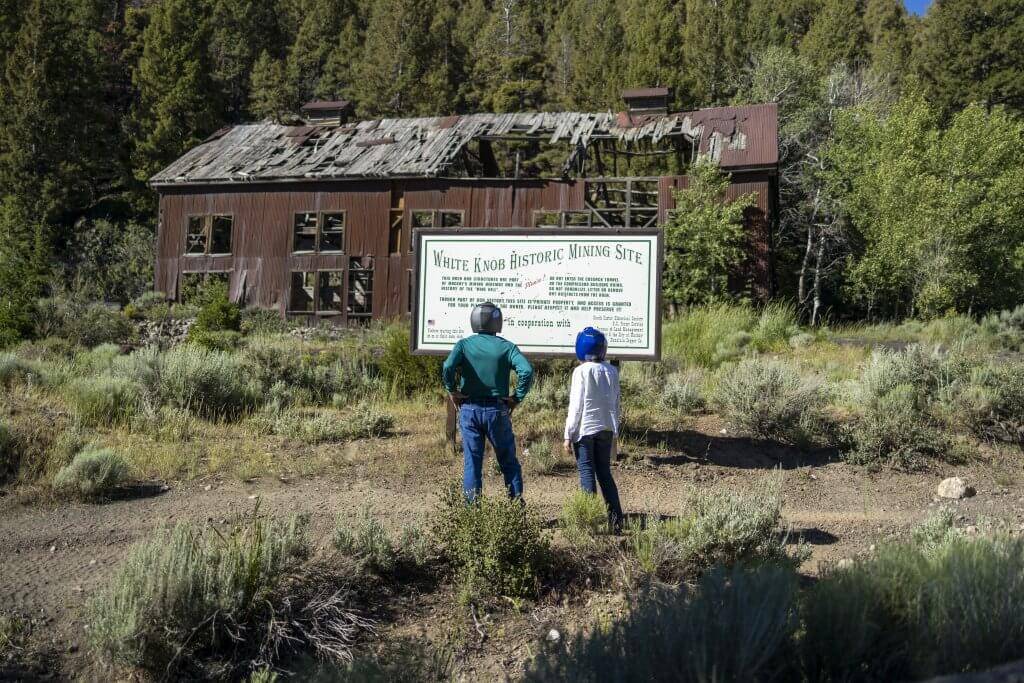 5. Check for Private Property Signage
Some of the historical sites on the Mackay Hill Mine Tour are on private property. Please be respectful, pay attention to signage and do not trespass. Leave anything you find at each site where you found it to ensure future visitors enjoy a similar experience.
6. Plan Ahead and Let Others Know
Cellular reception in Idaho's wilderness and rural areas can be spotty, so be ready to operate fully offline.
Prior to your adventure, check that you have all the necessary gear, notify others of your plans and confirm that the weather forecast is still appropriate for your trip.​​​​​​​​​​​​​​​​​​​​​​​​​​​​
A version of this story originally appeared in the 2023 Official Idaho Travel Guide.

Published on December 29, 2022