Emily and Berty Mandagie worked in partnership with Visit Idaho to create this Travel Trip.
Winter in Idaho. Have you joined in on the fun yet?
Scenic byways, Nordic skiing, breweries, and hot springs are just waiting to be experienced! If you're craving some adventurous outdoor time in Idaho, this is the perfect three-day winter itinerary for you. We're sharing where to go, what to pack, and places to eat to make the most of your weekend in Idaho.
Let's get started on creating the most memorable weekend trip of the season!
Day 1: Begin in Boise To Fuel Up For The Weekend
With incredible breweries, delicious restaurants, and endless shops to explore, Boise is a perfect "base camp" for your adventurous winter weekend trip in Idaho.
Stay at The Grove Hotel for some rest and relaxation before your trip to the mountains. Book a massage at their full-service spa, soak in their amazing jacuzzi, or join one of their special yoga classes!
If you're feeling too excited to sit down, borrow one of their complimentary bikes and explore some sights in downtown Boise!
Drive To Idaho City For Some Outdoor Fun
Idaho City is the gateway to several mountain adventures. It is known as one of the West's largest gold mining towns, and it's still embracing this feel and culture today. Make sure to stop by the Boise Basin Museum to explore the town's roots, and discover how $250 MILLION dollars worth of precious metals came through here during the gold rush.
Along with its incredible history, Idaho City is known for its accessibility to amazing Nordic skiing and snowshoeing trails. With over 60 miles of trails and many of those groomed tracks, the Idaho Park N' Ski Trails are known for their incredible views and family-friendly fun.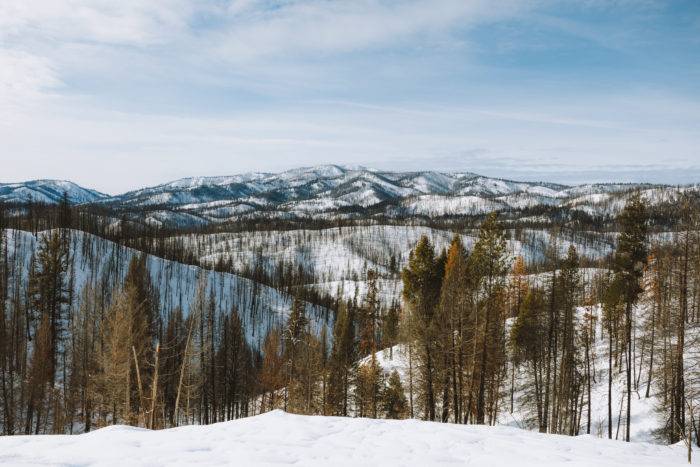 Not ready to leave the mountains? Keep reading and make it an overnight trip…
Hike To A Backcountry Yurt For The Night
One of the unique opportunities near Idaho City is the incredible yurts. These six yurts are available to book year-round, and each season brings a different perspective to this unique adventure. Winter is a magical time to visit these yurts, as the falling snow and white landscape add to their coziness.
If you want to make these amazing yurts part of your winter weekend in Idaho, make sure to reserve your favorite yurt well before your trip – they book out fast!
Click here to browse the Idaho City yurts and choose one for your next adventure.
Read More: The Mandagies Guide To Winter Yurt Camping In Idaho City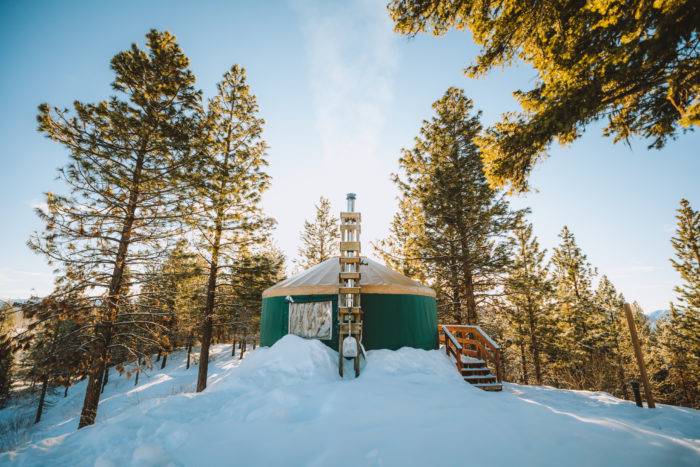 Play Some Games With Friends By The Fire
There are plenty of cozy places to stay in Idaho for a winter weekend. Whether it's a backcountry yurt (like us!), a cabin in the Boise National Forest, or your own living room, a cozy winter evening is a perfect excuse to break out some of your favorite games.
No matter where your night takes you, one thing is certain – games are a must. We personally recommend Bananagrams or Settlers of Catan!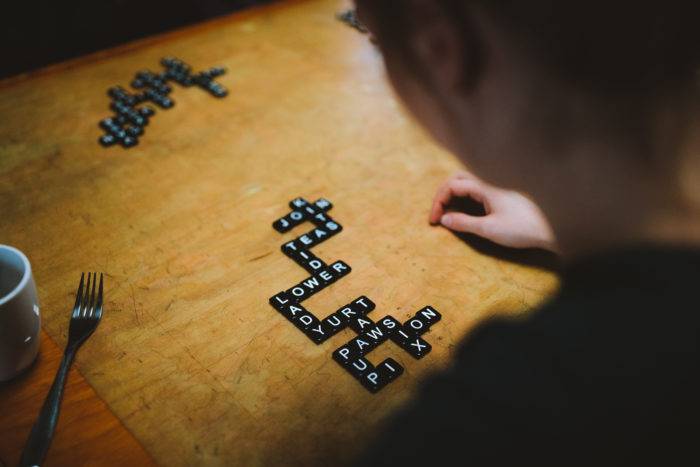 Day 2: Wake Up Slow and Enjoy The Sunrise
One of the great things about winter sunrises is that they aren't that early! You can easily catch a winter sunrise and still have plenty of time to get a restful night's sleep.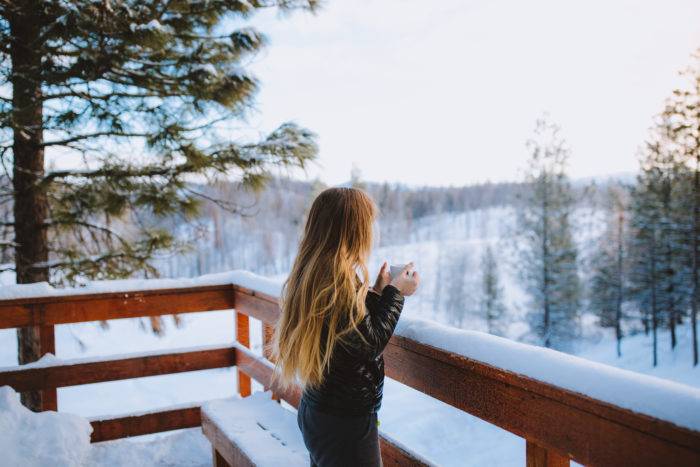 If your Idaho winter weekend adventure finds you in the mountains, grab your favorite beverage and step outside (just for a moment) and watch the colors in the sky.
Need suggestions? Grab a dozen donuts at Guru Donuts in Boise before heading up.
Take Some Day Hikes Around Idaho City
Idaho City has a little bit of outdoor adventure for everyone. This area of the Boise National Forest provides 60 miles of groomed and ungroomed trails, ranging from easy to challenging. There are trails for Nordic skiing, snowshoes, and snowmobiles.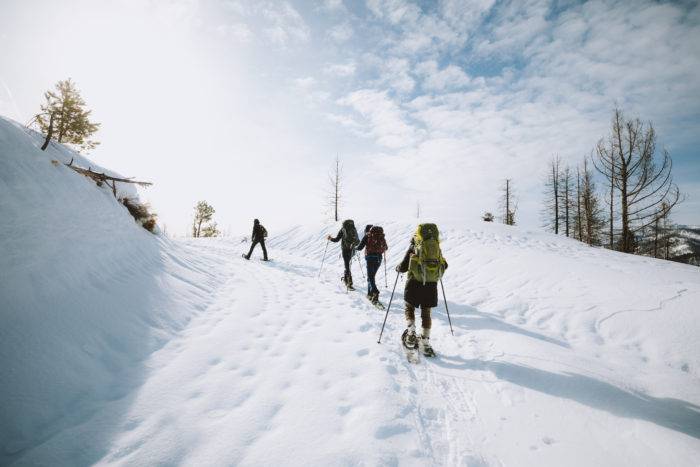 We suggest starting at the Gold Fork parking lot and taking Summit Trail for incredible views of the surrounding mountains.
Pro Tip: You'll need to purchase a parking permit online or at a local business. You have the option to buy a day pass, three-day pass, or annual pass.
Play In The Snow
Make the most of the winter season in Idaho and get outside! Have a snowball fight, find a local sledding hill, or grab your skis and head to the mountain. The closest mountain skiing resorts to Boise are Bogus Basin Mountain Recreation Area, Brundage Mountain Resort, Tamarack Resort and Sun Valley.
Don't own the gear? Don't fret! Pick up a rental at McU Sports or Idaho Mountain Touring. Make reservations online or call ahead for easy pickup.
Stay Out Late And See The Stars
No Idaho winter weekend is complete without staying up late to see the stars. Drive up to the mountains to find clear skies and break out your camera!
There are countless options for great locations to see the night sky. Many small towns and forest land have little light pollution, making the stars seem brighter and the milky way more visible.
Being photographers ourselves, we like to shoot with our camera on manual settings. If you're looking for a crash course on shooting night shots, watch this informative youtube video by Nick Page. We also suggest packing a tripod with you to use in order to stabilize your images.
Day 3: Spend The Day Soaking In One of Idaho's Hot Springs
After an adventurous winter weekend in Idaho, it's time to soak those sore muscles back to health.
Just an hour outside of Boise and only a few minutes from Idaho City is a delightful soaking escape called The Springs. With a giant soaking pool, a toasty large tub, and several private pools to reserve, there's something for everyone at The Springs.
Enjoy Some Local Eats and Say "Cheers" To A Weekend Well-Adventured
You've officially completed a successful winter weekend trip in Idaho! Now, it's time to celebrate at any one of Boise's amazing local breweries and quirky restaurants.
For some rowdy, good-time celebrations, check out Diablo & Sons. For fresh and local ingredients with an amazing ambiance, try Juniper.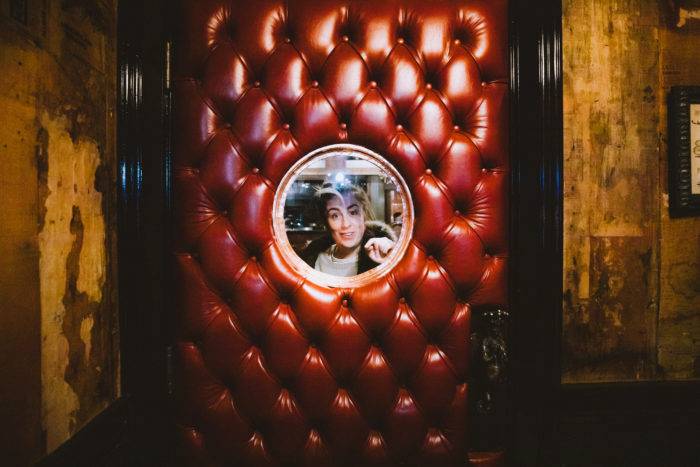 No matter what amazing Boise dinner location you choose, make sure to stop by The Stil for custom-crafted ice cream – they even have dairy-free and vegan options.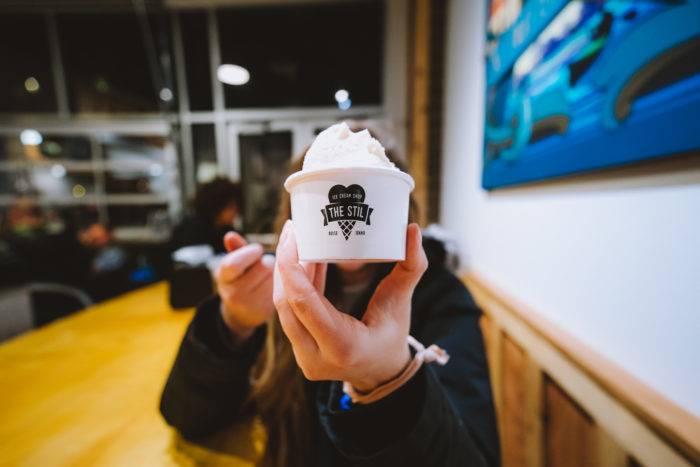 Why Should You Choose A Winter Weekend in Idaho?
A winter weekend trip in Idaho provides endless options to fit anyone's idea of fun! Whether it be hiking to a yurt, relaxing in a hot tub, or having a few beers with friends, Idaho provides amazing options to get outside and enjoy the best of this winter season.
We loved putting together an example itinerary for you, and we hope it brought you a lot of inspiration and ideas for your next trip. Thanks for reading and we'll see you on the trails!
Updated on November 29, 2021
Published on February 12, 2019