Sometimes the best way to learn about history is to get out and experience it. Touch it, see it and talk about it in the places where it happened. Idaho has a rich history in national preserves, reserves, monuments, and historic trails, which, like national parks, are managed by the National Park Service (NPS). Spend some time exploring and #FindYourPark to create year-round memories with your family.
Craters of the Moon National Monument and Preserve
The Craters of the Moon National Monument and Preserve is comprised of about 60 lava flows and 25 cones. Paved walking paths crisscross the park, allowing visitors to explore the lava field's interior. There is also a drivable route available April-November. Once the snow arrives, paths are open for cross country skiing and snowshoeing. This landscape is so unique, NASA astronauts Alan Shepherd, Edgar Mitchell, Eugene Cernan, and Joe Engle explored in 1969 while training to visit the moon.
Trip Tip: When Loop Road is open to automobile traffic there is an entrance fee. The fee is $8 per vehicle. Those entering by bicycle, motorcycle or foot pay $4 per person. Individuals age 15 and under enter free. Credit cards are accepted. Also, expect it to be windy.
City of Rocks National Reserve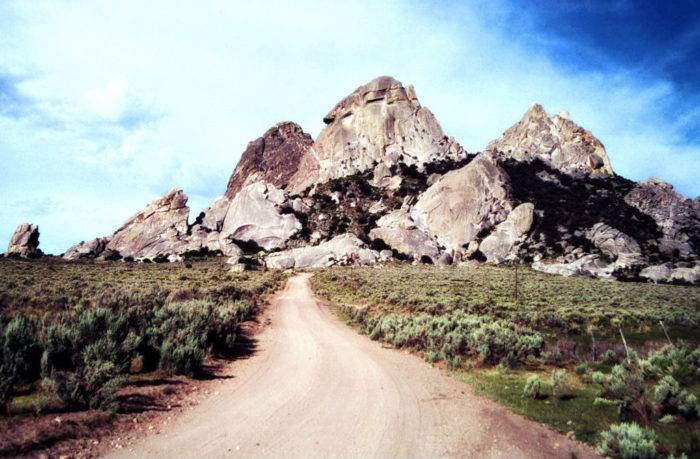 Known as "The City" to its climbing devotees, the City of Rocks National Reserve is situated within Castle Rocks State Park near Almo, Idaho. The sculpted landscape of City of Rocks dates back 28 million years. Some of the granite spires are in the 2.5 billion year old Green Creek Complex, which contain some of the oldest rocks in the western United States. Summer is the peak season for visiting the City of Rocks, especially if you want to catch one of the lectures, tours, or educational programs put on by the Castle Rock State Park rangers. Park visitors can enjoy a wide variety of activities, with rock climbing, biking, hiking, camping and bird watching among the favorites. Over 22 miles of hiking trails wind through the City of Rocks National Reserve, leading to arches, windows, and dramatic overlooks. Auto touring is another great way to enjoy City of Rocks. In Almo, be sure and stop at the City of Rocks/Castle Rocks State Park visitor center for maps, information, and to watch an 8-minute orientation video of City of Rocks geology, history, and things to do.
Trip Tip: If you don't make it to the City of Rocks before the snow flies, no worries. You can still enjoy it on cross-country skis or snowshoes. Ice climbing is also popular. Be aware, some roads may be impassable from November through April. The park has gravel roads, but they are easily traveled by passenger car in fair weather.
Hagerman Fossil Beds National Monument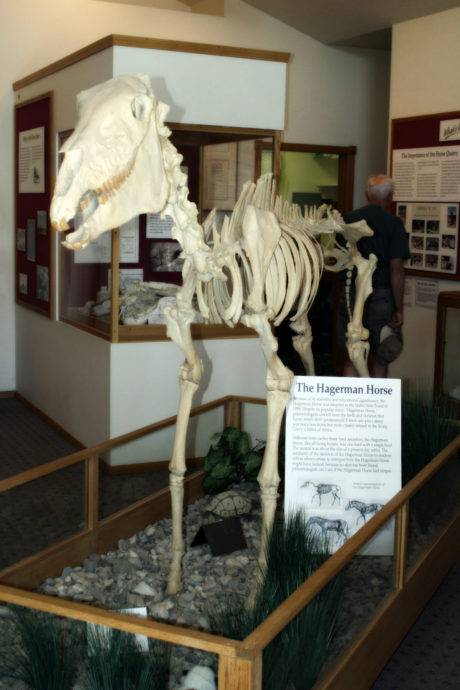 Did you know that the horse evolved in North America? The Hagerman Horse, Equus Simplicidens, Idaho's state fossil, was the first true horse. It was about the size of a modern Arabian horse. However, its bones most closely resembled those of the Grevy's zebra. The Hagerman Horse Quarry is recognized as one of the most important sites in the world related to the fossil history of the horse.
The Hagerman Fossil Beds are home to over two hundred different species of fossil plants and animals. The list includes Sabertooth Cat, a Hyena-like dog, Peccary, Mastodon, Otter, Bear, Shrew, Camel, and Ground Sloth, as well as many other species. With over 3,000 new fossil fragments found each year, it is one of the most fossiliferous Pliocene-aged sites in the world.
Trip Tip: You can check out to scenic overlooks at the Monument. The Snake River Overlook is wheelchair accessible and allows you a view of the Monument from across the Snake River. The Oregon Trail Overlook has informational wayside panels about the Oregon Trail and fossils. No fossils are on display at either overlook but the views and hike are worth the drive.
Nez Perce National Historical Park
The Nez Perce National Historical Park is a non-traditional national park because it tells a story about a people rather than a location. The Nimiipuu – which means 'the people' – were also called Nez Perce – meaning pierced nose – by French fur trappers. The Historical Park includes 38 sites in Idaho, Oregon, Washington and Montana, so if time allows, plan for a road trip rather than a single stop.
A great place to begin exploration of the Nez Perce Historical Park in Idaho is at the Spaulding visitor center, located 11 miles east of Lewiston on Highway 95. Here, visitors can view exhibits, pick up maps and information, and learn the stories behind the sites along your journey, including Coyote's Fishnet, Whitebird, and Heart of the Monster.
Trip Tip: The hours of the Historical Park fluctuate depending on the season. You'll want to double check the operating hours before making this stop.
Minidoka National Historic Site
The Minidoka National Historic Site near Jerome, Idaho is a monument to a difficult time in United States history: the internment of US citizens and their families because of their Japanese ancestry. In February 1942, following the Japanese attack on Pearl Harbor, President Franklin D. Roosevelt signed an executive order that moved nearly 120,000 Japanese and Japanese Americans into 10 isolated relocation centers in Idaho, Arizona, Arkansas, California, Colorado, Utah, and Wyoming. The Minidoka War Relocation Center was in operation from 1942 to 1945 and during its operation was the 7th largest city in Idaho. Today visitors will see a restored entry guard station, waiting room and rock garden. Visit the Relocation Center display at the Jerome County Museum in nearby Jerome and the restored barracks building at the Idaho Farm and Ranch Museum southeast of town. There is a small marker adjacent to the remains of the guard station, and a larger sign at the intersection of Highway 25 and Hunt Road, which gives some history of the camp.
Trip Tip: Stop by any time. The historic site is open year-round during daylight hours
Share your Idaho adventures with @VisitIdaho and show us what you discover as you #FindYourPark across our great state.

Published on October 8, 2015