The Traveling Newlyweds worked in partnership with Visit Idaho to create this Travel Tip.
Discovering new places that are off the beaten path is our jam. It's 90% of the reason why we do what we do! (10% is for the food, obvi!) As we road-tripped around Northern Idaho, we found some real hidden gems – many of which are in and around the small mining town of Wallace! It's cute, quirky, oozing with history and fascinating superstition, and it's absolutely worth a visit. Here's a list of our Top 5 places to go and things to do in, around and near Wallace.
(And for those of you in the planning stages, we stayed at the cozy Wallace Inn, just steps from downtown Wallace, and an easy drive to everything else. Highly recommend!)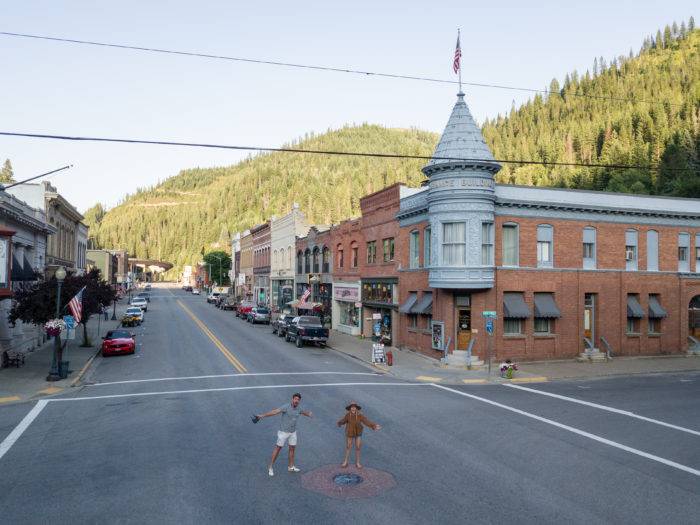 1. The Route of the Hiawatha Scenic Bike Trail
If you enjoy adrenaline-filled adventure, spectacular scenery, historic train tunnels, and downhill bike trails (that's right – 100% downhill), you'll LOVE The Route of the Hiawatha! This 15-mile long mountain bike or hiking trail is totally epic, and sure to be the highlight of your time in Idaho – it sure was ours. The friendly folks at the Lookout Pass Ski Area will get you all set up with rental bikes, helmets, snacks, and even a bike rack for transportation to the trail. It's about a two-and-a-half-hour ride, but give yourself plenty of time to stop and enjoy the views, have a snack, and learn more about the history. Be sure to bring a jacket and wear comfy clothes that you're ok getting dirty – some of the tunnels are chilly with some fairly permanent puddles.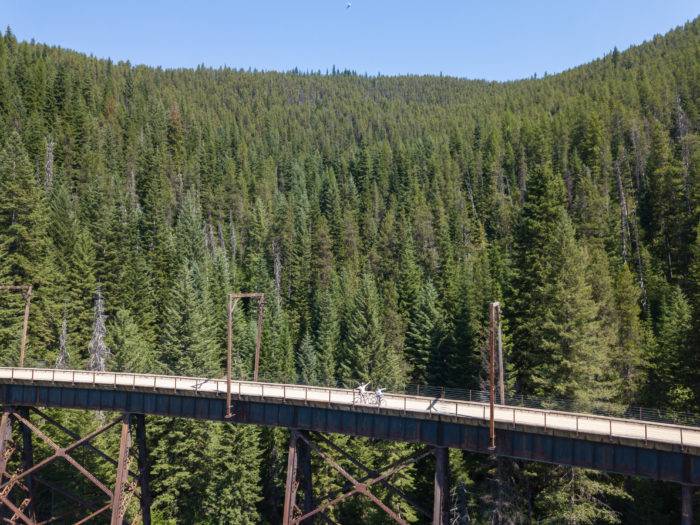 2. The Center of the Universe
Located in the heart of downtown Wallace, on the corner of Bank Street and Sixth Street, is The Center of the Universe. Don't believe us? There are signs and a manhole cover to prove it. In 2004 the Mayor of Wallace at the time, Ron Garitone, declared and proclaimed Wallace to be the Center of the Universe. For no reason, other than why not? And that's exactly why this random spot is on our list. It's pretty cool to say that you've been to the center of the universe… even if it can't technically be proven.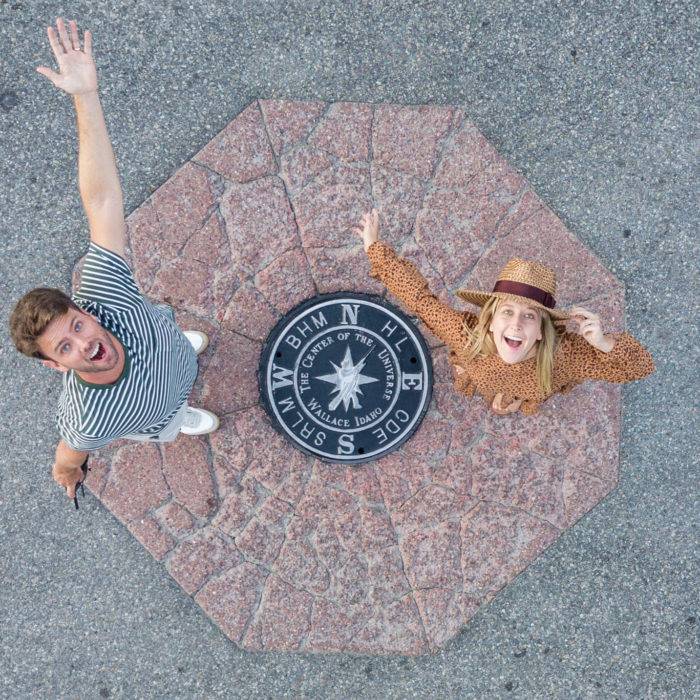 3. Wallace Brewing Company
After you've taken your share of selfies at the Center of the Universe, walk down the street to the iconic Wallace Brewing Company. You'll feel as though you've stepped back in time in this craft brewery that's reminiscent of an old time saloon. The bartenders are friendly and knowledgeable, the crowd is a mix of Wallace locals and visitors, and the best part… it's dog-friendly! So if your pup is along for the journey, they can join you inside as well. Oh, and of course, the beer is really solid too. Be sure to try the famous Huckleberry Shandy. (Insider tip: If you want to enjoy your beer on the go, just ask for a red solo cup. It's perfectly acceptable – and legal – here to walk around town with your drinks.)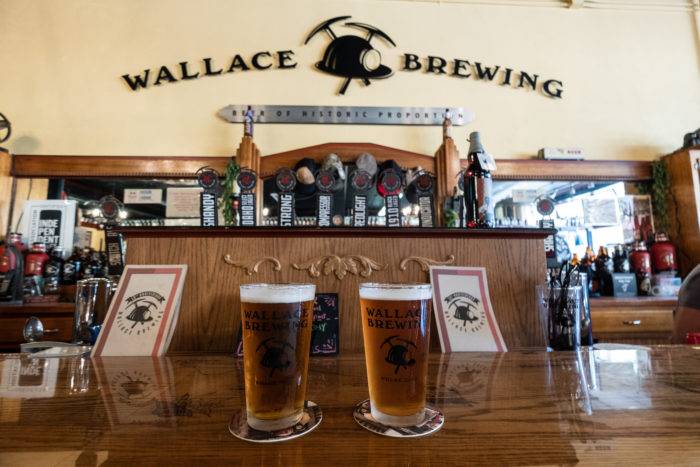 4. The Oasis Bordello Museum
This famed Wild West brothel turned museum is mesmerizing and bewitching, and one of the most engrossing tours we've been on in a while. The Oasis Bordello was an active brothel in downtown Wallace until 1988, when the residents fled the building after rumors spread of a possible FBI raid. Since then, the new owners of the Oasis Bordello decided to leave the place completely as is, and make it a museum. It's like walking into a time capsule, with everything from the bedding to the opened soda cans on the counters left just as they were. Unfortunately, photos aren't allowed on the tour, so trust us that it's worth a visit. It's absolutely captivating.
5. Red Light Garage
Being the foodies that we are, we couldn't help but include a restaurant on this list. But this isn't just any restaurant. The Red Light Garage is a Wallace staple – and whether you're hungry for breakfast, lunch, or dinner, this eccentric and downright zany spot has you covered. Especially if you're in the mood for some huckleberries. Their huckleberry pancakes and huckleberry shake are basically world-famous!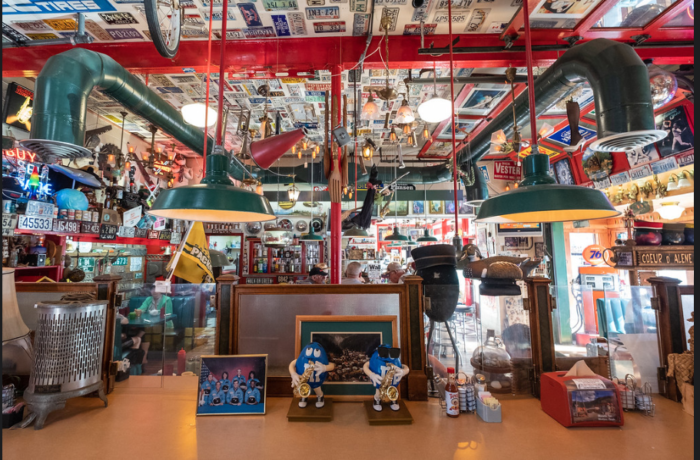 Did we miss anything? We'd love to hear what your favorite sights in and near Wallace are, as we plan to return very soon.
Feature image credited to The Traveling Newlyweds.
Alli and Bobby Talley, AKA The Traveling Newlyweds, are travel and lifestyle writers living in Southern California with their son and Bernedoodle, Sally. Their aim is to inspire couples to explore the beautiful world that we live in, even if that means starting in your own backyard. From road tripping around North America to exploring exotic locations around the globe, they strive to share how traveling is healthy for your relationship and attainable for anyone. Follow along on their adventures via @Traveling_Newlyweds or on their website!

Published on July 30, 2020