Love at First Flight worked in partnership with Visit Idaho to create this Travel Tip.
It may not be the first spot you think of for a vacation, but a trip to southern Idaho should most definitely be on your list of places to visit in the U.S. It is a prime location for those that enjoy the great outdoors. Here is the ultimate 4-day itinerary for an amazing visit to southern Idaho.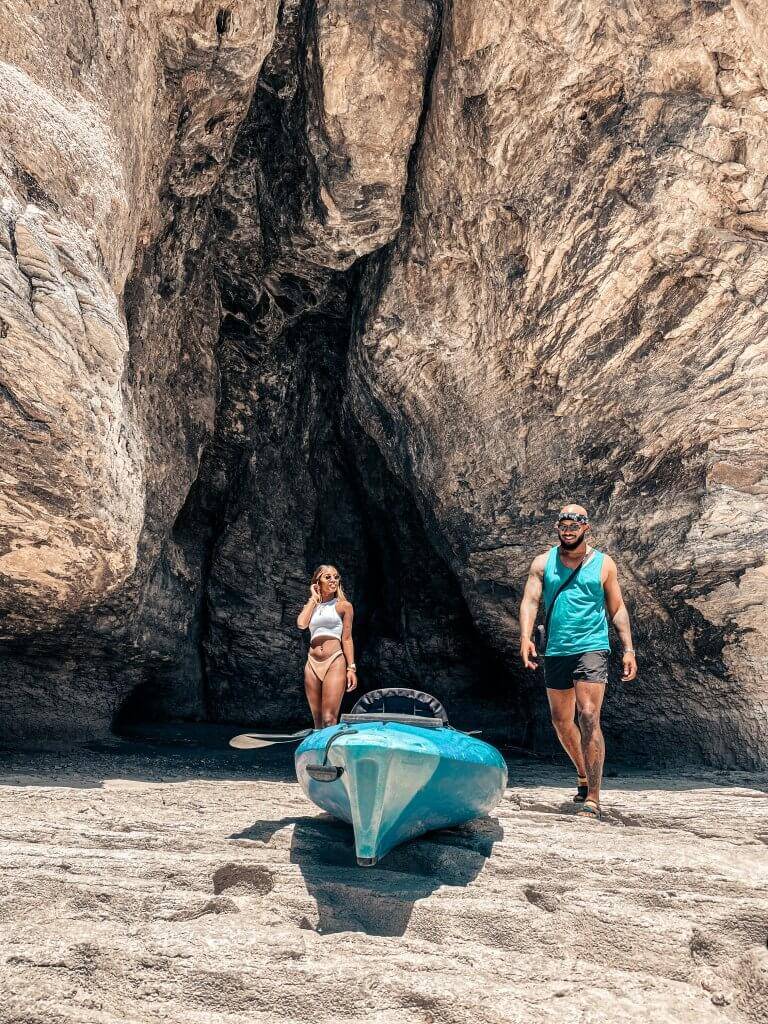 Day 1: Box Canyon and Perrine Bridge
Box Canyon: On our way from Boise Airport to Twin Falls, we made a pitstop at Earl M. Hardy Box Canyon Nature Preserve (it's one of the six units of Thousand Springs State Park). Driving up, we passed endless grass fields until we arrived in an empty parking lot, seemingly in the middle of nowhere, with a trailhead sign. We got out and walked over to the rim of a deep canyon filled with crystal blue waters as far as our eyes could see. You can experience the view from the canyon overlook or hike the trail down to the base. Because we had just hopped off the plane, we weren't exactly dressed for hiking, so we sat at the rim and admired the Caribbean blue waters and the sound of the waterfall down below.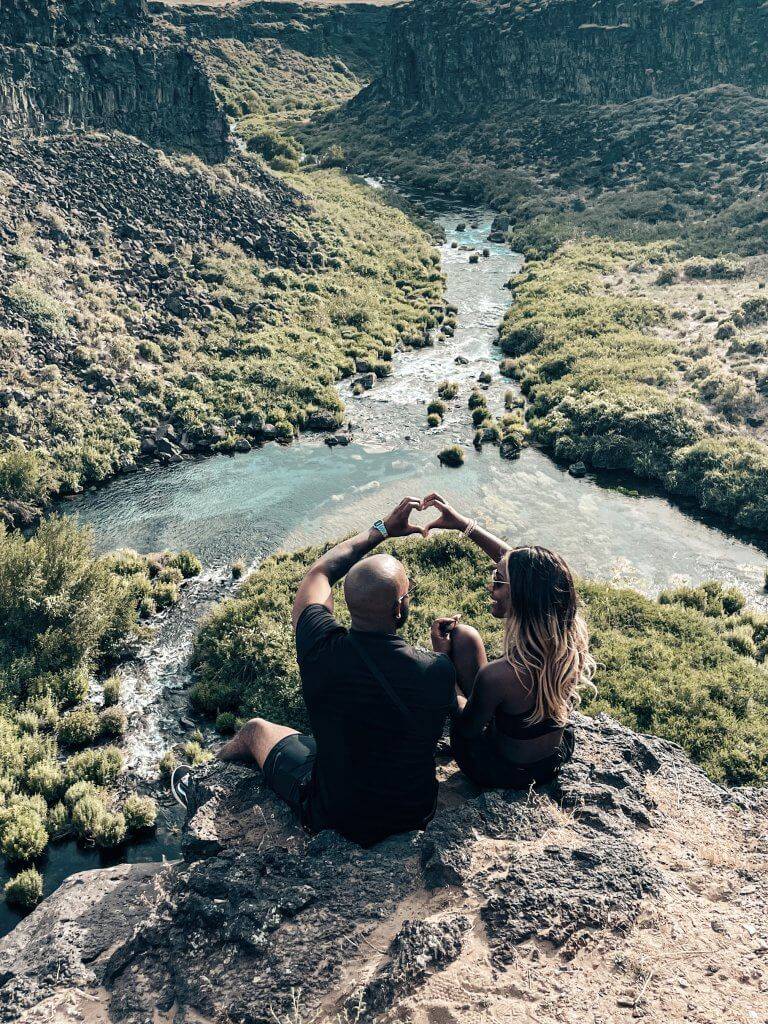 Perrine Bridge: It was time to find the nearest charging station for the Telsa, which just so happened to be right next to the I.B. Perrine Bridge and overlook. It was here that we learned about the BASE jumping scene. We never thought we would witness someone flinging themselves off a bridge with nothing but faith and a parachute, but man was it EPIC. The coolest thing is that the Perrine Bridge is one of the ONLY places in the United States where people can legally enjoy this activity. Most onlookers watch from the overlook, but if you can stand the height, we highly recommend using the pedestrian path on the bridge to watch it all up close.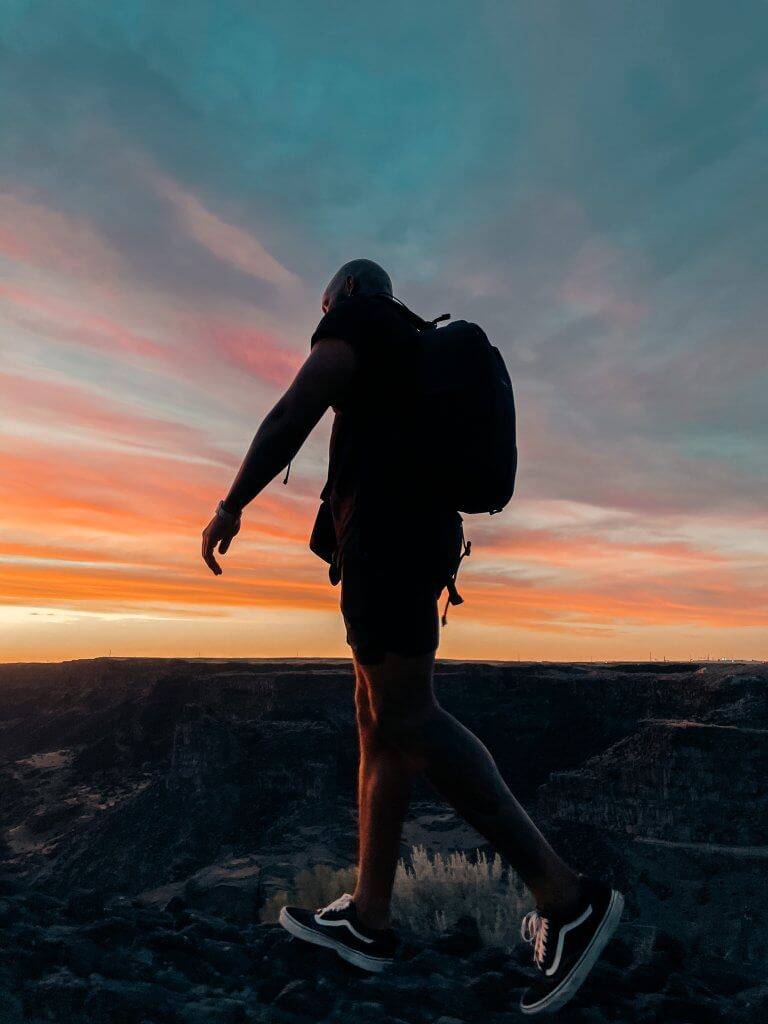 Day 2: Pillar Falls and Perrine Coulee Falls
It is an absolute MUST that you start your morning off with a delicious breakfast at Abracadabra's. We popped into this quaint little diner for a quick meal and fell in love. The wait staff is incredibly hospitable, and the Captain Crunch French toast was to die for! Breakfast here will fill you up and set the tone for the rest of the amazing day ahead.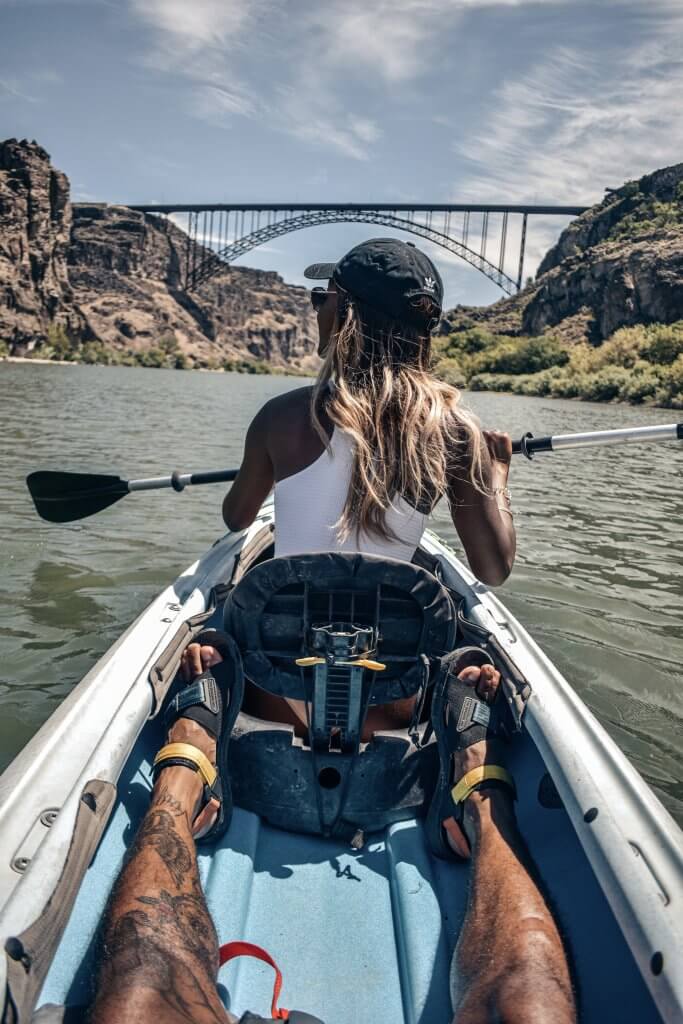 Pillar Falls: To burn off all the extra calories, we headed down to Centennial Waterfront Park and hopped in a kayak to paddle to Pillar Falls. It's about a 1.5-mile trip upstream to Pillar Falls, so you'll definitely get your exercise in. Along the way, you can catch the BASE jumpers leaping off of the bridge above. When you've made it to Pillar Falls, you'll find plenty of rocks to dock your kayak and enjoy the view. We recommend packing a light lunch and picnicking on the rocks while soaking your feet in the cool water before heading back.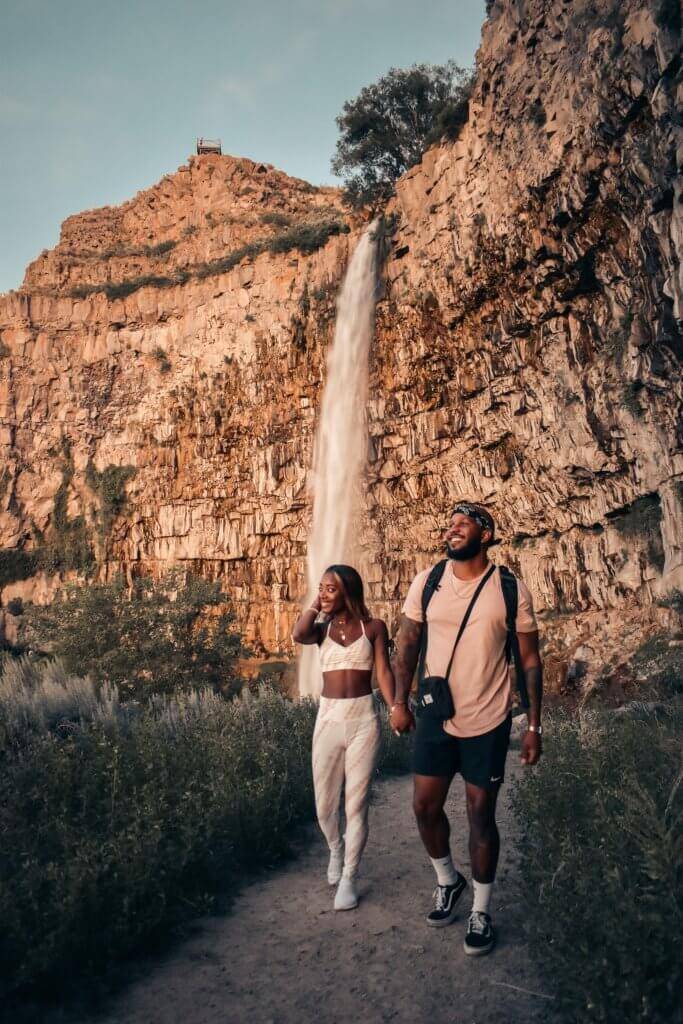 Perrine Coulee Falls: As you drive out of Centennial Waterfront Park, you can spot the beautiful Perrine Coulee Falls. There is plenty of room to park alongside the road so you can get out and enjoy the waterfall up close. An unpaved trail will lead you directly behind the waterfall where you can feel its delightful mist as it rushes over the canyon walls. We loved the view here so much that we stayed until the sun started to set.
Next, we headed over to a sunset dinner at the delicious Elevation 486. Located exactly 486-feet above the Snake River, this modern restaurant served nothing but great food and endless views. It is one of Twin Falls' most popular restaurants, so a reservation is highly recommended. At dinner we met the sweetest locals that suggested a few must-see destinations only locals knew about to add to our list. We knew we couldn't make it to all of the destinations, but the suggestions definitely came in handy for the next day.
Day 3: Blue Heart Springs and Dierkes Lake
Start your morning with yet another delicious breakfast at the Twin Beans Coffee Company. This cute little hometown coffee shop and cafe was the perfect place for us to fill up before another exciting day.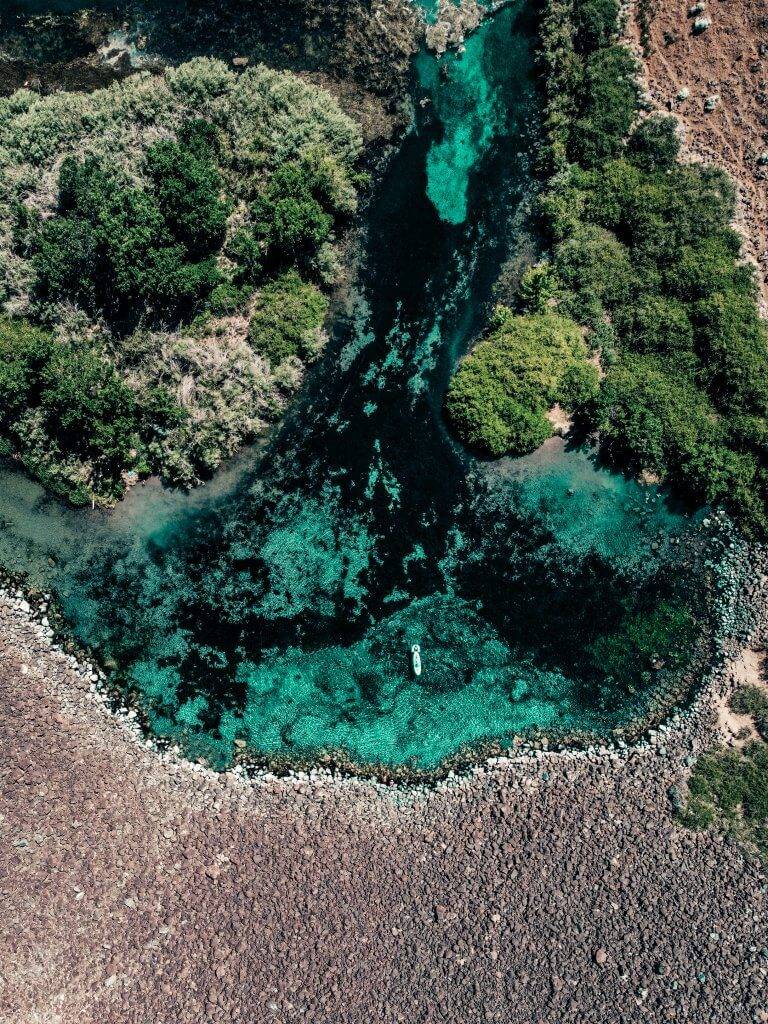 Blue Heart Springs: Since Shoshone Falls wasn't in its peak season, we headed down to Banbury Hot Springs in Buhl. Instead of soaking in the natural hot springs, we opted to rent a tandem kayak for about four hours to head down to a little spot known as Blue Heart Springs.
With its heart shape and clear blue waters, (hence the name "Blue Heart"), this hidden oasis is a DEFINITE must-see during your trip to southern Idaho. It was the perfect place to cool off after a long kayak paddle down the Snake River with freezing cold waters year-round! The best part about Blue Heart is that it is only accessible by water transportation, so it remains an exclusive hangout spot.
After a long day of kayaking, we headed back to Twin Falls for a tasty lunch at Milner's Gate. Milner's Gate is a cute craft brewery with tons of local beers and good food. We're not big beer lovers, so we sat down to unwind with some delicious huckleberry mojitos (which we highly recommend) and a nice dinner before going to catch the sunset.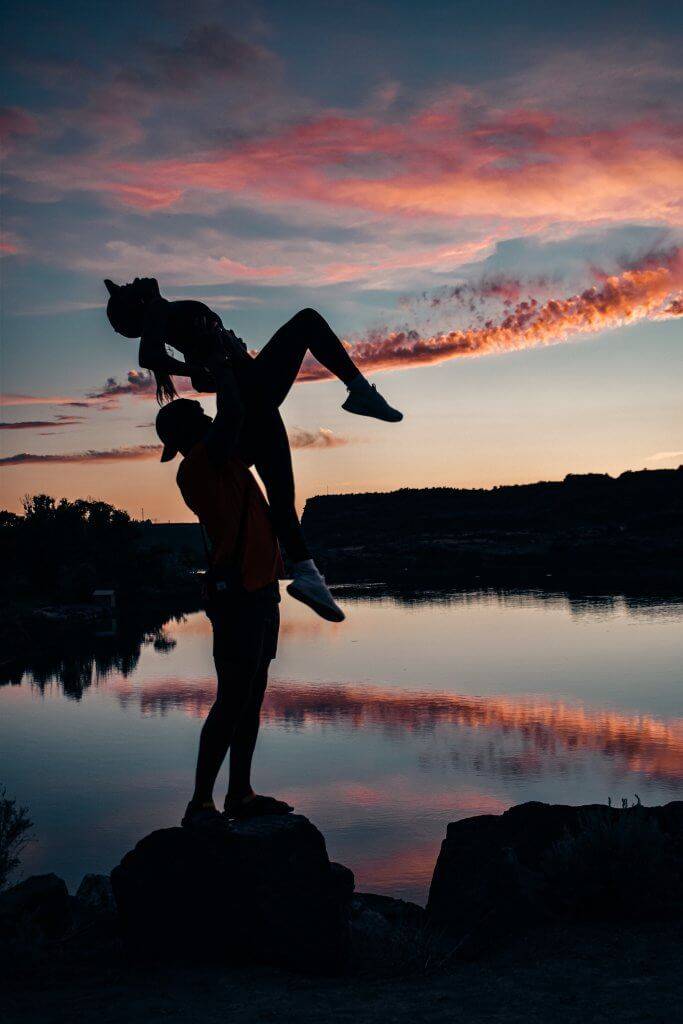 Dierkes Lake: We were told that we could catch one of the most mesmerizing sunsets of our lives at Dierkes Lake so we had to go see for ourselves. Since it was already a pretty active day for us, we were super excited to find that the lake was only a short walk from the parking lot. When we arrived at the lake we could not believe our eyes. The water reflected beautiful hues of oranges, pinks, and blues giving us two sunsets in one! Aside from being the perfect place to cuddle up and watch the sunset, Dierkes Lake is also a great area for just hanging out on a hot summer's day or scuba diving! That's right, you can scuba dive in the lake and experience the scuba diving park featuring sunken rowboats, hidden treasure chests, and more.
Day 4: City of Rocks National Reserve
For our last day, we drove about an hour and a half outside of Twin Falls to our next destination: The City of Rocks National Reserve.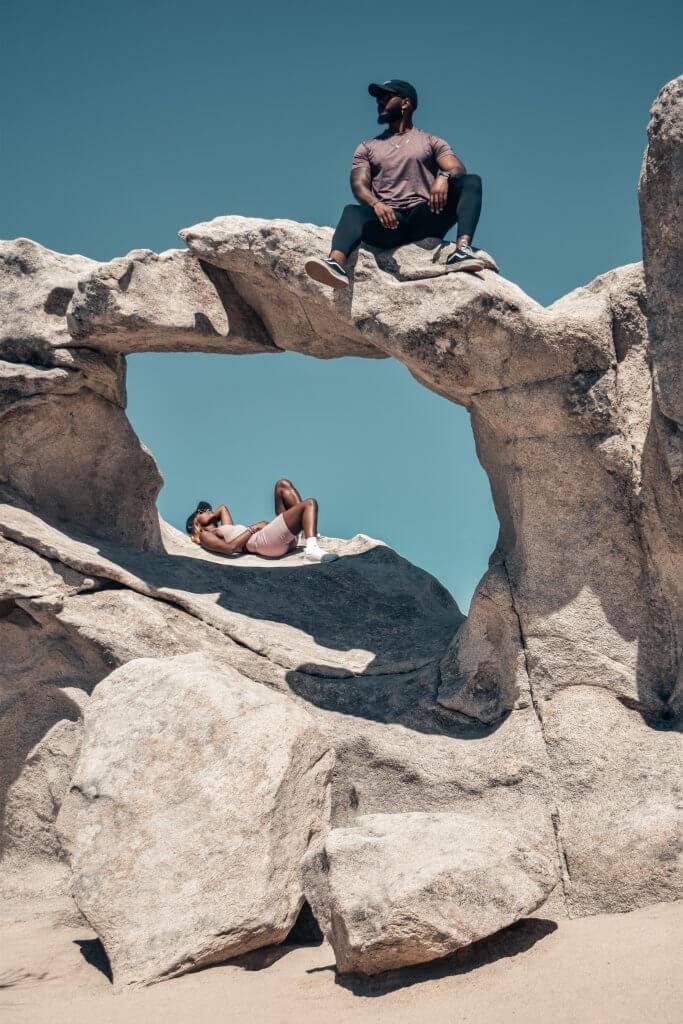 City of Rocks: Thrill seekers from around the world come to visit this otherworldly site. Being surrounded by giant boulders at every turn made us feel like we were in the scene of an extraterrestrial movie. Some of the granite formations were over 60 stories high! You can spend the day here rock climbing or hiking. But if you're a little lazy like us, you can just sightsee from the car until you find the perfect rock to rest on. No matter what you do, make sure to stop by Rock City Mercantile in Almo for an out-of-this-world lunch!
All in all, Idaho was never a place we thought we'd visit, but boy are we glad we did! There is so much natural beauty to be seen in southern Idaho. We managed to squeeze so many incredible sights into only four days. In the winter months, there is an entirely different world of views and activities to partake in. No matter which time of the year you choose, southern Idaho is bound to be the vacation you never knew you needed!
Feature image credited to Love at First Flight.
Our names are Lanaiza & Mahdi. We are from New Orleans, LA. We met working in corporate America doing sales for a big travel company. After a couple of months of office banter, we finally admitted our romantic interest in one another and the rest was history. It wasn't long before we took our first trip together to Puerto Rico which made us really believe in the power of travel. There years later, here we are, traveling all around the world creating incredible memories that will last us long beyond any materialistic item.

Published on April 12, 2022