Melynda Harrison worked in partnership with Visit Idaho to create this Travel Tip.
Winter might not seem like a road trip season, but it happens to be our family's favorite time to pack up the car and hit the open, sometimes snow-covered, road. We might have to drive a little slower, but that's the whole point of a road trip – to take your time and see what's out there.
On our winter road trip in Idaho, we ate fried pickles, skied over lava, walked along the rim of a deep canyon, soaked in hot springs, sipped craft beers, slid down mountains, and cross-country skied among aspens. We packed a lot into five days.
Road trips aren't just for doing stuff, they are also a time for family bonding. Without work, piles of laundry, or other obligations occupying our minds, we can just enjoy each other and Idaho's great outdoors.
Day One: Pickles, Lava, and Brews
We reached the small town of Arco at lunchtime and stopped at Pickle's Place. This diner serves fried pickles and pickle popsicles but also has a good menu of burgers and other American diner foods.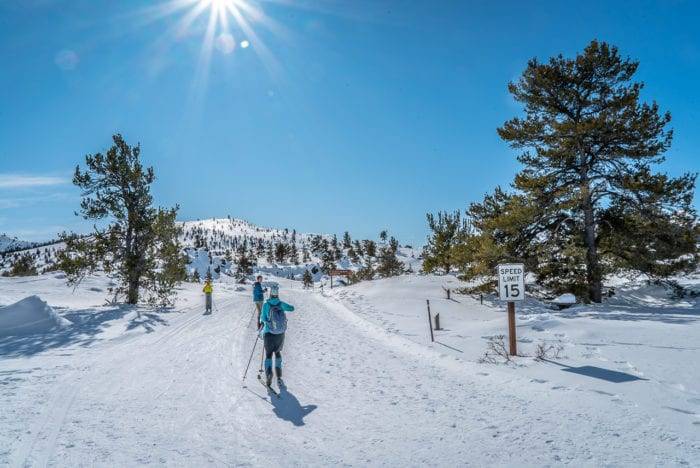 With full bellies, we arrived at Craters of the Moon National Monument and Preserve where we donned our cross-country skis and kicked and glided around the groomed roads. Cross-country skiing at Craters of the Moon has been a dream of mine for a long time and it did not disappoint. The lava fields were covered with snow, it was a bluebird day, and we had a lovely time exploring a place we know from spring and autumn visits in a new way.
There is no entrance fee in winter and snowshoe rentals are only $5 at the visitor center. Snowshoe Walks are scheduled for groups and individuals on Saturdays in January and February and no prior snowshoe experience is required. If you want to cross-country ski, you will need to bring your own.
From Craters, we drove on to Twin Falls where we spent two nights at the Fairfield Inn. Part of the fun of a road trip is discovering new things about a place you've been before. While we've spent the night in Twin Falls on the way to other destinations, I'd never looked around the city.
Dinner that night was at Milner's Gate. In addition to tasty beer, they serve a great menu in a cozy atmosphere. I recommend the spicy Tri-Tip Ramen Bowl (I got it without the tri-tip) and an Idahop beer.
Day Two: Canyons, Hot Springs, and More Brews
After breakfast at the hotel, we decided to peak into the Snake River Canyon at Shoshone Falls Park. At other times of the year, water pours over shelves of rock in an aquatic spectacle nicknamed "Niagara of the West." Winter is more restrained, with the waterfalls just trickles of their spring selves, but the canyon is still gorgeous.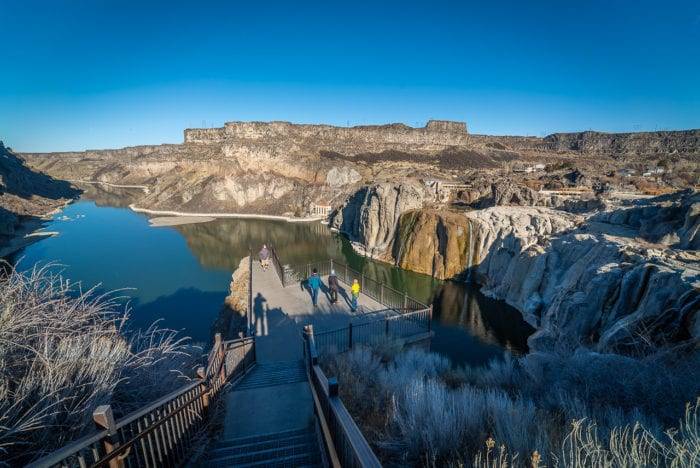 We followed the paved Centennial Trail from Shoshone Falls, along the Snake River Canyon rim, to the Evel Knievel jump site. This is the spot the daredevil attempted to jump across the Snake River Canyon on a steam-powered rocket. The trail was 1.5 miles each way.
After lunch at Elevation 486, we headed to Miracle Hot Springs for a relaxing soak. This little gem of a hot spring spot has two large outdoor pools, a smaller covered pool, and little soaking pools in private rooms.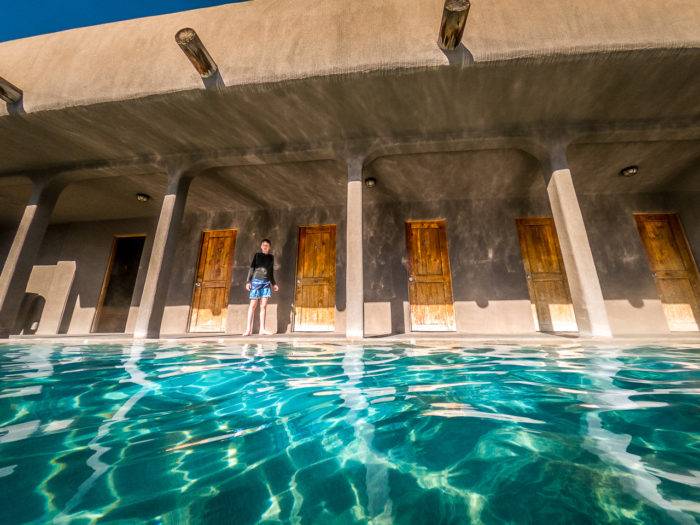 Dinner was at another Twin Falls brewery — Koto Brewing Company. Yummy food and tasty beer in a family-friendly environment was just what we needed to close out the day.
Day Three: Downhill Skiing at Pomerelle Mountain Resort
It was time to say goodbye to Twin Falls and head into the mountains. Pomerelle Mountain Resort, just about an hour from Twin Falls, aims to serve families and those learning to ski or snowboard. That's us. We are ok skiers, but we mostly like to mess around on easy to intermediate runs.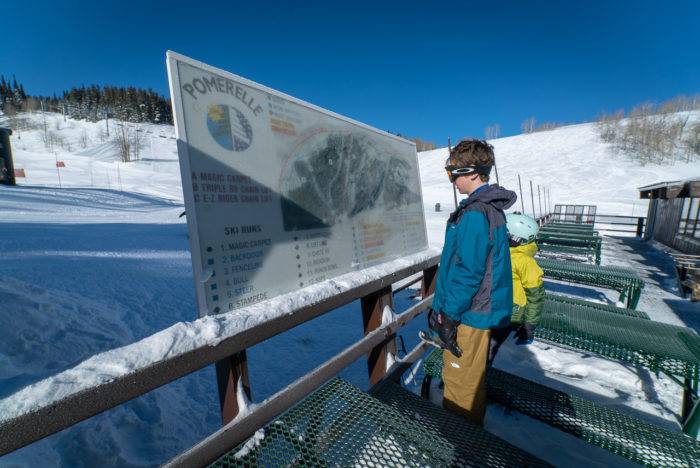 We loved how non-intimidating Pomerelle is. The slopes are wide and beautifully groomed, the people that work there are friendly, and the lessons helped our kids gain confidence and skills. We were able to ski everything on the mountain and enjoy big mountain views while we did it. You can even ski into the evening hours, with lift operations running 4 pm – 9 pm, five days a week.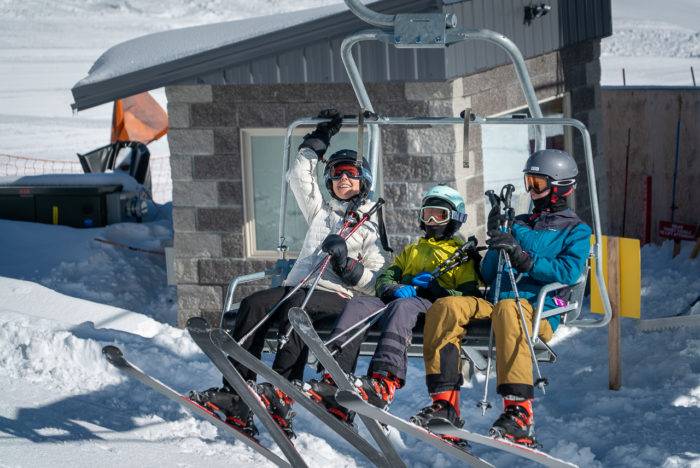 We moved into a family suite at the Holiday Inn Express in Pocatello for two nights. The kids loved having their own room with bunk beds and an X-Box.
Day Four: Downhill Skiing at Kelly Canyon Ski Resort
Another day of downhill skiing, this time at Kelly Canyon Ski Resort. We loved the good-natured people, great views, and the family-friendly atmosphere. The kids enjoyed being able to get off the lifts mid-mountain.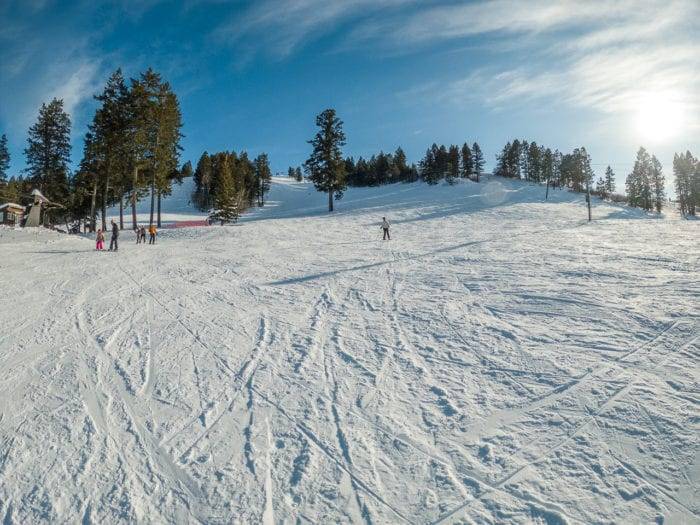 For families or groups not made up entirely of alpine skiers, Kelly Canyon also offers fat biking, Nordic skiing, and snowshoe trails.
After a day in the sunshine, we stopped at Heise Pizza, part of Heise Hot Springs. The pizza was good and had we brought our swimsuits, we would have enjoyed a soak in the adjacent hot springs pool. One of the cardinal rules of road tripping is to be prepared for any kind of fun, but this time we accidentally left them at the hotel.
Day Five: Cross-Country Skiing at East Fork Mink Creek Nordic Center
The final day of our outdoor adventure road trip started with a ski day at East Fork Mink Creek Nordic Center about seven miles outside of Pocatello.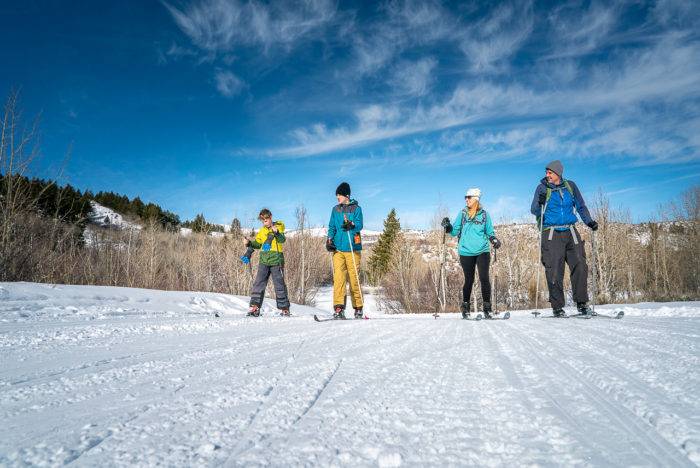 Even though Pocatello was snow-free, by the time we wound our way back to the Nordic Center, we found loads of snow, and beautifully groomed trails for classic and skate skiing. Skis and snowshoes are available for rent on the days the Nordic Center is open (Friday – Sunday), but we had our own so we bought a trail pass and started skiing.
There are more than ten miles of ski trails and several miles of snowshoe trails, which wind through aspen groves, sagebrush flats, and conifer laden hills. We didn't ski all the trails, but we enjoyed some nice climbs and fun downhills. There is a variety of terrain from flat to hilly.
After a picnic lunch in the yurt, it was time to get back in the car for the drive home. Along the way, we started planning next year's winter road trip in Idaho.
Feature image credited to Melynda Harrison.
Melynda Harrison writes about travel and outdoor family adventure at TravelingMel.com, YellowstoneTrips.com, and for many local and regional publications. When she's not behind a laptop, you can find her cross-country skiing, hiking, or floating a river.

Published on March 12, 2020