Jasper Gibson worked in partnership with Visit Idaho to create this Travel Tip.
Are you looking to get away from people and enjoy the serenity of nature this winter? Maybe experience something completely new and adventurous? Winter camping might be the ticket for you.
While winter camping definitely isn't for everyone, it is one of the best ways to experience the solitude and majesty of our coldest season. Snow falling on the surrounding landscape dampens any external sounds, the stars seem extra bright on those crisp nights and snuggling up in a tent with friends or a loved one makes winter camping an unforgettable experience.​​​​​​​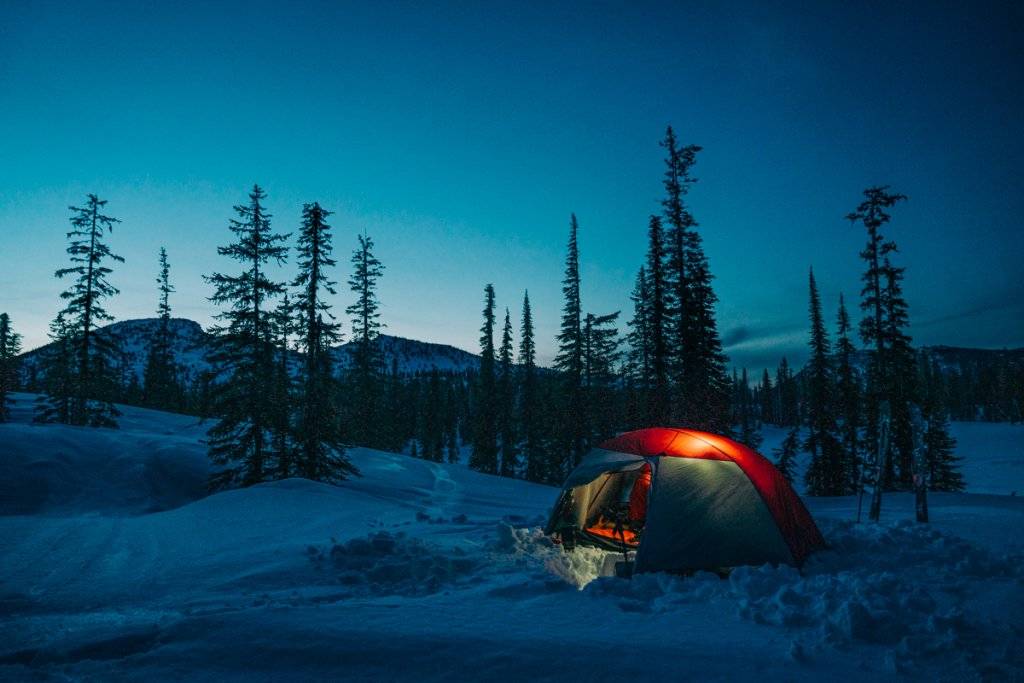 What to Consider
1. Picking a Location
Sometimes, your favorite place to camp in the summertime is also the best spot to camp during the winter. Keep in mind that a lot of places might have long, unplowed roads to get to the trailhead. When starting out, it's recommended to pick a destination that is close to your car. The more experienced you become, the more comfortable you'll be with venturing farther away.
A great place for first time winter camping is Teton Canyon, near Driggs. There is a maintained parking lot and it has access to a lot of national forest land. Other great spots include camping right by the trickling Trestle Creek near Hope and near the Big Wood River by Sun Valley.​​​​​​​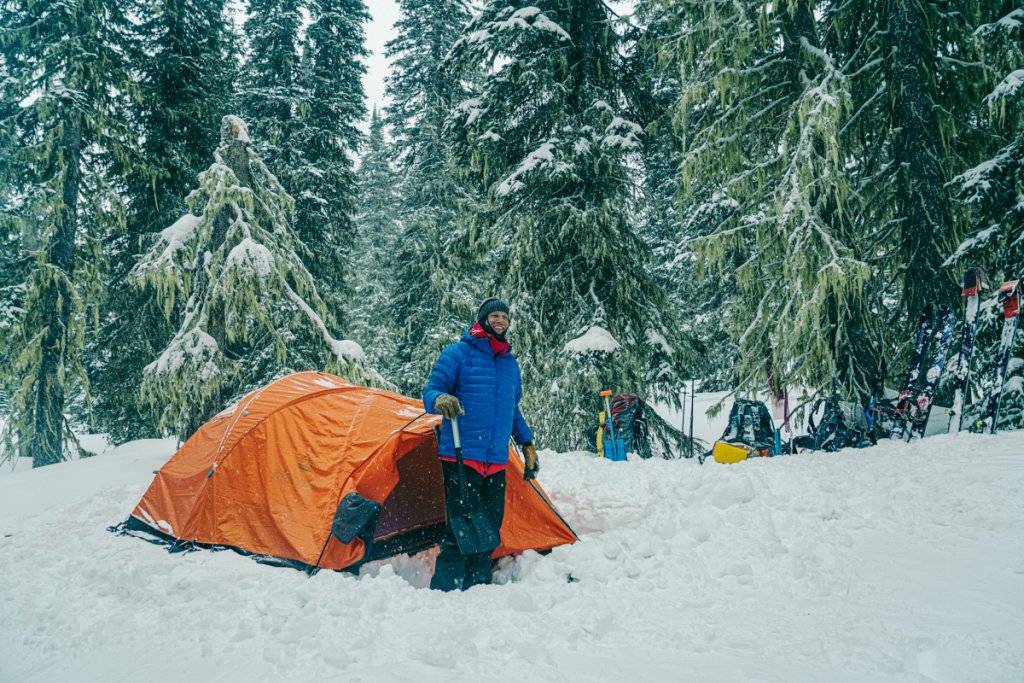 2. Getting There
A snowmobile is a great way to access winter camping but we realize not everyone has access to one. Cross country skis, backcountry skis or a splitboard are the second best tool, but snowshoes work great as well. If you know that your destination isn't too far from the car and you have adequate snow boots, walking will do just fine.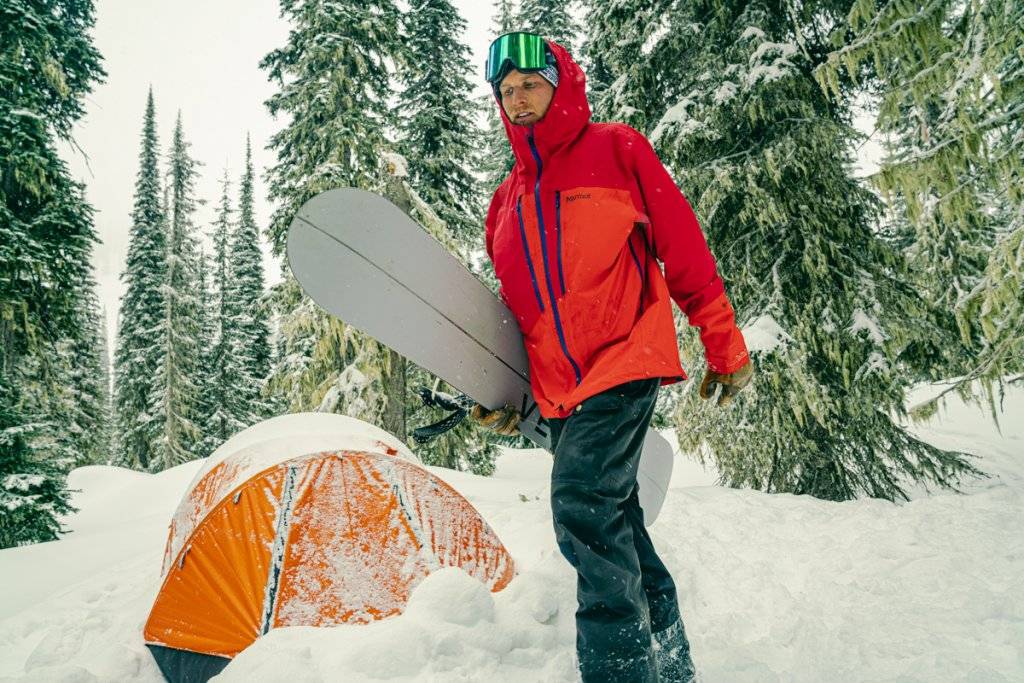 3. Gear
Bring a lot of down. Down sleeping bag, big down puffy jacket, puffy pants, and down or synthetic booties. Down will keep you cozy. I always bring a heavyweight down jacket for winter camping missions.
Bring a zero degree sleeping bag if you can find one. If not, try out a silk liner for a 20-30 degree Farenheit sleeping bag, it's meant to add 5-10 degrees of warmth.
Bring a foam sleeping pad as well as an air pad. Bringing one or the other will not suffice. Two layers of insulation are essential to keeping you warm and comfortable. You'll also want to look for high R-value (this means resistance to heat flow) ratings on your pads.
Cookware: I usually just bring one Jetboil style stove. It is sometimes nice to have two depending on group size, to constantly melt snow for water. If you have a larger group I would recommend bringing something like an MSR Whisperlite style stove.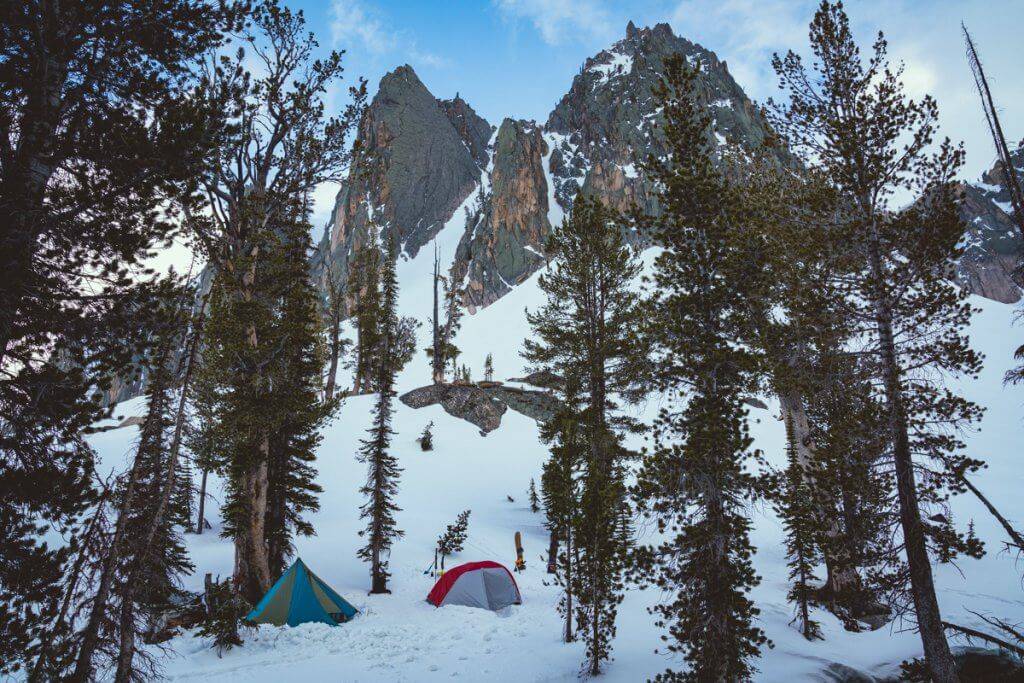 4. Making Camp
Digging out your tent area: If your tent has vestibules it is very nice to dig down into the snow so you can store gear, cook food, put on your boots, and stand in there. If you have skis, it's best to keep your skis on and stomp down a flat area, using a shovel will work too. DO NOT STEP IN YOUR TENT AREA WITHOUT SKIS ON. It will make depressions that you will fall into in your sleep.
Continue by setting up your tent. Pull out your vestibule, and mark its imprint with your shovel or with footprints. Fold the vestibule back onto the tent and start digging down 2-3 feet into the area that the vestibule will cover. Build some steps to get into the vestibule.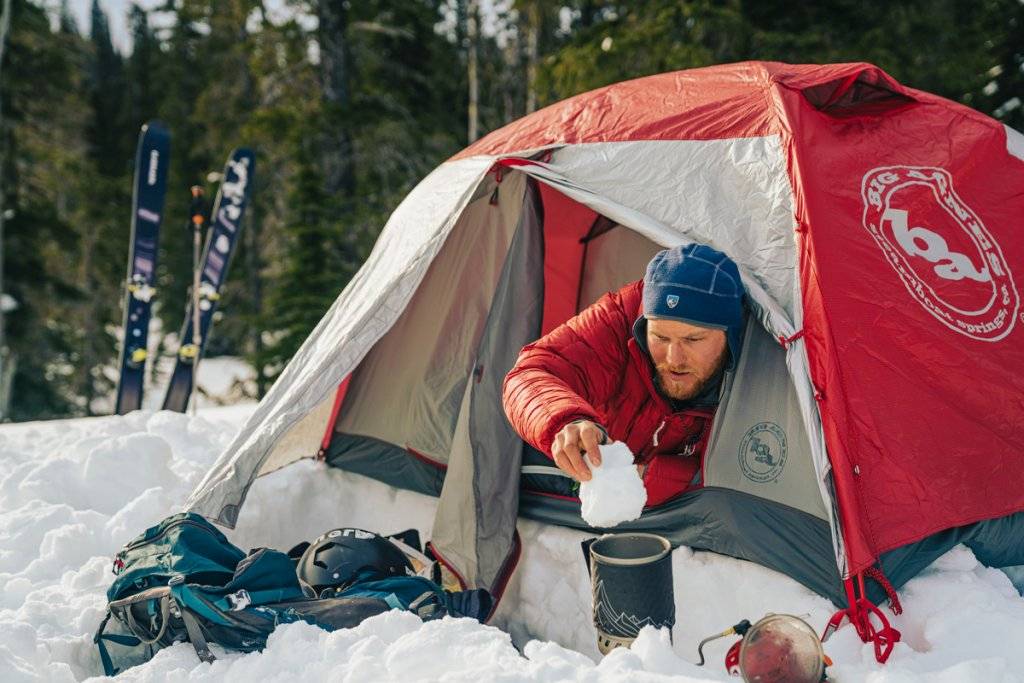 5. Water and Food
Water management is huge while winter camping. It is important to constantly have enough water. This is usually accomplished by melting snow unless you have an open stream or lake nearby.
Don't put snow into a stove without a little bit of water in the bottom. If you put snow into a stove without water in the bottom, the snow will burn, it will make your water taste bad and it will use more fuel than is necessary. Always start melting snow with a little bit of water in the bottom.
Bring lots of hot drink/soup fixings. I swear by Starbucks Via packets, tea, hot chocolate, dried miso soup packets, ramen, and bouillon cubes (bring extra, they're light and really help with morale).
Bouillon cubes are a lifesaver. It sounds weird, I know, but add a bouillon cube to 10-16 ounces of hot water and it seriously feels like you're drinking a meal. It warms up your insides quickly. Not to mention it's super light.
I will pack an extra ramen packet or two. They are light, they have lots of sodium if you have been exerting yourself, and can be a great appetizer for your real meal if you are needing something more.
I prefer Mountain House style meals when I'm winter camping. They're easy, warm and don't require much cooking or cookware.
6. Building a Fire
Start your fire on a bed of green pine boughs. This will keep your fire off of the snow AND it will keep your fire from sinking into the snow as quickly.
Bring waterproof fire starter sticks to start your fire and remember to start small.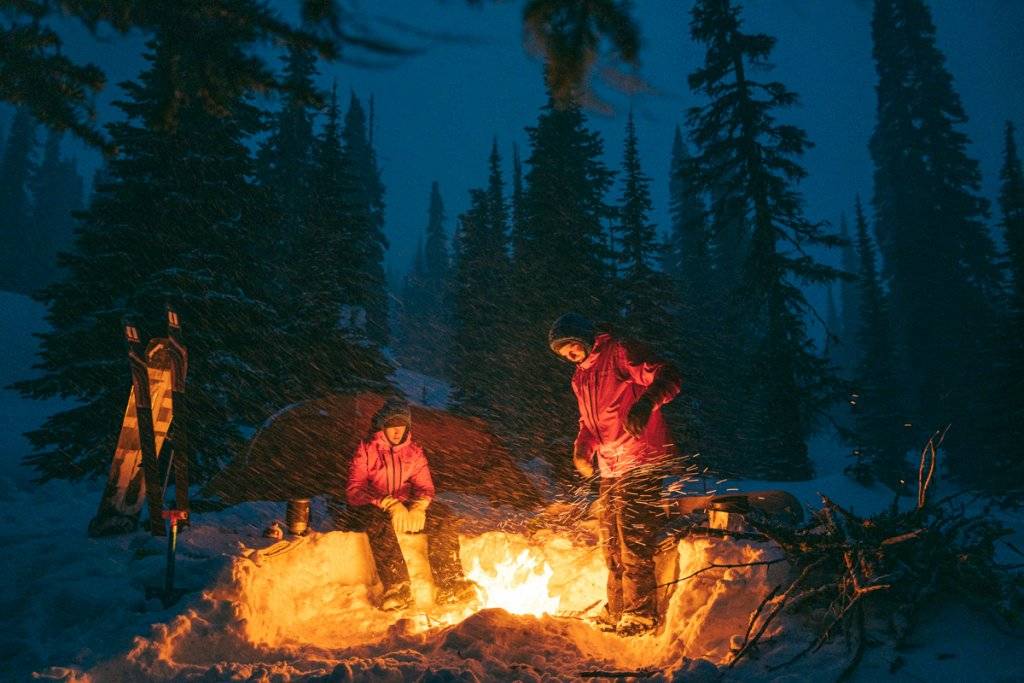 7. Sleeping
Sleep with anything that you want to dry out or keep warm. This includes boot liners, gloves, jackets, and socks. Sleeping with your gear like this is the best way to keep those things dry.
Sleep with a water bottle full of hot water. If you tend to sleep cold and need extra warmth, heat up water, put it in a water bottle, like a Nalgene, and stick it in your sleeping bag.
Boiling water will be too hot. Cool it down with snow or don't bring it to a full boil. Also, remove the bottle from the sleeping bag once the heat has dissipated or the cold water will suck away all of your heat.
With this list you'll be well equipped to take on your first winter camping adventure. Bundle up and go enjoy the beauty of Idaho in winter.
Feature image credited to Jasper Gibson.
Jasper Gibson is a born and raised Idahoan, growing up in Sandpoint, Idaho. He has worked with major U.S. companies including The North Face, Mountain Hardware, Marmot and Smartwool. His work has been published in Outdoor Magazine, National Geographic's Extreme Photo of the Week and on Redbull.com. Aside from his commercial work, Jasper has been a photographer on multiple expeditions around the world.

Published on January 19, 2021