From white-knuckle adventures to family-friendly cruises, there's a snowmobile trail for all experience levels.
Each winter, Idaho's backcountry transforms into a playground of crisp powder perfect for snowmobiling. Everything from white-knuckle adventures to family-friendly scenic cruises with trusted guides is available in Idaho's snowy winter paradise. With spectacular views and thousands of miles of snowmobile trails, the top snowmobiling destinations across the state will surely exercise your throttle thumb.​​​​​​​​​​​​​​​​​​​​​
Where to Find the Best Snowmobiling in Idaho
You don't need to search high and low to find some of the best snowmobiling in Idaho—incredible opportunities to go "sledding" await all across the state. Here's a list of spectacular spots to snowmobile throughout Idaho.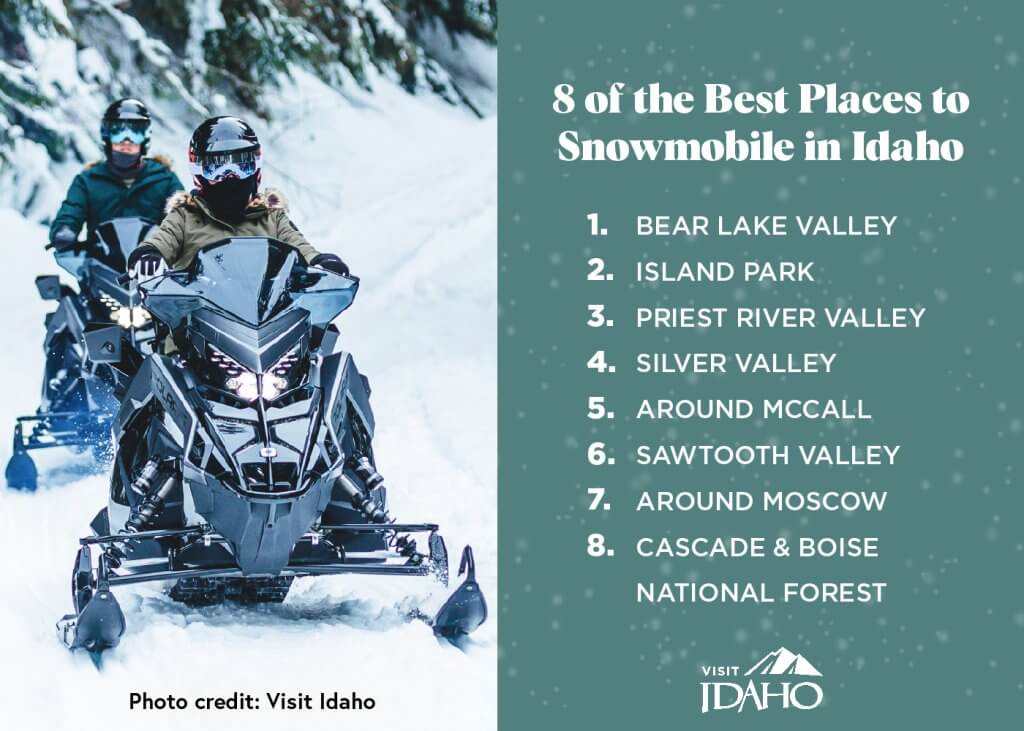 1. Bear Lake Valley
The one location that makes the top of many snowmobilers' lists is Bear Lake. And, how could it not? With crazy beautiful mountain backdrops and week-long snowfalls, it's the perfect destination for a high-powered adventure. Explore more than 350 miles of groomed snowmobile trails and wide-open valleys.
For those seeking an adventure, a day's ride up to St. Charles Peak, at 9,700 feet, delivers thrills with large basins and deep powder. Enjoy additional groomed trails at Beaver Creek, Swan Falls and Fish Haven Canyon.
Visit Bear Lake Valley CVB or Southeast Idaho High Country Tourism for more information.
2. Island Park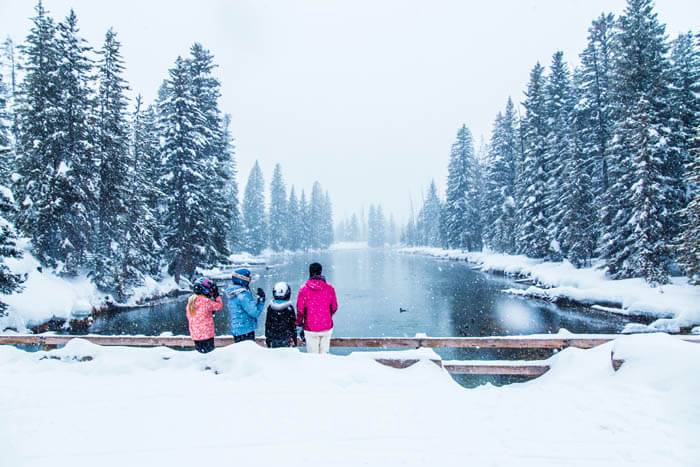 This is Idaho's version of "Island Life." Set within the Greater Yellowstone Ecosystem, Island Park is known for being a winter retreat—a place to refuel (both literally and figuratively).
With more than 950 miles of groomed trails that make for some of the best snowmobiling in Idaho, powdery snow, straightaways and thick backwoods, you'll have no trouble finding your own secluded spot.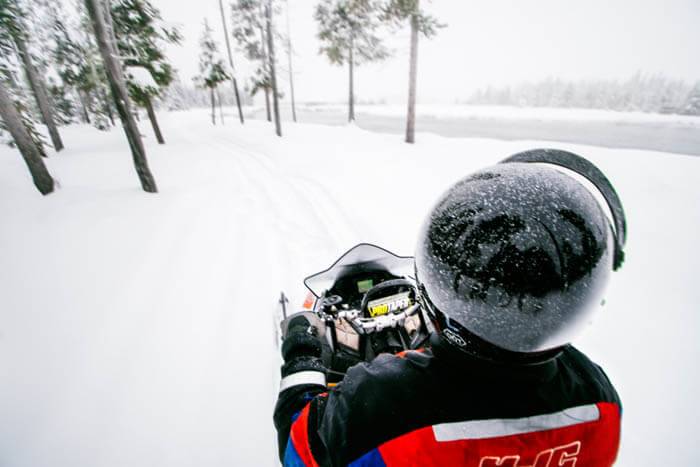 Tour breathtaking scenery on the region's groomed trails, which extend up to West Yellowstone, Montana. Then, boondock in endless powdery meadows, and hit the steep-and-deep—all within a stone's throw of the nation's first national park.
Mesa Falls is a must: Cruise along this snow-covered scenic byway to view the 10-story Upper Mesa Falls, where water spills into the Snake River below. The glistening snow and ice at the falls make this a particularly magical spot.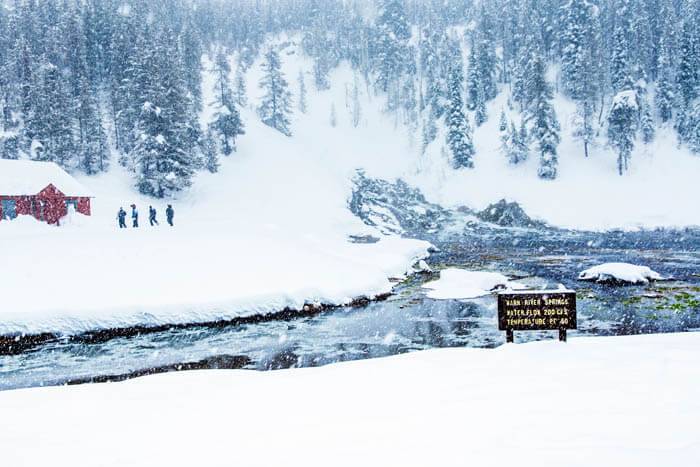 Closer to West Yellowstone, riders head to Two Top Trail for hill climbing, powder bowls, ghost trees and remarkable views of the Tetons and Yellowstone. Experienced mountain riders climb Lionhead Trail, which follows the east side of the Continental Divide and rises 10,000 feet—rewarding sledders with deep snow and panoramic vistas.
For more information, explore an in-depth guide to snowmobiling in this area.
3. Priest River Valley
Smooth, untouched snow and vast dramatic landscapes are in no short supply in northern Idaho's Priest River Valley. Suit up with Selkirk Powder's guided snowmobile tours, and ride miles of snow-stuffed backcountry surrounded by jaw-dropping views.
Book a two-hour ride along groomed trails with incredible views of Lake Pend Oreille and around the headwaters of the Middle Fork of the East River. This outfitter also offers a longer trip that skirts summit ridges before dropping 4,000 vertical feet into the valley, where you'll travel through magnificent towering trees along the East River.
You can find more information on the Selkirk Powder website to book your guided tour.
4. Silver Valley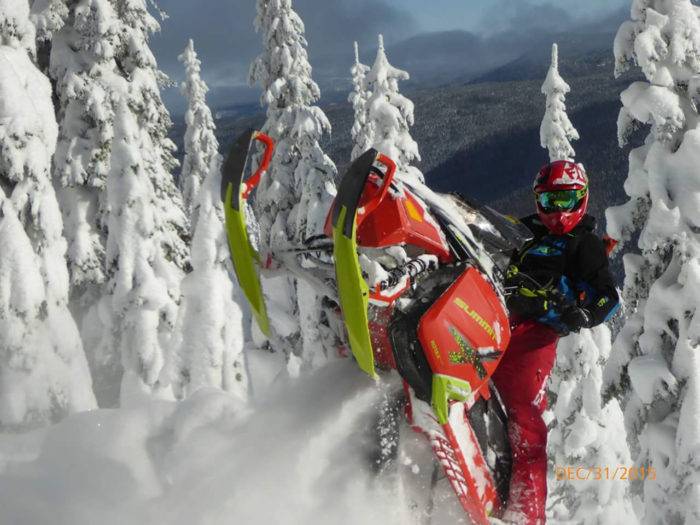 There's backcountry exploration suitable for all types of riders in Silver Valley. Three groomers (Eastern Shoshone, Western Shoshone and Avery) prep more than 1,000 miles of winding snowmobile trails that carve through some of northern Idaho's most scenic terrain.
Groomed, boondocking and steep-and-deep rides can be enjoyed in Mullan, Kingston, Pinehurst and Wallace. To learn more about the top snowmobiling in northern Idaho's Silver Valley, check out the Visit North Idaho website.
5. Around McCall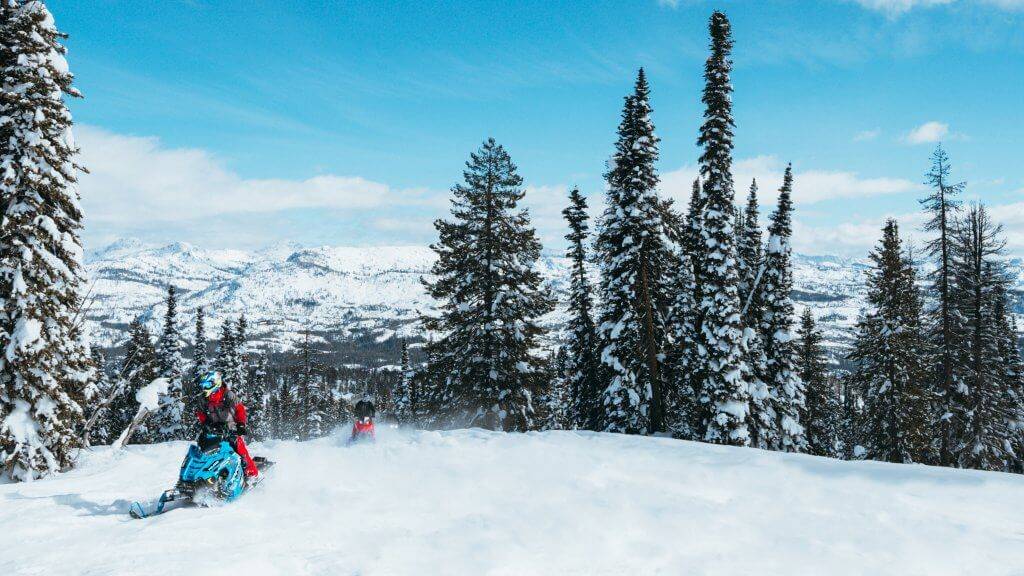 Snowy evergreen forests and sweeping vistas beckon riders to the Payette National Forest, a winter wonderland just outside of McCall with seemingly endless powder and 500-plus miles of groomed trails.
If you're more into steep-and-deep, take the Copet Creek Trail to Brundage Reservoir and extend your trip on the groomed trail over to Goose Lake. For guided trips and riding clinics, check out outfitters in McCall that provide all-inclusive experiences.
6. Sawtooth Valley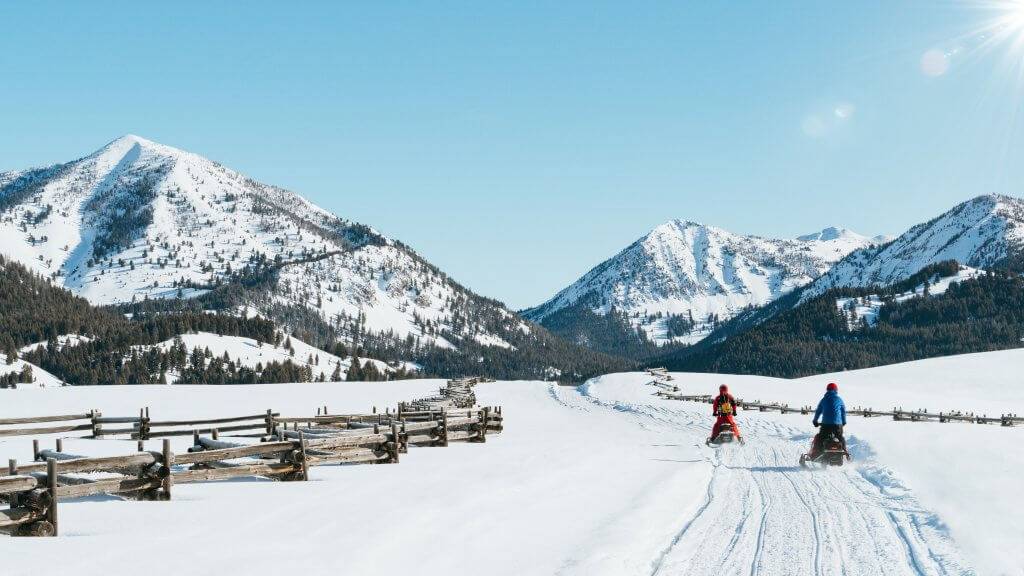 Every year, winter rolls out the white carpet for those looking to scour hundreds of miles of groomed snowmobile trails near Stanley, with stunning views of the snow-covered peaks of the iconic Sawtooth Mountains. An expansive groomed trail system—more than 185 miles—and plenty of off-road areas bring you to spectacular settings like Redfish and Alturas lakes and incredible heights of more than 10,000 feet.
Opportunities to head into fresh powder and rugged mountain terrain are everywhere, making this one of the top locations for snowmobiling in Idaho. Smiley Creek Lodge near Ketchum offers guided half- and full-day trips that depart from its lodge at the southern terminus of the groomed system and from Stanley. Weave through densely wooded trails from Smiley Creek to Redfish Lake, and enjoy Idaho's natural frozen beauty.
For additional details about guided trips, visit the Smiley Creek Lodge website.
7. Around Moscow
Home of the University of Idaho, Moscow is an ideal home base for sledders who want to explore the area, with more than 300 miles of top-notch trails for snowmobiling in Idaho.
Conquer the summit of Moscow Mountain, or enjoy wide-open views along 250 miles of snowmobiling trails between Bovill and Elk River. Just outside of Harvard, set out on trails near Strychnine Creek and North Fork Creek.
Find resources to plan your snowmobiling trip in the Palouse Ranger District winter recreation guide.
8. Cascade & Boise National Forest
The lakeside town of Cascade features 300 miles of groomed trails, plentiful off-trail boondocking and challenging backcountry terrain.
Just south of Cascade is Smiths Ferry and the Wellington Snow Park—home to 400 miles of trails (250 of which are groomed). Ride to Ola, Warm Lake and even Stanley, or take the Winter Wonderland Trail, which weaves past Cascade and Donnelly and crosses forested terrain at elevations of 8,000 feet before reaching McCall.
Snowmobiling Tips & Frequently Asked Questions
There are a wide variety of Idaho outfitters ready to guide you on your snowmobiling getaway. Check out the Idaho Outfitters & Guides Association or the Idaho Outfitters and Guides Licensing Board to find the right outfitter for your trip.
Learn more about Idaho's expansive snowmobiling trail system and the requirements for bringing your own machines into the state from the Idaho Department of Parks and Recreation.
1. What type of clothing do I need to snowmobile in Idaho?
Most outfitters will provide helmets and goggles with your snowmobile rental. Beyond the basic advice to avoid cotton and prioritize layers, the Idaho Department of Parks and Recreation recommends the following
proper clothing to wear while snowmobiling
.
2. Can kids ride on snowmobiles in Idaho?
Kids may ride on snowmobiles in Idaho. Age and weight restrictions may vary by outfitter. However, to rent or drive a snowmobile in the state, you must have a valid driver's license. Children may ride on the back of a double-rider snowmobile with a legal driver.
3. Do I need to register my snowmobile in Idaho?
The Idaho Department of Parks and Recreation requires all snowmobiles to display a registration sticker. Residents and non-residents can purchase a snowmobile sticker for owned snowmobiles on the
Idaho Parks and Rec website
.
Updated on September 16, 2022
Published on January 26, 2017