This author is a paid content writer for Idaho Tourism.
Each winter, Idaho's backcountry transforms into a playground of crisp powder. Everything from white-knuckle adventures to family-friendly scenic cruises with trusted guides are available in Idaho's snowy winter paradise. Here's a look at some of the top snowmobiling destinations across the state that will surely exercise your throttle thumb.
1. Burgdorf Hot Springs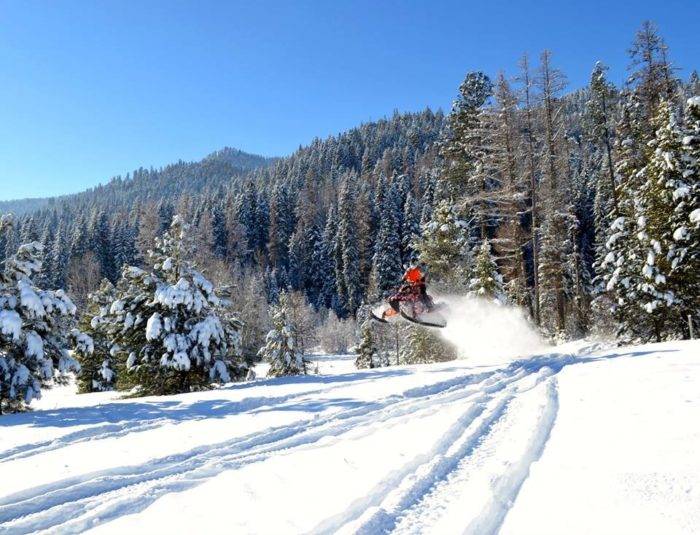 If you are looking for a guided tour experience for the kiddos, this location should be at the top of your list. Why? Because you cap your ride off with a relaxing dip at Burgdorf Hot Springs!
For the first time, Brundage Mountain Resort is offering family-friendly tours and full-day trips from 10 a.m. to 4 p.m – the Burgdorf Hot Springs trip being one of them. All you have to do is show up at Brundage, suit up (jackets, pants, and helmets are included) and take the kids on a winter adventure they won't soon forget!
2. Bear Lake Valley
The one location that makes the top of many snowmobilers' list is Bear Lake. And, how could it not? With crazy beautiful mountain backdrops and week-long snowfalls, it's the perfect destination for a high-powered adventure. Explore over 350 miles of groomed snowmobile trails and wide open valleys. The best part? No crowds and no fences. Visit Bear Lake Valley CVB online for a more in-depth look at the area.
3. Island Park
This is Idaho's version of "Island Life." Island Park is known for being a winter retreat – a place to refuel (both literally and figuratively). Families travel here to get away from the hustle and bustle of a busy school year, a long workweek, or in some cases just to let loose. With over 950 miles of groomed trails, powdery snow, straightaways, and thick backwoods you'll have no trouble finding your own secluded spot.
4. Lolo Pass
Lolo Pass is an incredible ride for families with a little bit of experience under their belts. This location provides excitement around every turn with backcountry yurts, rivers, and wildlife just waiting to be discovered. The Lolo Pass trail system is near the Idaho-Montana border and includes snowmobile trails in both the Lolo and Clearwater National Forests. You can view the full list of outfitters for this trip here.
5. Schweitzer Mountain Resort
Smooth untouched snow and vast dramatic landscapes are in no short supply in North Idaho. Schweitzer Mountain Resort is like a real life setting of Game of Thrones. Suit up with Selkirk Powder's guided snowmobile tours and ride through miles of snow-stuffed backcountry and logging roads. You can find more information online, or you can call a reservation specialist at (208) 263-6959 to book your guided tour.
6. Smiley Creek to Redfish Lake
Every year, winter rolls out the white carpet for families looking to scour hundreds of miles of groomed snowmobile trails near Stanley. Nestled against the Sawtooth Mountain range, Smiley Creek Lodge offers guided tours from their lodge, or from the city of Stanley. Weave through densely wooded trails from Smiley Creek to Redfish Lake and enjoy Idaho's natural frozen beauty. Find additional details about Smiley Creek Lodge and the types of guided trips offered here.
7. Silver Valley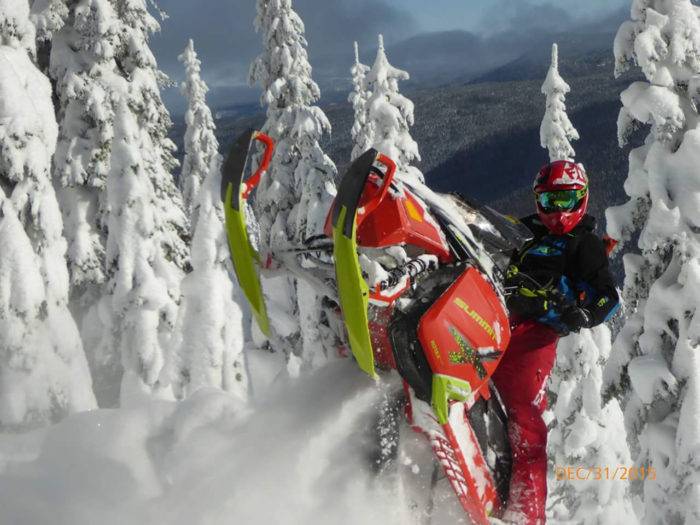 There's backcountry exploration suitable for every skill level in Silver Valley. Three groomers (Eastern Shoshone, Western Shoshone, and Avery) prep over 1,000 miles of winding trails that carve through some of North Idaho's most scenic terrain. Groomed, boondocking and steep & deep can be enjoyed from Mineral, Shoshone and Kootenai Counties. You can acquire registrations and permits from the DMV in Wallace, Yamaha and Skidoo stores in Pinehurst, Kingston Kwik Stop, the Mullan Trail Gas & Grocery in Mullan. Learn more about snowmobiling in the Silver Valley and Northern Idaho here.
Trip Tips
There are a wide variety of outfitters ready to guide you and your family through Idaho. You can check out the Idaho Outfitters & Guides Association or the Idaho Outfitters and Guides Licensing Board to find the right outfitter for your trip.

Published on January 26, 2017