Katie Williams worked in partnership with Visit Idaho to create this Travel Tip.
If you're looking for a true hidden gem in Idaho, look no further than Cascade, Idaho. Boasting a gorgeous 47 square mile reservoir, a quaint and cozy downtown, 300+ miles of groomed snowmobile trails, and plenty of exciting winter sports, there's something for everyone to enjoy. This well-kept secret is only a 2-hour drive from Idaho's capital of Boise and is a lovely winter weekend escape all season long. Check out some of the enchanting experiences to have in Cascade this winter!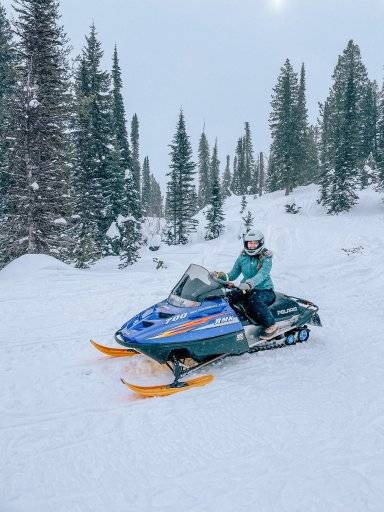 Choose Your Accommodation
On the edge of downtown Cascade, you'll find the affordable and unique, Victorian-era style, Ashley Inn. It's within walking distance from the shops and restaurants of downtown Cascade and is a favorite place to stay for winter visitors. Not only is there a large hot tub and pool, colorful rooms, and cozy robes, but they serve fresh warm cookies every evening.
If you're looking for alternate accommodations, try Tamarack Resort, namely the Village at Tamarack and the Lodge at Osprey Meadows. You can also find comfy cabin rentals around the Cascade area and some incredible lakefront accommodations with a quick search on Airbnb.
Warm Lake is another rustic option, about a 26-mile drive from Cascade. You can stay in cabins at North Shore Lodge, but just remember that cabins out here won't have running water during the winter months!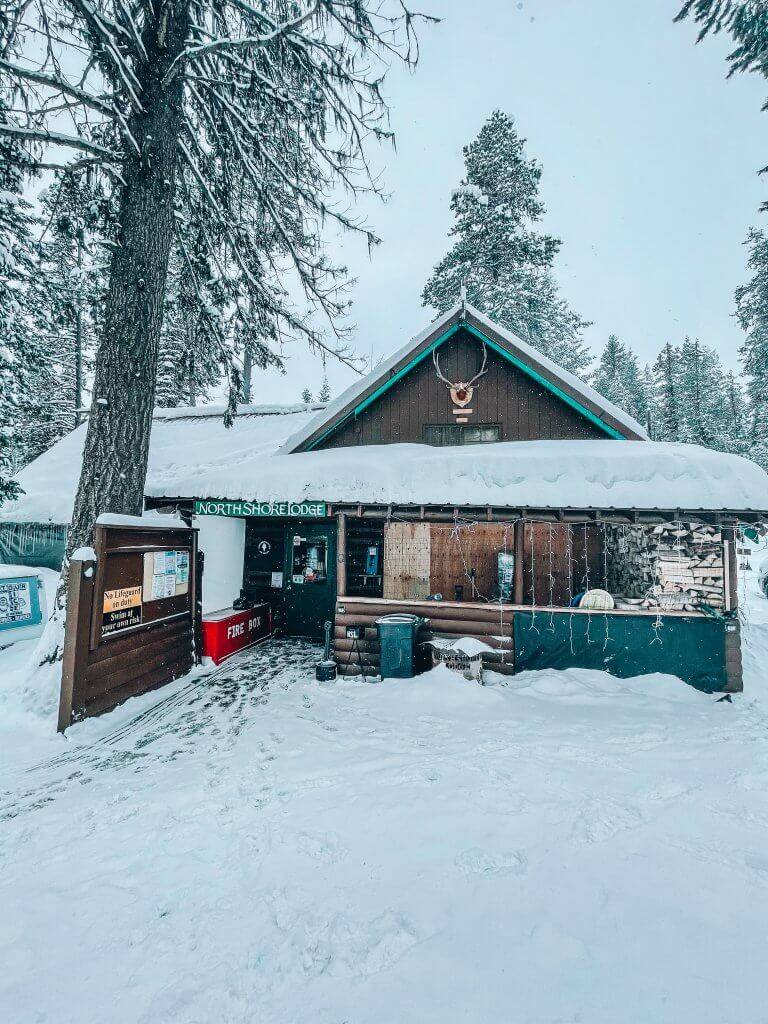 Choose Your Adventures
Here are just a few epic activities to experience during your winter vacation in Cascade!
Ice fishing
Lake Cascade is one of the most well-known ice fishing lakes in Idaho. Plus, they have an ice fishing competition every year! Many fishing enthusiasts find success catching perch at a few different locations in the area like Horsethief, Warm Lake, and Lake Cascade. Head to Tackle Tom's to get more information on guided ice fishing tours and learn more about ice fishing in Idaho here.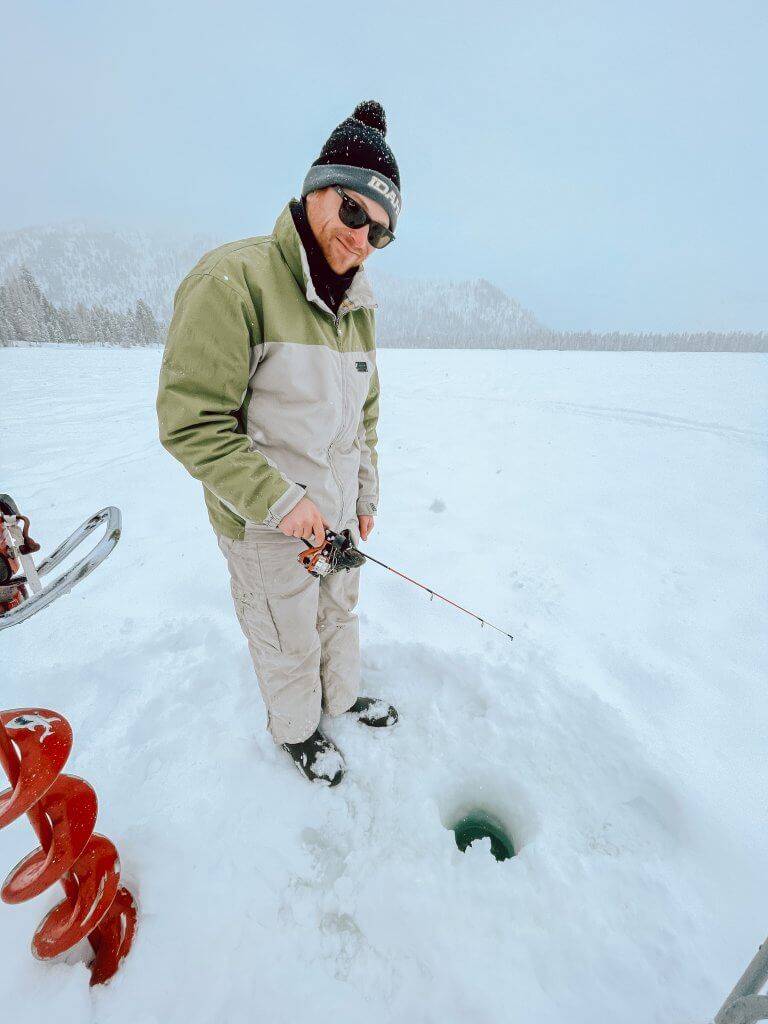 Snowshoeing and Nordic skiing
With the abundance of public lands around Cascade, there are plenty of places to snowshoe and nordic ski. Try Hasbrouck Ranch Nordic trails for five miles of packed trail through aspen groves and meadows. Dogs are allowed here as well. Another popular spot is Crown Point Trail, an old railroad bed that parallels the shore of the lake. It's easy and flat with beautiful views of Lake Cascade.
You can rent your snowshoeing gear from the Cascade Aquatic and Recreation Center for $15/day but if you'd rather Nordic ski, I recommend bringing your own or renting at Tamarack Resort.
A snowmobiling adventure
Cascade is one of the best places to snowmobile in Idaho! You can find 300+ miles of groomed trails in the area and a large amount of challenging backcountry terrain if you're more advanced.
Plan to get your snowmobile gear from Mike and Susie Shaak of Snow Dogs of Cascade. You can give them a call at 208-982-7227 to book your gear and if you get stuck somewhere in Cascade, Mike will give you a friendly tow. This is also a great resource to find the different snowmobiling trails around the area.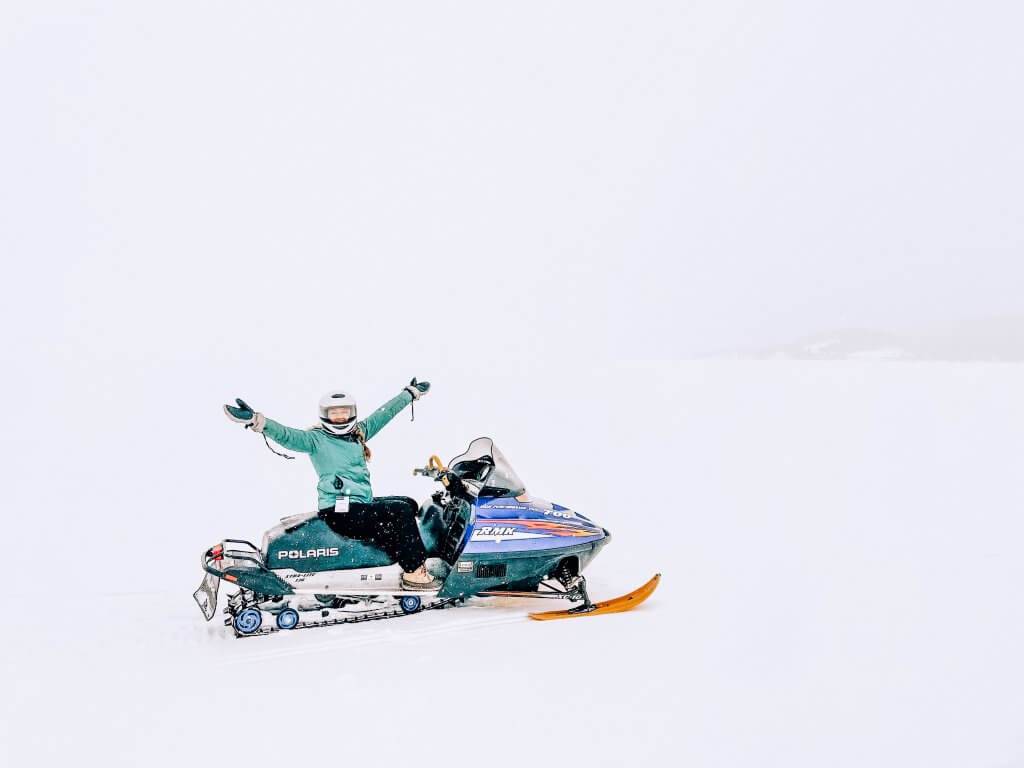 Alpine skiing at Tamarack Resort
The recently remodeled Tamarack Resort is a must-visit for any downhill ski or snowboard enthusiast. One of Idaho's premier ski resorts, it features 50 runs, 3 high-speed chairlifts, and epic powder without the big resort crowds.
A day trip to Warm Lake
Warm Lake is about a 45-minute drive east of Cascade in the Boise National Forest. Out here you can go ice fishing, snowmobiling, snowshoeing, and experience epic backcountry nordic skiing trails. Try Nordic skiing in Stolle Meadows or ask the staff at North Shore Lodge for their secret hot spring recommendations.​​​​​​​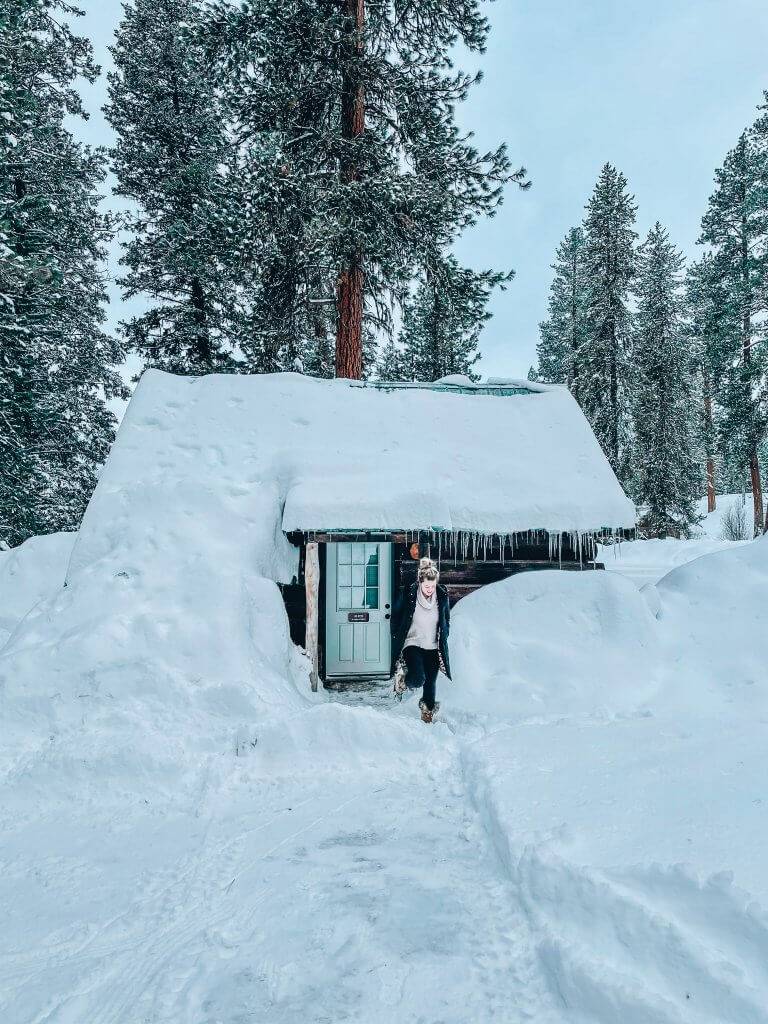 Visit during the Idaho Sled Dog Challenge
Cascade is known for its dog sled races and every year the Idaho Sled Dog Challenge takes place on the iced-over Lake Cascade. Watch the dogs bark with excitement from the sidelines as they take off on this 300-mile race. All races start at Lake Cascade and most are Iditarod and Yukon Quest qualifiers.
Stroll around downtown Cascade
Cascade has the cutest and quaintest downtown and it won't take you long to walk around. If you love old movie theatres, check out the old Roxy Theatre. Watkins Pharmacy is a charming small-town drug store with small souvenirs and nick-nacks. Head over to the Chamber of Commerce office if you want more information about Cascade's interesting history while you're in the area.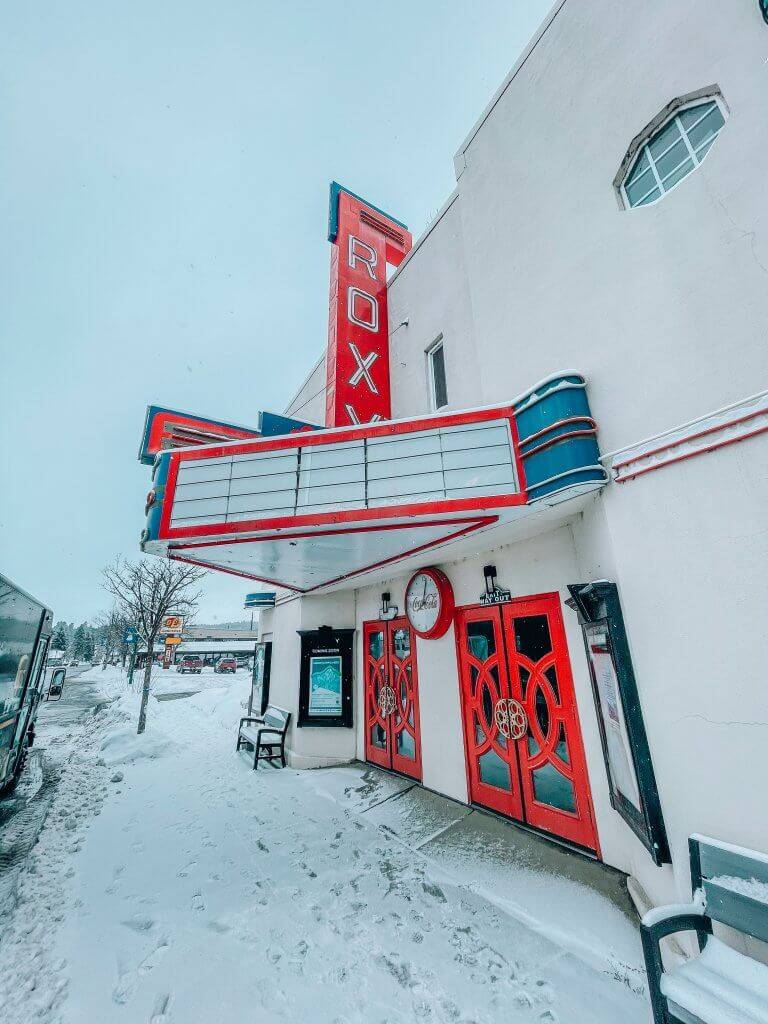 Where to Eat & Drink
All of these winter activities are bound to drum up an appetite. Here are some of the best spots for some down-home Idaho grub.
Gramma's is a popular breakfast spot to start your day. Order the biscuit special or breakfast sandwich and say 'hello' to Gramma herself!
Thunder Mountain Burgers is a delicious and affordable option for lunch. Their burgers are juicy, their fries and fry sauce are perfectly compatible, and you must try their homemade shakes! You'll be full when you leave, but it will be very much worth it.
[Photo Thunder Mountain Burger via Traveling Spud]
Lakefront Bar and Grill serves pub food in a positive atmosphere with extraordinary views of Lake Cascade. If you're hungry, get the greasy and delicious Jacked Up Philly Cheesesteak and tater tots.
North Shore Lodge is an excellent spot for a hearty lunch or dinner in Warm Lake. Everyone raves about their burgers and bloody marys. They also have a full bar with karaoke! Plus, the restaurant and bar are in the same room, so chances of making friends are almost guaranteed.
Need more recommendations for a long weekend in Cascade? Check out this 3-day itinerary.​​​​​​​
Feature image credited to Katie Williams.
Katie Williams is the founder/editor of the 'Traveling Spud' travel blog and owns a freelance marketing company. After quitting her job in San Francisco, she traveled the world solo for 14-months and eventually made her way back to her home state of Idaho. When she's not adventuring around the world, you can find her in Boise, Idaho searching for the next best restaurants, bars, and outdoor festivities. You can follow her adventures on her blog, Traveling Spud or her Instagram @travelingspud.

Published on January 20, 2022