Try Your Own Idaho Native Trout Road Trip
By Daniel Ritz
---
Thankfully, many of Idaho's more than 100,000 miles of rivers—891 miles of which are designated as wild and scenic—are flanked by major travel corridors, enabling an unparalleled travel experience for curious anglers.
---
In addition to the abundant, well-known and world-class fisheries like Henry's Fork of the Snake River and Silver Creek, the lesser-discussed fact is that many of these easily accessible aquatic corridors are home to one or more of the five native species of trout found in Idaho, second only in native trout species diversity to Alaska and California.
Why Are Native Trout Species in Idaho Important?
In addition to their unique ecological value, the pursuit of Idaho's native trout species offers anglers much more than the temporary satisfaction of a tug on the end of the line. Engaging with native species in a responsible manner enables anglers to step beyond simply tossing a fly (or lure) in the water and seeing what happens. Pursuing native species elevates fishing to an experience.
Whether you're a lifelong angler looking to complete the Idaho leg of your Western Native Trout Challenge or a first-timer interested in gaining a better understanding of Idaho, a road trip to experience its native species is a sure-fire and fun way to appease your curiosity.
If you're interested in creating and completing your own "Idaho Native Trout Slam," here's one route based on seasonal fishing trends that I'd suggest.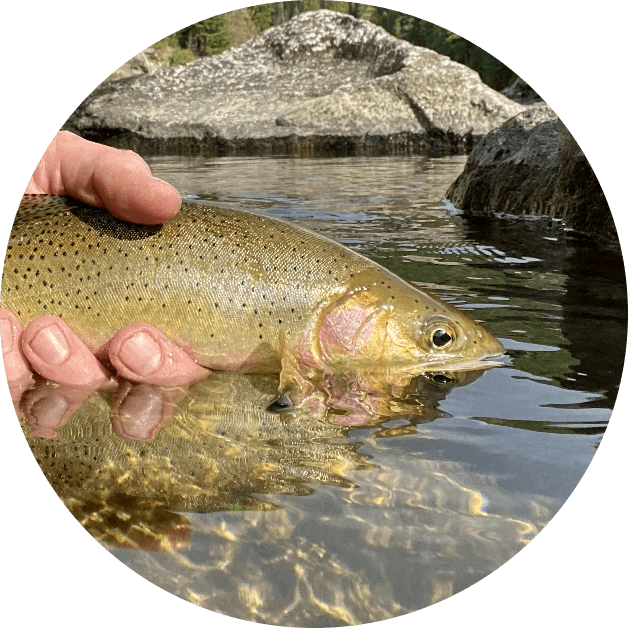 What Is Idaho's State Fish?
The cutthroat trout (Oncorhynchus clarkii) is the official state fish of Idaho, home to three distinct subspecies. The name "cutthroat" refers to the iconic red coloration on the underside of the trout's lower jaw.
Steelhead, Redband or Rainbow Trout?
While the redband trout native to Idaho are part of the rainbow trout (Oncorhynchus mykiss) species, not all rainbow trout are redband trout. Native Idaho steelhead are seafaring forms of the redband trout of the Columbia Basin.
Before You Hit the Road
The decision to pursue the native trout species of Idaho on a road trip can provide beginners and lifelong anglers alike with a life-changing crash course in natural history and conservation successes that you and your family are certain never to forget.
While little is guaranteed in fishing, I'm willing to assure you that a road trip to experience each of the native species of Idaho will leave you wondering not only what's around the river bend but what's in it.
Be sure to visit Idaho Fish and Game to check the regulations in each area and obtain a fishing license before you hit the road.
We'll see you out there.
---
To learn more about where exactly you can find each of Idaho's native trout species, visit the Fish Maps of the Western Native Trout Challenge hosted by the Western Native Trout Initiative.