Part Time Tourists worked in partnership with Visit Idaho to create this Travel Tip.
I'm sure you've seen incredible Instagram photos of friends and family visiting jaw-dropping ice castles across the United States before. But did you know there's an ice palace in Idaho! Here's what you can expect from a visit to the Ice Palace.
Location
The LaBelle Lake Ice Palace is located in Rigby. this unique winter adventure is less than 20 minutes from Idaho Falls and is easy to access off U.S. Highway 20.
Exploring the Ice Palace
The Ice Palace was created by and is run by the Youngstrom family. Each winter, they work hard to create intricate tunnels, staircases, ice slides, icicle ceilings, and more for a dazzling winter adventure.
Coincidentally, their last name has roots in Sweden and they are proud to share a piece of their Scandinavian heritage in the form of the Ice Palace each year.
It only takes about 15 minutes to walk straight through the Ice Palace but I recommend staying longer because there are different attractions to see throughout the evening. ​​​​​​​​​​​​​​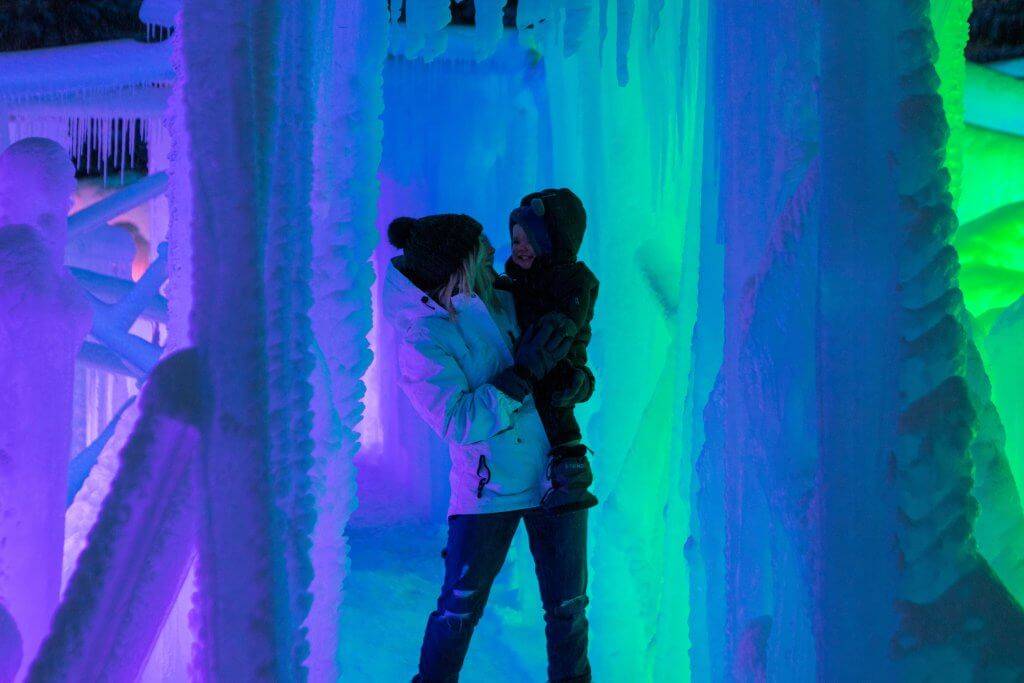 What To Wear
The Ice Palace is open no matter the weather, so be prepared. I recommend dressing yourself and your kids in plenty of layers. Ideally, the outer layer will be a snowsuit. This will enable you to stay plenty warm and not get slowly wet when tubing or enjoying the ice slide. Don't forget your gloves and hats!
Tips To Have A Great Time
Book your tickets ahead of time to avoid a wait when you arrive. You can book tickets on the website in advance.
Book your sleigh ride ahead of time. It's cheaper if you combine it with your entry ticket instead of buying it on-site.
Arrive right at opening. The Ice Palace is magical during the sunlight hours and under the night stars so be sure to experience both during your visit.
Attractions
​​​​​​​Fire Show
Each night, there are multiple fire shows happening every half hour. This was one of our highlights from our experience at the Ice Palace! The performer combines magic tricks and stunts in front of a colorful, icy backdrop. The show is entertaining for all ages.
Character Meet and Greets
During your time at the Ice Palace, you'll find beloved winter characters walking the grounds. If it didn't feel like we were in the movie Frozen from the start, it sure did when we stumbled upon Elsa and Olaf! The kids will love meeting them and you can also take photos with them free of charge.
Meet Santa's Favorite Reindeer
New this year at the Ice Palace are two adorable reindeer named Donner and Blitzen. You'll find these furry friends walking the grounds with their handlers. You're able to pet and take pictures with them.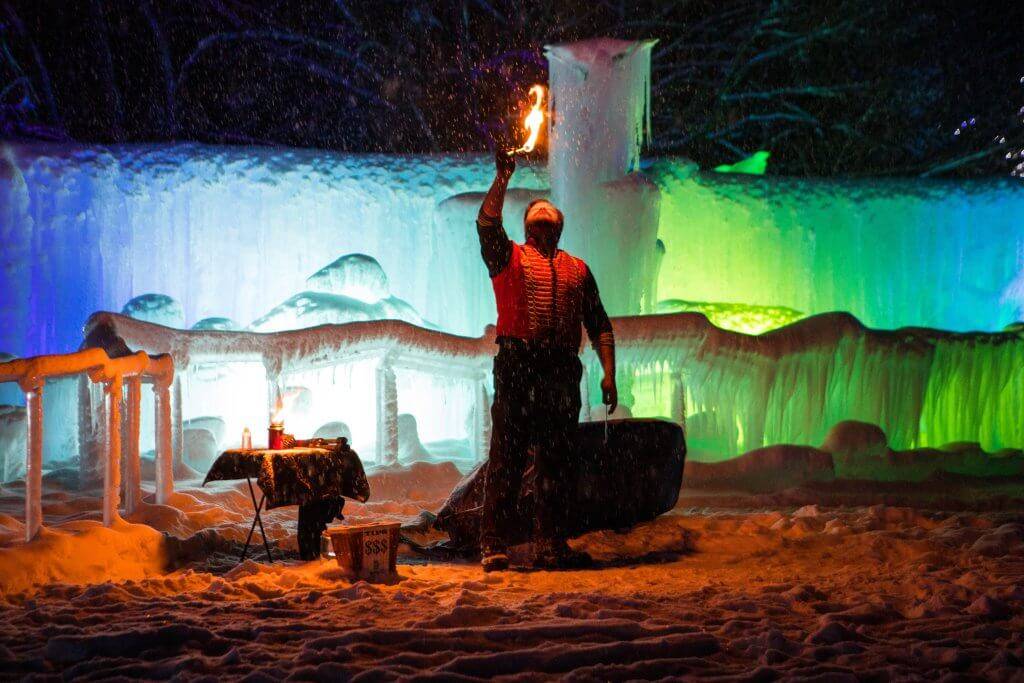 Ice Slides
Enjoy challenging your friends and family to a race down the ice slides! These slides are made of 100% ice and are lit up by colorful lights. LaBelle Ice Palace provides sleds and tubes for your use. If you're wearing snow pants, you can slide down without them.
Horse Drawn Sleigh Rides
Be sure to take advantage of the two magical sleigh rides offered. The Destination Sleigh Ride takes guests to the LaBelle Lake resort where you'll find sled hills, tubes, free hot chocolate, and fire pits. If you're for a different sleigh ride experience, consider the new hayride offering. This ride has a different route and is ideal for those wanting to enjoy the magical scenery instead of being dropped off to play in the snow for a minute. ​​​​​​​​​​​​​​
Hot Chocolate & Food
You won't go hungry while at the Ice Palace! Grab a bite at any of the food vendors that provide eats like tacos, gumbo, and hot chocolate. There is even an Ice Bar that serves specialty sodas and coffee.
I hope you enjoy your time at the Ice Palace! We had an amazing family outing and can't wait to go back. From admiring the works of ice to sitting by the fire sipping hot cocoa, it will be an Idaho winter memory we will always cherish. You can learn more about the LaBelle Ice Palace and book your tickets by visiting their website. ​​​​​​​
Feature image credited to Part Time Tourists.
Jess Darrington is the founder of Part Time Tourists, a travel and adventure blog that was created in 2018. Part Time Tourists aim to help people travel more by offering detailed travel guides and practical tips. With a large focus on US travel, Jess shares adventurous and luxurious destinations throughout the country. You can follow her on Instagram and PartTimeTourists.com.

Published on January 10, 2022