Sofia Jaramillo worked in partnership with Visit Idaho to create this Travel Tip.
My friend, Becca Bredehoft and I are sitting at the top of Dollarhide Pass in the Smoky Mountains, eating lunch after our first steep climb of the trip. About three hours outside of Ketchum and at an elevation of about 2,800 feet, our reward is a spectacular view of the Pioneer Mountains. To the west, the road winds down through a series of hairpin turns to the valley below. In the distance, there are dense pine trees and contoured mountains as far as the eye can see. We're only on day one of our bike tour.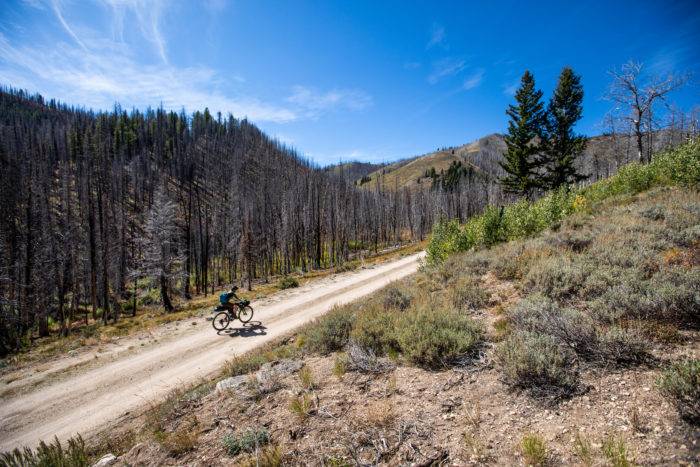 The trail we're on is called the Idaho Hot Springs Mountain Bike Route. It is a 500-mile figure-eight loop through central Idaho that passes 50 soakable hot springs in remote areas. You can find the exact route and maps at www.adventurecycling.org.
This was our first bike packing trip, so we decided it would be best to start with the section of the route that is closest to home. Becca and I choose to ride a 150-mile portion of the trail between Ketchum and Boise that passes approximately 10 hot springs. I can count over a dozen lessons that I learned from this trip, but here are a few things you absolutely need to know and consider before embarking on this portion of the Idaho Hot Springs Mountain Bike Route.
1. Choose Your Bike Wisely
Which bike you chose to ride is one of the first questions you should ask yourself. A hardtail is generally used for mountain biking and has a front shock. This makes for a smoother ride, but the bike itself will be a little heavier. Gravel bikes are light and meant to cruise on dirt roads. Both types of bikes are suitable for this route and both have their benefits and downsides. The decision is personal preference and I would recommend trying out both bikes to see what works best for you.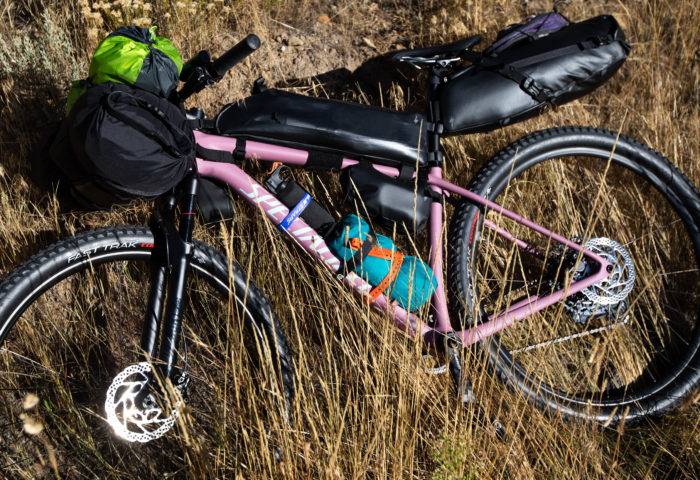 The roads on this section of the route are gravel, but I was thankful to have a hardtail for certain parts of it. The steep descents down from mountain passes tended to have potholes, loose ground and uneven surfaces. Since this route is remote, not all roads are in prime condition.
Most of the last 30 miles of the road leading up to Arrowrock Dam is full on washboard. The road has endless rolling grooves that make for a slow, rocky ride. These sections would have been significantly less comfortable without the hardtail bikes we road. We chose to ride two Specialized Epic hardtails and couldn't have been happier. The bikes were super light for the long uphill climbs and sturdy enough to charge quickly on the downhills.
Make sure your bike fits your body. I almost rode a bike that was too small for me and I wouldn't have known without getting a bike fitting first. From the minute we walked into George's Cycles, their team was enthusiastic and excited about our ride. They helped us with last-minute needs and made sure our bikes fit. This is a great spot to go for bike needs in Boise.
One of the bikers we encountered along the route was riding a gravel bike, but he seemed to have a different goal than us. Our priority was to bike fewer miles per day to see more hot springs and have time to take photos. He seemed to be on track to finish the route a lot quicker than us and was probably biking almost double the miles per day. We biked the whole route in five days, but faster riders can complete it in three to four days.
2. Time of Year
Throughout the trip, as we went down in elevation, the scenery and geography changed. We started in valleys full of aspen trees, made our way to higher elevations with pine forests and eventually biked along the South and Middle Fork of the Boise River, where giant Ponderosa pines dominate the scenery.
In the aspens, the sun sparkled through the trees casting intricate shadows across the road. The wind sent dozens of yellow leaves floating around us. When we rose in elevation, the bright fall reds and oranges of new growth contrasted against the charred remains of an old wildfire.
The Adventure Cycling Association recommends biking this trip anywhere from late June to the end of October. I believe the best time is fall. The colorful flowers and vegetation makes for delightful scenic ride and cool temperatures make the hot springs even more enticing.
Spring might also be a nice time to ride the route, but runoff and flooding can interfere. There is a part of the route between Smoky Bar and Featherville, where the road is washed out. Motor vehicles are not allowed on this part of the trail and we had to walk our bikes. I imagine this part of the trail would be a lot more challenging in the spring with high water and muddy areas.
Wildfires often happen in late summer in Idaho. The downside to making the trip during the fall is that you risk getting caught in smoke or having to cancel your trip altogether if there are fires. These are vital factors to think about when considering what time of year to ride this route.
3. Plan Your Food
There are a few spots along this route where you can buy food, which is nice because if you plan it right, you don't necessarily have to carry everything from the start. But the Smoky Bar store and the stores in Featherville are not always open. Aside from pizza in Featherville, most of the food available along the route is limited to snacks and easy-to-cook meals for camping. If you decide to purchase food as you bike, make sure to call ahead and ask what hours and days these places are open. Just in case the stores aren't open or out of stock, bring back up food.
Another option is to bring most of your food and pack light. For dinner, we ate MaryJanesFarm dehydrated organic food meals. The Idaho company produces organic vegan backpacking meals in burnable packages. This is great to reducing your waste while enjoying an affordable and delicious meal. Some of our favorites were the Organic Bare Burrito and the Organic Red Pesto Pasta.
One thing I've considered is all the single-use plastic in snacks we ate. On the trip, we ran into a group of bikers that brought along mostly bulk food for snacks. Instead of buying 10 bars with individual plastic coverings as I had, they use only one bag to carry bulk snacks such as dried bananas, apricots, and nuts. For breakfast and dinner, they carried oatmeal and couscous. I thought this was a brilliant idea as they ended up using less plastic overall.
4. Leave No Trace
In Idaho, we are so lucky to have access to public lands and all the incredible hot springs. Idaho holds the record for the most soakable hot pools of any state in the United States. Anyone can frequent most of these pools without paying a dime. They are nature's gift and the perfect remedy for a sore biker after peddling dozens of miles.
The first campsite we stayed at was next to Worswick Hot Springs, a beautiful bubbling mountainside with over a handful of hot pools. Streams of hot water seep out of the earth, fill the pools and eventually flow into a small river nearby. The ground surrounding the pools is mostly bare, stained white by sulfur and other minerals. Beautiful tiny white flowers and mint grow along the pool sides.
Bike packing is a unique way to experience Idaho. Each new view and place you get to see is earned by none other than the rider. It is nearly impossible not to feel a connection to and deep appreciation of the ground you cover.
Throughout the route, I was disappointed to see small bits of trash left near the various hot springs. I picked up everything from plastic bags, candy wrappers, bottle caps, to unopened water bottles near the pools. Although the trash was small, in the end it amounted to a lot. Make sure to remember the Leave No Trace principle of packing out what you packed in. Remember to bring a light so you can survey the grounds around you before leaving at dusk or in the dark.
I could go on for days about all the knowledge gained on this trip, but one of my biggest takeaways is that bike packing is truly about the journey. It is a continuous process of pedaling and progressing. Make sure to soak up each minute while you're out there and soak in as many hot springs as you can. I also know I'll be back to tackle more of this route in the future.
Feature image is credited to Sofia Jaramillo.
Sofia is an outdoor adventure and documentary photographer based in Victor, Idaho. A few of her clients include National Geographic, The North Face, and Outside Magazine. To see more of her work go to www.sofiajaramillophoto.com or follow her on Instagram.

Published on July 7, 2020