Are you looking for a new form of exploration? Something unique and different from the everyday hike or rafting trip? Then stand up paddle boarding may be just what you're looking for. Similar to surfing, stand up paddle boarding combines the appeal of riding waves with the idea of being one with nature. Grab a board and a paddle and maneuver your way through Idaho's rivers, or glide out onto the glassy surface of Redfish Lake early in the morning for a calming yoga session. If you're looking for a fun new way to exercise, read on for beginner basics and insider tips for some amazing Idaho SUP opportunities.
What is stand up paddle boarding?
Pinpointing exactly when and where modern day SUPing (stand up paddle boarding) began would be difficult to do because there are so many styles and unique forms. While stand up paddle boarding may have various origins from around the world, the modern form many of us are familiar with today started in Hawaii and became popular in the 1940's. Instructors in Waikiki would take their paddles and stand up on their boards while teaching in the ocean. By standing upright in the water, the instructors were able to get a better view of the incoming swells and surfers maneuvering through the waves. Occasionally, the instructors would ride the waves standing up while using the paddle to steer the surfboard.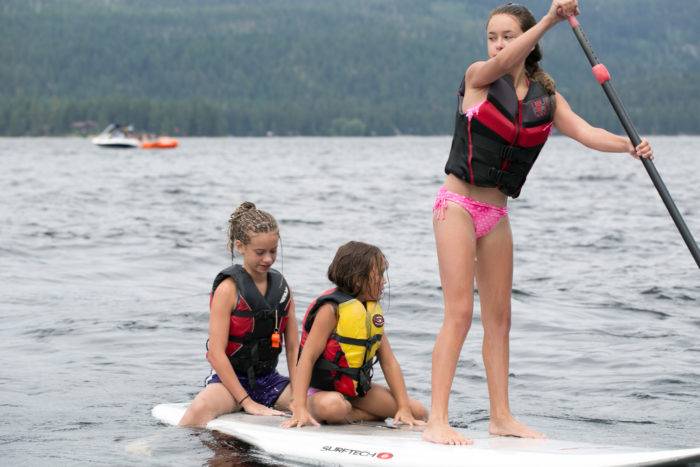 Stand up paddle boarding began catching on shortly after and soon riders began to get inventive with different styles and ways to SUP. Throughout the years, the generic surfboard that had been used for so many years was adjusted. The SUP boards of today are designed for flat water touring as opposed to riding waves on a surfboard. And more recently, a newer form of paddle boards made for surfing river waves has surfaced.
In fact, there are multiple forms of stand up paddle boarding popping up all over the nation, and the trend is really beginning to gain traction in Idaho. People can be spotted whitewater SUPing, recreational SUPing, expedition SUPing, yoga SUPing, and fitness SUPing in the Gem State.
Beginner Basics
Stand up paddle boarding is fairly easy to learn, and is perfect for all age groups. It's a unique way to spend time with family or friends. The beauty of this sport is the accessibility that comes with it. All you need is a body of water and basic SUP gear. If you have never attempted SUPing, here's a basic checklist for your first outing.
Stand up paddle board
Paddle
Personal Flotation Device
Proper Clothing
Leash (whitewater specific)
Sunscreen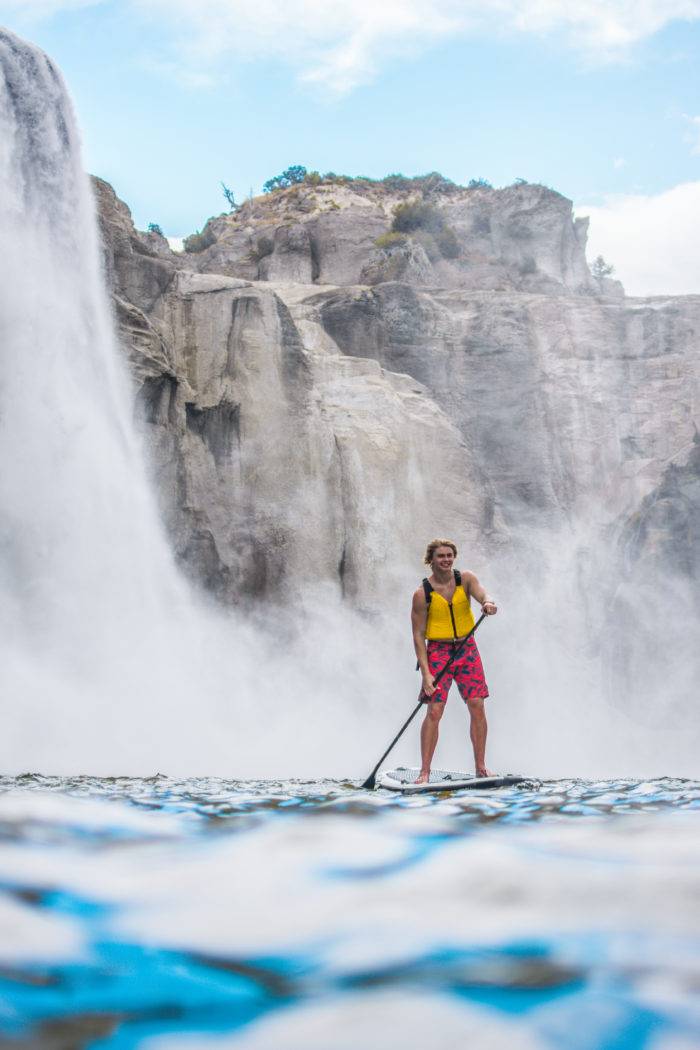 Once you have gathered the basic gear, follow these simple steps for a smooth transition out onto the water.
SUP in at least 4 feet of water: This is so the fins of the board don't touch the bottom. If you are brand new to SUPing take small steps onto the board and test out your balance until you can move around comfortably.
Start on calm water: You can begin by kneeling on the board to gain balance before moving to the upright position. For your SUP stance, make sure that feet are parallel on the board, roughly shoulder-width distance apart, and your knees are bent.
It's like riding a bike: Balance improves at the same rate that momentum increases. To avoid losing speed, keep your forward momentum by paddling consistently.
If you're more of a visual learner like me, check this video out to learn the basics before heading out on the water.
Where to SUP in Idaho: 1 on 1 with Victor Myers, Owner of Corridor Paddle Surf Shop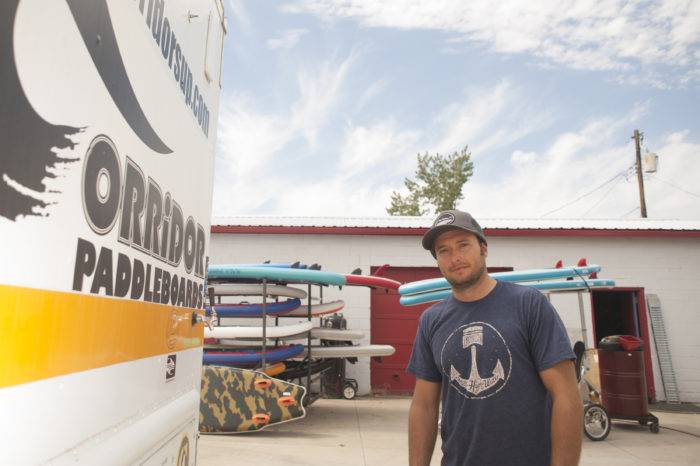 I took a trip over to Corridor Paddle Surf Shop in Boise to get the scoop on all the best spots in Idaho to SUP it up. I had the pleasure of speaking with the owner, Victor Myers. We talked about his initial move to Boise, the diverse paddling options in Idaho, and he told me about the most beautiful, relaxing, remote, and gnarly spots to SUP throughout the state.
Why did you choose Boise? When did the shop first open?
Myers: I would drive through Boise every year on my way to Alaska. I am really into whitewater kayaking and Idaho is one of my favorite places to do it. The North Fork of the Payette is first class and the Salmon is an amazing wilderness run. When I was looking for a place to move to, Boise kept coming up. I was looking for a space to build boards, and I loved the vibe of the North End of Boise, downtown, and Garden City. It's perfect, you have access to the outdoors, and it's a real town, not just a tourist place. So I set up shop, and now we've been open for three years.
Tell me more about your process? Do you make your boards by hand?
Myers: I make custom boards for people all over the nation. Idaho remains my primary focus, but now I build boards and ship them all over the country, I just made a few customs last week that shipped to Washington, D.C. and Wyoming. We're starting to get our name out there. We specialize in river specific boards, they are durable and can handle the beatings the river dishes out.
What else does the shop offer? What is the atmosphere like?
Myers: We are a full-service shop. I carry basically anything the customers want. We cater to the niche we've found. We like adding things that there is a void for in the community. I also build custom motorcycles in the back, people are stoked that we have them. We understand that Boise is a pretty blue-collar, down-to-Earth community. People come here for the experience, to crack open a beer and to talk to people who genuinely know the products.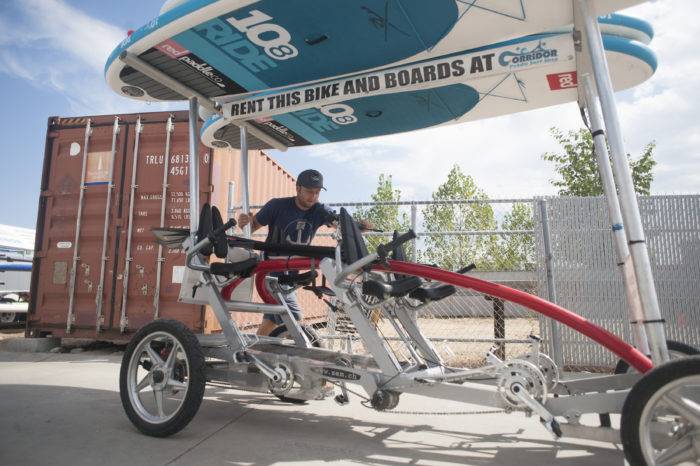 How diverse are the paddling options in Idaho?
Myers: Idaho is a rare commodity, it has everything you could ask for. Not only the different types of options but the accessibility. Boise alone has tons of flat water. There are also a bunch of reservoirs that are within an hour's drive. There's a world-class whitewater park right in town along with a class II river. If you're looking to get off the grid and ride some whitewater, there are some great options on the Main Salmon, the Payette, the Selway, and the Middle Fork of the Salmon. Like I said, the best part about this sport, and Boise, is that tons of options are within about 2-3 hours driving distance.
If you had to choose, what are your top 3 places to SUP in Idaho?
Myers: It's tough to narrow down, there are a lot of options. If I had to be choosy, I'd go with the Middle Fork of the Salmon – you can ride as hard of whitewater as you want. I'd also go with the Snake River and Redfish Lake. Redfish has some rad camping spots that make for a relaxing getaway.
For all your SUP essentials visit Corridor Paddle Surf Shop online or call (208) 615-4787. The Corridor Paddle Surf Shop is a first-class rental service, store, and workshop that makes sure every customer's needs, size, and athletic ability are met and matched with the right equipment. Swing on by to see what's SUP, and I'll see you out on the water.
This author is a paid content writer for Idaho Tourism.

Published on October 28, 2015