This is a sponsored post.
It's a sunny Saturday morning in downtown Boise. You're gripping a cashew milk cortado from Form & Function coffee in one hand and a tote bag sagging with fresh produce and free range eggs in the other. Then the first rumbles of hunger start to echo in your empty stomach. You need food and you need it now. Fret not, farmers market shopper: There are a bounty of brunchy options available at both the Boise Farmer's Market and the Capital City Public Market. You just need a game plan. And that's where I come in.
Amina's African Sambusas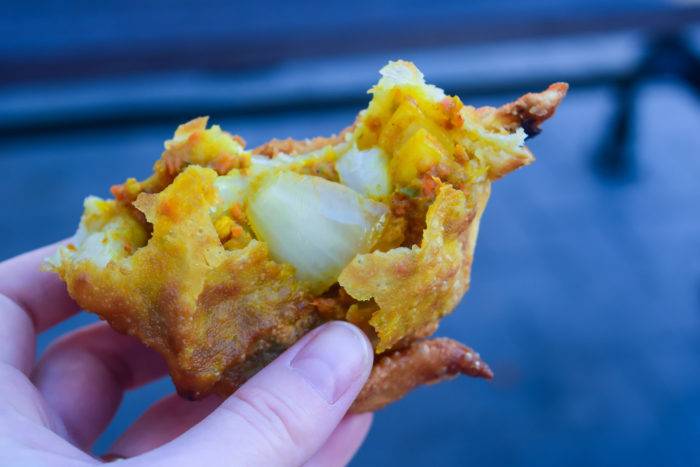 Situated in a booth on the corner of Eighth and Bannock Streets at the Capital City Public Market, Amina's African Sambusas serves up flaky, fried African pastries. Options are simple but spot-on: Choose between the Traditional Sambusa with beef, eggs, carrots, onions, cilantro and spices; or the Vegetarian Sambusa with potatoes, onions, carrots, cilantro and spices. The triangular pockets incorporate organically grown veggies from the company's small farm and are fried fresh on-site so they remain shatteringly crisp.
Calle 75 Street Tacos
Calle 75 Street Tacos specializes in an assortment of locally sourced meats and veggies piled up on local tortillas. You'll find it's eye-catching black-and-white cart parked on 8th Street between Jefferson and State Streets at the Capital City Public Market. In addition to slinging classic street tacos filled with tender carne asada or rich pork carnitas, Calle 75 also offers specialty tacos like the Huevos Rancheros with organic black bean salsa and cage-free eggs, or the Idaho Potato with roasted organic yukon golds, poblanos, onion and fresh pico de gallo.
Funky Taco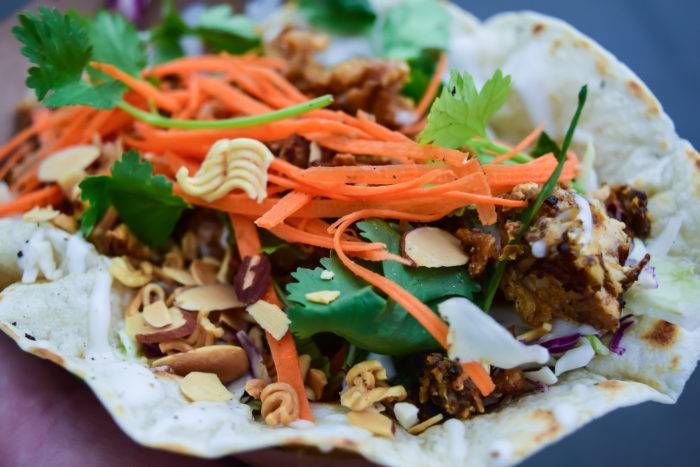 For an entirely different taco experience, follow the thumping funk music to the glistening 1960's Airstream parked at the Boise Farmer's Market. There you'll find Funky Taco, which specializes in Asian, Indian, Mexican and American fusion tacos, stuffed with farm-to-table ingredients. In addition to offering monster-sized options like the Chicken Thaico Taco—loaded with shredded red curry chicken thigh, cabbage, julienned carrots, thai basil, cilantro, toasted ramen and crispy chicken skin—Funky Taco also specializes in plant-based fare, like the Vegan Breakfast Taco with seasoned hash, roja salsa, fresh apple, cashew-cilantro-lime-mint crema and the option to add organic soy chorizo.
Genki Takoyaki
If cephalopods aren't high on your list of brunch-able foods, Genki Takoyaki might just change your mind. The food cart is parked on Eighth Street between Bannock and Jefferson Streets at the Capital City Public Market, where it serves up Takoyaki, a traditional Japanese dumpling filled with octopus, crowned with a drizzle of mayo, okonomi sauce, shredded nori and a tuft of wispy bonito flakes. Owners Rhett Atagi and Christy Beavers also whip up weekly specials, like Curry Pork Dumplings topped with bonito flakes and nori or gluten free Karage Fried Chicken marinated in sake, tamari and mirin, then fried in potato starch.
Lime and a Coconut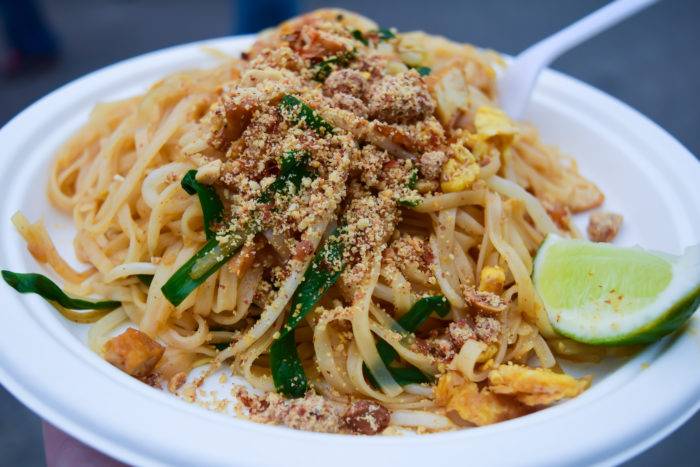 For a taste of Northeast Thailand, swing by Lime and a Coconut at the Capital City Public Market on Eighth Street between Jefferson and State Streets. Hailing from a rural farming village in the Essan region of Thailand, Chef Sararak Sapiro specializes in vibrant traditional dishes. Offerings include everything from a heaping mound of Pad Thai noodles—wound with egg, tofu and a dusting of chopped peanuts—to a spicy shredded Green Papaya Salad, pounded with sugar, fish sauce and lime juice until it's tender, then tossed with green beans and tomatoes.
The Great Crepe
Got a sweet tooth? Sate your sugar cravings at The Great Crepe, a new powder-blue stand set up at the Boise Farmers Market. Watch as the crepe masters swirl dough on steaming round griddles and top their thin crepes with an assortment of fruits and sauces. Options include the Strawberry Delight, with fresh-cut strawberries and a strawberry drizzle, or the Banana Nutella, topped with chocolate sauce.
Two Trees Beignets
Two Trees Beignets serves up "traditional and not-so-traditional New Orleans-style beignets," along with chicory coffee, every Saturday at the Boise Farmers Market. The traditional beignets are similar to the puffy fritters you'll find in the Big Easy, topped with a hearty dusting of powdered sugar. The not-so-traditional options vary weekly from Mediterranean Chicken Shawarma Beignets to Banh-Mi Beignets stuffed with grilled pork, cilantro, pickled carrots, radish and sriracha mustard.
Waffle Me Up
Waffling over whether you want a sweet or savory brunch? Then swing by Waffle Me Up's trailer at the Boise Farmers Market, where they offer the classic breakfast food slathered with everything from bananas and cookie butter to bacon, basil and organic syrup. If you've got a hearty appetite, head straight for the BOB Deluxe, topped with melted havarti, bacon, a market fried egg, basil and organic syrup. It's all the best parts of breakfast piled onto a crispy waffle.
Boise Farmer's Market
Grove Street between 11th and 12th Streets
Saturdays 9 a.m.-1 p.m.
April through October
Capital City Public Market
8th Street between Main and State Streets
Saturdays 9:30 a.m.-1:30 p.m.
April 15 through December 16.
All images, including feature image, are credited to Tara Morgan.
Tara Morgan is a freelance food and booze writer. She's an Editor at Edible Idaho Magazine, writes for publications like VIA Magazine and SIP Northwest and runs the website Boise Feed. She loves an epic dinner party, good design, bad puns and pretty much every French rosé ever made.

Published on June 1, 2017