Craig Goodwin worked in partnership with Visit Idaho to create this Travel Tip.
Seeing the northern lights is a bucket-list experience that leads many to take long journeys to Iceland and Alaska, but a trip to northern Idaho, along with persistence and a little luck, is all it takes to check that box off the list. Many don't know that you can see the aurora so close to home, and even fewer realize that the dark skies and vast horizons of Idaho make it one of the best places for such an encounter.
While energy released from the sun can light up the earth's atmosphere at any time of year, getting the right conditions to see it can be a challenge. Here are some key insights to help find success on your own Idaho aurora adventure.

Seek out dark skies, free from the glow of city lights, and plan trips when there is no moonlight to compete with the aurora. The week before or after a new moon is ideal. Pay close attention to the weather to ensure cloud-free skies. The Clear Sky Chart website is a great source for this information.
The biggest challenge is anticipating when the aurora will be active enough to see in Idaho. Scientists measure the intensity of the lights on a Kp index of geomagnetic activity, and there are dozens of forecast models that give anticipated Kp readings for a given day. The 27-day forecast by the Geophysical Institute at the University of Alaska is a good place to start. The key is to look for a forecasted Kp of 4 or higher. Just like a weather forecast, sometimes they get it wrong, and the lights don't show up as anticipated, but I've learned over the years that persistence pays off, and faithfully looking for the right conditions will lead to success. I've also learned that even if the lights are a no-show, the worst outcome is spending a majestic night under the stars.

If the lights are active, they will become visible around two hours after sunset. At first, they appear as a dull glow hovering on the horizon, but as it gets darker, and eyes acclimate, there are visible columns of light that ebb and flow in the sky. As the aurora intensifies, it looks like the universe is doing the wave, a cosmic stadium of vertical light rays, rising and falling in mysterious symmetry.
Unfortunately, the human eye cannot see the vibrant colors present in the lights, but a digital camera on a tripod picks them up with stunning clarity. Don't be afraid to give it a try with a wide-angle lens of 24mm to 14mm, focus set to infinity, at f2.8 to f4, ISO 3200, and a shutter speed of 10 to 20 seconds. Photos can make an aurora encounter that much more memorable. The only problem is that this may further contribute to an unhealthy obsession with the next chance to see them.
After years of stalking the lights, I've identified some ideal locations to consider for a northern Idaho aurora adventure.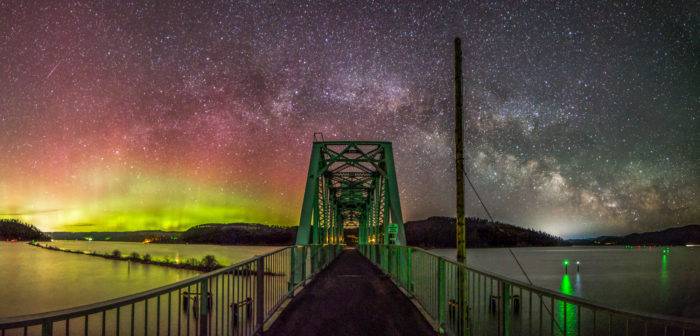 Heyburn State Park on Chatcolet Lake, near Plummer and St. Maries, has great views to the north, especially from the nearby Trail of the Coeur d'Alene's bridge.
Schweitzer Mountain Resort not only has mountain peaks with spectacular views, but they will also take you to the top on the ski lift in summer. After an evening of hiking the Selkirks and picking huckleberries, you can stick around for nature's light show.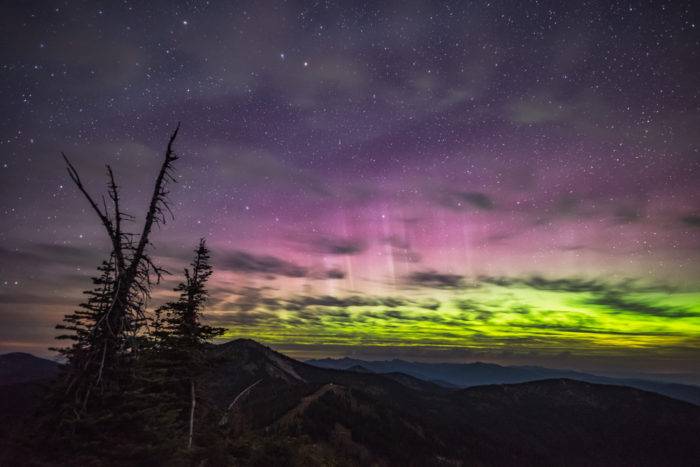 Moscow, Idaho doesn't have the mountain peaks of its northerly neighbors, but the rolling Palouse plains provide open vistas to the north. A simple night drive along US-95 north of Moscow may be all that's needed to witness a display of the aurora.
Priest Lake, in far-northern Idaho, has been my most reliable and rewarding location for viewing the northern lights. Hill's Resort has a clear view, with sandy beaches and fire pits that make waiting for the aurora almost as enjoyable as the show itself. They are usually amenable to turning off the lights of the marina for night-sky enthusiasts. The nearby beach in front of the Priest Lake Museum is another good location.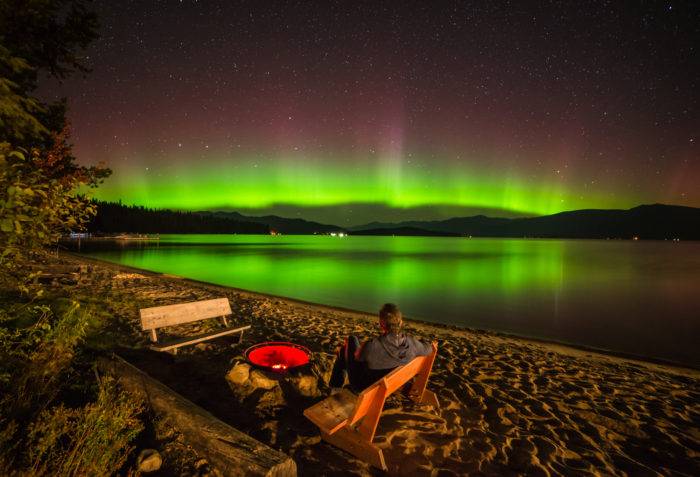 Wherever the quest for the lights takes you, make sure to be safe. Go in groups, especially if hiking at night, and bring headlamps, extra batteries, warm layers, and bear spray.
Encounters with the aurora borealis can be astonishing in their beauty and mystery, and it's understandable that people spend thousands, and travel far and wide for the experience. Thankfully in Idaho, all it takes is a strategic road trip, some extra caffeine to stay awake, and a little luck to have the night of a lifetime.
Feature image credited to Craig Goodwin.
Craig is an award-winning nature photographer with a focus on Pacific Northwest landscapes, wildlife, and night skies. His work has been featured by National Geographic, Sunset Magazine, and the Daily Mail (UK), among others. You can learn more about Craig and his work at www.craiggoodwinphoto.com.

Published on August 6, 2020