Let an experienced snowmobile guide take you on a family-friendly cruise through hushed forests and powdery meadows, or on steep-and-deep runs around the state. With spectacular views and thousands of miles of trails, Idaho is ready to deliver nonstop sledding adventures.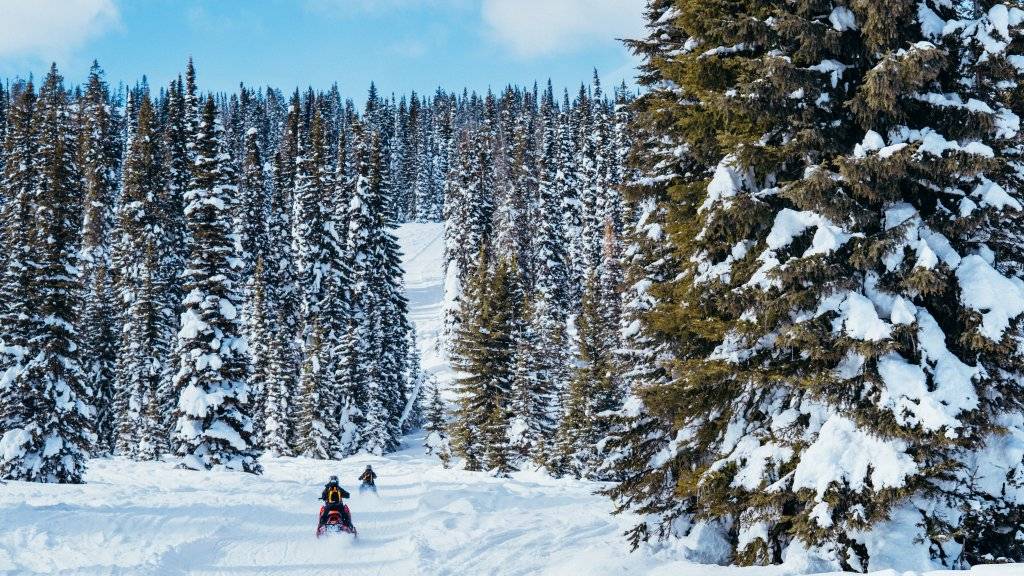 McCall
Snowy evergreen forests, sweeping vistas and high-mountain lakes beckon riders to the Payette National Forest, a winter wonderland with endless backcountry powder and 500-plus miles of groomed trails. A popular groomed ride leads to the Secesh Stage Stop, where you can enjoy lunch and play in the powder in the Secesh Meadows. If you're more into steep and deep, take the Copet Creek Trail to Brundage Reservoir and extend your trip on the groomed trail over to Goose Lake. For guided trips, check out Brundage Mountain Resort or CM Backcountry Rentals & Adventures, both will take you on amazing rides through some of the West's premier snowmobiling country.
Cascade/Smiths Ferry/Donnelly
In Cascade, you can ride your sled right through downtown—so you know the snowmobiling is serious. This lakeside area features 300 miles of groomed trails, plentiful off-trail boondocking and challenging backcountry terrain. Just south of Cascade is Smiths Ferry and the Wellington Snow Park—home to 400 miles of trails (250 of which are groomed). Ride to Ola, Warm Lake and even Stanley, or take the Winter Wonderland Trail, which weaves past Cascade and Donnelly and crosses forested terrain at elevations of 8,000 feet before reaching McCall.
Check in with CM Backcountry Rentals & Adventures for information about guided riding in this area.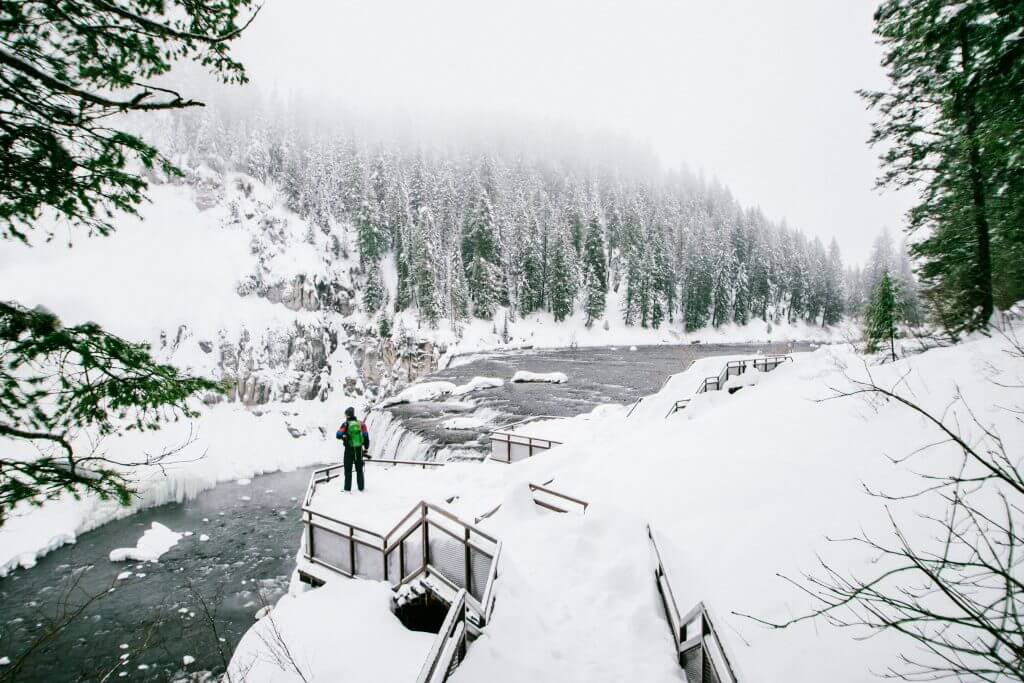 Island Park
Set within the Greater Yellowstone Ecosystem, Island Park and the surrounding area are pristine and pretty wild, both on and off your sled. Tour breathtaking scenery on the region's 900-plus miles of groomed trails which extend up to West Yellowstone, Montana, boondock in endless powdery meadows, and hit the steep-and-deep—all within a stone's throw of the nation's first national park. Mesa Falls is a must: Cruise along a scenic byway to view the 10-story Upper Mesa Falls, where water spills over petrified lava into the Snake River below. The glistening snow and ice at the falls make this a particularly magical spot.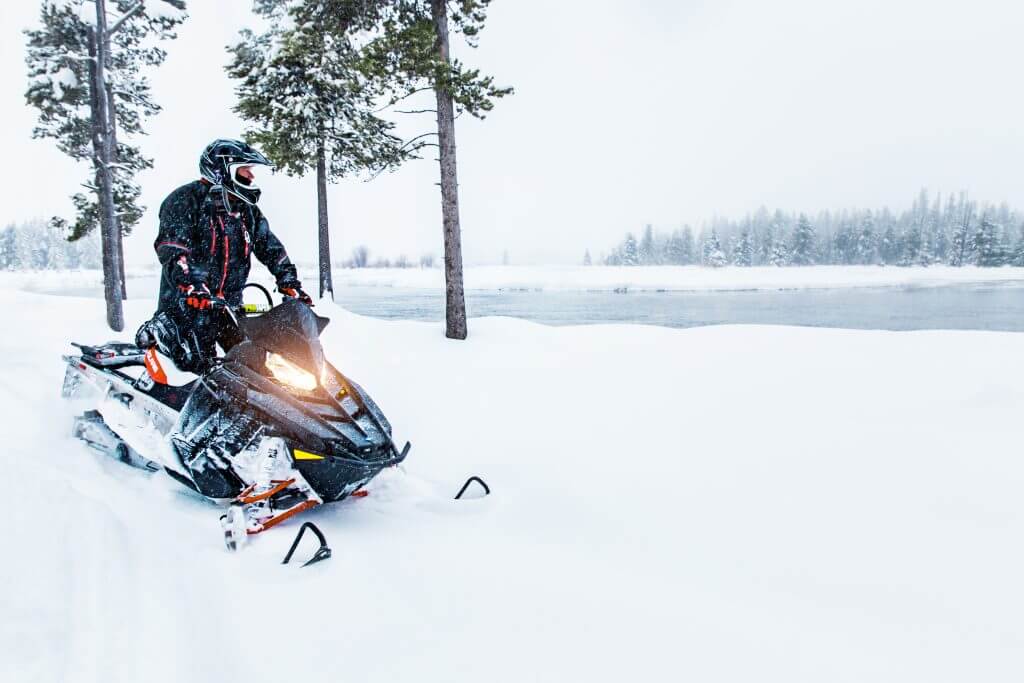 Closer to West Yellowstone, riders head to Two Top Trail for hill climbing, powder bowls, ghost trees and remarkable views of the Grand Tetons and Yellowstone. Experienced mountain riders climb Lionhead Trail, which follows the east side of the Continental Divide and rises 10,000 feet—rewarding sledders with deep snow and panoramic vistas. Area outfitters include High Mountain Adventures, and Island Park's Mountain Mayhem offers guided experiences. For an in-depth guide to snowmobiling in this area, click here.
Priest Lake
Head to Priest Lake for a rugged, 500,000-acre playground. More than 400 miles of groomed trails encircle the remote Priest and Upper Priest lakes and lead high into the Selkirk Mountains. The trails here, which are all on state and federal land, carve through deep forests and up to vast snowy bowls above the tree line where peaks stand 7,000-feet tall. Locals swear by the trails on the north end of Priest Lake, which lead to the backcountry bowls of the Selkirks. One beautiful, family-friendly ride stretches from Nordman through stands of ancient western red cedar trees to Granite Falls. From the town of Coolin, experienced off-road riders can head up to the windswept ridges and high elevations of Sundance Mountain and the Echo Bowl warming shelter (Please note: Avalanche gear is highly recommended in these areas). Crown Jewel Winter Sports offers rentals in this area.
Schweitzer
Spend a day on the sled near Sandpoint with Selkirk Powder, an outfitter based at Schweitzer. Book a two-hour ride along groomed trails with incredible views of Lake Pend Oreille and around the headwaters of the Middle Fork of the East River. This outfitter also offers a longer trip that skirts summit ridges before dropping 4,000 vertical feet into the Priest River Valley, where you'll travel through magnificent towering trees along the East River.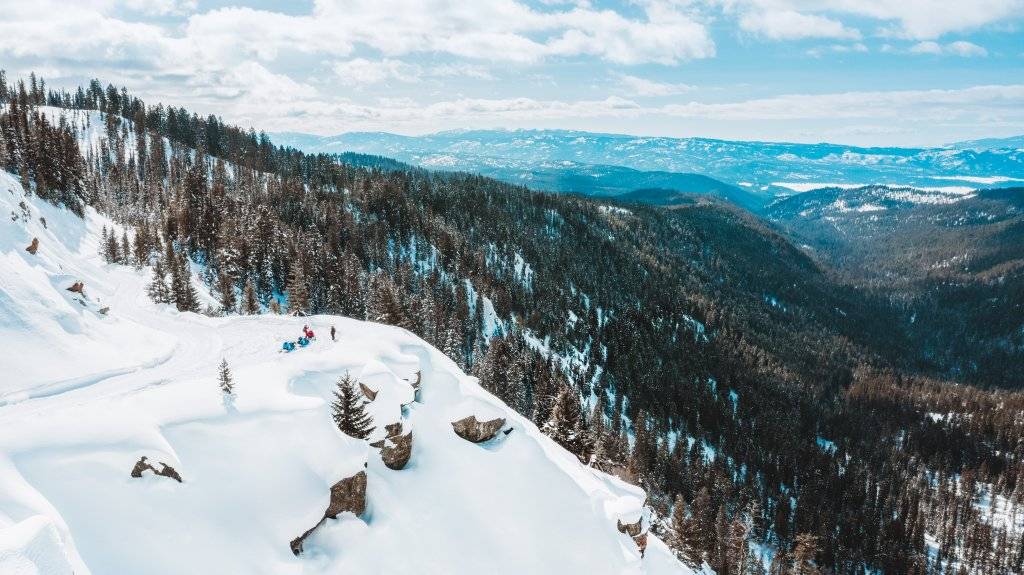 Bear Lake Valley
Ride into Bear Lake Valley and the surrounding mountain ranges on over 350 miles of groomed snowmobile trails and wide-open play areas. A day's ride up to St. Charles Peak, at 9,700 feet, delivers thrills with large basins and deep powder, plus an incredible view of the Grand Tetons. All skill levels will enjoy the groomed trails at Beaver Creek, Swan Falls and Fish Haven Canyon. For more information contact the Bear Lake Valley Convention and Visitors Bureau or Southeast Idaho High Country Tourism.
Sawtooth Basin
Find the ultimate Western sledding experience in Stanley, where you'll ride alongside the dramatic, snow-covered peaks of the iconic Sawtooth Mountains. An expansive groomed trail system—more than 160 miles—and plenty of off-road areas bring you to spectacular settings like Redfish and Alturas Lakes. Opportunities to head into fresh powder and rugged mountain terrain are everywhere. Smiley Creek Lodge near Ketchum offers guided half- and full-day trips which depart from its lodge at the southern terminus of the groomed system and from Stanley.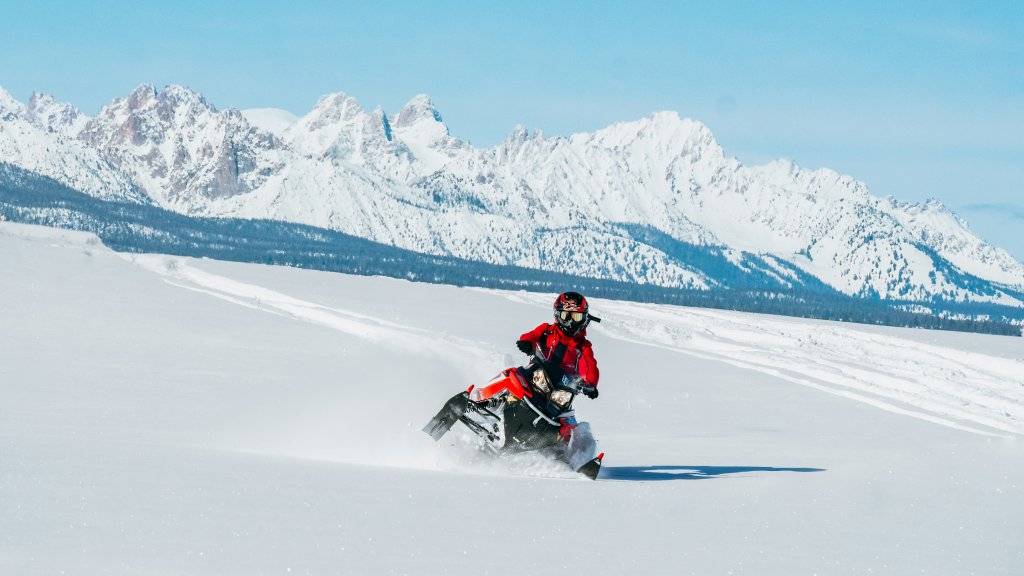 A wide variety of outfitters and guides are ready to help you and your crew navigate Idaho's powder. Learn more about Idaho's expansive snowmobiling trail system and the requirements for bringing your own machines into the state here.

Published on December 10, 2020