This is a sponsored post.
The South Fork of the Snake River serpentines from Wyoming to the Palisades Reservoir in Idaho, its tailwaters continuing 64 miles below the reservoir to the confluence with the Henry's Fork. Anglers from near and far come to fish this coveted Idaho stretch of river for wild trout – brown, rainbow, and cutthroat.
The Idaho portion of the river is divided into three sections below the Palisades Reservoir, the "Upper", the "Canyon" and the "Lower". As the river weaves through the landscape of large cottonwood trees and verdant canyon walls, it provides large pools and braided sections of water.
The "Upper" stretch is a wide portion of river that runs from the base of Palisades Dam through Swan Valley and the beautiful cascading Fall Creek Falls to the Swan Valley Bridge. There are four public boat ramps in this area.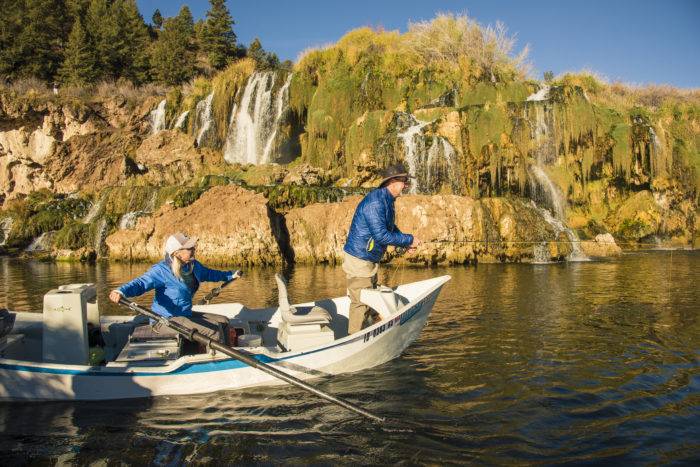 The "Canyon" runs below the Swan Valley Bridge to Byington and offers three boat ramps and overnight camping. The "Lower" stretch has four public boat ramps as well as a remote 15-mile canyon section that is completely off the road system and without any public boat ramps. The walls of the canyon tower above as you float past groves of cottonwood trees with sightings of bald eagles, deer and even occasionally mountain goats.
Anglers can fish this river year round, but the most popular time is from June to the first week of October. The best way to access the river's best fishing spots is by drift boat. There are sections of the river for wading and autumn is the best time of year when the flows drop. It's estimated that there are 5,000 fish per mile, making it any angler's dream. Hatches include Salmonflies, Golden Stoneflies, PMD's and caddis on the dry fly side and in the fall brown trout are fished on streamers.
Autumn is a particularly magical time of year in this region as the landscape glows bright yellow and orange. Swan Valley boasts one of the largest standing cottonwood groves in the nation. Drifting downstream at sunrise with the mist rising off the river and bald eagles flying overhead is simply breathtaking. Then having brown trout hit your rod, time and time again, makes this a truly remarkable river.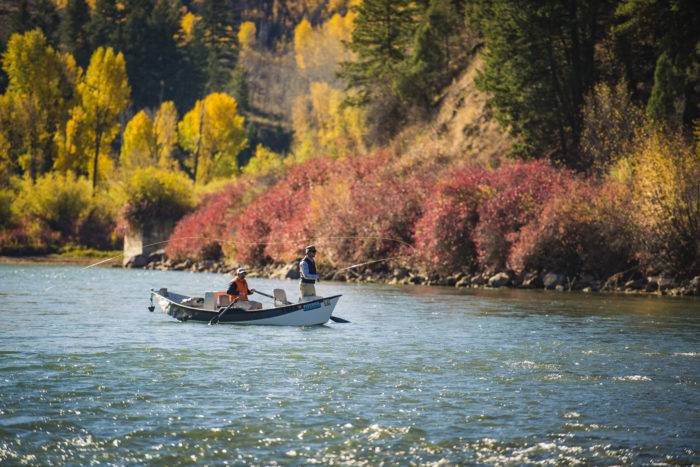 When planning a trip, consider hiring local guides to get the most of your time on the river. You can find a list of guides for eastern Idaho by checking out the Idaho Outfitters and Guides website.
For another look at just what this amazing stretch of river offers, check out this video.

Chad Case is an award winning professional photographer and videographer. His travel images have appeared in National Geographic Traveler, National Geographic Adventure, The New York Times, Outside, Sunset, Backpacker and numerous other publications. Chad also operates Idaho Stock Images representing over 100 photographers with more than 40,000 images online. His work can be seen online at www.chadcasephotography.com.

Published on September 19, 2017