Sun-drenched Lindsay Creek Vineyards sits on the dry ridge above the Snake and Clearwater Rivers. With only 150 vines at its beginning in 2007, Lindsay Creek has grown to more than 15 acres of vines producing more than 18 tons of grapes. This area saw some of the first wine grape plantings in the Northwest back before prohibition and is once again showing why the dry sandy soil in the region is perfect for growing European vinifera grapevines.
Photo Credit: Kim Fetrow.
Things To Know
Please call or visit the website to confirm hours of operation and fees.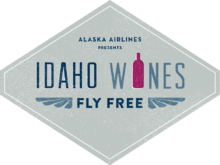 Idaho Wines Fly Free
Now when you visit Idaho wineries, fly all of your favorite wines home with you, for free.
Adventure In Your Inbox
Want more Wineries/Wine Tours adventures like this delivered straight to your inbox? Sign up below for new adventures monthly.