This is a sponsored post.
After backpacking in the Sawtooths for several nights in early August, I fell madly in love with the scenery and the charming towns all over central Idaho. From picturesque hot springs to the best pastries on the planet, here are the highlights of my incredible two weeks in Idaho.
1. The first rays of the day at Boat Box Hot Springs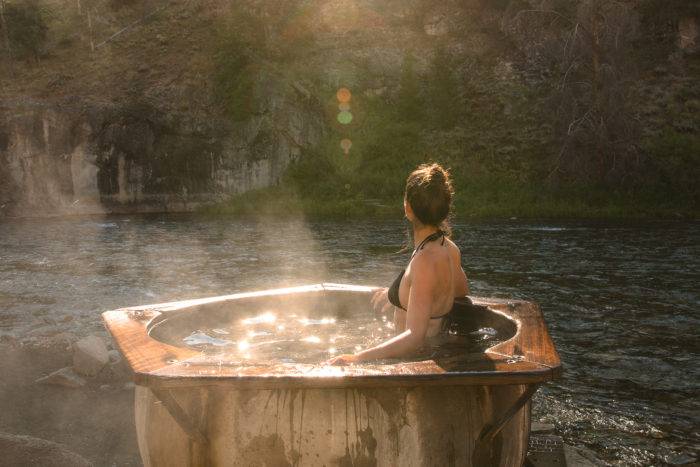 I'm not exactly a morning person, but sparkles of sunshine and hot springs tend to get me pretty excited. After camping in the Stanley area, I ventured a few miles out of town and was delighted to have this spot all to myself. After soaking my bones for a solid hour, I made the quick drive back to The Stanley Baking Company for breakfast. The line is usually out the door, but trust me, the wait is well worth it. I had the Crag breakfast sandwich, and on two other mornings, I ordered their infamous cinnamon rolls, which are some of the best I've ever had.
2. A quiet evening in the Sawtooths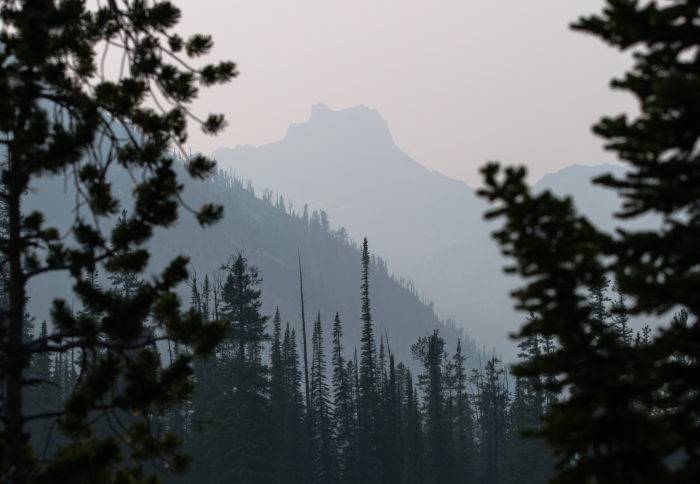 After hiking up and down a trail that went straight through a snow field in the Sawtooth National Recreation Area, I watched the sun dip below the horizon from a perch next to Upper Cramer Lake. The smoke from the wildfires in the region was fairly thick that night, but it made blue hour a pastel dream.
3. Crag-tastic peaks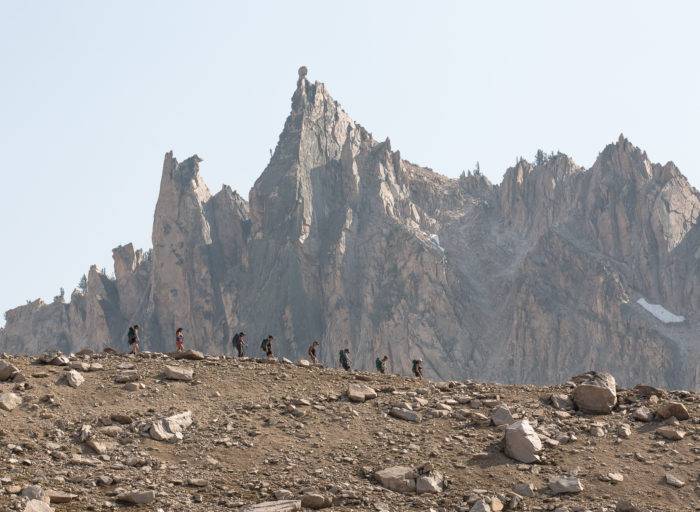 The peaks in the Sawtooth range are very appropriately named, and though you have to work for the views, sore muscles are a small price to pay when you get to feast your eyes on this. The $17 (roundtrip) ferry from Redfish Lake Lodge takes you straight to the Redfish Inlet trailhead, which offers a wealth of hikes to choose from. You need to sign in and register yourself for a wilderness permit, and campsites fill up quickly, so getting on a morning ferry is key. There are plenty of established spots but do note that you must have a metal container or a fire blanket if you want a campfire, and the area is patrolled by U.S. Forest Service rangers. This isn't a spot you just visit once — you'll be fantasizing about returning as soon as you're hiking back out.
4. 6:30am at Upper Cramer Lake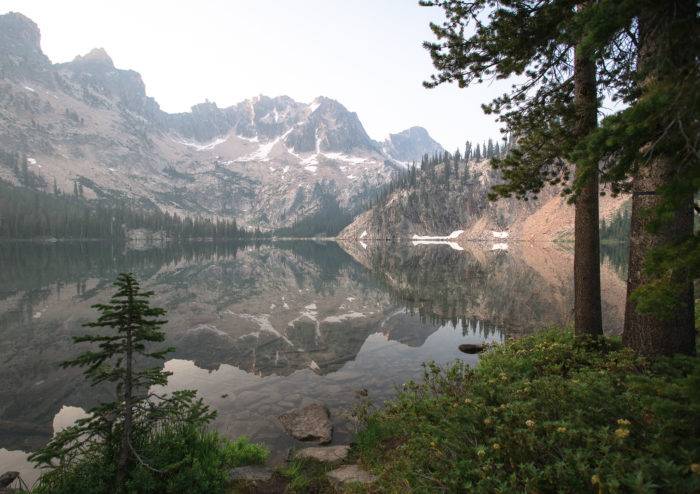 It was cold enough for gloves and a puffy jacket, but the reflection on the lake beckoned me out of my toasty warm sleeping bag. The water was so calm I could hear fish jumping every so often, and about an hour after this photo was snapped, I downed hot coffee and two delicious backcountry pancakes. This definitely made my personal top ten list for breakfasts with a view…
5. The best kind of morning workout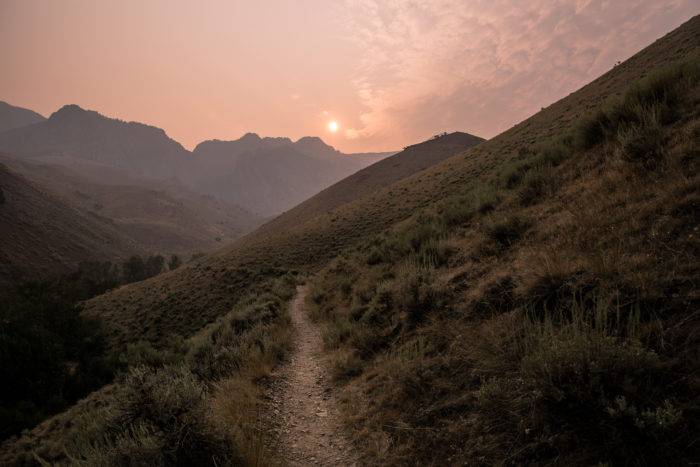 Here I am again getting up way too early, but having the trail to myself and beating the heat of the day was a winning combination. Watching the sun peek over the horizon and hearing the grass around me rustle in the breeze was one of those all-natural sensory overloads that I absolutely crave. So, what was my mission? Getting some exercise and rewarding myself with a soak in Goldbug Hot Springs. It's about a mile and a half up, and though the trail is easy and well marked, it does get a little bit steep at the end, so you'll be ready to relax once you make it to the top.
6. Relaxing in the most picturesque hot springs in Idaho
Of the five hot springs I visited during my time in Idaho, these earned my number one spot. Goldbug Hot Springs are about 30 minutes south of Salmon, and there are a plethora of campgrounds in the area. Of course, it wasn't until I arrived at the trailhead that I realized I could have camped there, so I ended up sticking around and snagging a spot. It's the best way to have a quiet moment to yourself, and there are about a dozen first-come, first-serve established sites off the trail that are fairly obvious. You must pack your trash out (this includes toilet paper), and you are to be at least 500 feet from the springs, in order to help preserve them. After camping and enjoying yet another early morning soak, I ventured up to Salmon and found myself at Odd Fellows' Bakery. The quiche of the day was filled with Brussels sprouts, onion and goat cheese, and I have to tell you, it was just as incredible as a solo soak at Goldbug. I ended up sticking around for a bit, so I ordered a snickerdoodle cookie and a latte, both of which were just as delicious as my "first" breakfast. The cafe has wifi and an upstairs area, so it's a wonderful place to hang out while you're waiting to check in to your hotel.
7. Serenity at Little Redfish Lake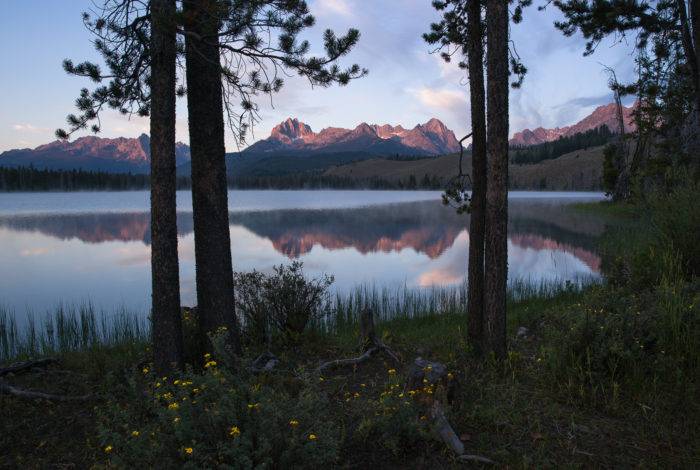 After a few nights in Salmon, I found myself back in Stanley. This might have had something to do with the beet salad at the Sawtooth Hotel, and those oh-so-addictive cinnamon rolls at the Stanley Baking Company, but really, I wanted to shoot a sunrise somewhere epic. But where?! There were so many lakes in the area, and I wasn't sure how the light would hit the landscape. I was also pretty exhausted from my incredible rafting trip with The River Company and my hike to Lady Face Falls, so I wanted something easy. You know, park, camp and walk a few hundred feet. Wishful thinking, right? Well, look at this view. My site at Chinook Bay Campground was $20, there were bathrooms, and I got to watch a massive chunk of the Sawtooth range light up and reflect on the lake — less than a minute walk from my tent.
8. Alpenglow on the face of Mount Heyburn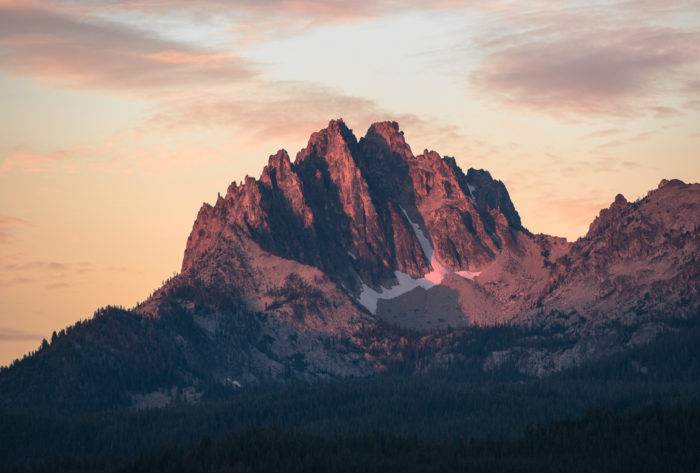 One of the other perks of camping right where you're shooting sunrise is you don't have to hike up a mountain with a 5-pound long lens. This is a tighter view of the same mountain range above, focused on the beautiful and craggy face of Mount Heyburn.
9. When hot springs are just a few minutes from a quiet campground in the forest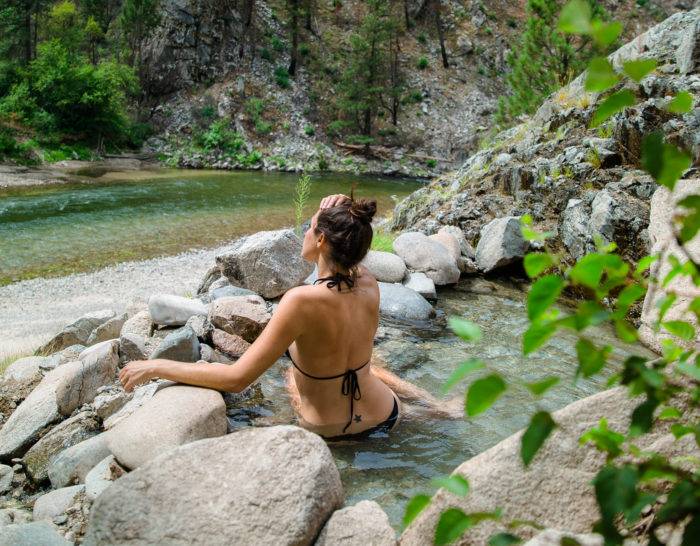 You didn't think I was done posting photos of hot springs, did you? And get this: I don't think I've even scratched the surface of amazing hot springs in Idaho, so I have a feeling I might come back and continue my geothermal pool and bakery tour, because clearly that's the best way to structure a road trip. After burning my legs on a 7-mile hike, I wanted to sink my sore muscles into yet another hot spring. Some locals recommended Pine Flats Hot Springs, which are connected to the campground of the same name and an hour west of Stanley. Again, a trip in the middle of the week meant I had the place to myself for a solid hour, and there were also plenty of campsites available when I showed up around noon. There are also hot waterfalls that run into the Payette River below this pool, so if you're a bit of a Goldilocks with your water temps, you'll leave this spot completely satisfied.
10. The perfect way to wrap things up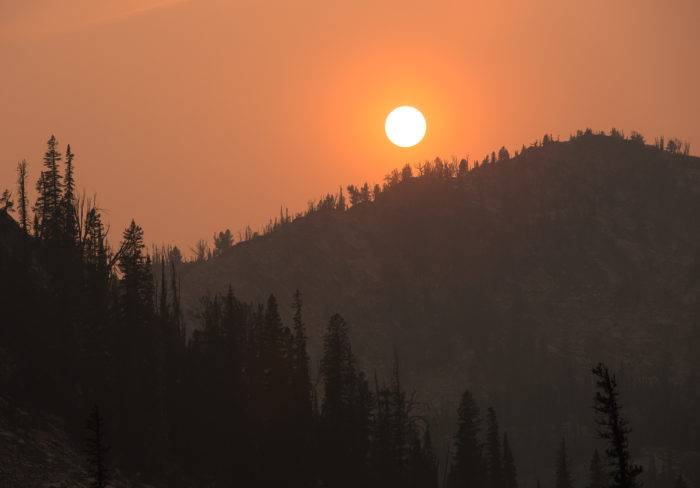 Whether you're in the wilderness or in town, you don't need to go far to catch a stunning sunset. I captured this electric orange sky from the Sawtooth National Recreation Area, and though it was hazy and cloudless, it still managed to put my jaw on the floor. From the friendly folks and small businesses to the seemingly endless amount of breathtaking landscapes, I'm now convinced that I need to move to Idaho.
Elisabeth Brentano is a blogger/photographer based in California, but her wanderlust takes her all over the world to capture nature and travel content. After working in a Los Angeles newsroom for nearly a decade, she traded her high heels in for hiking boots and has been living on the road since 2016.

Published on September 26, 2017