Kristen Bor worked in partnership with Visit Idaho to create this Travel Tip.
Looking for an adventure-packed destination this summer? Just catch a flight from your home to the Boise Airport (BOI), play in town and then make the quick and beautiful drive up to McCall, and you'll have a full bucket list of adventures you can check off. From fly-fishing to rock climbing, rafting, hot-springing, and more, here are 10 of my favorite ways to get outside and enjoy Idaho's bounty in Boise and McCall.
1. Explore the Boise River and the surrounding Boise Greenbelt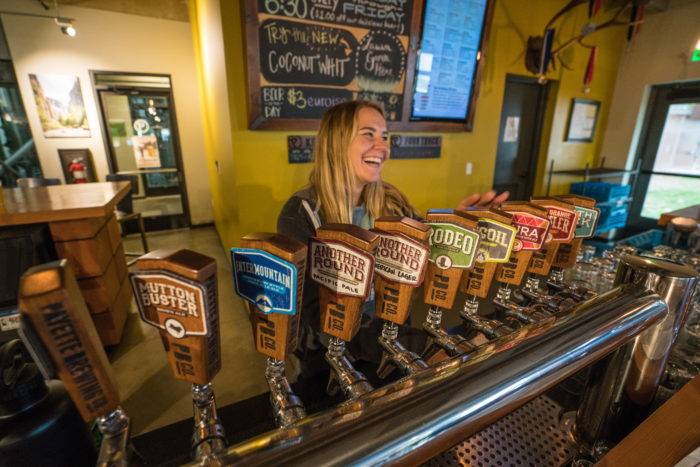 The Boise River Greenbelt is an awesome tree-lined trail that runs 25 miles along the Boise River covering the entire length of the town. Exploring by bike, you'll see why Boise is commonly referred to as the "City of Trees." When you are ready for a break, stop by Payette Brewing, one of Boise's best craft breweries, and grab a beer and a bite from an on-site food truck. For those feeling more adventurous, head southeast on the greenbelt for 10 miles to Lucky Peak Reservoir and celebrate your ride with a refreshingly cool dip.
2. Climb Boise's Black Cliffs
Boise's Black Cliffs are located near the Boise River on the way out to Lucky Peak, just 20 minutes from downtown. There are dozens of routes rated 5.7 to 5.11b, so there is something for everyone. Check out the Mountain Project for a description of the different climbs. For beginners or folks who want to expand their skill set, Mat Erpelding, the owner of Idaho Mountain Guides, will take you out for a morning. He'll bring all the gear and lead the way so you have a successful experience on Boise's best crags.
3. Raft the Payette River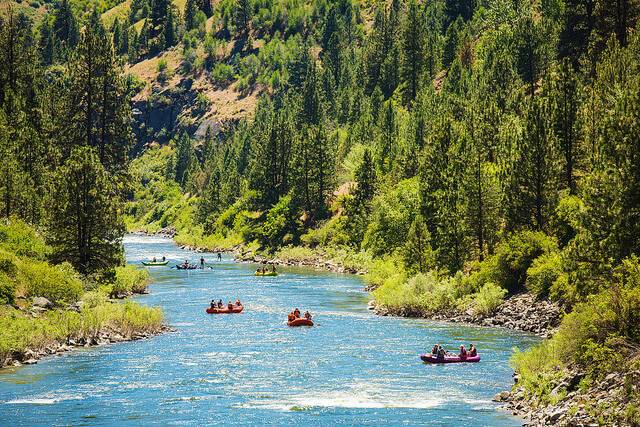 Idaho has more miles of whitewater than any other state in the Lower 48, and the Payette River between Boise and McCall is an exciting way to get a taste. Numerous outfitters run half and full-day trips, and different stretches offer a variety of thrills – whether you're looking for adrenaline-pumping rapids or a mellow float with the family. Most trips depart from Banks located on Highway 55.
4. Go Fishing in McCall
The numerous rivers and lakes around McCall are the perfect opportunity to work on your cast. Cutthroat trout, brook trout, rainbows, and tiger muskie are just a few of the species that you are likely to catch. The McCall Chamber has a list of favorite fishing spots to hit up, or if you want the guidance of a pro, check out Taylor Outfitting located right in the heart of McCall. The owner Robert Monroe has been living in McCall for 20+ years, and he and his guides know all of the best spots and what the fish are biting on.
5. Hike to Goose Creek Falls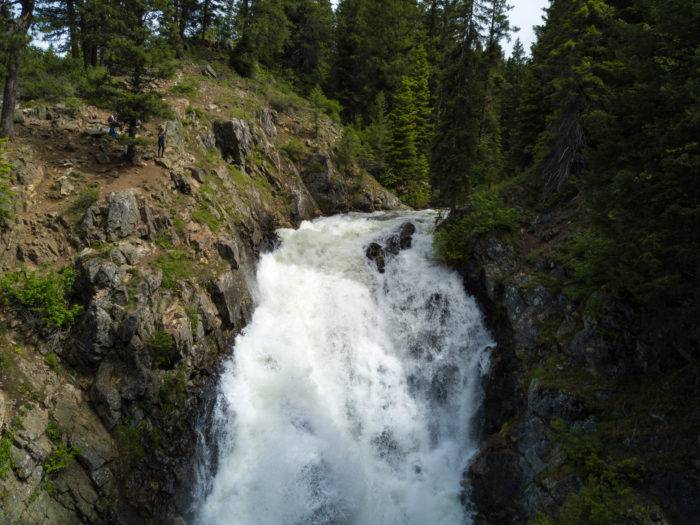 Goose Creek Falls is a moderate hike in McCall that begins just below the base of Brundage Mountain. You'll drop 750 feet in a mile and a half as you weave through ponderosa pine and Douglas fir trees that hug the banks of Goose Creek. As you approach the top of the falls, you'll cross a bridge and then take a left at the fork to reach the waterfall. Remember to save a little energy, as you'll be gaining all of that elevation you lost on the way back to your car.
After your hike, if you still have time, Brundage Mountain Resort offers scenic chairlift rides where you'll get an expansive view of Long Valley, the Seven Devils Wilderness, and Oregon's Blue Mountains.
6. Bike the Singletrack at Jug Mountain Ranch
Jug Mountain Ranch, just south of McCall, offers one of the best mountain biking trail systems in the region. While privately owned, the trail network is free and open to the public and offers everything from flat meandering rides through ponderosa forest to expert-level terrain with jumps to the nine. Don't worry though, the trails are well mapped and marked to ensure you don't end up somewhere beyond your riding capability. Don't have a bike? Jug Mountain Ranch offers on-site rentals and can even hook you up with an instructor if you are looking to build up your confidence.
7. Paddle the Upper North Fork of the Payette River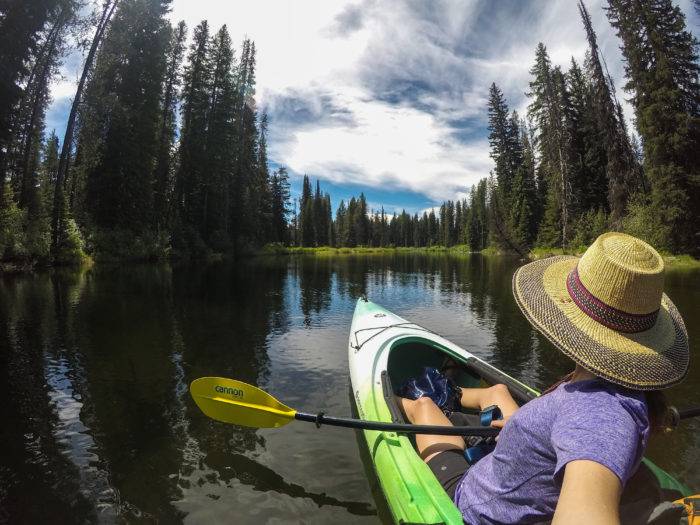 One of my favorite things to do in McCall is to paddle the Upper North Fork of the Payette River. This gorgeous, lazy creek is a non-motorized area, and the only other folks you'll run into are the occasional paddler and fisher hanging out on the banks. You can rent a kayak, canoe, or stand-up paddleboard from Backwoods Adventures, located at the North Beach boat ramp. Head out and travel upstream as far as seven miles. I'd recommend starting right at 10 a.m. for the most solitude and the best chance of seeing moose and black bears which frequent the area.
8. Watch a sunset at Ponderosa State Park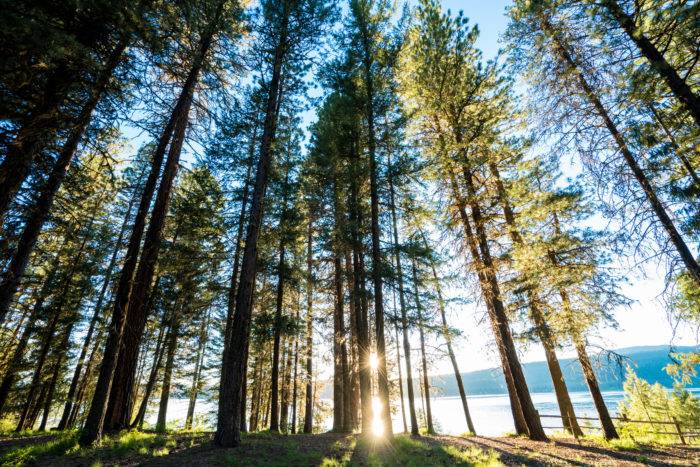 Ponderosa State Park sits on a skinny 1,000-acre peninsula that extends out in the middle of Payette Lake and is the perfect place to catch the sunset, as it faces directly west. Take a stroll on the Peninsula Trail which hugs the shoreline, or drive up to Osprey Cliff Overlook, the highest point in the park for the best views. If you visit in May, keep an eye out for wild morel mushrooms. If you find any of these local delicacies, feel free to pick them, but make sure to leave the base intact so they grow back the following year.
9. Soak at Burgdorf Hot Springs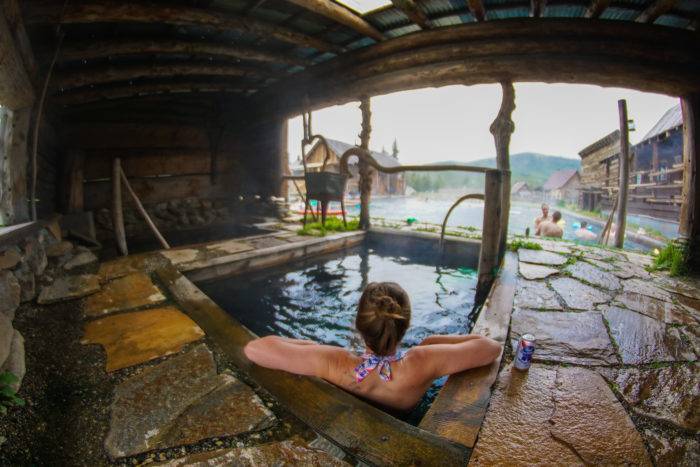 Burgdorf Hot Springs is a quintessential Idaho experience. This is a set of slightly developed hot springs way out in the boonies with a lot of old Idaho western charm. Bring your suit and a few cold beverages, and soak your muscles for a couple of hours after a long day of adventuring. For a rustic experience, bring your sleeping bag, and shack up for the night in one of the cabins at Burgdorf. This affords you 24-hour access to the hot pools, long after the kiddos have gone to bed.
10. Tour Payette Lake by boat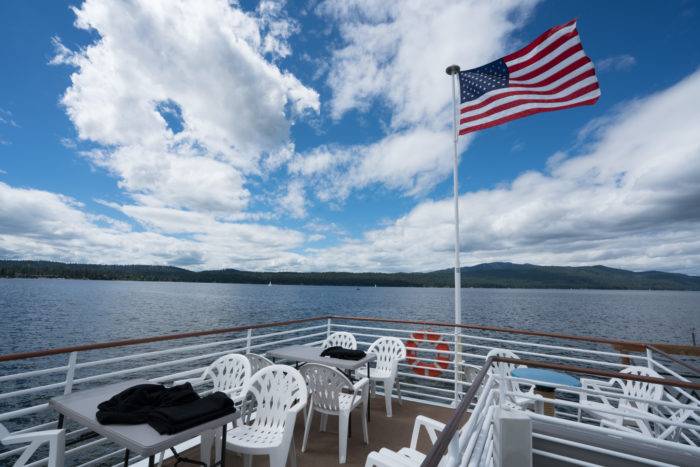 Step aboard the IDAHO and get ready for some serious cabin envy. McCall Lake Cruises offers 90-minute boat tours that leave from the McCall Yacht Club where you'll tour the shoreline and learn a little history of McCall while jamming out to some reggae tunes. It's a great way to get the lay of the land, plus there's a full bar on board to quench your thirst.
Hope this list helps you plan an exciting Boise to McCall summer vacation. For more details, check out my detailed 6-day Boise/McCall itinerary.
Kristen Bor is the Sprinter van-dwelling, full-time adventure travel blogger behind Bearfoot Theory where she helps everyday people explore the outdoors with trip reports, gear reviews, and travel tips. She loves live music, sunsets, and a strong cup of coffee and believes there is no better cure than a walk in the woods and a healthy dose of fresh air. Follow her on the road on her website, Facebook, YouTube & Instagram.

Published on June 21, 2018