This is a sponsored post.
I grew up in Boise, and every time I've gone home to visit over the last few years, I've been impressed with how Boise is blossoming as a city. Boise has become the kind of place where you can go mountain biking, fishing, or climbing within minutes of downtown and finish off your day with local craft beer, delicious food, and live music. Even better, Boise is only two hours from McCall, an unassuming mountain town on the shore of Payette Lake, with raging rivers, hot springs, and uncrowded trails. This means you can spend your entire vacation doing fun stuff, rather than wasting a bunch of time in the car.
Here in this detailed 6-day Boise / McCall itinerary, I share a ton of options to help you plan an adventure-packed summer Idaho getaway.
Day 1
From the Boise Airport (BOI), head downtown to check into The Modern Hotel. It's just a few walkable blocks from the center of downtown's action and is a great jumping off point for exploring.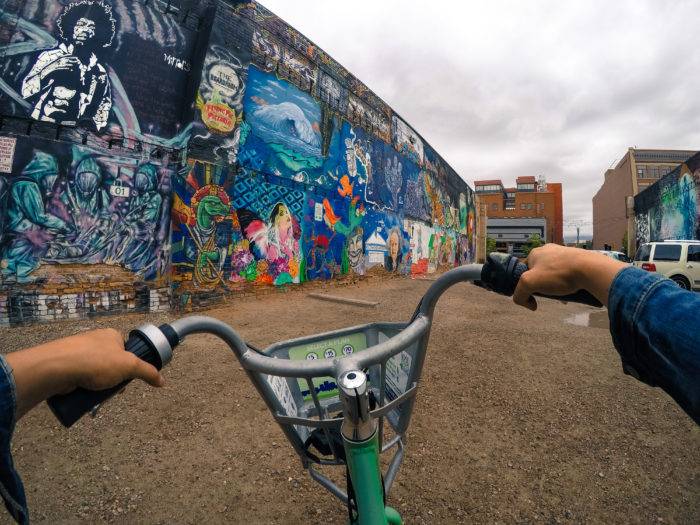 If you are a mountain biker, I suggest heading to George's Cycles on 3rd Street. They rent a variety of high-end men's and women's mountain bikes, and from there you can ride straight up onto the Ridge to Rivers Trail System in the Foothills. Pick up a map in the store or check out the interactive map online to pick your route.
Want to stick to the pavement? Boise Green Bikes has cruisers available for rent stationed all around downtown. Just sign up online for a $5/hour pay-as-you-go membership and download the app to find the nearest station. Head towards the Greenbelt, a 25-mile paved trail system that hugs the Boise River.
While you've got the bike, explore Boise's exploding craft beer scene. One of my favorites is Payette Brewing Company on River Street which features 20+ tasty beers on tap and a daily food truck on site. On nice summer days, they have a huge lawn where you can play a round of corn hole. The brewery is also dog and kid-friendly, and offers tours of the production floor on Saturdays from 2pm-4pm.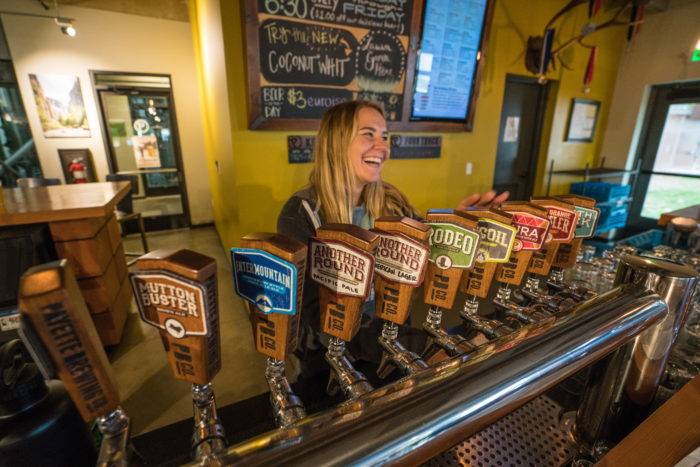 In the afternoon, poke around the shops downtown and swing into another tasting room if you like. Cider lovers will enjoy Long Drop Cider Company on Capitol Boulevard. Some favorite shops to check out are Banana Ink, which specializes in Idaho-inspired designs, and Mixed Greens, a cool boutique shop with tons of unique gifts.
For dinner, ride your bike or drive over to Hyde Park, one of Boise's coolest local neighborhoods. There you'll want to grab some dinner and take a sunset hike to the top of Camel's Back Park. For simple pub fare and Idaho tater tots, hit up Harry's. For something a little more refined, dine on the patio at the newly opened Hyde House.
Day 2
Start your morning off with a big cup of Joe and a giant cinnamon roll at Big City Coffee, which is less than a block from the Modern Hotel. Once you're fully fueled, drive down Warm Springs – one of Boise's prettiest streets lined with big Victorian homes. Head to the Table Rock Trailhead and get ready for a 4-mile round trip hike and 1,000-foot climb to Boise's most iconic lookout point. Don't expect solitude, but this trail offers the quickest way up to the best views. Bring water and wear a hat and sunscreen since you won't find much shade on the trail. Give yourself two hours, give or take, depending on your hiking speed.
If you are feeling more adventurous and looking for somewhere quieter, Stack Rock is one of my favorite local trails and is located near mile marker 13 on Bogus Basin Road.
After your hike, head back downtown to Bleubird, one of Boise's best sandwich shops. Arrive hungry because these sandwiches are both delicious and huge. Don't miss their homemade sodas, like the grapefruit rosemary or the raspberry lavender.
In the afternoon, take a casual stroll around the Idaho Botanical Garden and the Old Idaho Penitentiary. The Botanical Garden has exhibits with local plants and vibrant flowers, while the penitentiary was home to some of the West's most violent criminals from 1872-1973. Most of the Old Pen remains in its original form, and visitors can tour solitary confinement cells, female quarters, the death chamber, and other dark parts of the prison's past.
After this you might need a pick me up, so head back to The Modern Hotel for happy hour where you get $3 off selected cocktails. Bartenders here know how to make a mean Old-Fashioned, which you can sip on their sun-drenched patio. After this long day, I suggest sticking around The Modern Hotel for dinner where you can sample new twists on old classics made from locally sourced ingredients. If you've got a sweet tooth, finish off your meal with the delightful butterscotch pudding.
If you still have energy after dinner, take an evening stroll around the corner to the Neurolux. This Boise establishment is one of the best live music bars in town.
Day 3
Grab a small bite at The Modern Hotel's continental breakfast and check out before heading to Boise's Black Cliffs for a morning of climbing. If you're like me and don't have much climbing experience, Idaho Mountain Guides owner Mat Erpelding, will get you in a harness and teach you the basics so you can get to the top of some beginner-friendly routes where you'll snag nice views of the Boise River.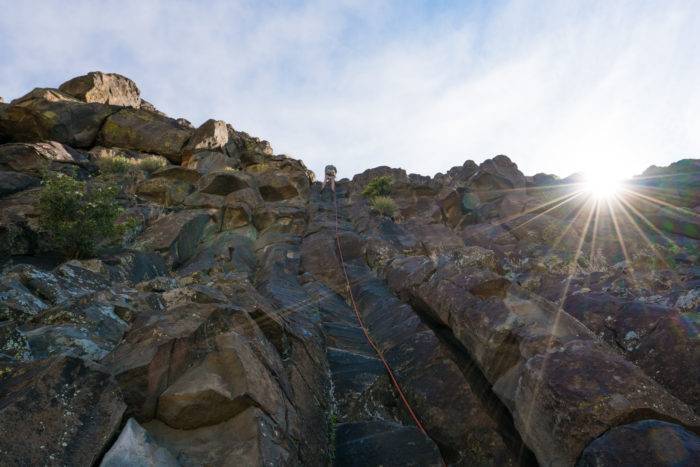 After getting your healthy dose of adrenaline, it's time to head to McCall. It would be a mistake, however, to leave Boise without sampling some Basque food. So first swing into Bar Gernika, located on downtown's Basque Block, for a lamb grinder and a side of croquetas.
Next, fill up on gas and get ready for two hours of non-stop scenery as you drive up Highway 55. Here you'll hug the Payette River which is home to some of the Idaho's best whitewater. If you have time on the way back down to Boise, there are several companies that offer full and half-day rafting trips on the Payette.
Once you're in Donnelly, it's the perfect opportunity to relax your climbing muscles at Gold Fork Hot Springs. These privately owned geothermal pools are located about six miles off of Highway 55 and only cost $10 for a day pass. As a bonus, they also allow you to bring your own food and beverages (but no glass).
Finally, travel 12 more miles up the highway and you reach McCall. Check into the lakeside Hotel McCall, which is next door to the town's best restaurants.
Head across the street to the Salmon River Brewery and wash down their delicious elk burger with one of their in-house brewed beers.
Day 4
Today, try your cast in one of the many rivers or lakes in McCall. If you want to learn how to fly fish or want tips on the best local spots, check out Taylor Outfitting. The owner, Robert Monroe, and his guides will take you to wherever the fish are biting and teach you a few new skills while you're out.
Once back in town, fuel up with a couple of tacos at KB Burrito or a burger at My Father's Place, before boarding the "Idaho" with McCall Lake Cruises. This 1.5-hour tour of Payette Lake will leave you with serious cabin envy. Sunset cruises are offered on certain nights of the week, so check the schedule if that interests you.
If you still have energy in the afternoon, head to Ponderosa State Park where there are miles of trails, bike paths, and the lookout at Osprey Point, where you'll get a panoramic view of the lake.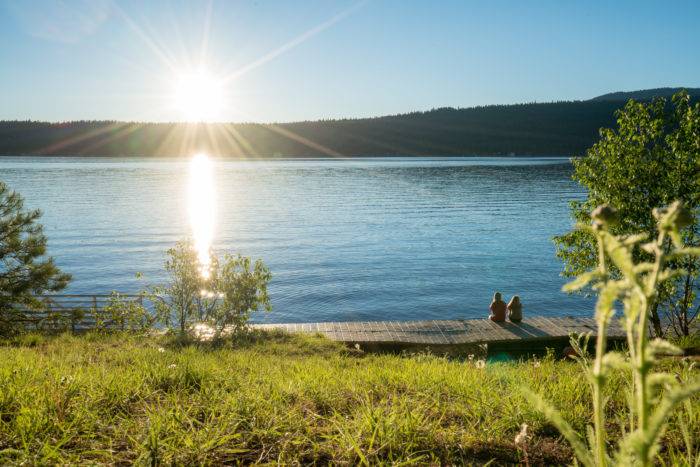 Finish the day off at the Sushi Bar. With fish as fresh as it gets, the poke bowls are a local favorite. They also have some great happy hour deals for you early diners.
Day 5
Pack a lunch because today you're exploring the north side of Payette Lake and beyond. After continental breakfast at Hotel McCall, drive six miles up Warren Wagon Road to the North Beach boat ramp. Here you'll rent either a kayak, SUP, or canoe from Backwoods Adventures and paddle up the flat-water creek that runs into the lake. Keep an eye out for wildlife, like moose, black bears, and deer that are often found feeding at the river's edge. Aim to go at least to the bridge, which is three miles up stream.
Next, drive all the way around to the other side of the lake and spend the day hanging out at North Beach, where there's a nice sandy bottom perfect for wading around. You can also continue further down that dirt road to find you own private lookout point.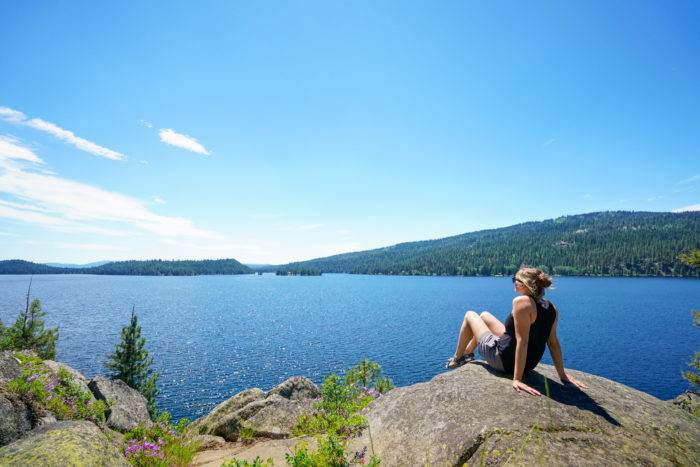 Back in town, treat yourself to dinner at Hotel McCall's Rupert's where you can try some mountain classics. Think locally raised venison and elk and locally picked huckleberries.
Day 6
If whitewater rafting is on your agenda, leave McCall early and head back towards Banks for a 1/2 day rafting trip. Otherwise, drive seven miles north of McCall on Highway 55 and take a right on Last Chance Road. Take this road until it ends to reach the trailhead for Goose Creek Falls, a 5.6-mile round trip hike that leads to an impressive waterfall (depending on current water flows). Keep your eye out for morel mushrooms if you visit in May or early June, as they grow all over the area following the snowmelt.
After your hike, head back to town and grab one final lunch at the Shore Lodge, which has the best lakefront dining patio in McCall. Enjoy the views, and know that they likely won't be your last. McCall has a certain charm that lures people in and brings them back year after year.
All images, including feature image, credited to Kristen Bor.
Kristen Bor is the Sprinter van-dwelling, full-time adventure travel blogger behind Bearfoot Theory where she helps everyday people explore the outdoors with trip reports, gear reviews, and travel tips. She loves live music, sunsets, and a strong cup of coffee and believes there is no better cure than a walk in the woods and a healthy dose of fresh air. Follow her on the road on her website, Facebook, YouTube & Instagram.

Published on July 25, 2017