Local Freshies worked in partnership with Visit Idaho to create this Travel Tip.
In this day and age, there's a clear focus on statistics. Snowfall, acreage, lift capacity… so what's the problem? Numbers may not tell the whole story. Until you experience a place, you really have no clue what to expect. With your eyes open and an unbiased state of mind, we recommend exploring these three untapped Idaho ski destinations. What they may lack in size, they more than make up for in charm, character, and authenticity.
Pomerelle Mountain Resort
Best known as the place to learn in Magic Valley, the terrain at Pomerelle is forgiving and the snow quality is off the charts! Besides receiving some of the highest snow totals in Idaho at over 500", this destination also takes grooming seriously. By waiting till the last minute to manicure their slopes, it translates to the softest corduroy you'll EVER feel in your life. And, if you're an intermediate skier or rider, the perfectly cut fall-line trails will keep you entertained all day long. What about experts? Well, with an avalanche certification and backcountry experience, expect to find some of the best steep powder stashes in the country.
Things to Do & See
Looking for lots of options on your vacation? We recommend staying in Twin Falls. You'll find a top-tier dining experience at Elevation 486 or sample some of the local hot spots like the Buffalo Cafe which makes their own jams & jellies. Muscles sore from all the skiing? Then take a trip out of town and head for a soak at Miracle Hot Springs. Lastly, don't forget to take a gander at the "Niagara of the West". Shoshone Falls is the real-deal and taller than Niagara Falls!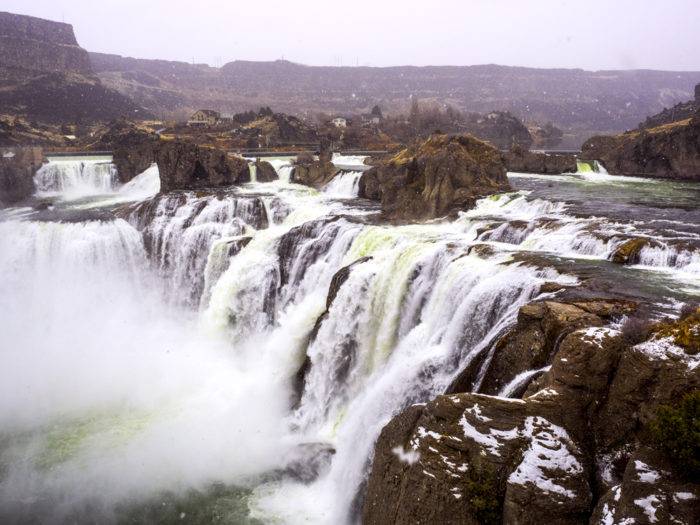 Pebble Creek Ski Area​​​​​​​​​​​​​​
Jackson, Wyoming might be the ski resort that first comes to mind for steeps but Pebble Creek in south central Idaho should be on your radar if you want to visit a place without the crowds. Nicknamed the "Rock", expect to find challenging slopes that are as tough as you'll find anywhere in the country. Nearly 53% of Pebble Creek's trails are marked expert or higher and they aren't lying. And, if that wasn't enough to entice you, the amount of backcountry access surrounding Pebble Creek will keep you occupied for weeks after a storm. More of a beginner? Don't worry… they've spent a lot of time upgrading their beginner zone called the Aspen area. There is a dedicated lift to make sure you have a place to learn without having any speed demons flying past you.
Things to Do & See
The Rock Bottom Saloon in the ski lodge is a MUST for anyone that heads to Pebble Creek. With $2 Montucky's and an assortment of other local affordable brews on tap, this is one great ski bar.
So, where's the best place to stay? Depending on the type of vacation you're looking for, you have a couple of options. You can stay in Lava Hot Springs, where you can soak in the town's renowned hot pools after a hard day's vacation. Or lodge in Pocatello for access to a variety of dining and après options. No matter what town you pick, we HIGHLY recommend making a journey to Sumisu Sushi in Pocatello. Serving some of the best sushi ANYWHERE, we personally would travel hundreds of miles just to eat one dish here. We highly recommend the "Dozo-Domo" which loosely translates to the chef's choice. The chef will create a sushi roll that's specifically tailored to you. Expect to have your mind blown.
Kelly Canyon Ski Resort
The hallmark of Kelly Canyon Ski Resort is its night skiing with nearly two-thirds of its terrain lit up at night. Expect to find your "inner child" re-born! As hundreds of local kids from the area laugh, crash and sometimes ski their way down the slopes no matter what the conditions, you'll remember why you started skiing or snowboarding in the first place… not because of powder but for the pure joy of being on the snow.
Things To Do & See
Idaho Falls is home to a historic downtown filled with shops, restaurants and a scenic walkway past the enchanting falls it's named after. Right smack dab in the middle of it all is a nondescript restaurant called the Snakebite. From the biggest list of Idaho brews we've ever seen to their legendary fish tacos made with a lightly crisped tortilla, you'll be "wowed" at everything this spot serves up. Don't forget to leave room for their ONLY dessert – the chocolate cake. The density is more like a brownie but with a robust flavor of a cake with the perfect chocolatey goodness. It's like nothing you've ever had in your life.
What you'll find in southern Idaho isn't like anywhere else you'll visit. If you come here with preconceived notions of your likes and dislikes, you'll miss EVERYTHING these towns and ski resorts have to offer. Show up with a clean slate and willingness to explore and you won't be disappointed. They might say "What happens in Vegas, stays in Vegas" but in Idaho, it's "What's happens in Idaho, can only be experienced in Idaho."
Feature image credited to Local Freshies.
Local Freshies® is a mountain town-based crew that loves snow & just about any other outdoor activity. The mountains and the funky local communities that exist around every ski area are the heartbeats that keep us pushing forward. We want to give everyone that visits the mountains an opportunity to experience what locals get to cherish every day while helping promote the local spots to eat, drink and enjoy in these towns.

Published on December 12, 2019