Scott Marchant worked in partnership with Visit Idaho to create this Travel Tip.
The beautiful town of McCall sits in the lush Long Valley, along the southern shore of Payette Lake. From the edges of the valley, a complex puzzle of craggy mountains, open meadows, remote lakes and V-shaped canyons stretches for miles into the Salmon River Mountains. A multitude of well-maintained trails penetrate the rugged topography and offer countless hiking adventures in the surrounding area.
Most of the trails are accessible by mid-to-late June. Substantial snow years may be an exception for destinations above 8,000 feet. Look for peak wildflower blooms in July and fall colors starting in early September. Here are five outstanding treks (listed from easiest to most strenuous) within an hour of McCall.
Josephine Lake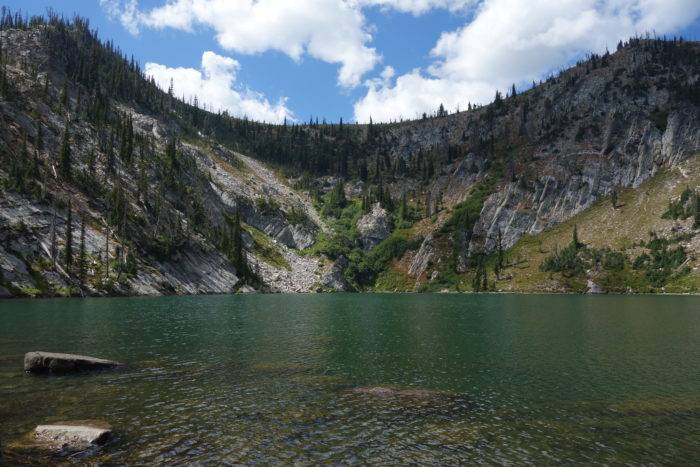 This easy hike delivers the visual goods without much effort. Josephine Lake is perched at 7,400 feet in a bowl-shaped cirque flanked by steep granite ridges. Directly south, the 8,286-foot Squaw Point looms over the emerald-colored lake and polished, granite boulders surround the lakeshore. Before reaching Josephine Lake, the trail skirts a beautiful pond. Not many hikes offer this level of beauty for such a short hike.
Out-and-back distance is 1.6 miles with 350 feet of gain.
Getting there: From the west side of McCall, turn right onto Warren Wagon Road. Travel north for 25.1 miles and turn left on FR 316. Follow the rough road (passable with passenger vehicles) to its end at 3.1 miles and the signed trailhead.
Deep Lake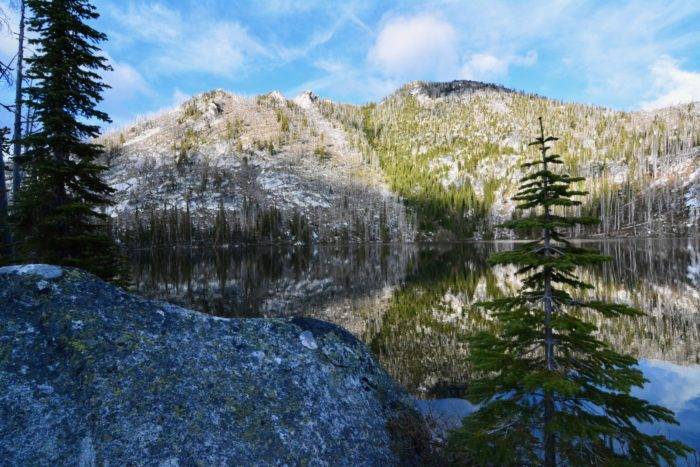 For such a short hike, the journey to Deep Lake delivers a lot of scenic beauty: outstanding vistas, sheer canyon ridges, summer wildflowers, and the serene Deep Lake. Deep Lake is sandwiched between two 8,000-foot-plus peaks and its perimeter is sprinkled with granite boulders. Although much of the forest around the lake burned in the 1994 fires, young conifers are flourishing. The surrounding topography near the lake is fairly open and offers opportunities to explore off-trail.
Out-and-back distance is 1.8 miles with 550 feet of gain.
Getting There: From ID 55 on the west side of McCall, turn right onto Warren Wagon Road and continue north for 21.7 miles. Turn right (east) on the dirt-surfaced FR 431 and continue 1.9 miles to its end and the trailhead.
Boulder Lake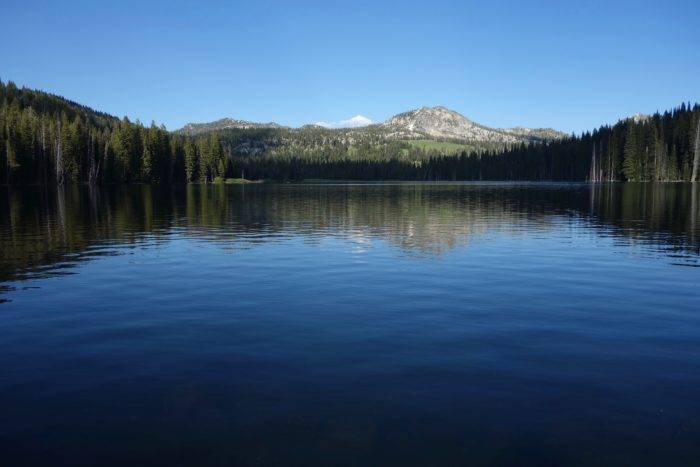 The figure-eight-shaped Boulder Lake is an easy drive from McCall and offers a scenic destination for families. The large lake lies directly south of the 8,377-foot Boulder Mountain, surrounded by conifer-filled woods, flowery meadows, and sloping hillsides. The trek to the lake is well-shaded with dense woods nearly the entire route. Along the walk are several beautiful streams and pockets of colorful wildflowers. Backpackers will find many prime camping spots around the perimeter of the lake. From Boulder Lake, the trail system offers longer hiking opportunities including Louie, Summit, Rapid, Vics, Fogg and Anderson lakes.
Out-and-back distance is 3.2 miles with 800 feet of gain.
Getting There: From McCall, drive south about two miles on ID 55 and turn left on Elo Road. Continue 2.8 miles and turn left onto Boulder Lake Road. Follow Boulder Lake Road (the road turns to a dirt surface at a mile) and drive 4.9 miles to its end at an undeveloped campground. The Boulder Lake Trailhead is located about 500 feet north of the campground along the perimeter of Boulder Meadows Reservoir.
Granite Mountain Lookout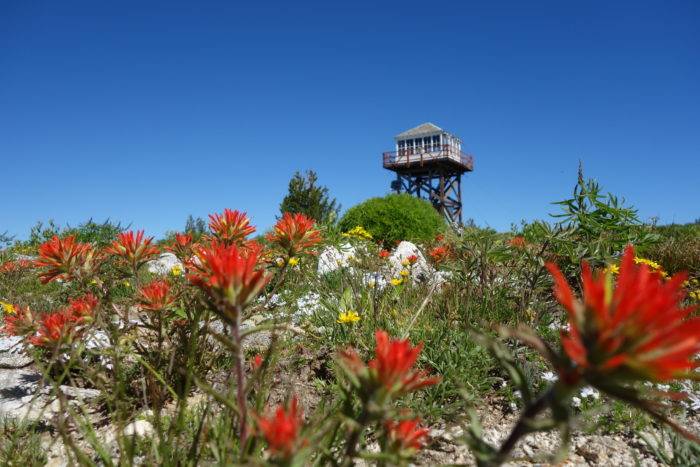 Fire lookouts occupy prime real estate and the lookout atop the 8,478-foot Granite Mountain is no exception. The aptly named mountain is nearly a half-mile wide and offers stunning vistas extending over thirty miles into the Payette National Forest. On clear days, the lofty peaks in the Seven Devils Mountains frame the northwest skyline. Wildflowers are plentiful in late June and July along the open slopes to the lookout and there are outstanding vistas to Goose and Twin lakes.
Out-and-back distance is 5.6 miles with 1,800 feet of gain.
Getting There: From ID 55, west of McCall, turn right onto Brundage Mountain–Goose Lake Road. Travel 6.1 miles to a Y-junction and bear left (FR 257) towards Hazard Lake. Continue another 7 miles and turn left for the signed Granite Mountain/Twin Lake Trailhead.
Box Lake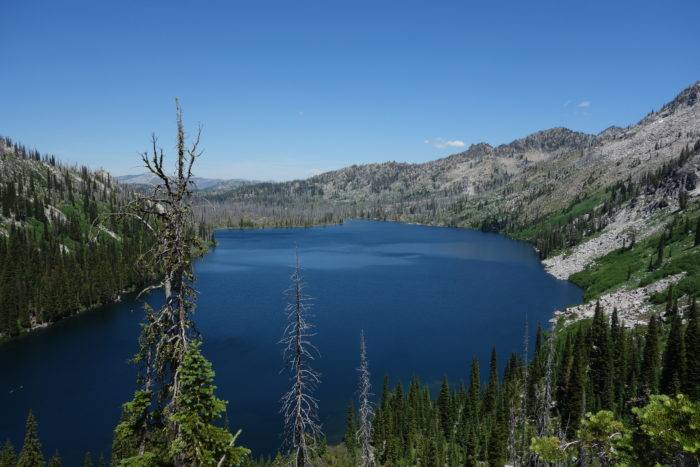 In July, the 3-mile strenuous trek to Box Lake is one of the best wildflower hikes near McCall. A potpourri of flowers including lupine, penstemon, sego lily, columbine, scarlet gilia, Indian paintbrush, lousewort and beargrass bloom into a rainbow of colors. The trail wanders in and out of the forest, past granite outcroppings and across beautiful meadows as it ascends beside Black Lee Creek. The cobalt blue Box Lake is nearly a mile long and is one of the largest mountain lakes in the area and offers good camping possibilities along its south and north side.
Out-and-back distance is 6.0 miles with a total elevation gain of 2,200 feet.
Getting There: From Davis Avenue near Ponderosa State Park, turn right onto Lick Creek Road. Follow Lick Creek Road for 14.1 miles (the road turns to a dirt surface at 6.5 miles) to the signed trailhead on the west side of the road.
Feature image credited to Scott Marchant.
Scott Marchant is a Boise-based guidebook author and landscape photographer. He currently has five hiking guidebooks in print, including his most recent release—Best Easy Hikes Greater Boise. Scott also produces an annual Idaho calendar, Idaho puzzles and other products. Visit hikingidaho.com for more information.
This story was originally published in March 2019. It was updated in May 2020.

Published on May 21, 2020