This is a sponsored post.
Looking for a fun, inexpensive outdoor activity to do with the whole family in winter? Give snowshoeing a whirl! Snowshoeing is gaining popularity across the U.S. and is a winter activity that appeals to all ages and abilities. It's easy to do (if you can walk, you can snowshoe!), a good workout, and one of the best ways to enjoy the beauty and magic of Idaho winters!
If you live in Boise or are visiting the area, we have some of the best places in the country to hit those snow-covered trails.
Depending on how long you plan to be out on the trail, it's always good to be prepared with a few items for your snowshoeing adventures.
What to bring:
Snowshoes and poles
Warm layers of clothes including base layer, fleece and waterproof insulating jacket and pants
Waterproof boots or snow/winter boots
Wool socks + extra socks
Warm gloves and hat
Backpack: food/snacks, water bottles (at least 1 liter per person), small first-aid kit, toilet paper, hand warmers
Map of area and compass
Sunscreen and sunglasses
Headlamp in case you end up on the trail at dark
Bogus Basin Nordic Trails
Have a day off school or looking for a weekend adventure away from the city? Look no farther than Bogus Basin Mountain Recreation Area! Bogus is our favorite local place to play in the winter for skiing, tubing, and snowshoeing. It's situated in the beautiful mountains high above Boise, it's extremely family-friendly, and accessible from town.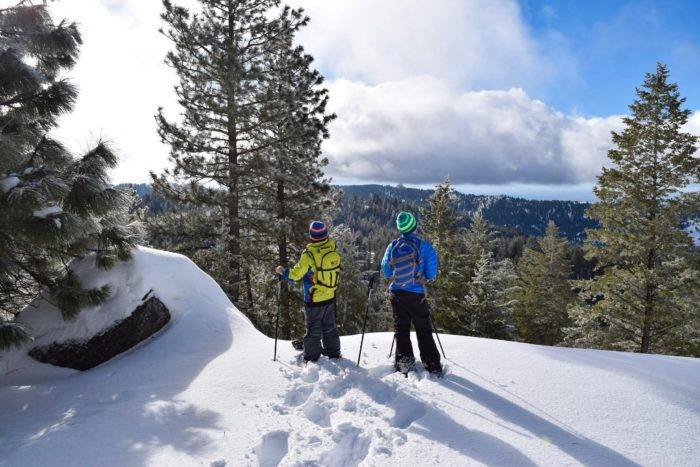 Bogus Basin Mountain has a Nordic Center that can be found by going past the main lodge parking area. From here you can explore more than 20 miles of groomed trails through the forest, including four miles of lit trails at night. Nordic skis and snowshoes are allowed and there are designated trails for both. Our favorite kid-friendly trails are the Nordic Highway (easiest), Red-Tail and Sapper's Return, which you can combine for a loop with the Nordic Highway. If you don't have your own snowshoes, you can rent equipment at the Nordic Center. Dogs are not allowed on trails here.
Prices:
Adults and children (ages 12 and up): $14 full day/$7 half day/night
Children (ages 7-11): $8 full day/$3 half day
Snowshoe rental: $10 full day/$8 half day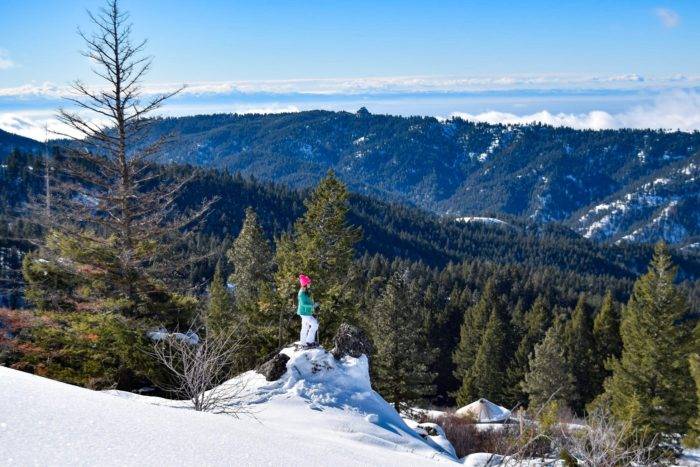 Star Riverwalk
If you're pressed for time and want a quick break outdoors, head to the Star Riverwalk along the Boise River in Star. We discovered this place last winter after a friend told us about it and fell in love! After a big snowstorm one day, we grabbed our snowshoes and headed out the door for a quick snowshoe walk on the trails along the river at this park. So beautiful and serene, and we were the only ones there!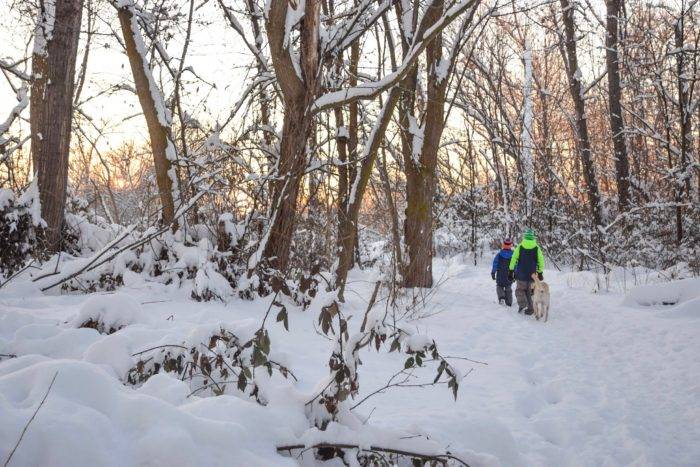 Idaho City Park N' Ski Trails
Idaho City offers over 50 miles of marked trails with about 28 of those groomed each week, but the best part of snowshoeing on the trails here is the powder and the epic views! If you're feeling particularly adventurous, make a weekend out of it and reserve one of the backcountry yurts in the area, such as the Stargazer Yurt. This yurt is only 1.5 miles from the parking area up the Stargaze Trail at Beaver Creek Summit off Idaho Highway 21. We love this yurt because it sits on top of a mountain and offers amazing 360-degree views. It's just magical in the winter!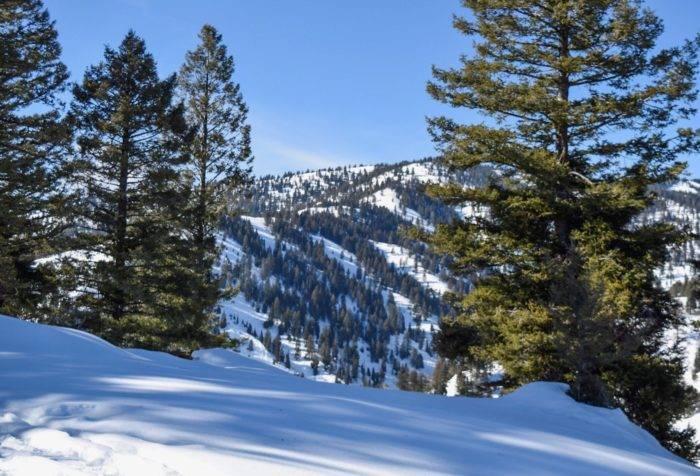 Another great trail and one of our favorites for the family is the snowshoe loop at Banner Ridge because it's relatively easy (about 2 miles round trip if you complete the loop). You also have the option of connecting to the Banner trail to extend the hike for an easier, groomed route back to the parking lot. Whoop-Um-Up Loop is another excellent snowshoe trail for families, which is accessed from the Whoop-Um-Up parking lot. Parking permits are required and cost $7.50 and can be purchased online and printed at home. Dogs are allowed on all of the trails in the Idaho City Park N' Ski trail system except the groomed trails at Banner Ridge.
Snowshoe rentals are available at Idaho Mountain Touring, REI, and Greenwoods or can be purchased at any outdoor consignment store such as Play-It-Again Sports in Boise.
Gold Fork Hot Springs Service Road
Years ago we accidentally discovered a great place to snowshoe that isn't even a trail, but a service road! If you've been to Gold Fork Hot Springs in Donnelly, ID then you might know what I'm talking about. Once you get to Gold Fork Hot Springs, you can park and then just strap on your snowshoes and head up the road (they don't keep it plowed past the hot springs in the winter)! The road is relatively flat and follows along the river. It is quite beautiful and peaceful. We found several places to wander off the road and explore too, but be cautious near the river. Here you can go as far as you would like!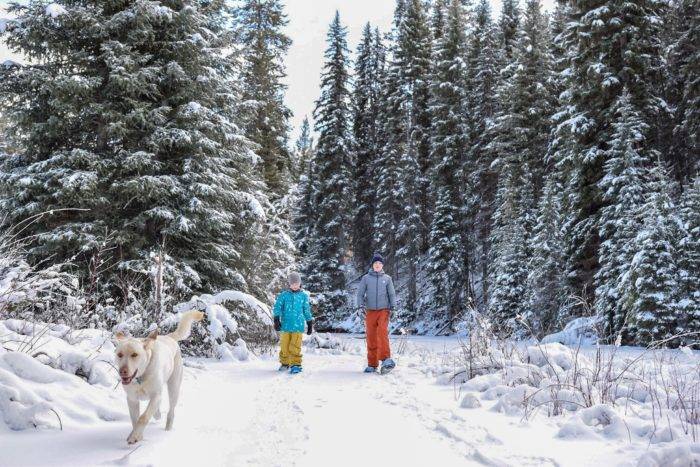 The best part about this snowshoe hike, is the reward after the work, soaking in the relaxing hot springs at Gold Fork. These hot springs are comprised of several natural, alkaline-rich pools of various temperatures with waterfalls, rocks and of course, the wooded forest surrounding them. It makes for a gorgeous winter setting and great fun for the whole family. A must-do!
Gold Fork Hot Springs Prices:
Adults and children (ages 10 and up): $10
Children (ages 2 to 9): $5
Ponderosa State Park
Saving the best snowshoe trails for last, Ponderosa State Park, located in McCall, is the ultimate getaway whether you just want a long day trip or a weekend up in the mountains. Ponderosa State Park lies on the edge of Payette Lake and has 13 miles of groomed Nordic trails and a little over three miles of snowshoe-only trails (groomed trails can be used by snowshoers as well). This park is absolutely stunning because of the huge ponderosa pine trees that tower over the trails (making it all the more gorgeous covered with snow) and views that overlook Payette Lake and the surrounding mountains.
One of our favorite snowshoe walks in Ponderosa is Meadow Marsh Loop (snowshoe-only trail). It's a nice, easy loop and if you're feeling good, you can add on the Lily Marsh trail to Fox Run or Lily Marsh to Ridgeline, which climbs to the top of Osprey Point for an amazing view of the lake. We also love Northern Lights Trail which winds along the lake and Rovers Round-About which is a pet-friendly trail. Make sure to download and print the map of the nordic trails in Ponderosa State Park before you go. The entrance fee for the park is $5.
If you are looking to stay a night or two in the park, campgrounds are closed in the winter, but Ponderosa State Park offers five fully equipped deluxe cabins nestled along the shore of Payette Lake that can accommodate anywhere from 6 to 8 people. The cabins can be reserved year-round and reservations are accepted up to 9 months in advance. Prices range from $75-150 per night not including the reservation and cleaning fees. *Note: To reserve, you must call 1-888-922-6743, since reservations for these cabins cannot be made online.
If you need snowshoe rental equipment, check out Gravity Sports or Hometown Sports in downtown McCall.
Don't let the cold weather and snow deter you from getting outside and enjoying the winter wonderland of Idaho! It's a magical time of year and there is so much waiting for you to explore!
Feature image credited to Christina McEvoy.
Christina McEvoy is an outdoor travel blogger, photographer and content creator at Adventure Together and can also be found on Instagram where she documents her family's outdoor adventures and travels. She and her family live in Boise, Idaho.

Published on February 8, 2018