Tara Morgan worked in partnership with Visit Idaho to create this Travel Tip.
Boise has long been the Treasure Valley's culinary epicenter. But a flurry of new development in Canyon County, just a quick 20–30-minute drive from Boise—including the bustling Indian Creek Plaza in downtown Caldwell—has turned this area into a formidable foodie force. From scratch-made south-of-the-border fare to decadent barbecue with a local flare, these five new restaurants are turning up the heat in Idaho.
Amano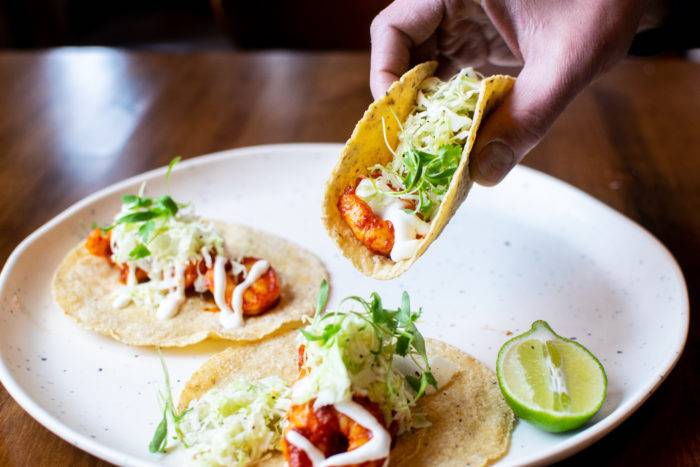 Sal and Becca Alamilla opened Amano in downtown Caldwell in September of 2019. Since then, the James Beard Award-nominated Mexican restaurant has generated considerable buzz for its handcrafted, or "hecho a mano" menu. From the restaurant's fresh heirloom corn tortillas and slow-braised meats to its impressive craft cocktail list and well-stocked mezcal and tequila selection, Amano does it right.
The open, minimalist space features ornate wood ceiling beams and an array of seating options—from stools at the long teal bar to plush terracotta-hued booths to wooden tables clustered near a colorful mountain mural on the back wall.
If you're looking to share a snack and a drink, don't miss the lime-drenched mahi mahi ceviche served on shatteringly crisp tortillas, great with a tequila-laced La Flor cocktail, topped with a purple orchid. For a heartier dish that packs some spice, try the Sinaloa shrimp tacos doused in diablo sauce and topped with crunchy cabbage and cooling crema.
Chop Shop BBQ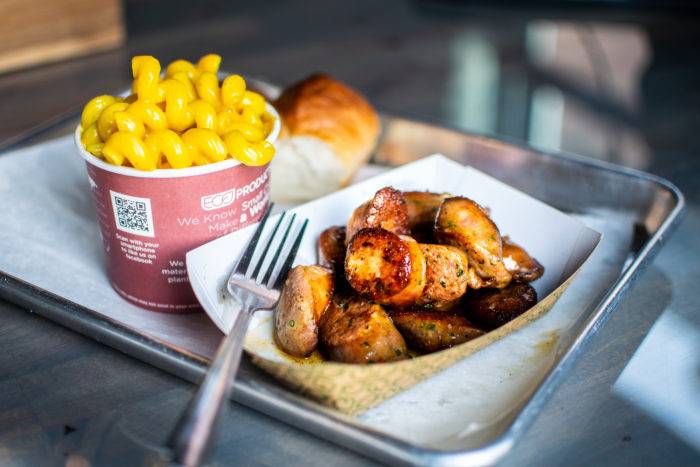 Just around the corner from Amano, past bundled-up families twirling on the new Indian Creek Plaza ice skating rink, is the recently opened Chop Shop BBQ. Helmed by Kris Ott, formerly of Fork/Alavita, the counter-service smokehouse focuses on barbecued meats and ingredients sourced from Idaho farms. The vibe is rustic—with brick and concrete walls, red industrial lanterns and Husky tool cabinets topped with wood chopping blocks in the open kitchen. A giant Vault rotisserie smoker on the back wall churns out everything from St. Louis-style pork ribs to smoked brisket and lamb shoulder. Surprisingly, the spot also offers a fair amount of veggie options, including smoked baby carrots and spiced yogurt, curry fried cauliflower and spicy barbecue jackfruit. A must-try side is the silky smoked butternut squash macaroni and cheese, which paired perfectly with the daily special: housemade pork and fennel sausage dotted with fresh-ground peppercorn.
Holy Cow!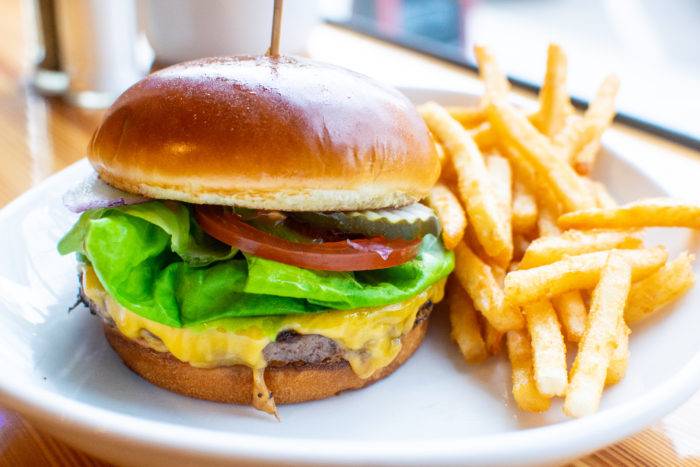 On the hunt for a great local burger? Then hoof it to Holy Cow in downtown Nampa. This red-brick space with high ceilings features a row of teal banquettes with cow-hide patterned backs and a wood bar with a large chalkboard menu. The dishes are comfort food classics with a few twists—like mac 'n cheese egg rolls with smoked bacon and roasted jalapeno aioli. The burger menu dips into decadence with choices like the Fungus Amongus—topped with 60-day cave-aged blue cheese, sauteed mushrooms, bacon and herb mayo—or the outrageous Holy Cow, featuring two burger patties, bacon and american cheese, sandwiched between two grilled cheese buns. If you make it in for happy hour, served daily from 3 to 5 p.m., you can snag a House Burger—featuring a ⅓ pound grass-fed beef patty on a shiny brioche bun with butter leaf lettuce, shaved onions and tomato—for only $5.
Local First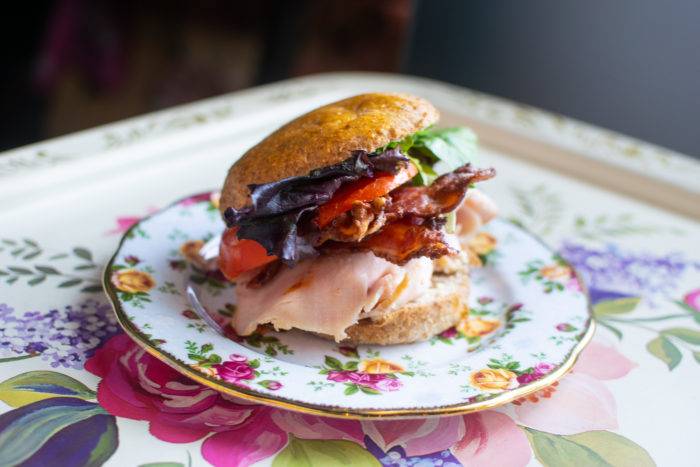 Located in the Nampa Gateway Center, this tucked-away café accommodates gluten-free, paleo, vegan and keto folks—which is no easy task. Opened by Hilary Lee, a co-founder of Gluten Free Galaxy, Local First is decked out with quirky vintage furniture and an Instagrammable wall of pink and white silk roses. The spot also functions as a food incubator and production facility to help grow small- to midsize local food businesses.
Menu options range from fresh salads and scratch-made soups to sandwiches and pizzas with gluten-free or keto crust options—like the Idahome, topped with oven-roasted potatoes, crumbled bacon and mozzarella. The Keto Klub—loaded with turkey, bacon, greens and mayo on a surprisingly fluffy housemade low-carb bun—made for a filling lunch, especially when accompanied by a house craft cocktail or mocktail.
GRIT 2C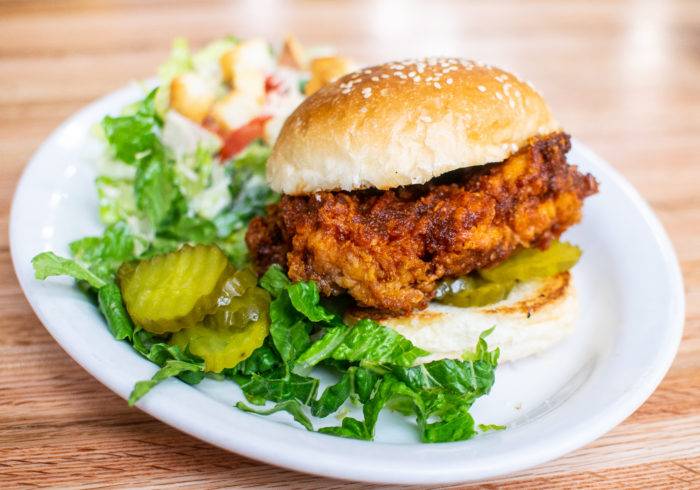 Chef Paul Faucher, former co-owner of Grit American Cuisine in Eagle, opened a similar concept in Caldwell's Indian Creek Plaza in 2019 called GRIT. Located in a historic red brick building, the open space has an industrial feel with a few art deco flourishes. Even on a weekday at 3 p.m., the place is packed with shoppers and happy hour hounds enjoying "shareables" like poutine with red eye gravy and house-pickled fried jalapeños with green goddess dip. The menu sticks mostly to American comfort food dishes like house-ground burgers, made with 10% bacon, and sandwiches like the Grit Dip—loaded with smoked eye of round, caramelized onion bacon jam, black pepper sauce, cheddar and ham hock au jus. Don't miss Faucher's signature slow-fried chicken, available as a lemon-brined appetizer or lacquered in spicy Nashville sauce and served with pickles on a toasted sesame bun.
Feature image credited to Tara Morgan.
Tara Morgan is a freelance food + booze writer and co-owner of the company Wild Plum Events. She loves an epic dinner party, good design, bad puns and pretty much every French rosé ever made.

Published on January 14, 2020