Tiffany Burghart worked in partnership with Visit Idaho to create this Travel Tip.
As a family that loves outdoor adventure, we are always hunting for destinations and activities to experience together. And although some of us would prefer the heat of summer over the crisp chill of winter, we've learned to bundle up, embrace the beauty of winter, and explore new destinations together.
We had the opportunity to visit Idaho for five fun-filled days of outdoor adventures. Snowboarding is one of our favorite cold-weather activities, and we loved the time we spent at Bogus Basin and Pomerelle Mountain. After a week of checking out what Idaho winters have to offer, here are five additional winter adventures that took us by surprise in the best possible way.
Winter Tubing at Bogus Basin
If you want a winter activity that is sure to bring out your inner child, try tubing! Bogus Basin Mountain Recreation Area has been on our snowboarding wish list for several years. So, when we found out they also had snow tubing, we couldn't wait to try it out.
After picking up our tickets (which must be purchased online and in-advance of your arrival), we each grabbed a tube (no lap riders) and lined up at the top of the hill. The staff gave us a brief orientation, and we set off down the 800-foot Pepsi Goldrush Tubing Hill. The thrilling ride had us laughing, squealing, and grinning from ear to ear the entire time. And no need to worry. A convenient conveyor belt lift saves your legs and takes you and your tube back to the top to repeat the fun.
For even more fun, check out the Glade Runner Mountain Coaster. It's sure to keep your adrenaline pumping and a smile on your face.
Things to Know
Tubing is open on weekends, most Fridays, and holidays.
Sessions last 90 minutes, and you must book reservations online in advance.
Children must be 38" or taller to ride, and there is a weight limit of 300 lbs.
Snowshoeing at Craters of the Moon
Craters of the Moon National Monument and Preserve is a dormant volcano with a unique landscape any time of year. It was created over time by lava flows that erupted from deep cracks in the earth and formed the lava beds that are present today. But with a blanket of snow, it transforms into a winter wonderland perfect for a day of adventuring. And although Craters' Loop Road closes to vehicles in winter, it opens to snowshoers and cross-country skiers.
We began our visit at the visitor center, where we borrowed snowshoes and learned more about the park. After a brief orientation, we headed out on the one mile snowshoe loop. Along the trail, we saw large and small cinder cones jutting out from beneath the stark white blanket of snow. The entire trek had all of us, including the kids, in awe.
Things to Know
You can borrow snowshoes from the Craters of the Moon Natural History Association at the visitors center. Donations are accepted.
Snowshoes are available Wednesday to Sun from 9 a.m. – 2 p.m. and must be returned by 3 p.m.
Take note of the signage along Loop Road, noting cross-country ski trails to the left and snowshoeing to the right as you leave the visitor's center to keep the trails in good condition.
The visitor center does close for a small portion of the winter months. Check the website or call ahead if will need access to the visitor center during your visit.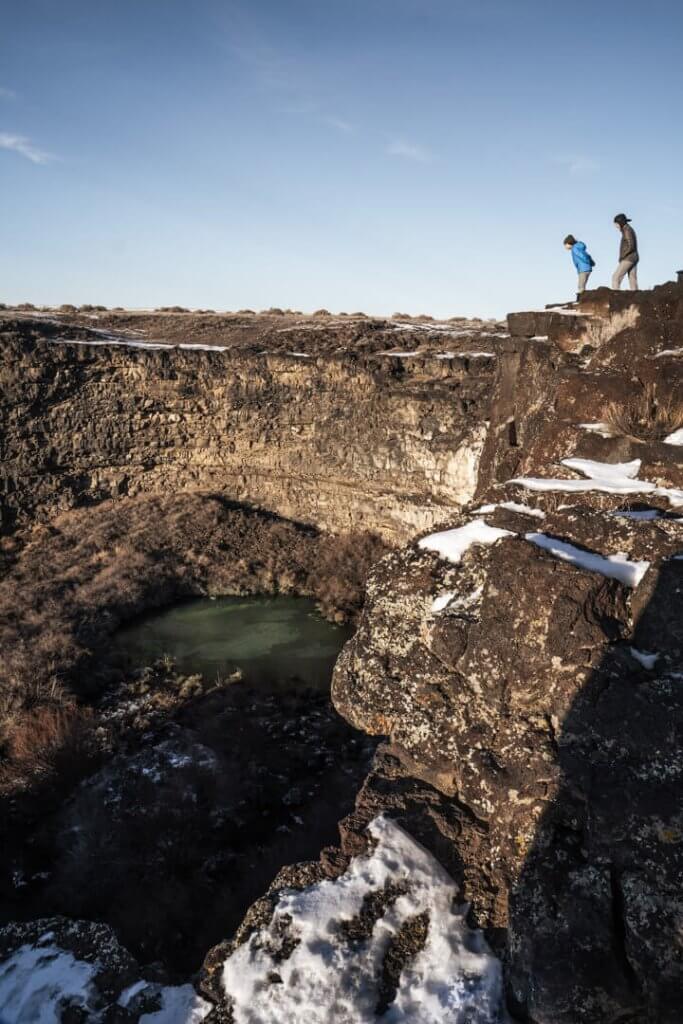 Thousand Springs State Park
When we heard about the Box Canyon unit of Thousand Springs State Park, we knew we had to make it part of our trip. Thousand Springs State Park includes six different park units, all within a short driving distance along the Thousand Springs Scenic Byway.
The Box Canyon Springs Nature Preserve is accessible with a short walk along the access road from the front parking lot during winter. Along the quiet walk, our only companions were the cows from neighboring farms. Just past the second parking lot (accessible by car in summer), you'll find an overlook that gives you a bird's eye view deep into the canyon, where a bright teal blue pool of water pops against the white snow and canyon walls.
Things to Know
The walk from the winter parking lot to the scenic overlook is about three quarters of a mile on gravel.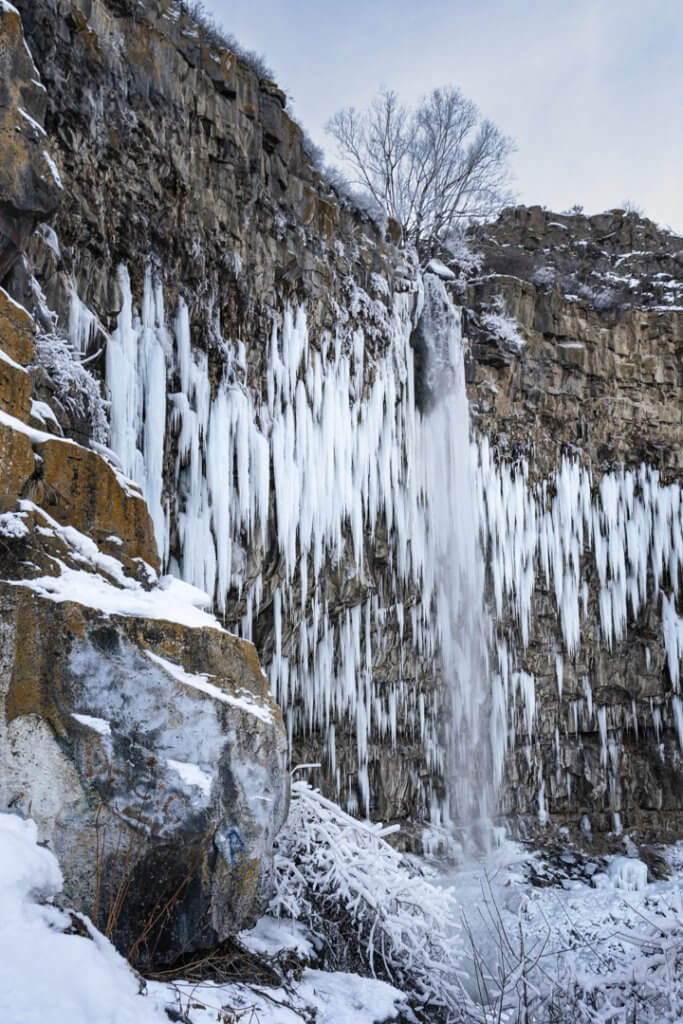 Perrine Coulee Falls
We love visiting waterfalls, and Perrine Coulee Falls in Twin Falls is no exception. Although the water flow is stronger in summer, during winter the real showstoppers are the many icicles lining the canyon walls alongside the waterfall.
After viewing the falls from below, head to the Canyon Rim Trail for a completely different perspective of the waterfall, the canyon, and the Perrine Bridge. This easy trail is paved and offers over 10 miles with various viewpoints along the way.
Things to know:
There is no official parking lot or obvious trail from the road for the falls.
Park along the side of the road on the way to or from Centennial Waterfront Park and walk to the falls, heeding no parking signs.
Be mindful of the snow and ice along the side of the road and on the rocks – it can be very slippery.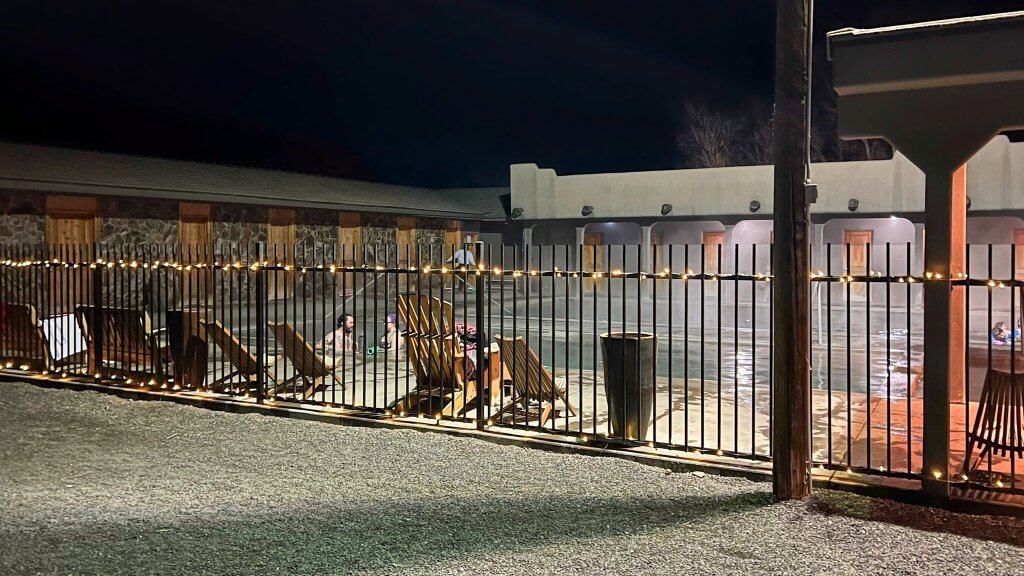 Soaking at Miracle and Banbury Hot Springs
One of our favorite ways to relax and soothe aching muscles after winter adventures is soaking in a hot spring or heated pool. And during our trip to Idaho, we were lucky enough to do both.
Located just two miles apart in Buhl, Miracle and Banbury Hot Springs are both relaxing geothermal hot springs. We chose to visit Miracle Hot Springs and took advantage of a private hot pool with an open-air ceiling to enjoy the stars during our soak. The soft, silky water was surprisingly hot without the odor you often expect from a hot spring.
Things to know:
Outdoor pools at Miracle Hot Springs have varying temperatures, allowing you to choose your preference.
If you choose to book a private pool, you must make reservations online ahead of time. We were able to find same-day availability, so it's always worth a try, even if it's last minute.
Banbury Hot Springs has a pool with a deep end and diving board.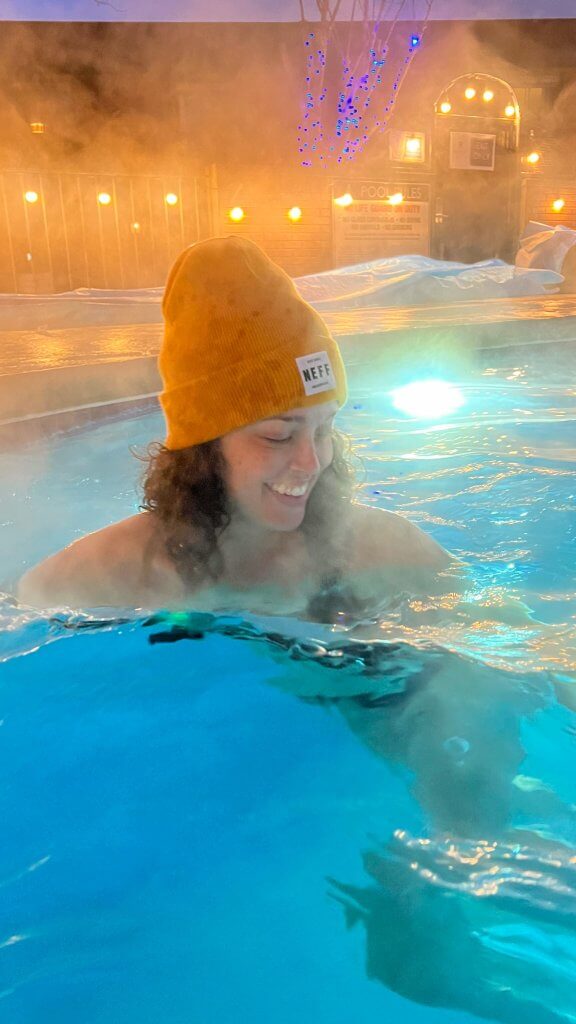 The Riverside Hotel Boise
If you're looking for a place to stay in Boise, The Riverside Hotel should be on your list. As a guest, you'll get access to their heated saltwater pool and hot tub. The large pool has plenty of room for kids to play and for adults to relax.
Things to Know:
Heated towels are available to make that transition back to the cold air a little easier.
Children are allowed in the pool area from 4-8 pm. From 8-10 pm, the pool is for adults only.
The pool is only available to hotel guests.
Many people think of skiing and snowboarding when visiting Idaho in winter. But there are plenty of adventures to experience off the slopes as well. If you're planning a winter trip to the Gem State, we encourage you to try some of these activities for a truly unique vacation.
Feature image credited to Visit Idaho.
Tiffany Burghart is a blogger, photographer, and content creator at The Stoke Fam and on Instagram where she empowers families to get out and explore together while building stronger relationships with their growing children and tweens.

Published on January 10, 2023