This is a sponsored post.
Pairing wine with turkey is a breeze. But finding one that also works with the myriad side dishes that crowd a typical Thanksgiving table can be a head-scratcher. You need something that'll compliment the herbed stuffing without clashing with the marshmallow-topped sweet potatoes, something that'll stand up to the tart cranberry sauce while cutting through the creamy green bean casserole.
For maximum Thanksgiving pair-ability, experts recommend fruit-forward, low tannin wines with a fair amount of acidity. Which is good news, if you're looking to drink local this Turkey Day. Idaho wineries have a range of excellent options—from dry rieslings to peppery Rhone-style red blends—that are sure to please those surrounding your Thanksgiving table. The following wines can be purchased from Boise Co-op Wine Shop at the price listed, or direct from the winery's tasting room.
Coiled Wines, 2016 Dry Riesling, $16.99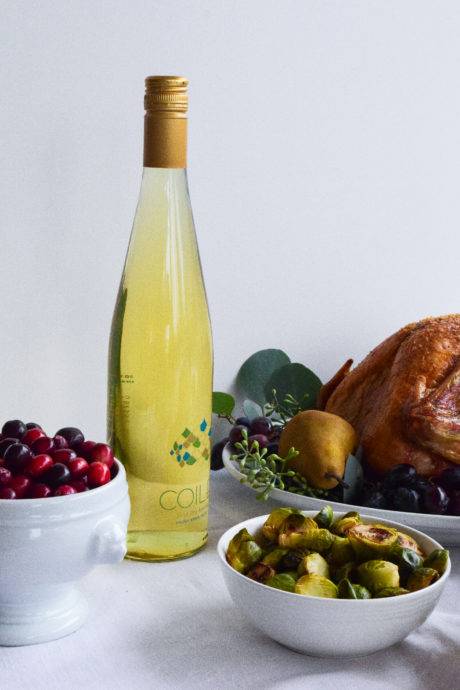 One of Thanksgiving's go-to pairings, Riesling is a crisp, floral German white with relatively high acidity that can range in style from sweet to bone dry. Coiled winemaker Leslie Preston has been championing Riesling for years, noting that the grape is particularly suited to Southern Idaho's climate. Coiled's 2016 Dry Riesling has citrusy honey aromas on the nose, bright fruit flavors with a hint of herbaceousness on the palate and a crisp, food-friendly finish.
Cinder Wines, Laissez Faire Red, $16.99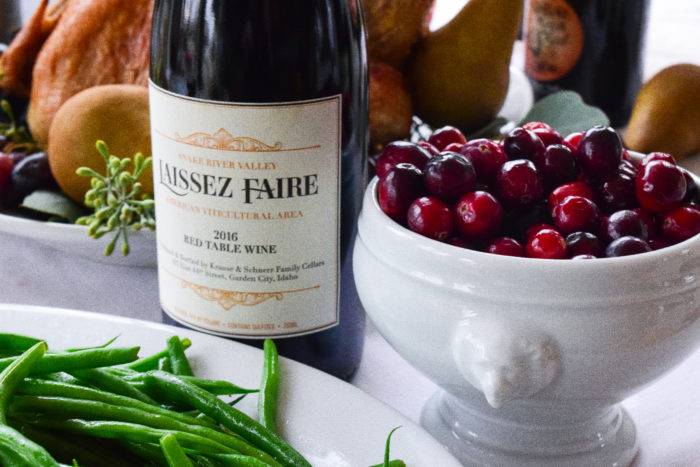 Though Cinder's "let it be" red blend, Laissez Faire, is dubbed "the discerning wine drinker's midweek wine," it also cleans up nice for special occasions. Made from a blend of Sangiovese, Mourvèdre and Cabernet Sauvignon, this medium bodied, intensely fruity European-style table wine has hints of spicy black pepper and red currant on the nose, with plenty of food-friendly acidity on the long, textured finish.
Split Rail Winery, 2016 Daft Pink [Le Deux] Brut Rose, $15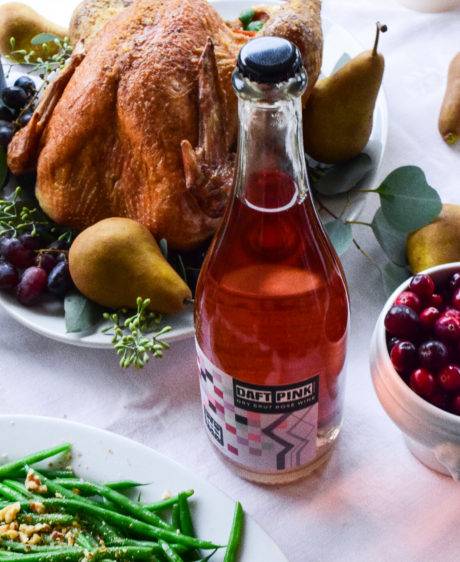 Known for its whimsical wines—like the Laser Fox Cinsault or the Horned Beast SGM—Split Rail aims to "create killer wine that spontaneously combusts your mind" while also defeating "the pompous mantra of wine." And the Garden City winery's Daft Pink Brut Rose continues that mission. Made with Sangiovese from the Columbia Valley, Split Rail's fizzy Daft Pink has notes of strawberry and cherry and goes great with everything from appetizers to dessert.
Fujishin Family Cellars, 2016 Dry Gewurztraminer, $15.99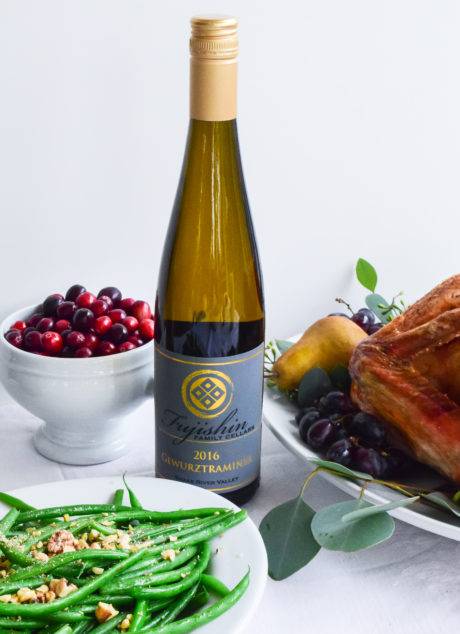 Riesling's spicier cousin Gewurztraminer is another great pick to match the varied spread on most Thanksgiving tables. With a name that literally means "spicy Traminer," this German grape is known for having complex aromas of lychee, rose petal, apple, pear and grapefruit. At Fujishin Family Cellars, Winemaker Martin Fujishin specializes in Dry Gewurztraminer, which has all of the wine's trademark lychee and stonefruit flavors, without the residual sugar. It's a complex wine that Fujishin's website says pairs well with "everything from Thanksgiving turkey to Asian spiced pork and chicken."
Colter's Creek, 2013 Arrow Rim Red, $29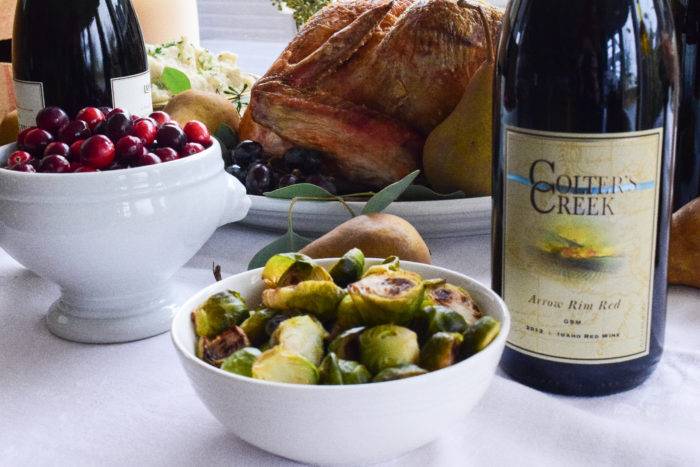 French table wines tend to make great picks for Thanksgiving, particularly options like Beaujolais or Cotes du Rhone. Which is why Colter's Creek's Arrow Rim Red—a classic Southern Rhone blend of Grenache, Syrah and Mourvèdre—is a perfect choice for Turkey Day. The North Idaho winery's medium-bodied red blend features notes of spice and plum on the nose, with black pepper on the palate and smooth tannins on the finish. Colter's Creek's 2013 Arrow Rim Red was named one of the top 50 wines of 2016 by the Seattle Times' Pacific NW Magazine.
Telaya Wine Co., 2016 Marsanne, Garden City, $25*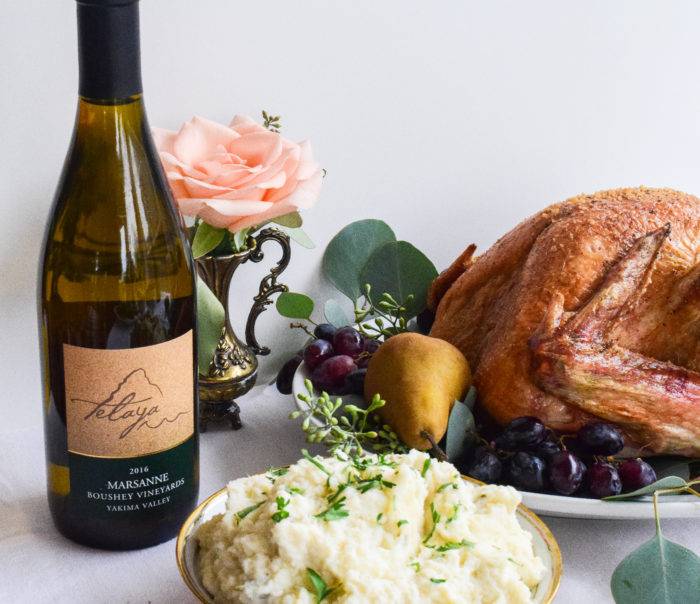 Marsanne, a white grape from France's northern Rhone region, is known for producing rich, nutty wines. Telaya's 2016 Marsanne, sourced from Boushey Vineyards in Yakima, is no exception. Aged in neutral French oak for 10 months, this wine was bottled in the spring and released in the autumn. This "fall white" has a lush mouthfeel and hints of apple and Meyer lemon zest, which provide a perfect complement to turkey skin.
*Only available in the Telaya Wine Co. tasting room.
Williamson Orchards & Vineyards, 2012 Harvest Moon Red, $22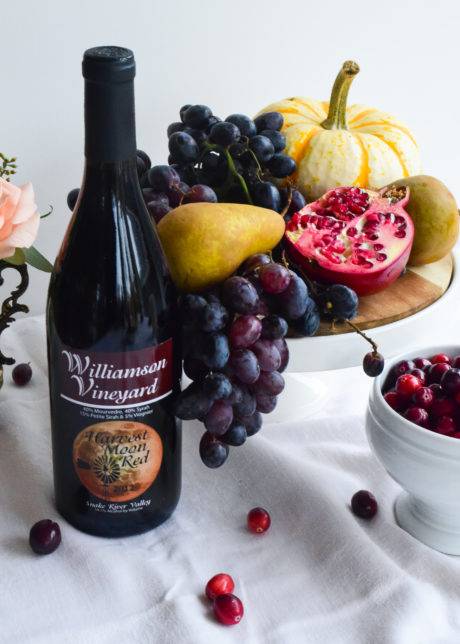 Even though Williamson's 2012 Harvest Moon Red has been aged for 28 months in small oak barrels, this blend of 40% Mourvèdre, 40% Syrah, 15% Petite Sirah and 5% Viognier is uncommonly soft. With floral notes and plenty of currant and red berry on the nose, this medium bodied, 100% estate-grown wine has a nice mouthfeel and pleasant black pepper finish.
Koenig Vineyards, 2013 Riesling Ice Wine, $22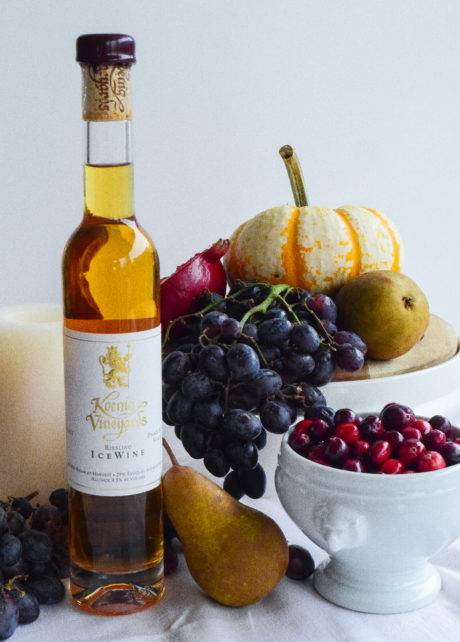 Made from grapes that have been frozen on the vine, Ice Wines are sweeter wines that tend to pair wonderfully with dessert—everything from fresh fruit to cheese to pecan pie. Koenig's 2013 Riesling Ice Wine is viscous and decadently sweet, with a whopping 19% residual sugar, but its concentrated apricot and fig flavors and surprisingly bright acidity make it a great dessert pairing.
Feature image credited to Tara Morgan.
Tara Morgan is a freelance food and booze writer. She's an Editor at Edible Idaho Magazine, writes for publications like VIA Magazine and SIP Northwest and runs the website Boise Feed. She loves an epic dinner party, good design, bad puns and pretty much every French rosé ever made.

Published on November 16, 2017