Rolling Van worked in partnership with Visit Idaho to create this Travel Tip.
Early morning, dark skies, brisk air, and a hunger to catch those first turns. The only sound we could hear was the boiling of water for our morning coffee. We poured the fresh brew into our mugs and walked out onto our tailgate—the makeshift patio of our truck camper. We were set up in a prime parking spot in the overnight lot of Schweitzer alongside a few other RVs and campers. As we took the first sip from our steamy mugs, the sun rose above the horizon and lit the sky on fire. We watched the light slowly inch onto the mountain and the sun soar above Lake Pend Oreille. This moment was simply breathtaking. The best part of it all: you could hear a pin drop.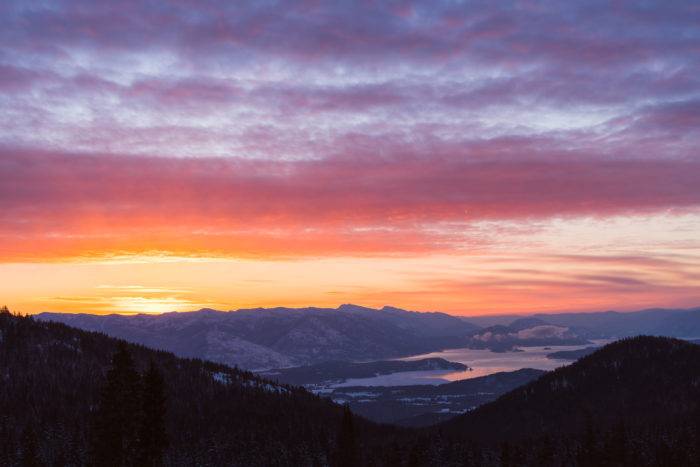 We strapped on our boots, zipped up our jackets and were eager to ride on this bluebird day. We made it to the first chair, and at that moment, we realized we'd found the perfect skier's paradise. Our first run was on the front side, which provides spectacular views of Lake Pend Oreille as you carve your way down to the base. You can't help but draw comparisons of this mountain to resorts in Lake Tahoe. Schweitzer has incredible views and a significant snowfall—averaging about 300 inches a year.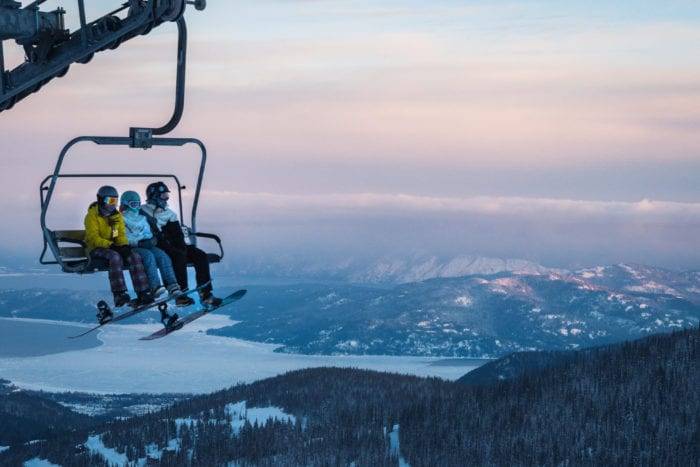 However, the main draw for us was the vast and playful terrain and great conditions without long wait times. Schweitzer has the goods of California's resort towns minus all the traffic. In a world with so much noise and overcrowding, we found silence and solitude in this mountain, and it's something we want to hold onto. We had just arrived in town from Whistler/Blackcomb, and it was pretty refreshing to return to the calm after the storm. We covered as much terrain as possible and skied until our legs felt like jelly.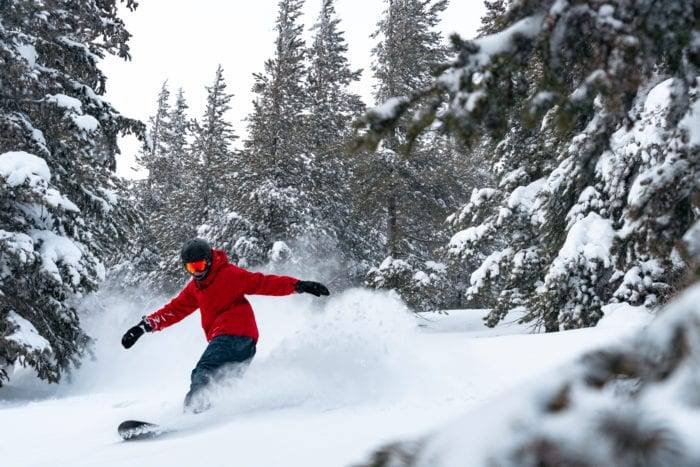 The following day, we decided to explore the town closest to Schweitzer—Sandpoint. We began our day with mouthwatering breakfast burritos at Joel's. Following breakfast, we grabbed some coffee at Evans Brothers Coffee Roasters. This is a community hot spot and should definitely be scheduled into your morning routine while in town.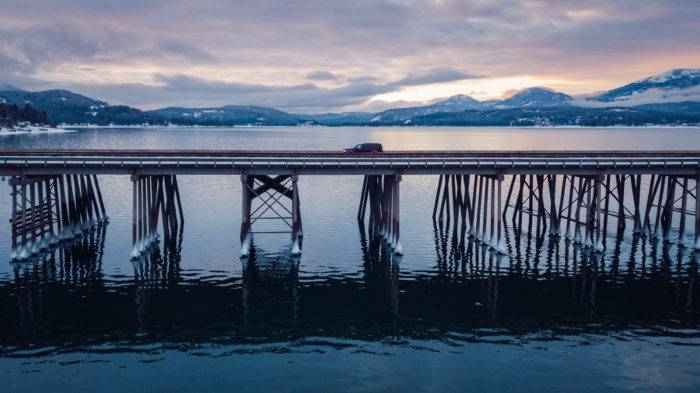 It was time for lunch and, of course, local beers. We strolled across the street from Evans Brothers Coffee and into Matchwood Brewing Company. When you first swing open the doors, it's apparent this is a special place. The building is absolutely beautiful. We met both the owners, and after exchanging life stories, you could tell they put their heart and soul into the design and rebuild of this building. We grabbed lunch from their eatery (try a burger!) and paired it with their hazy IPA. The owners are incredible individuals and true masters of their craft(s), and their beer is certainly the best we've had in Idaho, hands down.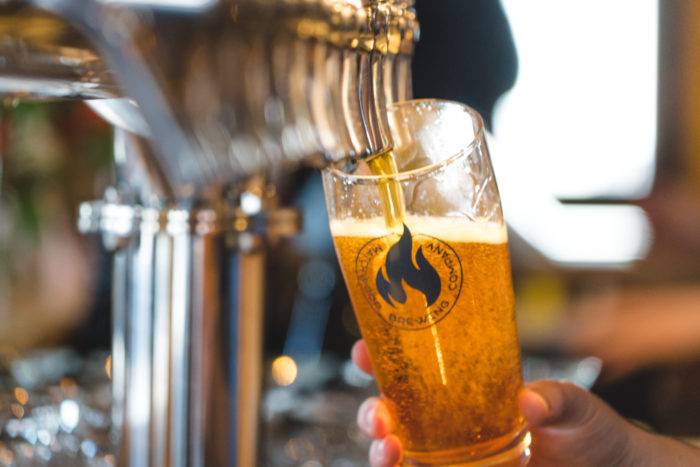 They recommended we check out Beet and Basil for dinner. We took their advice and strolled downtown to indulge in more local cuisine. Beet and Basil began as a food truck but has opened up a beautiful new restaurant. It focuses on global flavors with local flare. Both of our dishes were fantastic, and the atmosphere provided the perfect end to our 36 hours in this part of northern Idaho.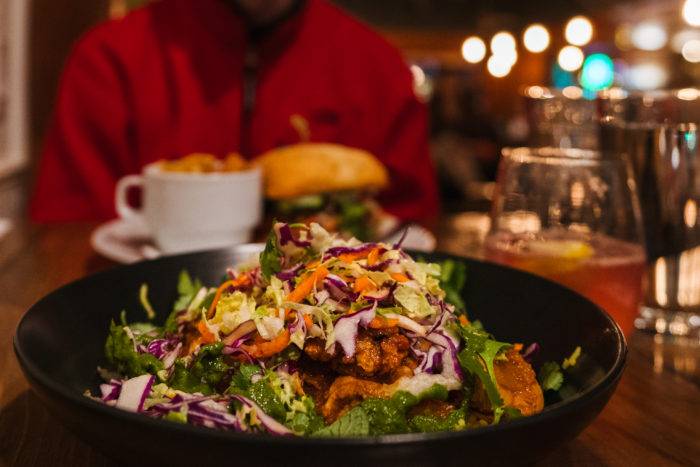 We were hesitant to share the story of this place. We surely wanted to keep Sandpoint and Schweitzer as our own secret ski destinations. However, the local Sandpoint businesses and this epic mountain are too good not to be shared. You can thank us later.
Add to your northern Idaho ski adventure with a few turns at Lookout Pass. Check out our guide to this mountain oasis here.
Feature image credited to Rolling Van.
Matt and Aaron are a duo of professional videographers and photographers seeking to push the boundaries of visual storytelling. These Canadians have been working remotely and traveling North America for the past two years in their camper van. Check out some of their work @therollingvan.
Updated on January 27, 2023
Published on February 27, 2020