Christina McEvoy worked in partnership with Visit Idaho to create this Travel Tip.​​​​​​​
They don't call Shoshone Falls the "Niagara of the West" for any ole' reason. Located in south central Idaho on the Snake River in Twin Falls, stands the iconic Shoshone Falls at 212 feet tall. Most people only have the chance to view these falls from the top, where you'll find the scenic overlook and a picnic area, but what many don't know is that the view from the bottom is even more spectacular if you're up for the challenge!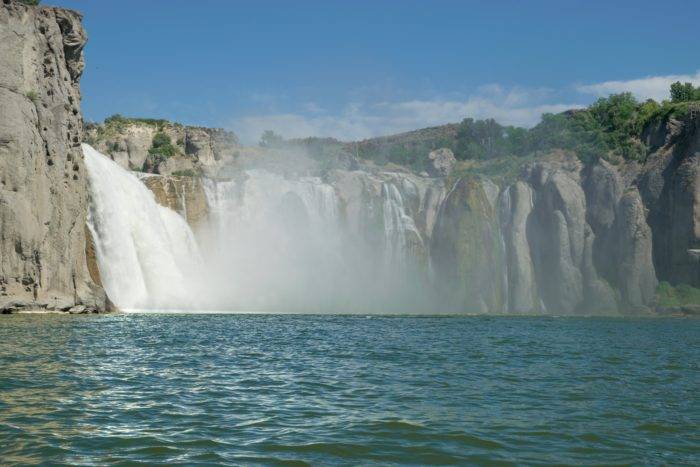 The first time we saw a photo of people paddleboarding at the base of Shoshone Falls, our jaws dropped and we knew we had to figure out how to get there. It just looked EPIC. After doing a bit of research, we noticed that not many people were making the 8-mile round trip with kids, let alone without kids. In fact, we even wondered if it was possible! Determined to learn how we called AWOL Adventure Sports to find out.
The staff informed us that with the right equipment, a little bit of preparation, and lots of snacks we could definitely do it. The first time we paddled to the bottom of Shoshone Falls was in the summer of 2016. That experience left such a big impression on us that we decided to do it again a couple of years later!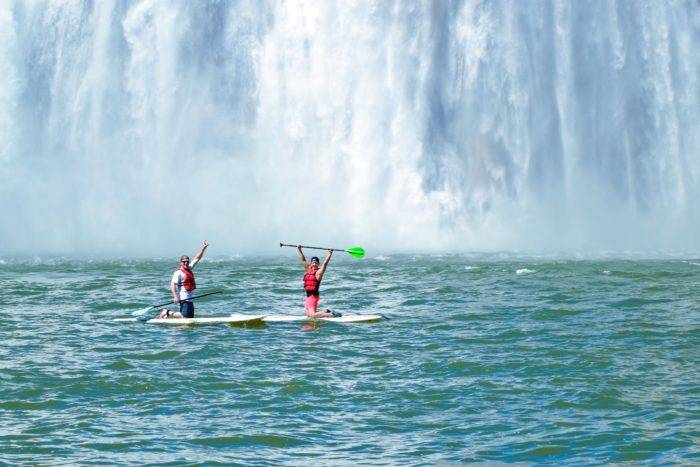 Know Before You Go:
There are a few things to consider before making the trek to Shoshone Falls (with or without kids):
If you decide to paddleboard and not kayak, it is recommended that you have experience paddleboarding. It's a long trek to make in one day, plus the water near the falls is quite choppy making it more unstable on a paddleboard. If you aren't confident about your skill level and abilities, we would definitely recommend kayaking instead.
Idaho law requires that children 14 and younger wear a life jacket when on the water. Older children and adults are required to have a life jacket with them. This is the Snake River so wearing life jackets all around is recommended.
Wear a water shoe that attaches securely to your foot.
Even though you can rent equipment from Memorial Day to Labor Day weekend, you will want to check water flows before making this trip. Typically the water flows are reduced in early to mid-July allowing adventures to embark on this journey. Paddling up to the base of the falls is prohibited and too dangerous before then.
If you need to rent kayaks or paddleboards, make sure to reserve ahead of time, especially if you go on a weekend. AWOL has a rental location next to the Snake River at Centennial Waterfront Park. Rentals cost between $20-60 for one water vessel depending on the length of time you're gone. Life jackets are included and REQUIRED for each person ( because it deserves repeating, children under 14 have to wear them at all times, and adults 16 and older are required to have a life jacket with them).
Plan accordingly, especially if you are renting equipment. Rentals typically have to be returned by 6 or 7 PM, and the entire trek to Shoshone Falls can take 5-7 hours. We suggest getting on the water no later than 10 AM, so you have ample time to paddle up to the falls, but also take breaks to swim and eat lunch. It's a full-day adventure!
If you are bringing children, use discretion on how long you think they can last out on the water. Younger children might do better in kayaks than on paddleboards (plus it's probably safer!). Make sure to double up on paddleboards and kayaks if you have kids with you (unless they are older and capable of paddling the whole way on their own).
Bring plenty of snacks and water with you because summer is hot and you will be out on the water all day. It is best to bring a dry bag or cooler to store your food and drinks. We prefer a dry bag so we can store camera equipment too.
Don't forget to wear sunscreen and reapply every 90 minutes on the water.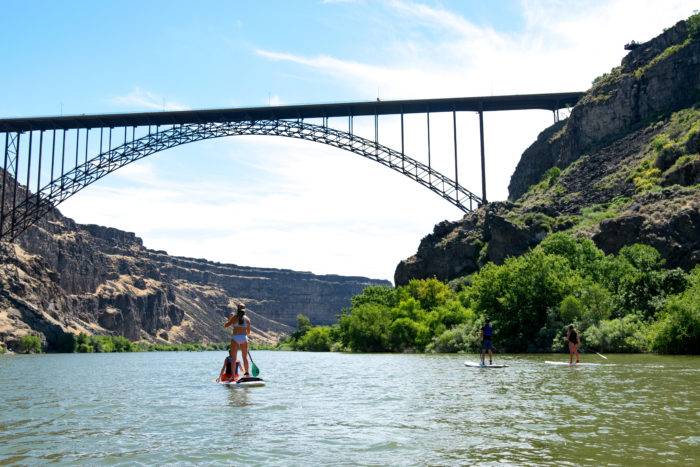 The Trip to Shoshone Falls
Begin the day at Centennial Waterfront Park in Twin Falls. There is a free parking lot and a big grassy area to unload your gear. As mentioned earlier, AWOL Sports has a location at the park making it super convenient to rent and launch your kayaks or paddleboards. Once on the water, you will paddle upstream towards the Perrine Bridge and Shoshone Falls. The good thing is that you won't feel overly taxed because the Snake River's flow slows down in the summer. Think of paddling on a calm lake and that's what paddling on this section of river will feel like.
Continue under the Perrine Bridge, the 1,500-foot long arch-style bridge spanning the 500-foot deep canyon. Make sure to look up to see the BASE jumpers leaping from the bridge with their parachutes. The first leg of the trek is easy and flat and after about two miles, you'll arrive at Pillar Falls, which is about halfway to Shoshone Falls. Many people make their final destination Pillar Falls, so if you aren't quite sure you want to make the full trek to Shoshone Falls, this is a great place to stop and turn around. However, it's well worth going the whole way if you are up for it!!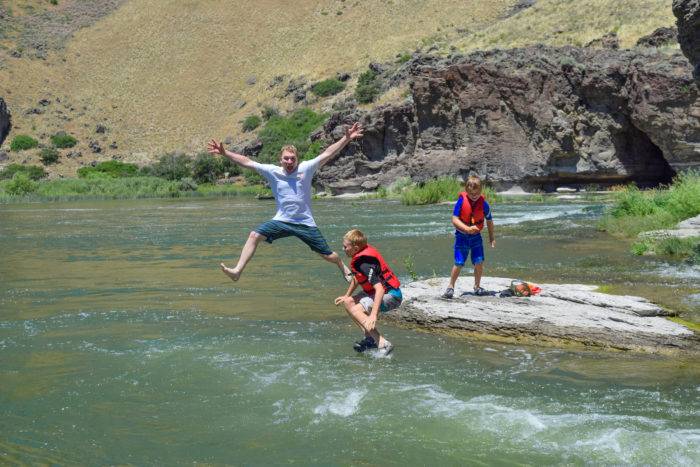 Continuing onto Shoshone Falls from Pillar Falls is where it can get tricky. In order to get around Pillar Falls, you have to portage out across the falls, about 300 yards. Depending on the time of summer that you make the trip, these falls can still be pretty full making it a little sketchier to cross them. In order to cross the falls successfully, look to the far right side of the falls (if you are facing the falls). There is an area here where you can walk up around the rocks (you will most likely be walking in a little bit of water), through a marshy area and then back into the river to continue on towards Shoshone Falls.
Portaging out across this area will require teamwork to move paddleboards, kayaks and gear—so use caution as it can be slick walking across the rocks. We would recommend having one hand free at all times too (or holding a child's hand if you have kids with you), so you can use it to hold onto the rock face to your left. Stay close to the rock face as you make your way up until you reach the marshy spot.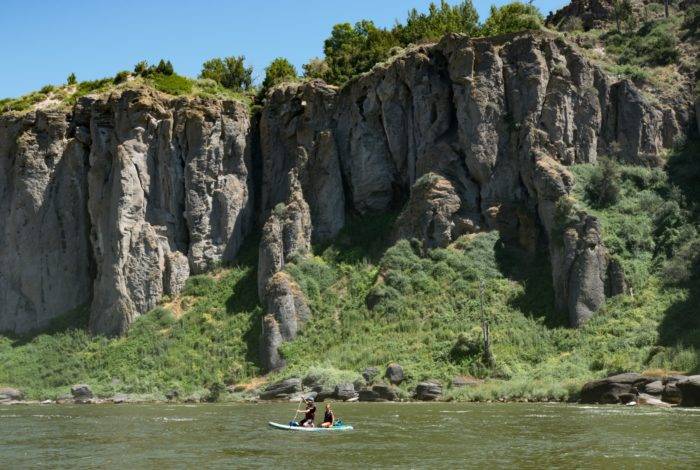 Once you've navigated around Pillar Falls, it's about another 1.5 miles up to Shoshone Falls. By the time you reach these impressive falls, you will most likely be tired, but witnessing this spectacular wonder from river level will be well worth the wait. It is truly a once-in-a-lifetime experience. The falls are so breathtaking and mesmerizing, yet you will quickly realize how powerful they are too. Because of the turbulence of the water and the strong hydraulics beneath the falls, you should view this geological wonder from a safe distance. If you are on a paddleboard, you will notice how the currents from the river and crashing falls get more intense, so getting down on your knees (versus standing) or sitting down is probably necessary.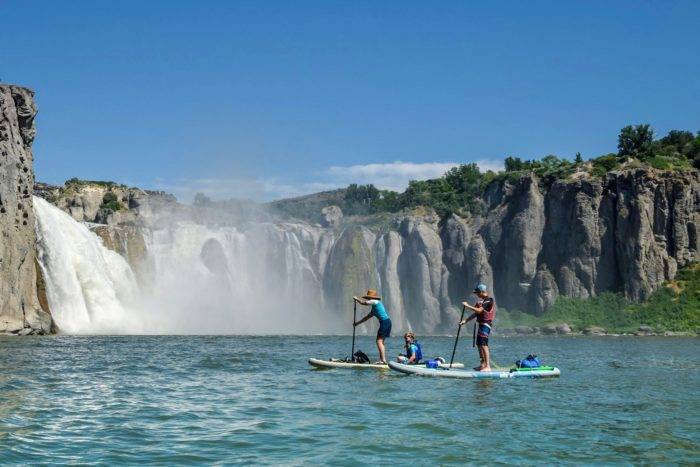 On the far right side of the falls are some rocks and areas where you can pull off to take a break, eat a snack and snap some photos. Soak in those views and the accomplishment of making it this far!! Enjoy your break here before making the four-mile paddle back.
Take note that you will be going with the current downstream on the way back to Centennial Park, meaning that the return trip will generally be faster (especially if you minimize the breaks). Don't forget to catch the incredible views of the canyon going in the opposite direction. This will be an experience that everyone will remember.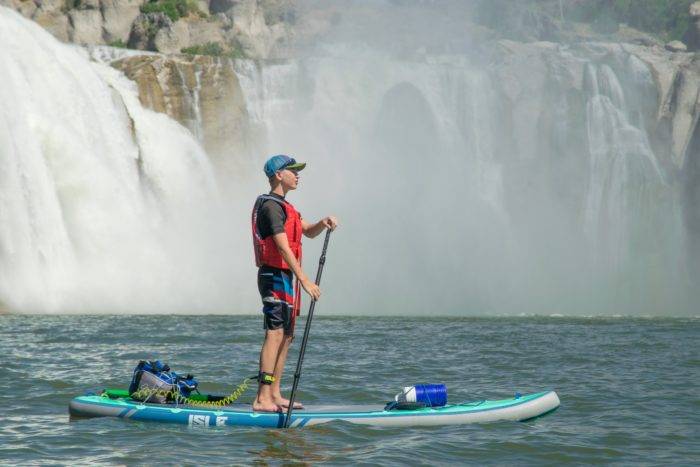 Feature image credited to Christina McEvoy.
Eric and Christina McEvoy are photographers, writers and outdoor travel bloggers at Adventure Together and can also be found on Instagram where they document their family's outdoor adventures and travels and inspire others to do the same. She and her family are from Boise, Idaho but are currently traveling the world full-time.
This story was originally published in July 2019. It was updated in June 2020.

Published on June 2, 2020