Jessica Darrington of Part Time Tourists worked in partnership with Visit Idaho to create this Travel Tip.
If you haven't heard the term "glamping" yet, it's a mix between the words "glamorous" and "camping". Glamping is when the incredible outdoors meets modern luxury. It's a great way to experience nature, especially if you have kids! Ready to hit the road? Try this four-day glamping itinerary through some of the most gorgeous parts of Idaho.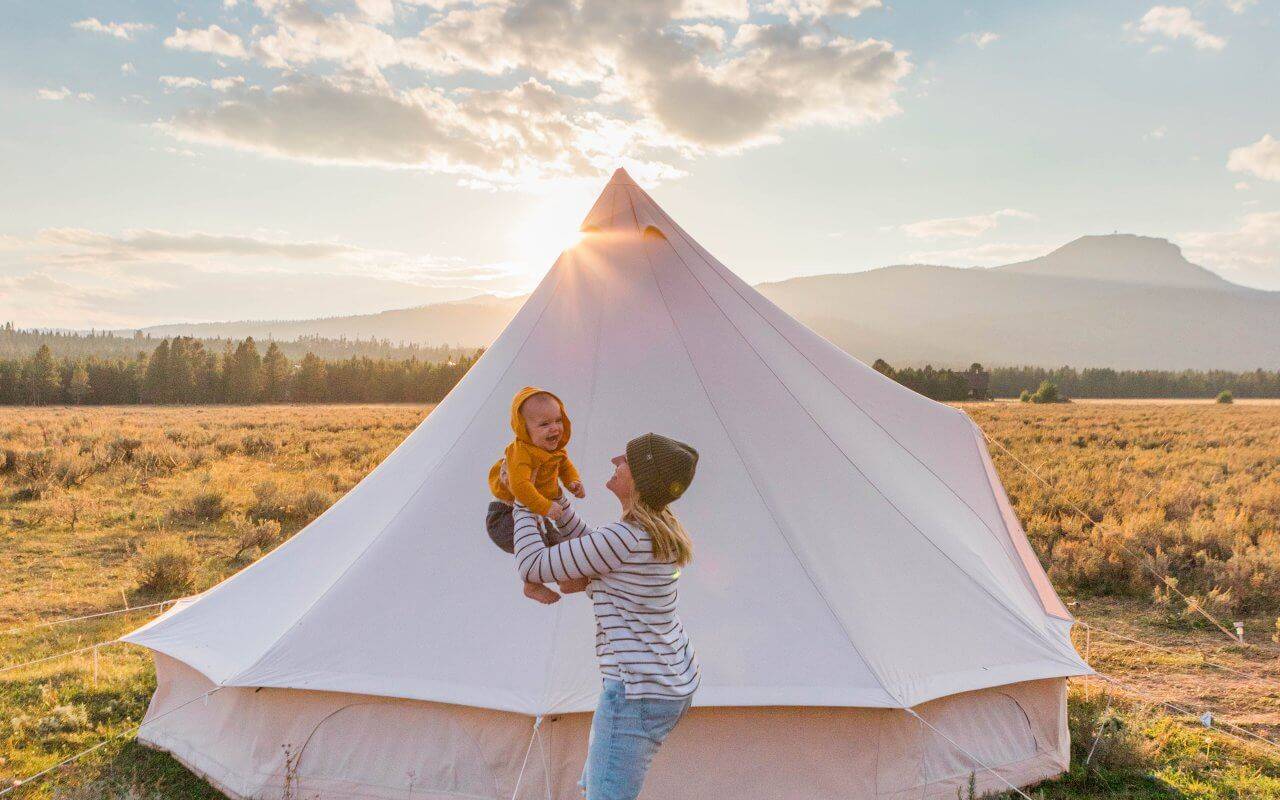 Day 1
You'll start your day driving to Moose Creek Ranch. Moose Creek is a short drive from both the Idaho Falls Regional Airport and the Jackson Hole Airport. If you're interested in exploring a little more by car before arriving at Moose Creek, consider flying into Boise.
Moose Creek Ranch is a beautiful glamping site in Victor that offers an ideal location if you want to explore the nearby parks, relax in a charming, mountain town and enjoy the beautiful outdoors on local hiking trails and rivers.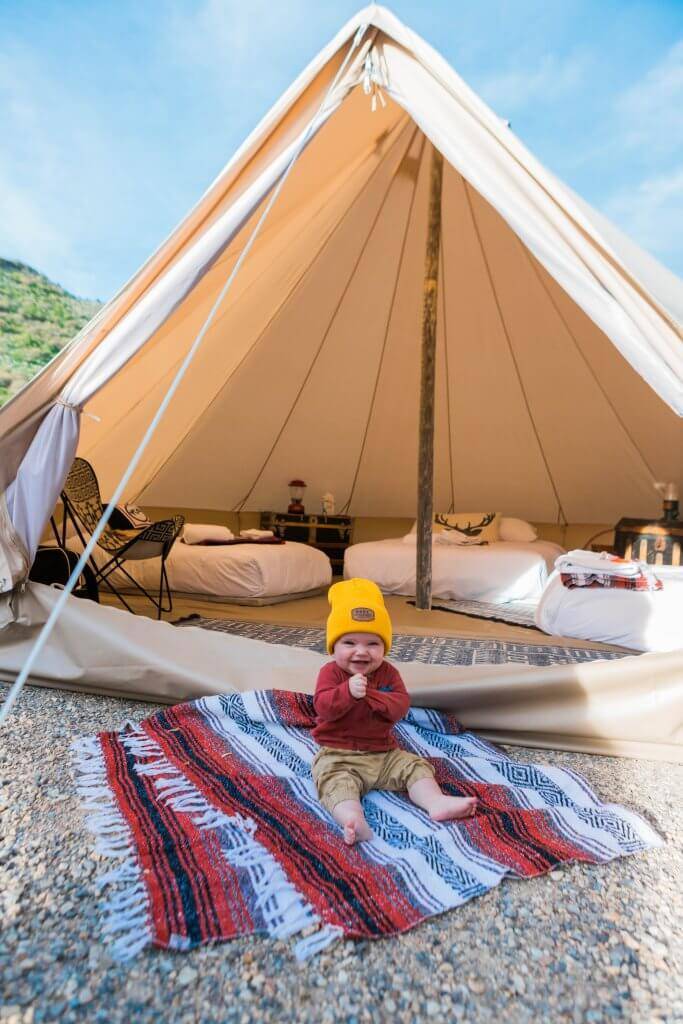 Moose Creek offers several different types of glamping including Rendezvous Cabins, the Ranch House, Airstream Glamping and Glamping Tents. You'll enjoy all the benefits and none of the hassles of camping as Moose Creek provides resort-style comfort and treatment.
Check-in: 4 pm at Moose Creek Ranch.
After the trip to get here, the first night can be filled with plenty of relaxation!
Dinner plans: Moose Creek Ranch On-Site Dining
If you are visiting Moose Creek Ranch over a weekend, they offer locally sourced dinners at the Campfire Grill. You'll find rustic yet elevated dishes that the whole family will enjoy.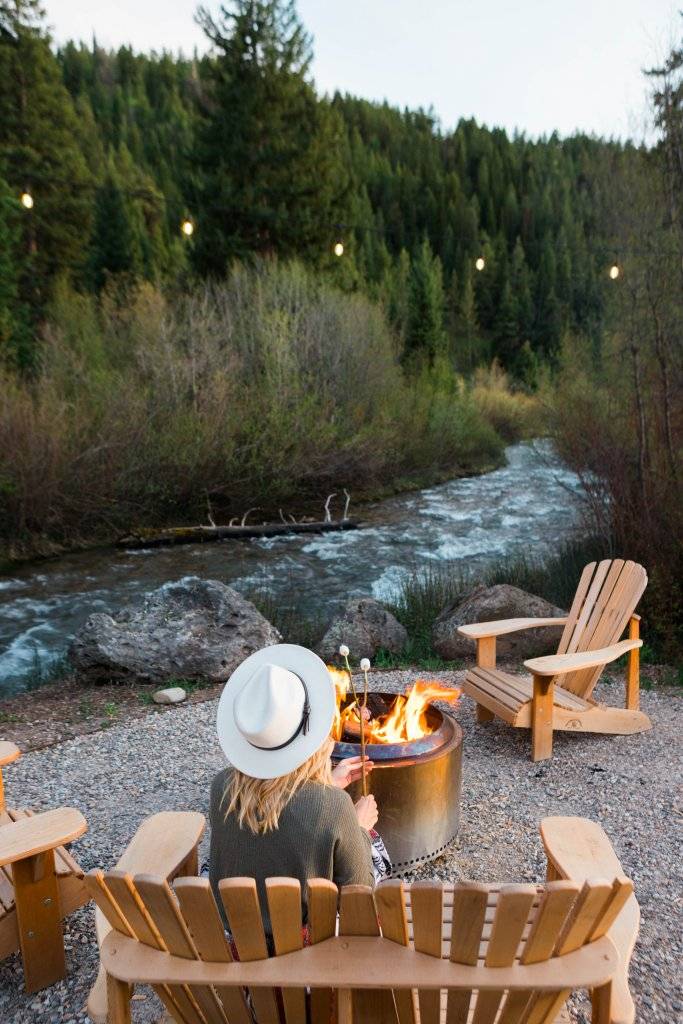 Evening activities: Relax
Take the time to relax at your glamping site as you'll need your energy for the next day's adventures. Some ideas include sitting around the campfire, enjoying s'mores from the complimentary kit that Moose Creek Ranch provides, and exploring the beautiful property.
Day 2
Breakfast: Butter Cafe in Victor
Butter Cafe opens at 7 am for breakfast and brunch. You'll find numerous dishes made from scratch with locally sourced ingredients. If the weather is nice enough, pick an outdoor table on the front patio and watch the city come to life while sipping on your cup of coffee.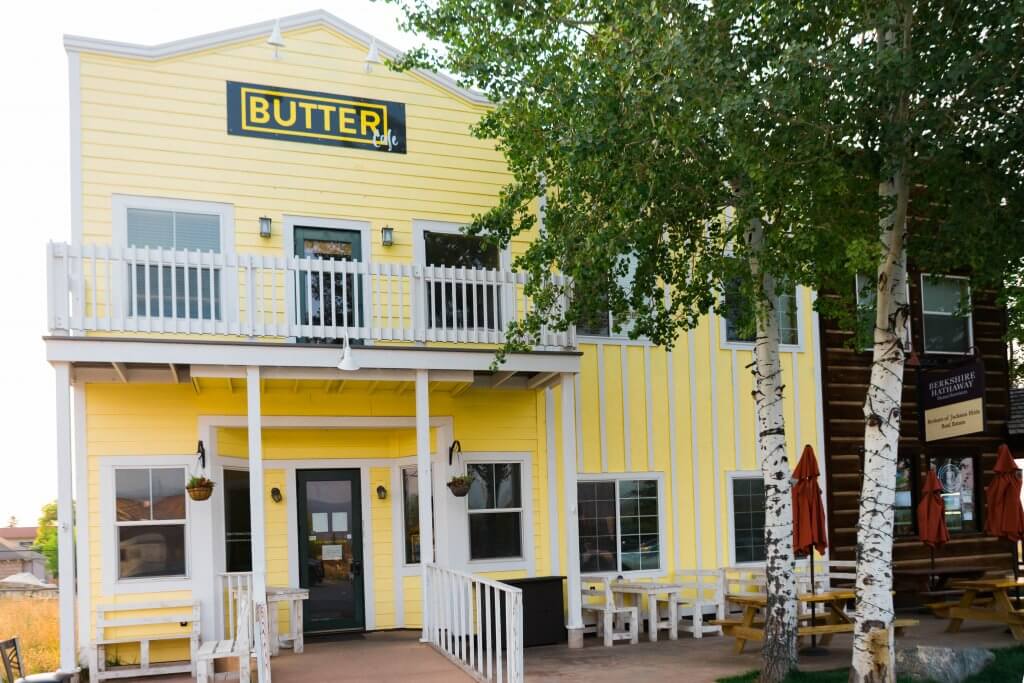 Morning hike: Moose Creek Trail
We recommend driving five minutes from Moose Creek Ranch to get to the trailhead of Moose Creek Trail (the short version). This hike is three miles round trip and takes you through beautiful terrain. It is great for all skill levels, so it's a perfect family-friendly activity to start your day off right.
Lunch: Big Hole BBQ
The food at Big Hole BBQ is slow-smoked and made from scratch. Some popular dishes include Mahi Fish Tacos, the Big Hole Burger, and the BBQ Pork Ribs.
Afternoon adventures
Load the kids up in the car and drive to the Teton Geo Center Museum and Visitors Center. You'll have the chance to take a break from the sun and learn about nature, history, and culture.
If after checking out the museum you still have time before dinner, we recommend renting a paddleboard from Wai Mauna. You'll get to enjoy beautiful views while paddling the Teton River in Driggs. This activity is best for older children.
Dinner: Wildlife Brewing
Wildlife Brewing makes delicious pizza that you can take to-go or dine-in. Plus, they have a great selection of beers for mom and dad.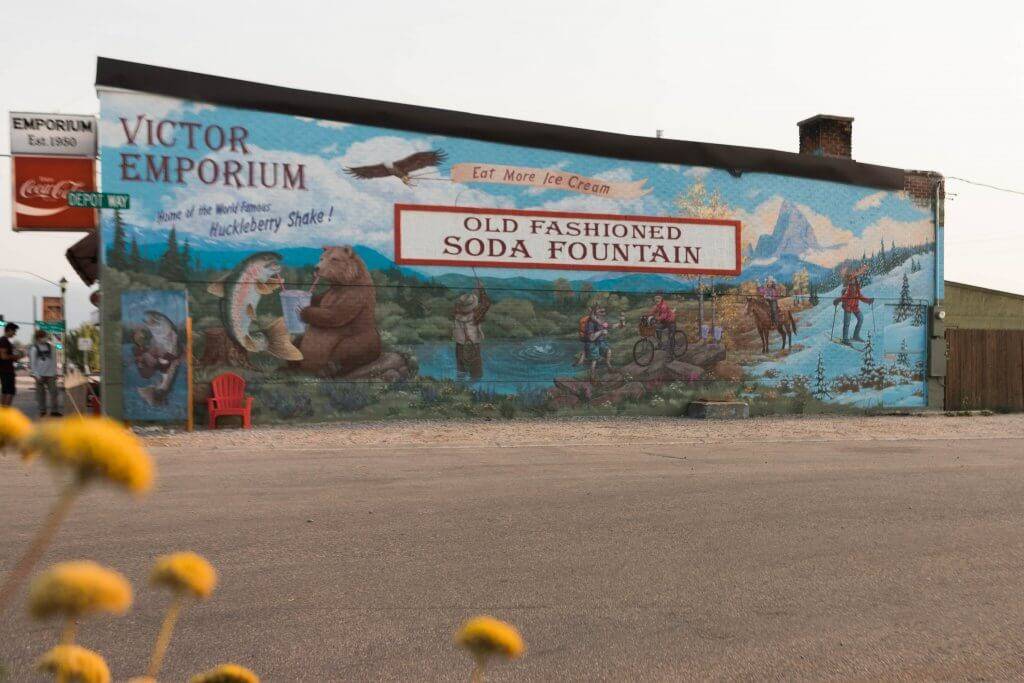 Dessert: Victor Emporium
After dinner, take a walk to find the mural with a trout and a bear sharing a milkshake. This is the Victor Emporium, famous for its creamy huckleberry milkshakes made with ice cream from Farr Candy Co. in Idaho Falls and fresh huckleberries!
Evening activity: Spud Drive-In
The Spud Drive-in is the perfect way to wrap up day two in Victor! Drive-ins are becoming less common across the United States so be sure to take the kids to this unique theater while visiting.
Day 3
Breakfast: The Pampano's Restaurant or Big Hole Bagel
If you're up early enough to enjoy a dine-in restaurant, drive to The Pampano's Restaurant. If you decide to sleep in after a late night, there are always to-go options like Big Hole Bagel.
Check-out: 11 am check-out from Moose Creek Ranch
Early afternoon: Drive to the next glamping site
Today you'll make the less-than-a-two-hour drive to the next Idaho glamping site. However, there are many beautiful stops along the way if want to explore.
Lunch: Ashton
Stop in Ashton for lunch as you'll find a lot of great options in this town. A few popular ones include Big Jud's, Frostop Drive-In, and 511 Main Fountain and Pizzeria.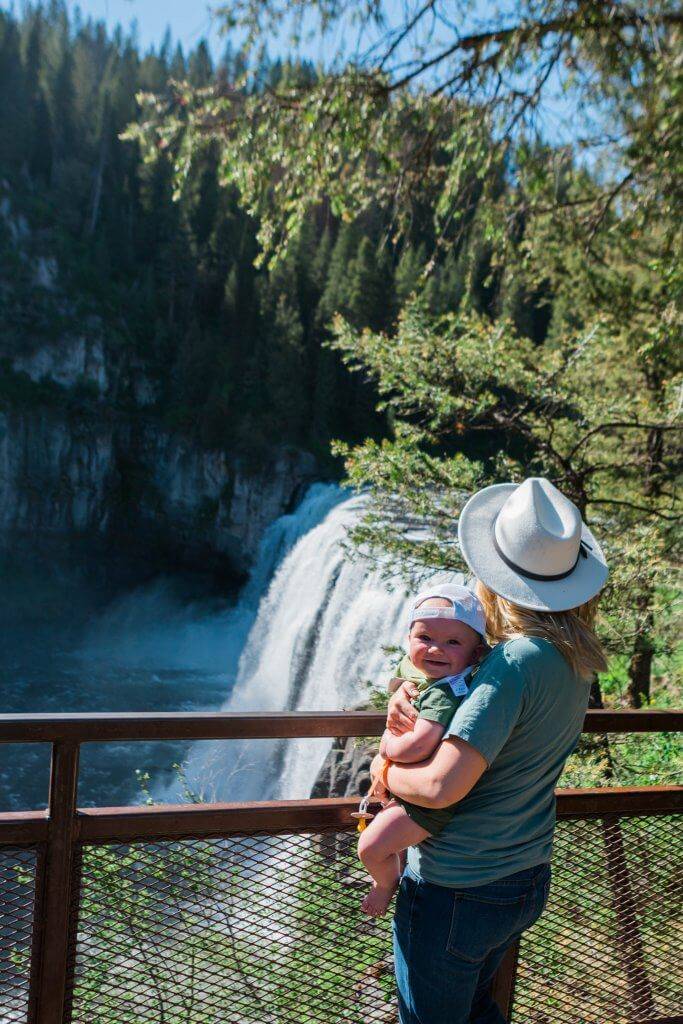 Afternoon activity: Mesa Falls Scenic Byway
Drive the Mesa Falls Scenic Byway heading towards Island Park and park at Upper Mesa Falls. You'll find a short boardwalk trail that takes you to an enormous waterfall! Afterward, take the short hike between Upper and Lower Mesa Falls.
Late afternoon: Check-in to Wander Camp Yellowstone in Island Park
Wander Camp is near Henry's Lake and offers an immersive outdoor experience. The bell tents are furnished with beds, bedding, seating, lanterns, and more. You can also include a heater while booking your reservation.
Dinner: Cafe Sabor
One of the most delicious places to grab dinner is Cafe Sabor in Island Park. Not only is the food incredible, but the staff is friendly and the outdoor patio dining offers incredible river views.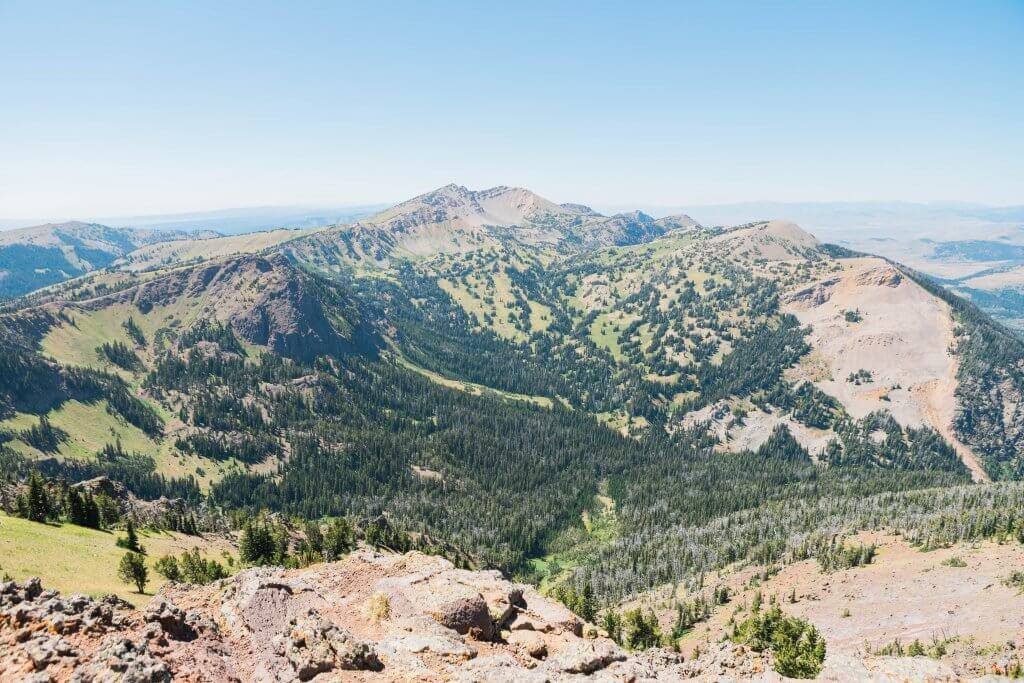 Evening adventure: Sawtell Peak
You can either drive up your personal vehicle or take a rented ATV to the top of the 9,875-foot summit. What's neat is this is the same mountain that you see from your glamping tent!
Nighttime: Stargaze
Idaho has some of the best night skies on earth and on clear nights you'll be able to see a whole sky full of stars.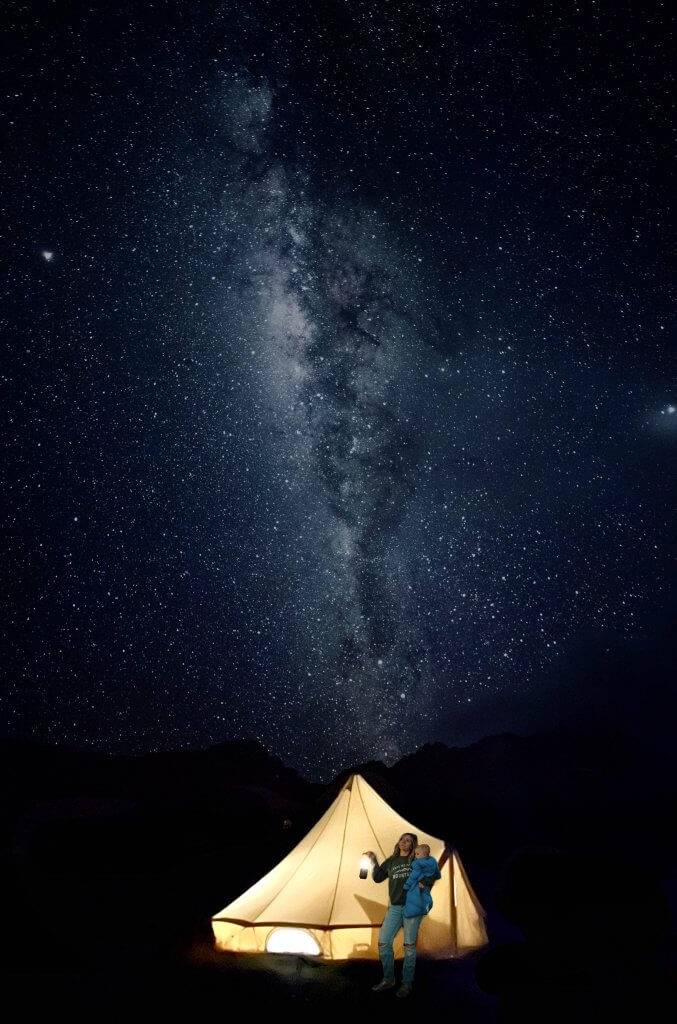 Day 4
Breakfast: Last Chance Bar & Grill at the Trout Hunter
Here you'll enjoy fine dining in a casual environment. It's also one of the first places to open for breakfast in Island Park so get here early before it fills up!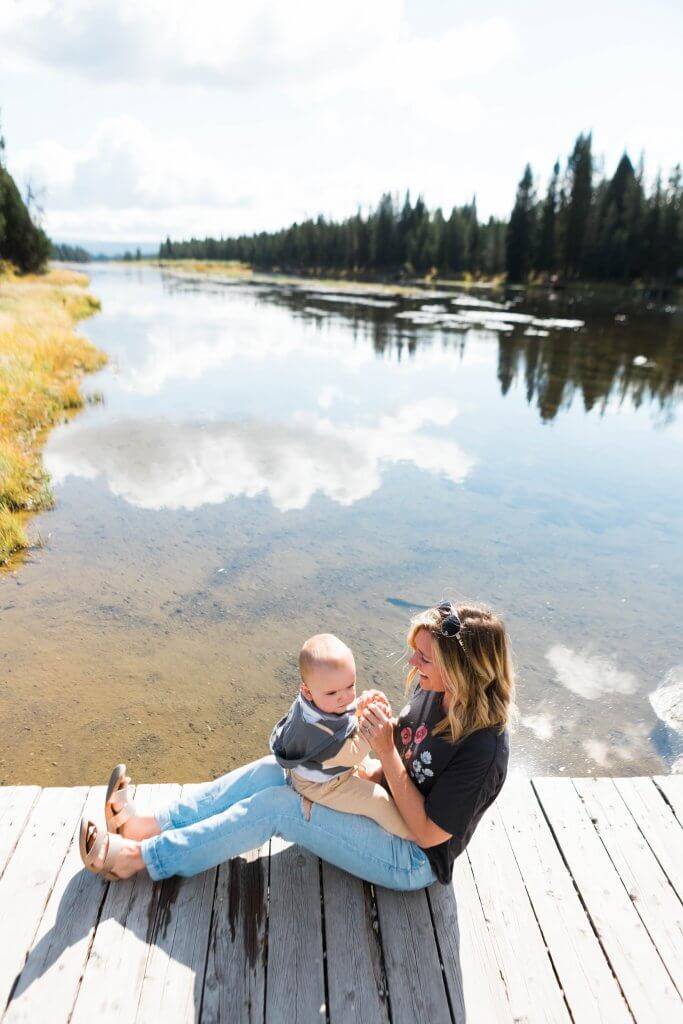 Morning adventure: Big Springs
Drive to Big Springs to check out Johnny Sack Cabin and watch massive fish swimming in the clear water. There is also a short hike that starts here. This is a place that the whole family would enjoy.
Check out of the campsite and start the drive home.
We hope this Idaho glamping road trip itinerary inspired you to pack up the kids and visit.
Feature image credited to Part Time Tourists.
Jess Darrington is the founder of Part Time Tourists, a travel and adventure blog that was created in 2018. Part Time Tourists aims to help people travel more by offering detailed travel guides and practical tips. With a large focus on US travel, Jess shares adventurous and luxurious destinations throughout the country. You can follow her on Instagram and PartTimeTourists.com.

Published on September 14, 2021